Everything You Need to Know About Postnatal Exercise
Congratulations! After nine months of anticipation and preparation, you're finally a new mom. At this point, you're probably beaming with excitement — but don't push yourself trying to get back into the normal swing of things just yet. Regaining your strength and normal physique is going to take some time and patience, but it does come with a ton of benefits.
Getting regular exercise after giving birth not only gives you a helpful boost of energy and less stress, but it also equips you with better health to perform your new mum duties. However, don't forget to take it easy on your body and keep in mind that there are some precautions to take to ensure you stay safe.
Wait for Your Six-week Postnatal Check-up Before Breaking in a Sweat Again
Generally, you should wait until your six-week postnatal checkup to see if you're clear to start exercising again. You don't want complications such as postpartum depression or haemorrhages to get in the way. It might also take longer if you had a caesarean birth, as your body will need more time to recover. It will also depend on your fitness habits and how conditioned your body is prior to the birth of your baby.
Start Slowly
Of course, there's no pressure to hit the gym again just yet. Getting back into shape could mean something as simple as taking the stairs instead of the elevator, or walking to your neighbourhood shop instead of driving your car. When your postnatal bleeding has stopped, you can consider exercises such as swimming, whichBody Soul identifies as one of the safest exercises to do even during pregnancy. Not only is swimming easy on your joints, but it also improves circulation and alleviates swelling as you immerse yourself in water. And, as previously discussed here on First Cry Parenting, don't ever forget to warm up properly.
Your Core Won't Feel the Same
A study published on Manual Therapy found that majority of women go through diastasis recti, which is the separation of your left and right abdominal muscles at the end of pregnancy. It often comes with feelings of vulnerability and a disconnect from one's center. Unfortunately, up to 39% of those women still experience its symptoms even after six months postpartum. One of them is R&B singer Ciara, who took to Instagram after her pregnancy to reveal her struggle. In a post, the hopeful artist wrote, "I have diastasis rectifrom both of my pregnancies, so I have to work extra hard to regain my core strength. Determined. Let's Go Mammas!" This is completely normal, and it is recommended to see a physical therapist or trainer who specializes in postpartum training.
Invest in New Sportswear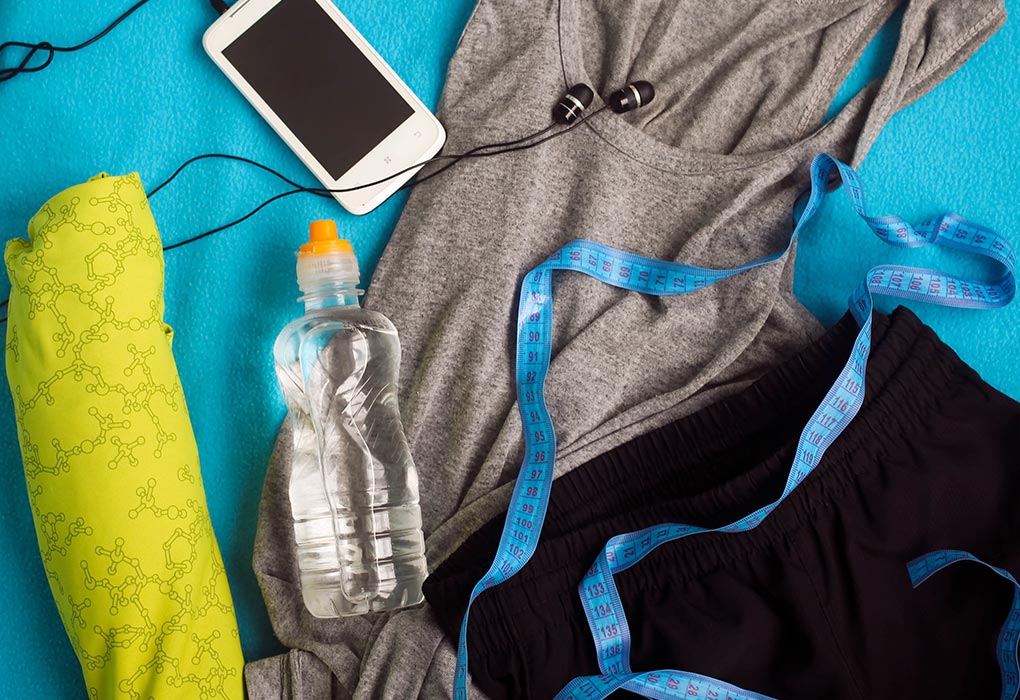 I know you're eager to put on your favorite athleisure wear again, but you might need to buy new sports bras for extra support. This reduces the risk of back pain, bad upper body posture, and stretch marks. Pretty Me also emphasizes the need for the right shoes, especially since your feet have most likely swollen up since pregnancy. Consider the kind of workout for the clothing support you need. This is important so as to avoid injuries.
Be Prepared to Experience New Kinds of Pain
Relaxin is the hormone that helps loosen joints for labour, but it can remain in your system for up to 12 months after your baby's birth, causing you to be less stable when moving around. As such, you'll need to focus on balancing or stability exercises to get you back on track.
Another newfound pain can take the form of postpartum depression. Even Kate Middleton isn't exempt from this issue, which affects millions of mothers worldwide. After her pregnancy, the Duchess opened up about her mental health problems where she felt a lack of confidence. Of course, this can make you demotivated to get fit, but exercising can actually be a good way to boost your mood and confidence. Just don't fall prey to unrealistic expectations, and go at your own pace.
Don't Forget Proper Nutrition
You know how they say that fitness has more to do with your diet than exercise? The same still holds true for postpartum health. Remember that you just spent the last nine months growing a baby inside of you, so you are going to need all the nutrients you can get. Mind Body Green suggests eating nutrient-dense foods to replenish your body, which is also one of the best things you can do for yourself in the first six months and beyond. Hydrate often, and look to add supplements into your diet.
Disclaimer: The views, opinions and positions (including content in any form) expressed within this post are those of the author alone. The accuracy, completeness and validity of any statements made within this article are not guaranteed. We accept no liability for any errors, omissions or representations. The responsibility for intellectual property rights of this content rests with the author and any liability with regards to infringement of intellectual property rights remains with him/her.
?>