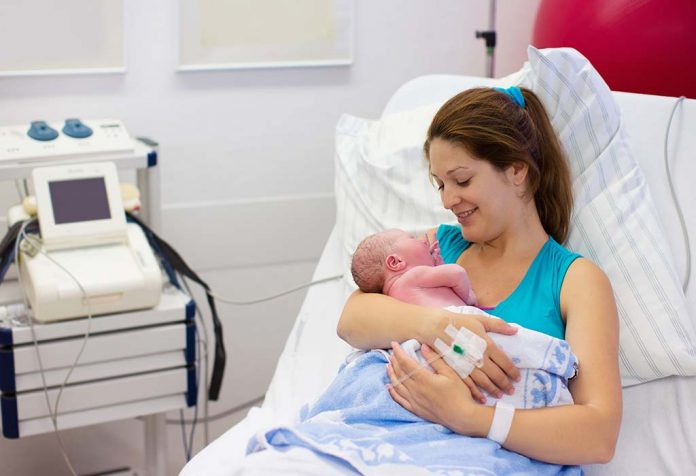 My due date was January 7th, 2019. I had heard stories of babies being delivered a few days earlier or later than expected. And so I was hoping that my baby would come on Christmas eve or on the new year, but babies have their own plans and decide on their own to arrive.
On the morning of 31st December, I lost my mucus plug. My excitement was at its peak and I thought that I would be going into labour soon. I checked with my gynaecologist and had an appointment in the evening. She did my checkup and said that there was still some time for delivery.
I was curious and asked her how long will I have to wait. She said that she couldn't tell me the exact time but that I would cross my due date. I went home quietly as I was too happy with the fact that the time had come to welcome my baby into the world. However, the time for labour was not around – my little baby had his own plans.
On the morning of January 2, I had stomach pain and experienced cramps. I tried to ignore but by afternoon, I felt too weak and was rushed to the doctor again. After the checkup, the doctor said that it should be fine and that the baby hadn't dropped much yet for labour to begin. I was again sent back home saying that there was still time. In the evening, the pain intensified and cramps got worse, but thinking about what the doctor had said, I tried to ignore. I was trying to be strong. I had dinner early that night and decided that I will sleep early. I thought that I would be fine by morning.
Around 11 pm that night, the cramps started getting worse. I thought that the cramps were contractions. I had never had false contractions throughout pregnancy so I did not even understand what they felt like. So I started surfing the net to keep myself busy and to forget the pain for a while. However, by 2 am I realised that it was not pain – they were contractions indeed. I did not want to trouble anyone at night so I thought I would somehow manage and wait till morning. But the pain was excruciating. I started calling the hospital emergency number, but nobody answered. Finally, I realised, I had another emergency number in my file and so I dialled that number at 5 am. On explaining my symptoms, I was asked to come to the hospital.
At 7 am the next day, I woke up my husband and told him that we needed to rush to the hospital. I had a feeling that I was in labour. I was in pain but I took a bath then left. My bags were ready for a week and they were in the car already. As I reached the hospital, I was 1cm dilated. My baby's heartbeat was being monitored and the intern there called my doctor and gave her all the details. They came to the conclusion that I needed to get admitted right away. After reaching the hospital, I was a bit relaxed. I was offered a juice and once the formalities were done I was shifted to the labour room.
The labour room was a very normal room and the environment was quite relaxed, but I was not. I had never been admitted to a hospital ever in life and never even had the need to go to any for even any checkup and here I was for the very first time admitted. I was induced pain and that's when the pain started getting worse. It started getting unbearable. I was screaming in pain and calling the intern doctor again and again but they couldn't help me in any way because I had to go through the pain. My gynaecologist came to me at 11 am. By then I was only 2 cm dilated and the pain was getting unbearable for me. My water did not break yet so there was nothing that could be done. By 12 pm, the doctor broke my water bag. Another induction dose was given. By that time my baby's heartbeat, as well as mine, was still being continuously monitored. The pain started getting worse and all I was doing was screaming and chanting "Ganpati Bappa Morya".
Finally, when I was 4 cm dilated I couldn't bear the pain at all and asked for an epidural. I was shifted to the delivery room. I was given an epidural by 2 pm. Within 20 minutes, I felt a bit relieved. I was even dozing off a bit in between. One complication that I had was that I wasn't getting dilated at the speed at which I should have. Neither my body nor my baby was cooperating. Finally, at 2.30 pm the doctor came and asked me to push. This went on for about 10 minutes. And I was 5 cm dilated. I was asked to rest again for a while. At 3.30 pm, the effect of epidural reduced and again the pain was unbearable. I screamed and shouted and called the anaesthetist. And I was given another dose. Again the doctor came and I had to start pushing. I was dilated 6 cm. I was stressed and wondered for how long this process would go on. I thought I would have to go for a C-section whereas I wanted to deliver my baby normally. But my hubby was by my side and assured me that everything would be fine.
The same process was carried out until 4.15 pm. I was pushing, pushing, and pushing hard, I was 8 cm dilated by then. At 4.30 pm, I was given a final dose of epidural as said by the anaesthetist. I understood that it was the last and final moment and I would be having my baby in my arms. At 4.45 pm, a panel of interns and nurses along with my gynaecologist entered the room and started getting ready. The process started again and I was asked to push. Suddenly, at 5 pm, the doctors start murmuring among themselves. Forgetting the pain I wonder what's wrong. I keep asking the doctor again and again but nobody tells me anything. Suddenly I see a vacuum being prepared. I stress out more wondering whether my delivery would be using the vacuum. One nurse climbed on my bed and when asked to push literally pressed my stomach so hard. I almost died at that moment. But nothing worked. The doctor performed an episiotomy and again I pushed. The baby's heartbeat increased, my heartbeat increased and finally at 5.35 pm, my baby boy was born. I gave birth after 16 hours of labour.
Then after having held my baby in my arms for about 5 minutes, they took my baby away. I got to know that my baby had pooped at the last moment which increased the delivery complications and this was what everyone around was murmuring about a few minutes back. But somehow I managed to have a normal delivery. But then my baby had a few difficulties in breathing and was taken in the NICU for a few hours. And finally, at 11 pm, I was given my baby in my arms again.
Disclaimer: The views, opinions and positions (including content in any form) expressed within this post are those of the author alone. The accuracy, completeness and validity of any statements made within this article are not guaranteed. We accept no liability for any errors, omissions or representations. The responsibility for intellectual property rights of this content rests with the author and any liability with regards to infringement of intellectual property rights remains with him/her.