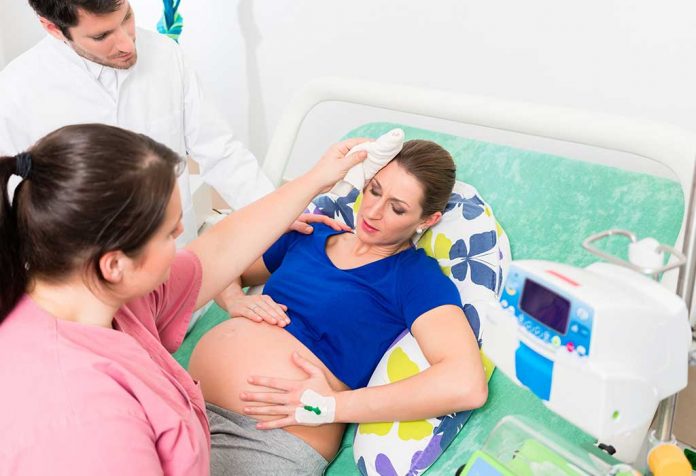 Last Updated on
I was 44 weeks pregnant. Yes, I was passing my due date. I had my regular checkup that day. The doctor did an internal examination and an ultrasound to check my water level, and she said your baby is happily sitting inside. She also said there are no signs of labour. Therefore, she had to carry out stripping which is essentially separating the sac from the mouth of the uterus to start labour. After the checkup, I had lunch at a restaurant we used to visit often.
The same day, from evening 4 o'clock I started experiencing some pain in my lower abdomen. It started to increase in intensity gradually, but I did not tell anyone at home because I didn't want them to be excited about the false alarm. But somehow, my husband sensed it from my facial reactions when we were all playing cards. It was 11 in the night, and almost everybody in the house sensed it that I was not normal. I asked everyone to go to bed, and l let them know if the pain really exists.
Around 12 in the night, I couldn't bear it. My husband and I decided to go to the hospital to be on the safer side because we didn't want to take any chances with the baby's health. My mom accompanied us. We reached the hospital, went to the labour room. An NST was done to know whether it was real labour pain, and as expected, it turned out to be false pain again. A nurse from the labour room called my gynaecologist who had just left and informed her about me. My gynaecologist asked me to get admitted, and she said the nurses would observe me overnight.
I got admitted and was checked the whole night for the baby's well being. Next day, the gynaecologist did an internal examination and said there is no sign of labour. But, as she was talking, she ruptured my membrane and said we couldn't wait any more as the due date had passed. She recommended inducing labour and also said the fluid is clear and so I need not worry about meconium stain because post-due-date pregnancies mostly end with meconium-stained liqour.
I was later given a tablet to induce labour. My clothes were all wet with the fluid, and I was able to see tiny strands of hair which obviously were my baby's. I changed my clothes and started walking. I wasn't in labour for hours after the first dose. Therefore, another dose of tablet was given. It was ten in the morning when I started experiencing pain. And then, I was changed to labour room clothes and enema was given. I requested an epidural as I was not ready to explore the labour pain. The line was secured, drips started and in came the anaesthetists for my epidural. I was a bit nervous about the injection, but I was able to withstand the pain.
Then, the real contractions started. I could feel the contraction but not the pain. I was so happy it was going smooth. The doctor allowed my husband to stay with me in the labour room. As time was passing, the doctor did internal examinations every 3 hours, and I was told that I was not progressing and my cervix is not dilating. She said that's ok and recommended we will wait for some more time. I was waiting, walking with my epidural topped up every hour, but as time was passing, I started experiencing pain on despite getting the epidural.
It was past seven in the evening when the doctor checked again and said cervix did not dilate and it's time for us to deliver the baby by c-section. I burst out in tears. But my gynaecologist tried to console me and ordered the staff there to shift me to the operation theatre (OT). I was extremely tired with all those injections, and I was walking the whole day with only fluids and drips. I could not control my tears because I never thought I would end up getting a c-section. My parents, in-laws, friends and relatives were all standing outside the labour room. When they saw me on the stretcher crying, they felt bad for me.
When I was shifted to the OT, I was shivering like hell. The doctor came inside, and everything was getting ready. I already had my epidural, so it was straight away converted to spinal. I was asking for my husband because it was told that he would be allowed inside even for the c-section. Doctor asked me whether I have decided a name for my baby. Despite all the pain, I managed to answer her. I said yes only for baby girl because I was longing for one. I said we would name her Samaira, Samaira Sudesh. That is all I remember. I hardly heard my husband's voice. He said we are blessed with a baby boy. I just heard it. I prayed to God, thought that mustn't be the truth; it could be a dream. And again, I dossed off.
When I opened my eyes, I was in my room. Yes, it was true what I heard. It was a baby boy. I started crying again and was experienced intense postpartum chills for a while. After a few minutes, someone gave me the baby. He touched my hand. I saw him. That moment every pain of mine just vanished. From that moment I never felt bad for having a boy baby. He was super cute. He was so pink, dressed in pink because, you know, I got everything in pink thinking I'm delivering a baby girl. Expect the unexpected!
I was told that he came out at 8.04 PM and weighed 3.489 kgs. The baby was kept in NICU and was brought to me only for feeds. When the baby was taken to the NICU, I asked the nurse when she will get him back. She said she'll bring him back for a feed at seven in the morning. I couldn't close my eyes for a second that night. I kept staring at the clock till it struck seven. Around 7.30, he was handed over to me. The love of my life was finally brought to me, all healthy.
I was not ready for the c-section because I didn't want to be dependent on anyone for my day-to-day activity even for a day. But to my surprise, my urinary catheter was removed at 8 in the morning the very next day. They also made me get up from the bed. The staff helped me change my clothes, and I was also made to walk. I was able to move as if I had delivered normally. And, that boosted my confidence and cheered me up. Thanks to my gynaecologist, who is a knowledgeable professional. She proved that c-section is just another route of delivering the baby. And, there I was, a happy mom with a happy child all because of her!
Disclaimer: The views, opinions and positions (including content in any form) expressed within this post are those of the author alone. The accuracy, completeness and validity of any statements made within this article are not guaranteed. We accept no liability for any errors, omissions or representations. The responsibility for intellectual property rights of this content rests with the author and any liability with regards to infringement of intellectual property rights remains with him/her.