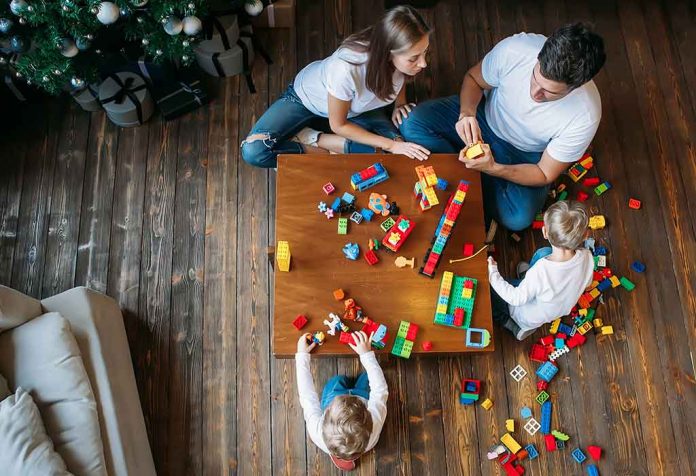 Last Updated on
Welcome! If you are here, then that means you are either struggling in engaging your toddler, or looking for new ideas for your growing up, naughty little toddlers at home.
Actually, I can understand how it goes, and above all, considering this pandemic (COVID-19) situation, some places are still struggling to sustain life, and some still experiencing lockdown, which has basically made the lives of children much tougher, as they are confined in-house with no/limited outdoor accesses.
I, too, have a toddler, who is 2 years 10 months old now. I definitely know how tough it is to keep these little munchkins indoors all the time, plus we as parents always want them avoid too much screen time!
I have seen it with many of my friends and relatives, that they find it quite difficult at times to engage their children at home due to several reasons, as simple as time scarcity, due to homemakers being busy in household chores, or the working parents' "work from home" stuff. People even strive a lot for ideas on toddlers at-home engagement activities.
I am a homemaker as of now, and I seriously feel that engaging a child is not a tough task; the only thing which it requires is our time and patience. Just a simple time management of our own chores can really lead to growing up of a happy and healthy child.
Anyway, not going to further dig into how to manage our own time as parents – here, I will give simple activities, which can be done with resources/items available at home. My son really loves doing these with me, and hence he never feels bored even if he is at home for the entire day.
Believe me, the activities I am sharing are the ones which all the toddlers will love playing! Plus, these will cost you nothing, or next to nothing. If parents are doing these activities together with the child, then their bond will be stronger due to the quality time spent together. Let's get started!
42 At-Home Activities for Toddlers (Part 1)
1. Fly High in the Sky: A Balloon
Yes, you heard that correctly. This is really the most fascinating game. My little one loves playing it. We got a pack of balloons for him on his birthday, and this has really helped us when thinking of engaging indoor activities. We just try to make the balloon sit on the round table fan at home, and believe me, the lovely smile he has, watching it fly high and trying to catch/kick it, makes my day. We even at times play balloon cricket at home when he is bored with the above.
Suggestion: This activity can be even used as a "learning while playing" activity if it is a colourful pack of balloons. My son now knows most of the colours due to this activity.
2. Enacting or Role Play Favourite Characters
2.1 Hooooaaahhhhh Dinosaurrrrr—- It is the sound my little one just loves to make being a T-rex dino himself.
He, the predator, running after poor me, the prey, is his favourite play.
2.2 We have a doctor kit, so I am always the patient to the famous little doc in house. I am always the one getting all the check ups, injections, medicines, and surgeries from my inexperienced doctor, but we love doing it together, with all his laugh and chuckles spreading in the house, while seeing me screaming in the fear of getting an injection or medication from him as the doctor.
Suggestion: Role play can be done of any person/animal/ toy – whatever your kid loves. My kid also loves my enacting a cow, and I love him enacting 'Georgie Pig' from the famous kids' show "Peppa Pig". This activity enhances the thinking ability of your kid when you let him plan the role he eagerly wants to play.
3. Basketball with Laundry Bag
I keep a laundry bag in front of my kid, and he plays an hour or so with his ball, just trying to basket it. He really tries hard until he baskets his ball!
Suggestion: You can use any item to act as a basket, like a bucket or any big kitchen utensil (or anything else that you feel can suffice the role of a basket here). Make the child stand at a distance (suitable for the age) from the basket and ask him to put the ball in it. This activity will not only be just a simple play activity, but also help him improve his concentration and hand eye co-ordination. Also instead of a ball, a balloon or any other item can be used to make game more interesting plus giving variety to a child.
4. Sorting Beans
Kidney beans and chickpeas are great, not just for the body, but even for play. I provide my kid two bowls, one empty, and the other with one or more type of beans, and ask him to transfer those to the empty bowl. This engages and grasps his interest quite a lot. Try it out with your kid as well as he will surely enjoy doing this.
Suggestion: You can use any beans, lentils, etc. in this activity, but just be sure of using an appropriate size of item being used, as smaller size might make the kid use lots of efforts, thereby making him lose interest. Also, this activity can be used with mixed beans. Ask the kid to transfer likes in different bowls. This activity will help him in his eye hand co-ordination and will even help him in holding a pencil between his fingers later.
5. Pillows/Cushions Fight
Give the kid a cushion/pillow of his interest, and start playing a small win-loss fight game.
My son likes small cushions with which we both play fight games, and the glorious victory look which he has once I say I lost, is all what makes me the winner all over.
Suggestion: This activity can even be done with any of his favourite toys, which should be such size that could provide a grip to be easily hand-held and fought with. Make sure your kid understands that it's just a game, and not a real fight.
6. Music and Dance
Music is not just pleasing to ears, but can even be an engaging at-home activity. This activity is, these days, played at many functions/ceremonies, too. With his little chair on the floor and giving commands to our smart speaker, my son just loves playing musical chairs with me.
Suggestion: This activity can be used as a simple dance to music activity as well, as simple as playing songs and dancing with your kids. Even playing his favourite rhymes and then asking him to copy the way you do will make it a 'sing and learn' activity, too.
7. Playing Animal Sound
My kid loves to make sounds of his favourite animals (cow, lion, tiger, goat…). This is one of his favourite activities since he was just 6 months old. We started making him listen to the sounds of animals, and till date he loves this activity.
Suggestion: You can even ask any of your smart devices to play sounds of animals/birds (anything which your kid loves) and ask him to identify the same. This will help him learn various animals, their sounds and will even help boosting his memory too.
8.Jumping Up and Down
This activity is to every childhood. Jumping is one of the most loved kids' past-time activity. Wherever and whenever, this is something that requires no toy, no help – just the mood to jump and jump.
My kid is a real naughty one and his main motive is to jump all over everywhere in the house. So, as an appetite-boosting activity, too, sometimes I make him jump from/on the bed/sofa to the floor, or sometimes simply on the floor (with a simple 'five little monkey rhyme' on).
All kids are real monkeys, hanging on the curtains, jumping here and there, is their love, and now activity as well.
9. Enacting Animal Race
We take forms of different animals (like he is a horse and me a poor frog) and race together. I plan goodies (as simple as a lollipop or a candy) for the winner, which makes the game more interesting for him. This helps him build a confidence to run in different ways, and have a high spirit to compete for something he really wants to win (a candy here).
Suggestion: A simple toy race (like the kid handling one of his favourites, and you the other) can also be a good option here. Make it more interesting and playful the way you want, or the way your kid would love playing it.
10. Hitting the Target with Ball/Indoor Bowling Alley
I simply make a pyramid of disposable glasses, and ask my son to stand at a distance and hit it with a small stress ball. This activity engages him for quite a while, as 4-5 hits is what he requires to properly make the pyramid fall.
Suggestion: Steel glasses or any set of utensil at home can be used for this activity. I, at times, keep a small glass on top of my lotion bottle and ask him to hit the glass; many of such household items can be replaced with the disposable glass mentioned above, as the idea is just to make the child aim and hit the target. Also making a pyramid with the same item can even be an option. Believe me, this really improves his concentration and motor skills.
11. Human/Manmade Slide for Kids/Their Toys
I make slide for my kid using my legs, though he enjoys his father's slide due to the length of slide available! He slides on the same, and feel happy doing the park activity at home.
I can agree that the excitement of meeting friends and playing in the park can't be matched here, but it's how I can engage him by creating something similar for him to enjoy being at home!
Suggestion: This activity can be done with multiple big pillows/cushions or even big cardboard boxes (you might have got these while ordering groceries for home deliveries or big tv boxes, but toys boxes can even suffice the need). So, if you have any, you are good to go, else your own body part will help you doing so.)
12. Building Blocks
My son uses the blocks in his imaginary ways to make things, like below, where he made a caterpillar out of blocks.
Suggestion: This can be used as a colour learning activity or shapes learning activity, or anyway you can think to use it a better way.
13. Build Pyramids with Disposable Glasses or Steel Glasses
As discussed in one of the suggestions above, you can use any items at home which can be made as a pyramid shape. This will help the kid know how to create it and even know exactly what a pyramid is.
14. Spaces vs Cross
For this activity, all you would just need is cellotape and some space. Just take black coloured cellotape and make a cross and two minus sign with some space alternatively on the floor. Form a circle or a semi circle out of it. Ask your child not to jump on the cross but just jump on the space between two minus signs. This will be a good physical activity for him, plus keep him busy and active for at least an hour.
Suggestion: The above way of using cellotape is just to make it look fancy to kids. But you can even use pillows or any other item which you think the kid can jump over again and again without losing his interest.
15. Time for Laundry
Make your child involved in the laundry activities with you. Almost all houses have clothes to wash every other day, so take help of your young one so that he too gets involved and is aware of this task of yours.
I make my kid fill the washing machine with the clothes to be washed and he just loves this activity!
16. Sorting Toys By Colour
This is a learning while doing activity. I put all the toys of my kid in his big toy box, and then ask him to keep same coloured toys either in smaller boxes or at one place on the floor. This helps in knowing the colours better.
Suggestion: You can ask the child to collect the items of similar shapes or size as per the availability of stuff at home.
17. Passing the Parcel
We use a ball here as the parcel, and play it as a simple throw/catch game.
Suggestion: Anything as simple as a stress ball or a small cushion, or even a lemon, can be used as a parcel here.
18. Soft Home Cricket
The word soft here is just to remind the rule of no fours and no sixes in the home, please! My little one loves to play home cricket with his bat and a stress ball for no sound effect.
Suggestion: To give him variety, I keep changing the homemade bat, from chopping board to spatula to cardboard, and whatever is available to be used as a bat for him. Try it, the child will start loving cricket more and more!
19. Colouring
Most of the children love colouring, but one doesn't like it much, so to make him colour either we have to bribe him with a candy, or make the colouring technique a bit fancy to gain his interest. Second method of technique is the one we prefer. So, what we do is we try to make him colour with things he like, as in, the colour pencil will be a cotton bud. This is how he gains interest and colours the images.
Suggestion: To gain the interest of the child, make him colour his favourite cartoon characters with his favourite colour, if any.
20. Home Football
No details needed, I feel! The words themselves tell the story. Play home football with the kid with a ball or anything that will not damage fragile household items. I always prefer using stress balls when planning to play a ball game.
Suggestion: Though not just specific to this activity alone, please don't forget to pat his back when he wins, or encourage for the next round when he loses.
Believe me, all these activities will really be fun, and will keep them engaged at home. Just try out these, if not already tried, and see that happiness on your kid's face, you will surely love it.
So as not to make this post too long, I will continue writing about another 22 indoor activities in my upcoming post – "How to engage toddlers at home (during lockdown)- 42 indoor activities – Part 2″ . Please stay tuned.
For the activities above do let me know in the comment section below if you are already doing any of these activities with your little one or the other way you do the same activity.
Also please do share any activity other than the ones listed above, which you might be engaging your kid in. Would really love to add those to my kid's activities list as well.
Thank you for your time, stay connected, and happy reading!
Disclaimer: The views, opinions and positions (including content in any form) expressed within this post are those of the author alone. The accuracy, completeness and validity of any statements made within this article are not guaranteed. We accept no liability for any errors, omissions or representations. The responsibility for intellectual property rights of this content rests with the author and any liability with regards to infringement of intellectual property rights remains with him/her.