Consuming Rooibos Tea in Pregnancy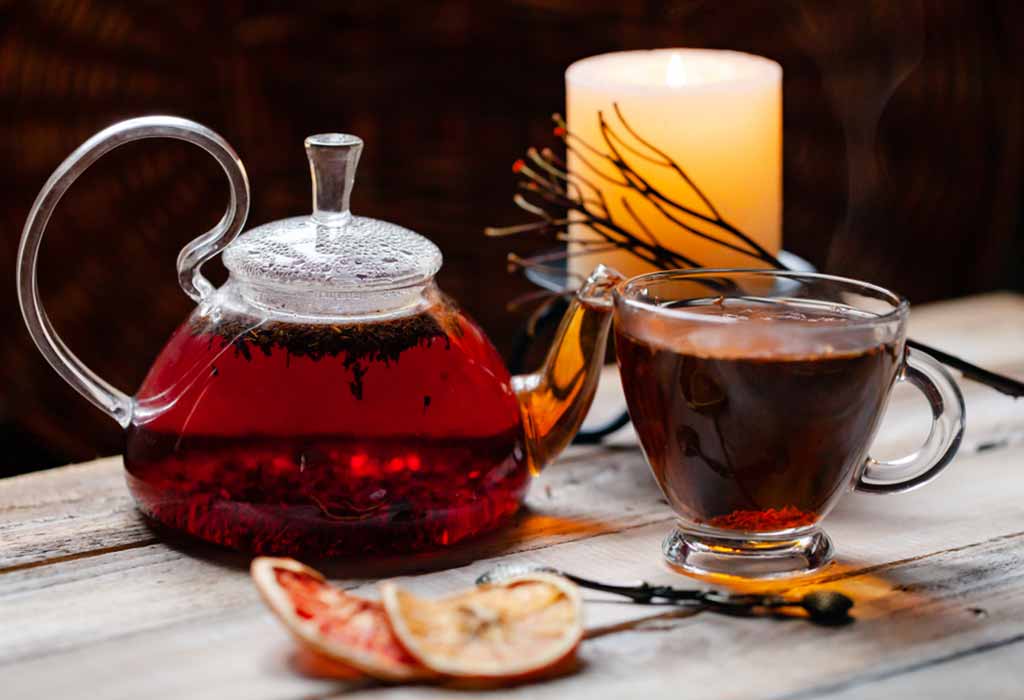 There are a lot of indulgences a mother has to give up during pregnancy. Tea doesn't have to be one of them, at least not all kinds. In this article, we learn all about Rooibos Tea and its consumption during pregnancy. Is it safe? Why consume it at all? How to and how much consume? Let's find out the answers.
What Is Rooibos Tea?
Rooibos, or red bush tea, is not a tea but an herb from the Aspalathus Linearis plant. The only place that this bush is currently cultivated is in the Cedarburg Area of South Africa. It is naturally caffeine-free and boasts a range of health benefits. This herbal tea has gained popularity among tea enthusiasts in the mid-2000s. It can easily be mixed with other ingredients to make a wide range of flavor options.
Is Rooibos Tea Safe During Pregnancy?
While some consider a small amount of caffeine each day, 100 to 150mg, to be safe for consumption during pregnancy, it is always a safer bet to stick to herbal teas. With recent research suggesting that even a tiny amount of caffeine during pregnancy could negatively impact your baby, picking the right herbal tea could give you the peace of mind you need.
However, not all herbal teas are safe either, but Rooibos is one of the most popular teas widely regarded as safe for consumption by pregnant women. It is debatable how much herbal tea you can drink during pregnancy, but is Rooibos tea safe? Yes, most trustworthy sources consider it safe to consume 1 to 3 cups a day.
Besides the obvious plus point that Rooibos tea is caffeine-free, it is also very low in tannins. This means that your body's absorption of iron and other vital nutrients will be unaffected by its consumption. This also makes Rooibos tea pregnancy safe for most women. Certain people may be allergic to Rooibos or have negative effects from consuming excessive amounts. So, it is always a good idea to talk to your doctor first and get their recommendation.
Health Benefits of Rooibos Tea in Pregnancy
Although rooibos tea became vastly popular thanks to its sweet and mild flavor, it is just one of the several health benefits of consuming it during pregnancy. Below is a list of Rooibos tea pregnancy benefits.
1. Rich in antioxidants
Antioxidants are great for the body as they reduce the production of unstable chemicals or free radicals, which damage cells and other structures within our bodies. Consuming antioxidants through natural foods, such as rooibos tea, helps reduce the risk of various diseases, including heart disease and certain types of cancers.
2. Boosts absorption of nutrients
Lab tests conducted by the Cape Peninsula University of Technology suggest that consumption of rooibos tea while pregnant does not only reduce the absorption of nutrients but, in fact, marginally increases the absorption of vital trace elements. This is the opposite of the effect that most other types of tea have on our bodies.
3. Improves the health of adrenal glands
This is great for pregnant women as the adrenal glands are responsible for producing hormones that regulate your metabolism, immune system, blood pressure, stress response, and other essential functions.
4. Improves hydration levels
Like most herbal teas, rooibos tea improves the hydration levels of the pregnant woman while giving her and the baby a good amount of integrated nutrients.
5. Reduces anxiety and stress
Rooibos tea is rich in vitamin C and antioxidants, necessary for reducing stress and anxiety that tend to affect most pregnant women.
6. Curbs morning sickness
Thanks to its pleasant taste, it can relieve morning sickness, making it one of the most highly recommended herbal teas for pregnant women.
7. Helps strengthen the uterus for delivery
Red bush tea is usually recommended for the second and third trimesters of pregnancy as it is known to strengthen the uterus and help prevent excessive bleeding after childbirth.
8. Reduces colic and reflux
Since rooibos tea has zero caffeine, contains calcium, magnesium, and antioxidants, it provides great results in reducing colic and refluxes.
9. Helps with sleep
The tea helps the mother get more restful sleep once they take it. Quality sleep, as we know, is one of the best things for an expecting mother.
10. Aids skin health
Superoxide dismutase is a type of antioxidant that is the perfect anti-aging agent, and you guessed it, rooibos tea has it. Vast amounts of flavonoids present in rooibos tea help prevent eczema and acne, among other skin conditions. Superoxide dismutase also helps in minimizing wrinkles and developing new skin cells.
Anti-bacterial and hypoallergenic properties of the tea help minimize infections and provide relief from allergies. Vitamin D and zinc in rooibos tea help make the skin healthy and shiny from the inside while removing worn-out cells from the outside.
11. Improves hair health
Being rich in zinc, copper, calcium, and magnesium, regular intake of rooibos tea is great for the growth and strength of hair. High amounts of copper also prevent premature greying of hair.
12. Aids in weight loss
Aspalathin, which is present in Rooibos, is an active ingredient that lessens stress hormones. Stress hormones trigger hunger and the storage of fat. By reducing the stress hormones, the tea indirectly helps with weight loss.
Side Effects of Rooibos Tea During Pregnancy
As discussed throughout this article, there are many good reasons to consume rooibos tea during pregnancy. However, it is also important to understand the possible side effects linking rooibos tea and pregnancy. Here are the ones you should know about.
Heart palpitations: There is a possibility that you could be allergic to rooibos tea, and if you are, heart palpitations are the worst symptoms you can get. Other symptoms include itching, stomach discomfort, difficulty breathing, trouble swallowing, and swelling in the area where your body came in contact with the tea. If you do experience any of these symptoms after drinking the tea, you should take it seriously and seek help from a medical professional right away.
Excess estrogen: Some compounds in rooibos tea have estrogenic activity, which means they can increase the estrogen levels in your body. While this does not affect most pregnant women, it can become a concern for breast cancer or hormone-related diseases or conditions. Higher levels of estrogen also increase your levels of serotonin, the chemical responsible for lifting your mood. So, as long as you don't have the above-mentioned serious conditions, this side effect is likely to benefit you.
Liver problems: Consumption of healthy amounts of rooibos tea can promote liver enzymes, yes. But if a person overdoes it by consuming excessive quantities, hepatotoxicity or liver damage is possible.
Iron deficiency: The negative effect of rooibos tea on iron absorption is so small that it is significant or nil. However, if you are anemic, then a cup of this tea after every meal might not be the best thing for you.
How Much Rooibos Tea to Consume During Pregnancy?
Most of the possible side effects discussed above only become a concern when excessive rooibos tea is consumed. In moderation, Rooibos tea's benefits for pregnancy are obvious. So, what is the right amount to drink? Depending on which stage of pregnancy the expecting mother is in, 1 to 3 cups a day is appropriate. Research suggests that the best time to start drinking 2 to 3 cups of rooibos tea a day is at 32 weeks gestation. During earlier stages of pregnancy, the recommendation is to limit yourself to 1 cup a day.
Rooibos Tea Recipes to Try in Pregnancy
Much like other teas, Rooibos tea can also be had in many different forms and recipes. Here are a few:
1. Rooibos Tea Latte
Ingredients
How to make
Brew the tea strongly in boiling water for 8 to 10 minutes.
Combine it with hot milk and honey (for a hot latte) or cold milk and ice (for a cold latte)
2. Orange and Rooibos Iced Tea
Ingredients
Rooibos tea
Boiling water
Ice
Half an orange
How to make
Brew 1 tsp of Rooibos in boiling water for 5 minutes.
Pour over ice or chill in the fridge.
Add freshly squeezed juice from half an orange just before serving.
Rooibos herbal tea, while not technically a tea, is widely considered safe for consumption during pregnancy. It is completely caffeine-free, full of good stuff like antioxidants, vitamins, and minerals, and is a great alternative to coffee, green tea, and black tea.
Also Read:
Hibiscus Tea In Pregnancy
Raspberry Leaf Tea During Pregnancy
Drinking Kombucha While Pregnant