Third Trimester Diet – What to Eat & What to Avoid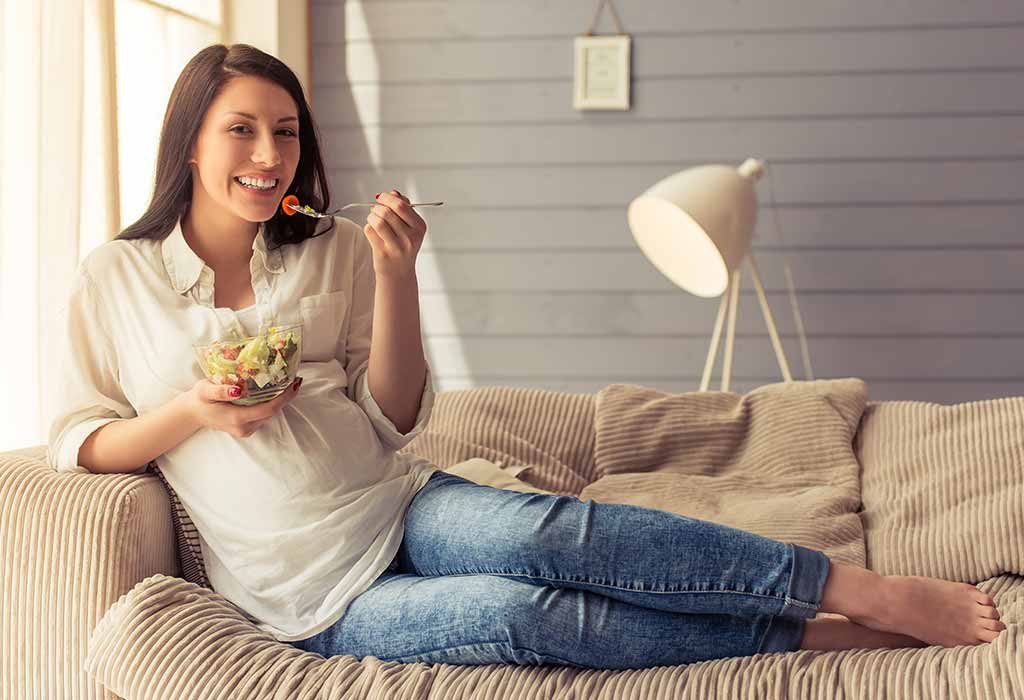 Congratulations! You have reached the third trimester of your pregnancy and you must be feeling super-excited! You are in the last leg of your pregnancy and soon you will get to hold your baby in your arms. You might feel like celebrating by eating your favourite dishes, but you will have to resist the temptation. You will have to continue with a healthy diet during this time too for a healthy delivery! A diet that comprises of nutritious foods will ensure proper growth and development of your baby.
Video: Third Trimester Diet – What to Eat & What to Avoid
Foods to Eat During Your Third Trimester
The growth and development of your baby will depend on what you eat, and that's the reason why the 7 to 9 months pregnancy diet is crucial. You will now need about 200 additional calories every day, and an adequate quantity of vitamins, fibre and minerals. Here is what you should include in your pregnancy diet.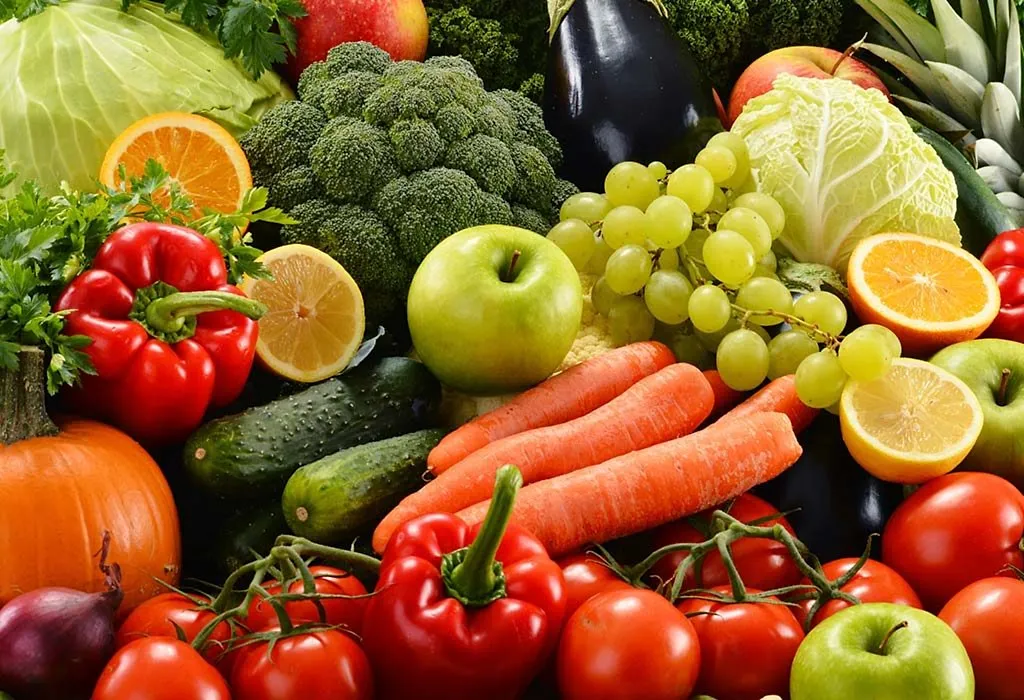 1. Foods Rich in Iron

A diet that lacks iron could lead to anaemia during pregnancy, which can make you dizzy and tired. It may also cause bleeding during delivery. Hence, eating iron-rich foods is necessary. In your last trimester pregnancy diet, you can include meat, dairy products, eggs, wheat bran and beans.
2. Foods Rich in Protein

Your body will need about 70 grams of protein during this stage since it helps in the formation of the baby's body. Eating protein-rich foods will ensure that your blood glucose levels remain constant and the risk of diabetes is minimised. You can eat foods like tofu, legumes, fish, and meat.
3. Foods Rich in DHA
Having DHA-rich foods during pregnancy can help develop the baby's brain. You will need about 200 milligrams of DHA (docosahexaenoic acid
) daily and to meet these requirements you can include milk, eggs, and fruits in your meals.
4. Foods Rich in Folic Acid
Folic acid is found in green leafy vegetables like spinach and romaine lettuce – you can include these in your third-trimester diet. Consuming folic-acid rich foods will ensure proper foetal growth and lower the risk of low-birth-weight of your baby. Apart from eating spinach and lettuce, you can even include folic acid, beans, and citrus fruits.
5. Foods Rich in Calcium
In the third trimester of your pregnancy, your baby's bones should get stronger and for that, your pregnancy diet should include about 800 mg of calcium. To meet your calcium requirements, you can add and milk products like cheese, tofu, and yoghurt to your diet. Salmon and nuts are also good sources of calcium. However, if you plan to eat salmon, first, check with your doctor if you can eat it or not. If she gives a go-ahead, make sure you cook it well before eating.
6. Foods Rich in Magnesium
Your body will need magnesium as it helps absorb calcium and repairs damaged body tissues, so you must include magnesium-rich foods in your diet. For 350 to 400 mg of magnesium, you can include almonds, pumpkin seeds, barley, oats, beans and artichokes to your diet. Eating these foods will also provide relief from muscle cramps and lower the risk of preterm labour.
7. Foods Rich in Vitamin C, B6 and B12
These vitamins play a significant role in the development of a baby through the musculature and placental growth. These vitamins can be found in oranges, bananas, sweet lime, carrots, chickpeas, and almonds.
8. Fruits and Vegetables
Eating fruits and vegetables is also important during pregnancy as they can provide you with various nutrients. Fibre-rich fruits and veggies can provide relief from constipation and regulate digestion. You can have them in the form of juices, smoothies or raw, fresh, frozen or canned.
9. Nuts

Nuts are a good source of protein, thiamine, and essential omega-3 fatty acids. If you do not feel up for lunch or dinner, grab a handful of almonds, walnuts, or pistachios and enjoy.
And if you are looking for foods to increase weight in the third trimester, you should eat more frequently and include foods that are nutrient and calorie-dense like dry fruits, nuts, and crackers with peanut butter.
A Sample Diet Plan for the Third Trimester of Pregnancy
Having a well-balanced diet is the key to your diet during the third trimester. Foods rich in vitamins, iron, and other nutrients are essential in the third trimester. Here is a sample meal plan for the third trimester that you can refer to. Note: This is a sample meal plan, so before following it consult with your doctor and make the necessary changes.
| | | | | | |
| --- | --- | --- | --- | --- | --- |
| | BREAKFAST | SNACK | LUNCH | SNACK | DINNER |
| Monday | Oats porridge with honey Apple juice | Sapodilla | Potato and onion paratha with curd, coriander and mint chutney | Mango panna and sprouted green gram chaat | Soya and mushroom curry and okra sabzi with cucumber and carrot salad + chapati/rice |
| Tuesday | Grilled paneer sandwich and Tea | Guava | Kidney beans curry + capsicum and cauliflower sabzi and cucumber raita + rice | Almond milk | Red lentil dal + beans sabzi + chapati/rice |
| Wednesday | Wheat porridge with dates and milk | Grapes | Potato and peas curry + pumpkin sabzi + chapati | Buttermilk with dhokla | Spinach paratha + beetroot raita |
| Thursday | Sago upma with peanuts + coffee | Dried figs | Vegetable khichdi + pomegranate raita + roasted papad | Coconut water + roasted corn | Bottlegourd kofta curry + crispy lotus stem sabzi with Pearl millet roti |
| Friday | Semolina and mixed vegetable chila + buttermilk | Mango | Black gram dal + round gourd sabzi and Chickpea flour + chapati | Lassi + puffed rice with roasted peanuts | Pulao with onion and tomato raita |
| Saturday | Methi paratha with curd | Papaya | Mung bean dal and carrot and peas with chapati/rice | Jal jeera + sweet potato chaat | Black-eyed peas curry + radish sabzi with roti |
| Sunday | Wholewheat toast with sautéed mushroom + banana milkshake | Pomegranate | Chickpeas curry + bitter gourd sabzi with chapati/rice | Lemonade with + mixed nuts and raisins | Pasta in tomato sauce + steamed broccoli sticks |
Useful Dietary Tips for Third Trimester
Here are some dietary tips that you should follow during the third trimester of your pregnancy.
Do not miss any meals and have small meals.
Make sure your daily diet includes all food groups required.
Cut out sugar and salt-laden foods or snacks from your diet.
Reduce the consumption of caffeinated beverages.
Quit smoking
Avoid eating fried and spicy foods as they can lead to heartburn and indigestion.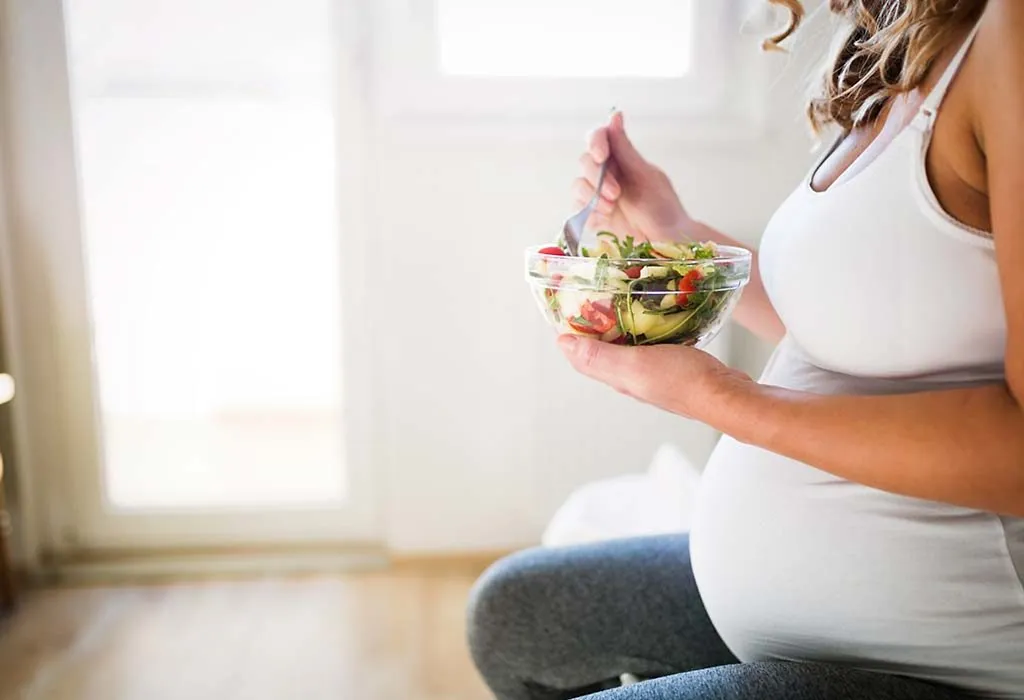 What to Avoid in the Third Trimester of Pregnancy
Avoid including these foods in your third-trimester pregnancy diet.
Salt: Avoid eating salty foods such as potato chips and fries.
Raw Vegetables: Raw veggies or uncooked veggies can lead to a gas problem, hence you must avoid eating raw veggies. Before eating any veggie, make sure you cook it well.
Spicy Foods: Spicy foods can cause indigestion and heartburn during pregnancy, hence they are best avoided in the last trimester.
If healthy food has always been your mantra, pregnant or not, you won't need to make any significant changes. But if not, then make some dietary changes in the third trimester as well. You have done so well so far, so continue with that and your baby will grow properly! However, do check with your doctor before including anything in your diet and have a safe pregnancy!
Also Read: Best Fruits to Eat During a Pregnancy