This Traditional Method of Massaging a Baby Can Help in Holistic Growth and Development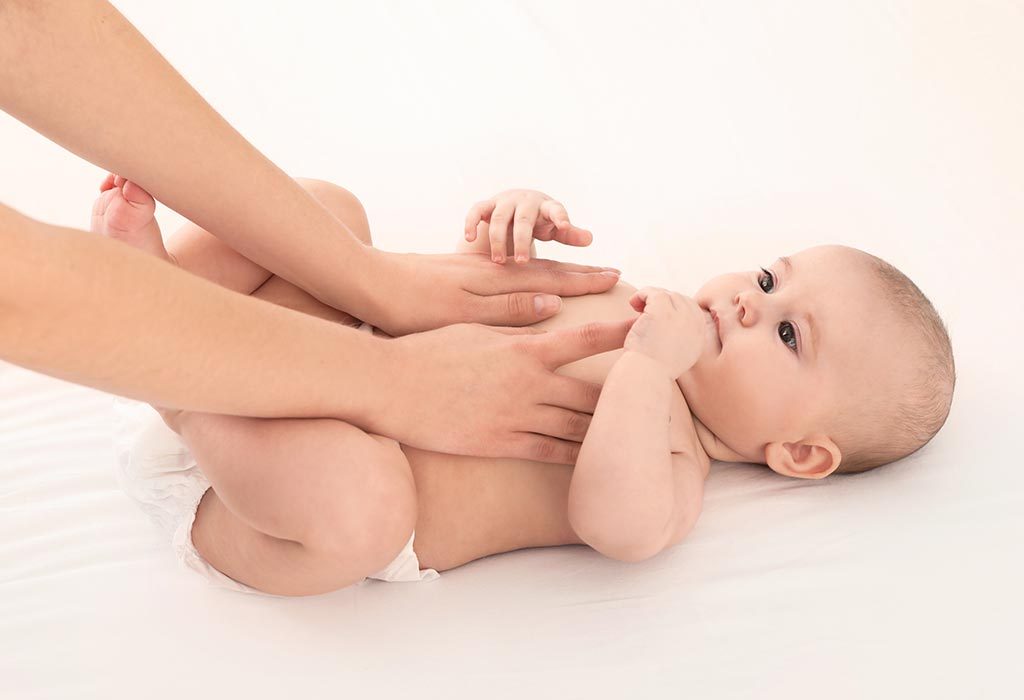 You can't help cuddling and caressing your little baby every day, can you? It is a natural method of bonding between a parent and child to gently massage a baby.
Daily massages can offer tons of benefits to your baby—from improved sleep to better digestion to a calm and relaxed baby. But to ensure that your baby benefits from your gentle and loving strokes, you need to pick the right massage oil. Dabur Lal Tail, known for its unique Ayurvedic formulation, is clinically proven to propel physical growth twice as fast.
With the combination of this oil and the correct technique, you will be guaranteeing healthier skin, hair and bones for your baby!
Not sure how to begin? We've a handy guide for you! We will start with the benefits because that should help you see why your baby needs a daily massage!
Benefits of Baby Massage
Let's look at how massaging her daily can help in your baby's holistic development.
Daily massages can help strengthen your baby's bones and muscles, and also her joints, which ultimately help her in achieving the milestones faster, like standing up, walking, and running. However, ingredients play an important role in the extent of delivering those benefits. That's why you should choose a safe and efficacious oil for infants. Dabur Lal Tail is one such authentic Ayurvedic baby massage oil that is infused with many unique, time-tested herbs that are proven to boost physical growth in babies and help them achieve their milestones twice as fast. It has sesame oil which is rich in antioxidant properties and is anti-bacterial in nature. It strengthens the bones and muscles. The presence of urad in the oil is known to nourish and make muscles stronger. Even with changing time, this oil has proven its relevance with its efficacious and safe formulation prepared with all-natural herbs.
Massaging also promotes healthy and nourished skin, especially when you use oil for massaging your baby. Using a good oil like Dabur Lal Tail, which is infused with the goodness of sesame oil and ratanjot, can make your baby's skin soft and supple, and protect it from the harsh environment. Ratanjot is a unique herb which generally gives rise to the red colour of the oil. It helps in soothing and protecting the skin while preventing skin diseases. The presence of shankhpushpi in Dabur Lal Tail helps in providing a naturally glowing skin.
Daily massages can help improve blood circulation in the body. An ancient time-tested herb that helps in improving blood circulation is karpura. Dabur Lal Tail's authentic ayurvedic concoction includes this ingredient in fair proportion.
Massaging can also help your baby relax and sleep better. It also reduces crying spells.
Massages also promote weight gain, especially in premature babies.
With a daily massage ritual in place, the bond between parent and child is also strengthened.
Baby massages can stimulate the digestive and circulatory systems, which might help babies who are troubled by gas or constipation. Daily massages can also improve digestive health which can provide relief to colicky babies.
Now if you're convinced that daily massages can be useful for your baby, you'll want to buy the right massage oil for those fun massage sessions. Choose an oil which contains ingredients that have passed the test of time in proving their benefits and safety when it comes to application on babies for massaging.
Ingredients to Look for in Your Baby's Massage Oil
1. Sesame Oil
Sesame oil is known for its antioxidant and antibacterial properties, which help fight free radicals and bacteria. This oil makes a baby's skin soft and supple. Sesame oil also helps strengthen the bones and muscles of a baby, which contributes to her physical development.
2. Shankhpushpi
You naturally want to keep your baby as far away from chemical-laden products as possible. When it comes to applying lotions and oils topically on your baby's skin, natural, Ayurvedic products are the safest. Shankhpushpi is one such Ayurvedic herb which nourishes the skin from within and imparts a healthy glow. Shankhpushpi is present in Dabur Lal Tail in just fair proportion along with other promising ingredients which are very beneficial for baby skin.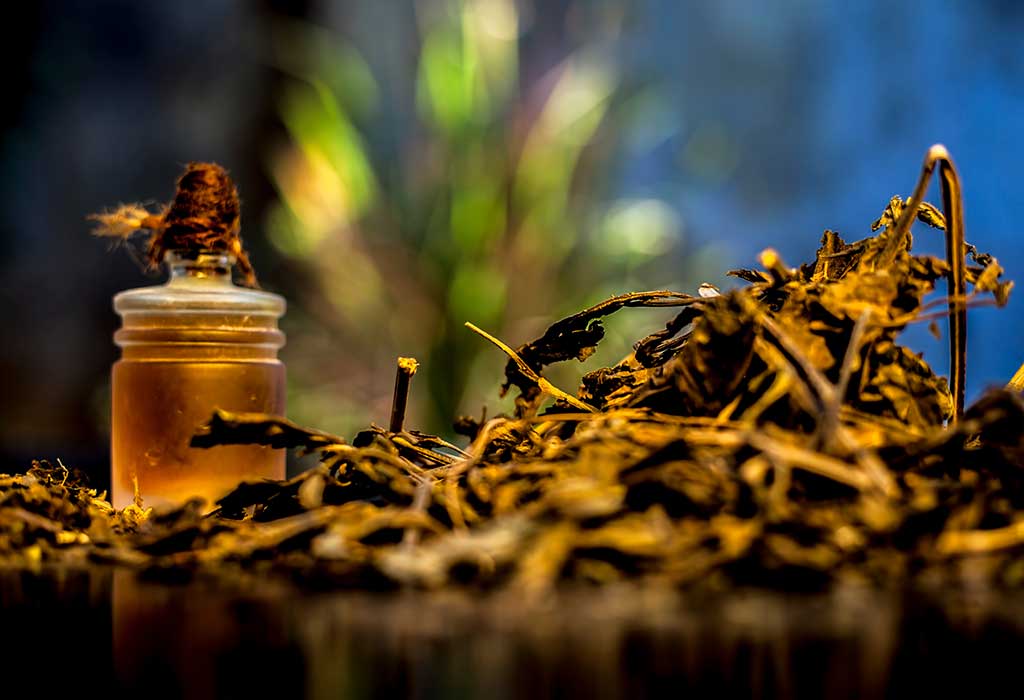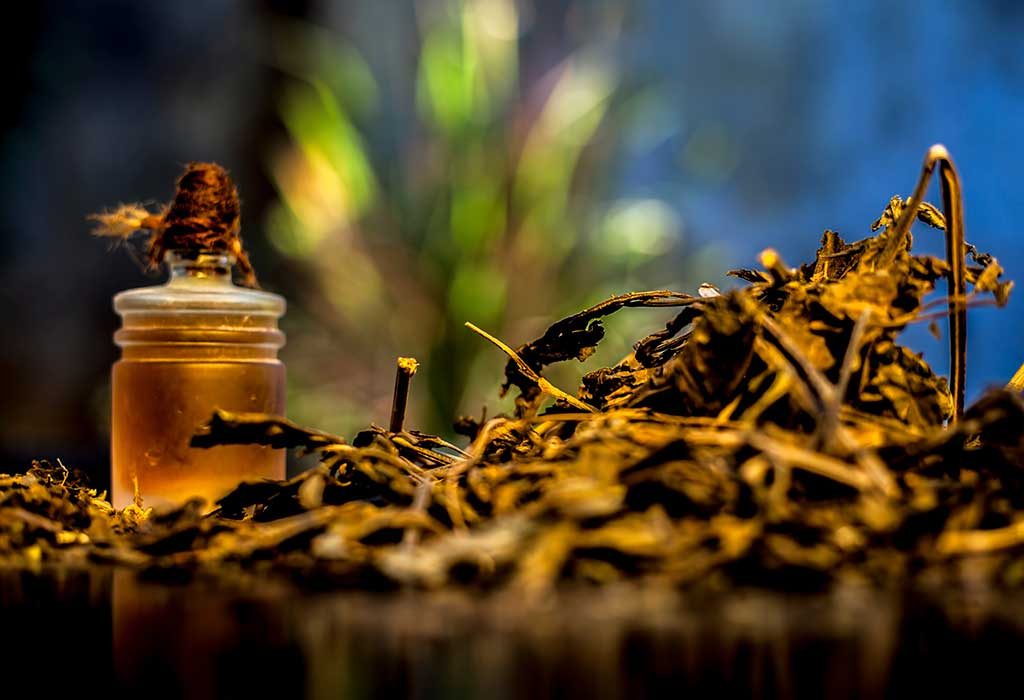 3. Ratanjot
It is a wonderful herb which is very beneficial for skin and hair. It can help soothe a baby's skin. This antioxidant-rich herb gives Dabur Lal Tail its unique crimson red colour. Contrary to the common misconception about the colour, this oil is dermatologically tested for safety.
4. Karpura
Karpura or camphor is widely used in creams and lotions owing to its antibacterial and anti-inflammatory properties. It stimulates the blood circulation to the body, which helps the body function better. It also helps with pain relief. When your little one starts trotting around the house, you will understand the importance of having a muscle relaxing and strengthening oil. But why wait for that day? Strengthen your baby's muscles from early on by massaging her using the best massage oil.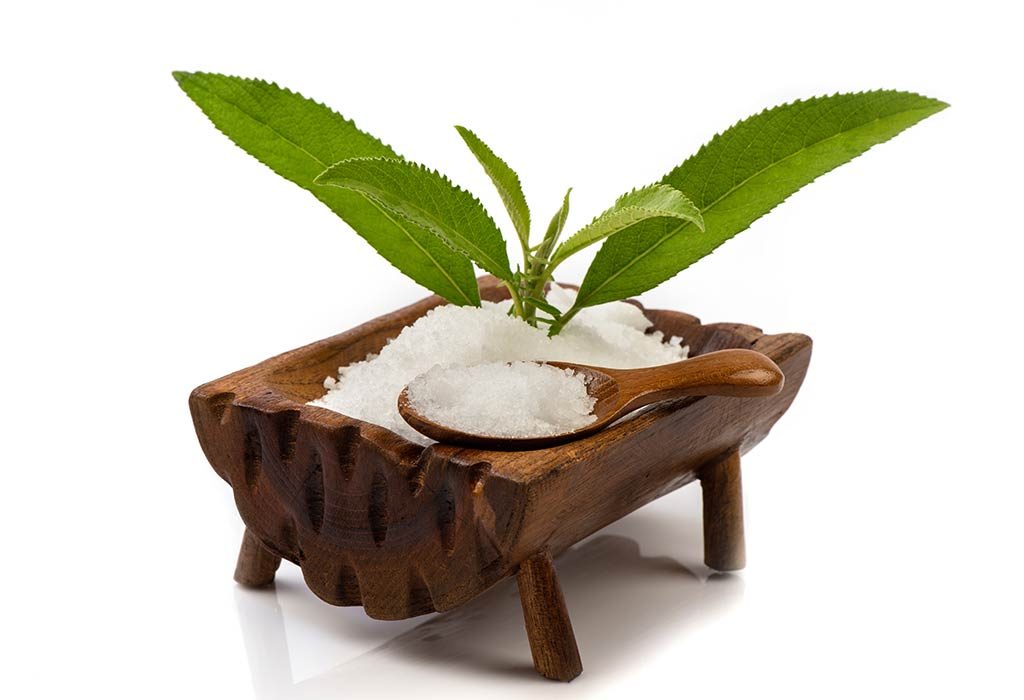 5. Urad
Urad is another ingredient that nourishes and makes the muscles stronger. It also helps with muscle pain. Whether you have a baby or a growing toddler, do check if the oil you are using for your baby contains urad. You will need to massage your baby's legs to keep up their strength to toddle, walk, and run around the house.
Before you pick any massage oil for your baby, make sure it contains all these herbs, which have been in use since the ancient Vedic era. Dabur Lal Tail is known for its authentic Ayurvedic formulation; it is enriched with all these natural herbs in fair proportions, which makes it a safe and effective massage oil. It is also dermatologically-tested for safety, making it a popular choice among parents. You want to give your munchkin the best of the best, remember that when buying a massage oil too, and what better than a dermatologically-tested oil like Dabur Lal Tail!
Now let's get on to the right massage technique.
How to Massage Your Baby – The Right Technique
Little ones love routines, so make sure you massage your baby at the same time daily. For example, if you massage her before her bath time, continue with this practice daily. Also, try and massage her the same way every day, so that she knows what's coming. Now without further ado let's look at the technique—the traditional method that most Indian moms follow to massage their babies.
1. Create a calm and cosy atmosphere
If possible, try and massage your baby in a warm, quiet place. You want a calm, relaxed baby so make sure she is done playing. Lay her on her back on a soft towel, or you can stretch out your legs and place her on them. Her head should be on your ankles and her feet towards your tummy. This way you can maintain eye contact with her throughout the massage session.

2. Warm up the oil
You can use warm oil in a bowl to massage your baby or rub the oil between your palms to warm it up. You could use Dabur Lal Tail for daily massage sessions. It is dermatologically-tested and is safe for daily use. Its regular use promotes faster physical development, and it is one of the best baby massage oils you will find today, especially if you believe Ayurveda and safe, natural oils are best for your baby!
3. Start with feet and legs
Start massaging her feet and legs gently. You can even hum, or sing something to get your baby to relax and be soothed. Begin from the bottom, because your little one is accustomed to you touching her legs when changing her diapers. After massaging her feet, massage her legs, stroking downwards from thighs to her toes. This will strengthen her leg muscles. Once you're done massaging her legs, hold each toe, and pull it outwards gently. Think of it as giving her little toes a gentle hug with your fingers.
4. Move to arms and hands:
Rub some oil between your palms then start massaging her arms. Pull gently from upper arms to forearms then massage her palms and fingers by slightly pressing them. Then pull her each finger gently to give them a nice stretch.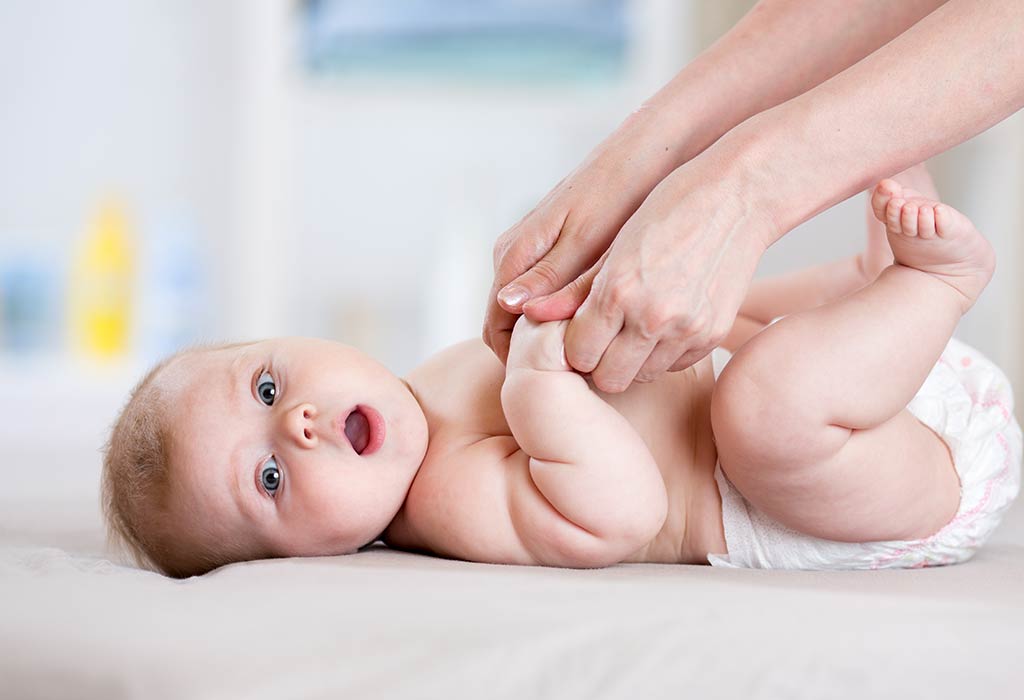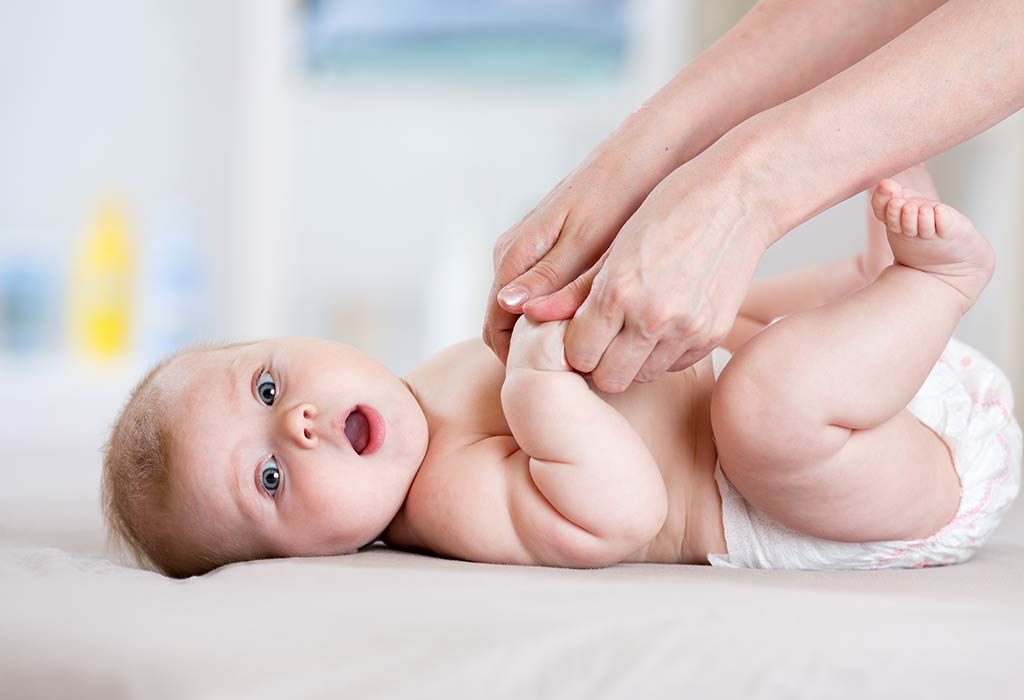 5. Focus on tummy and chest
Your baby may feel a tingling sensation when you massage her stomach, so be patient and use light strokes. Take some oil in your palms and start rubbing her tummy and chest in a circular clockwise motion. Complete the front massage with long strokes from her chest to her legs. Then, take her arms and cross them in front of her chest. Do it a couple of times to give them a gentle stretch. Next, holding her ankles, push her legs upward gently, bending her knees onto her tummy— this will help pass trapped gas.
6. Time for back massage
Turn your baby around and using big circular anticlockwise movements, massage her from bottom to shoulders. Finish off with long strokes from her shoulders to her legs. Don't press down on her spinal cord as it might hurt her.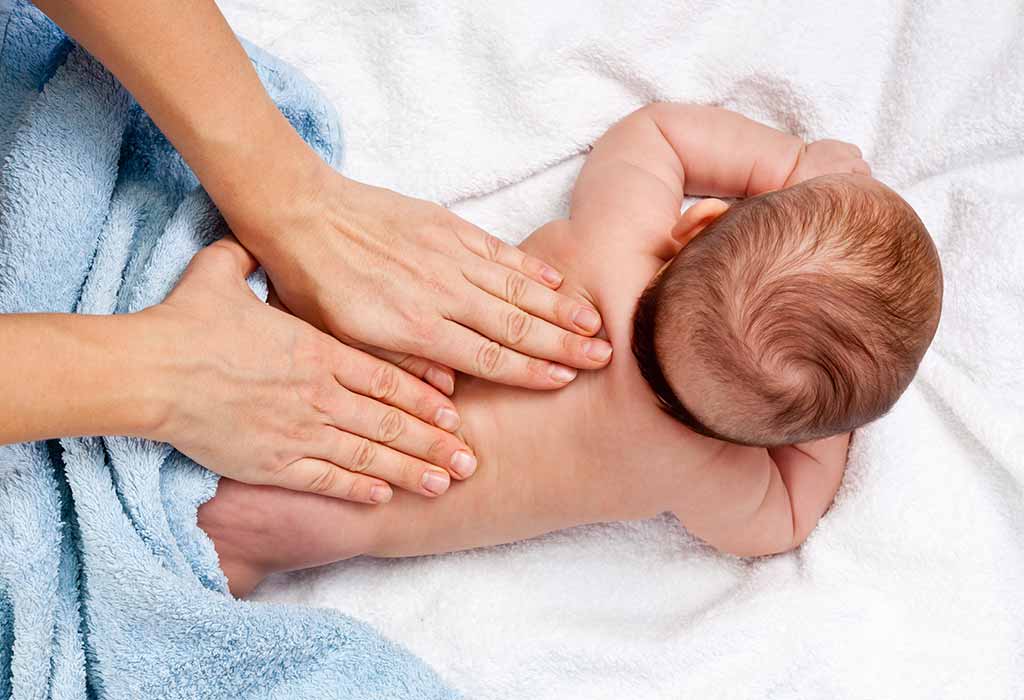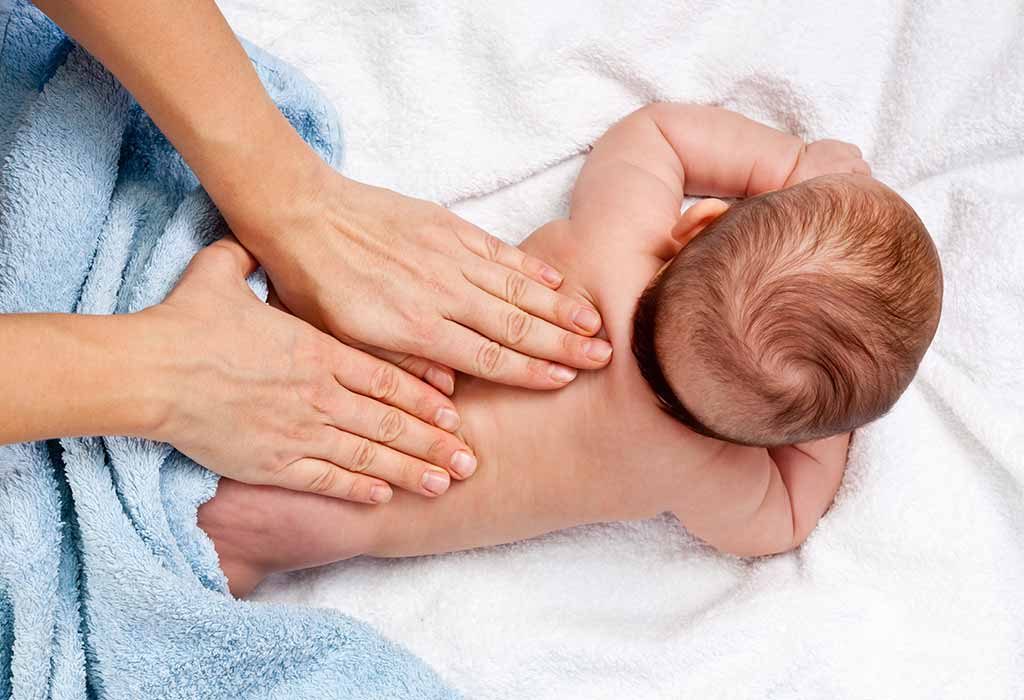 Remember, this is when you and your baby bond, so make it soothing, with conversation or music.
The Lowdown
Massaging a baby is a recommended traditional practice followed even today as it helps in the physical and holistic development of a baby. With the right knowledge, the right oil and the right technique, you'll soon begin to see results; not to mention really enjoy these moments with your little angel for years to come!
Also Read:
Baby Massage – Benefits and Techniques
Massaging Techniques for Baby to Relieve Gas
Baby Massage Oils – Which One Is Good for Your Child?