How to Ensure Your Baby Massage Ritual Delivers the Maximum Benefits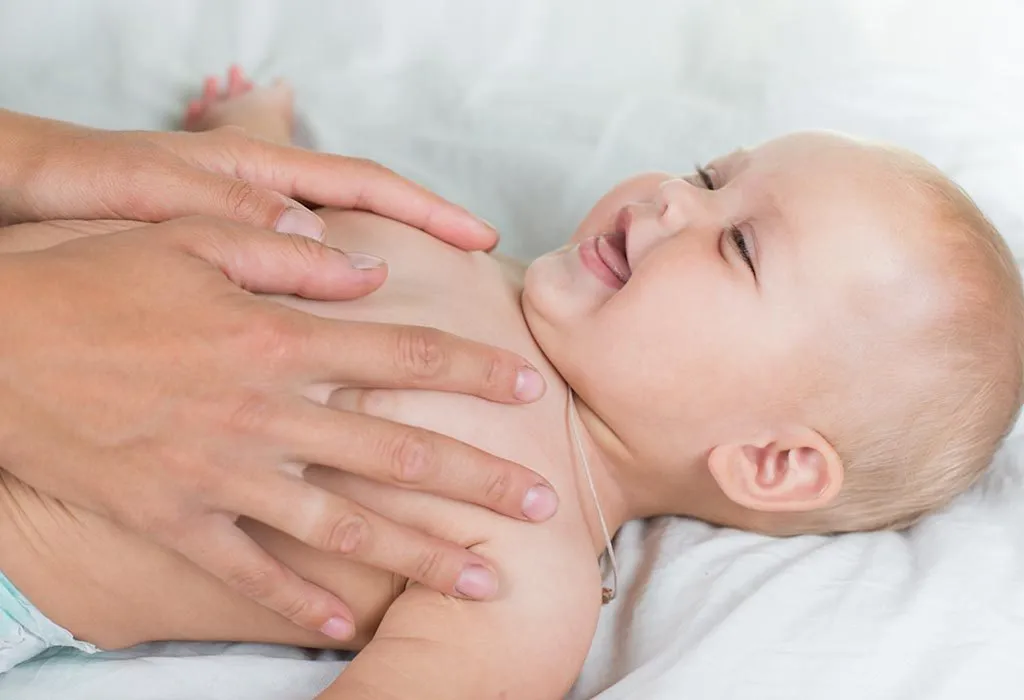 Over the years, with global westernisation, we have done away with many customs and traditions practised by our ancestors. But one ancient Ayurvedic tradition that is practised to this day, without fail, is oil massages for babies. And rightly so, as a daily baby massage can do wonders for your little one, strengthening her bones and muscles while gently soothing her, among many other benefits. While massaging a baby who seems so delicate may be daunting to new parents, a few simple techniques and practices go a long way in making this ritual one that both you and your baby look forward to! Here's how you can shed the fear, grab the best massage oil, and work towards making your baby stronger and happier!
Picking the Massage Oil
Many parents may prefer massaging their baby with a lighter oil rather than a heavier oil, it may absorb into the skin easily. But, irrespective of the texture, it's best to use an Ayurvedic massage oil created with natural ingredients, as your baby's sensitive skin will absorb it during the massage, getting an infusion of goodness, rather than just working lightly on your baby, without delivering the benefits mentioned. When picking the oil, go for one such as Dabur Lal Tail, which is enriched with natural herbs and ingredients, carefully chosen for the nourishment of a baby's bones, muscles and skin. It has sesame oil, which makes the skin soft and nourishes the bones, shankhpushpi, for glowing skin, ratanjot, for skin protection, urad, which strengthens the muscles and, finally, karpura, which improves blood circulation. The result—improved skin quality and stronger muscles and bones, all of which are crucial in the first couple of years of a child's life. Selecting the right massage oil does most of the work for you, rest assured that your little one gets nothing but the best!
Benefits of a Baby Massage Ritual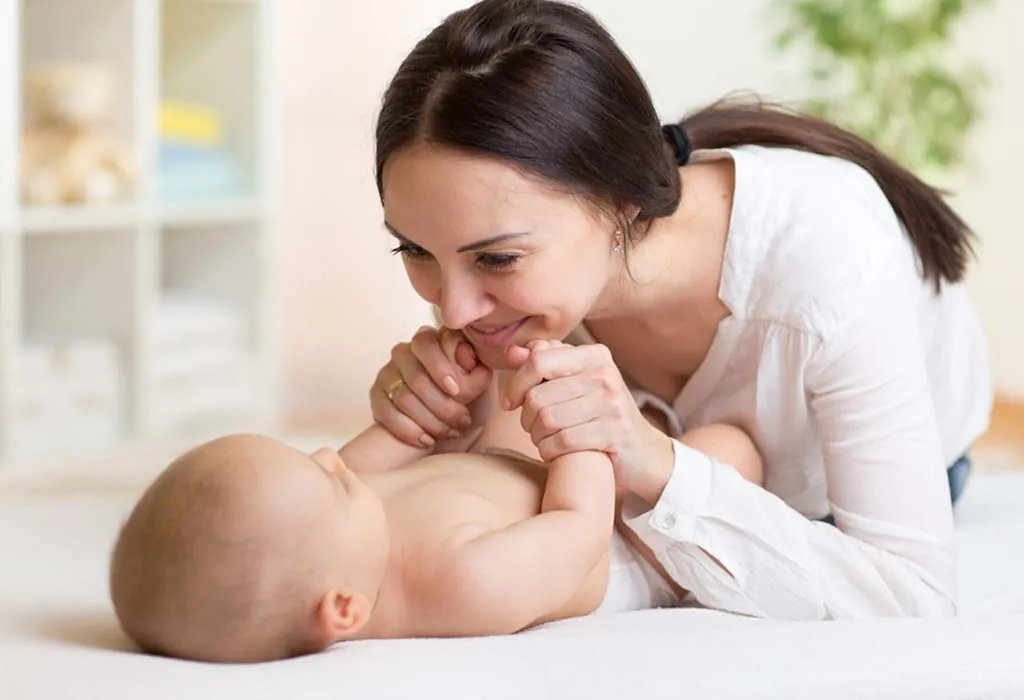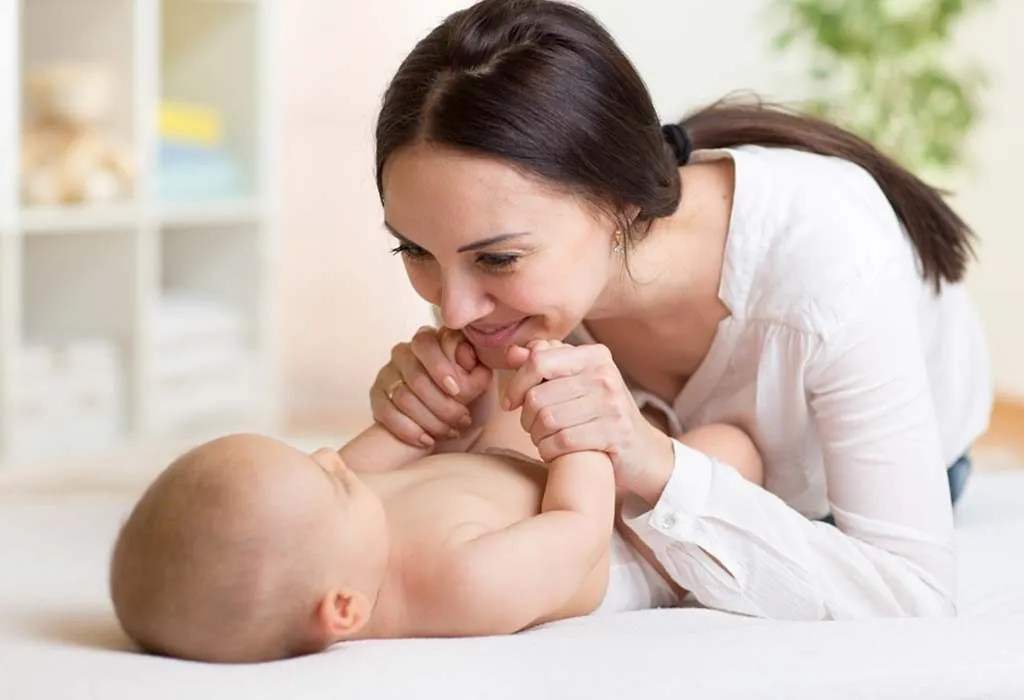 Wondering how a daily massage can help your baby? It can actually do a lot more than you think. Here is why you should make daily massages a part of your baby's routine.
1. Strengthens Bones and Muscles
Massaging increases blood and lymphatic circulation, and strengthens your baby's bones and muscles. As discussed earlier, the massage oil you use has a major part to play in this process, as it can help your little one reap the maximum benefits from the massage. Dabur Lal Tail, an Ayurvedic massage oil, is formulated with the goodness of sesame oil, which nourishes the bones and muscles, karpura, which improves blood circulation and urad, which strengthens the muscles. Enriched with natural herbs that are selected and blended to keep their beneficial value intact, massaging your little one with this oil every day provides a boost of nutrition to the bones and muscles. This aids physical development, helping your baby achieve her milestones faster!
2. Nourishes the Skin
The benefits of a daily massage for baby skin are no secret. After just a couple of uses, you'll see your baby's skin become softer and more supple. Dabur Lal Tail is an all-natural Ayurvedic formulation that is completely safe for your little one's delicate skin, as it does not contain artificial fragrances or colours. The addition of shankhpushpi, a time-tested herb, gives the baby's skin a natural glow, while ratanjot, which gives the oil its crimson colour, protects the skin from different diseases and soothes it. Pick an oil that is dermatologically-tested and made with nourishing ingredients that protect the skin and smoothen it, keeping dryness at bay!
3. Improves Sleep
Massages can be incredibly relaxing, and if you've often found yourself craving a massage after a hectic day, we're sure you can attest to that. Babies need more sleep than adults as that is when their brain undergoes development and processes new experiences. An elaborate oil massage accompanied by a warm bath will put your baby into a deep slumber, so she gets some rest and wakes up happy and charged to play and eat!
4. Builds the Parent-Child Bond
A daily massage gives you some one-on-one time with your baby, as you can spend that time speaking to your little one while gently massaging her. Plus, you can become more confident in handling your baby and get cues about what she needs. This is a relaxing process for the baby as she gets to spend time with her favourite person- you!
How to Massage Your Baby
Sure, a massage can be as simple as gently running your fingers down your little ones arms, legs and back but there are some techniques recommended that maximise the benefits of the massage for the baby.
Hands and Legs: Glide your fingers down your baby's hands and legs, applying very little pressure. You can also move upwards and downwards, along the length of the hands and legs, in a circular motion. For the palms and feet, use your thumbs to gently press the fingers and toes, and use your palms to rub the baby' palms and feet.
Tummy: Applying little pressure, move your palms around the baby's tummy, in circular motions. Then, gently bend the knees to the tummy and hold for 20-30 seconds. Repeat a few times, and this will release any gas, which is usually the cause of colic.
Back: You can either glide your thumb in circular strokes or use up and down strokes to massage your baby's back.
Scalp and Face: Gently cradle your baby's head in your hands and run your fingers in a circular motion over your baby's scalp. Apply very little pressure on the scalp and be careful around the soft cranial areas. For the face, place your thumbs at the centre of the baby's forehead and do gentle, outward strokes over the eyebrows. Then, starting at the bridge of the baby's nose, do small strokes downwards, across the cheekbones.
Tips to Follow When Massaging Your Baby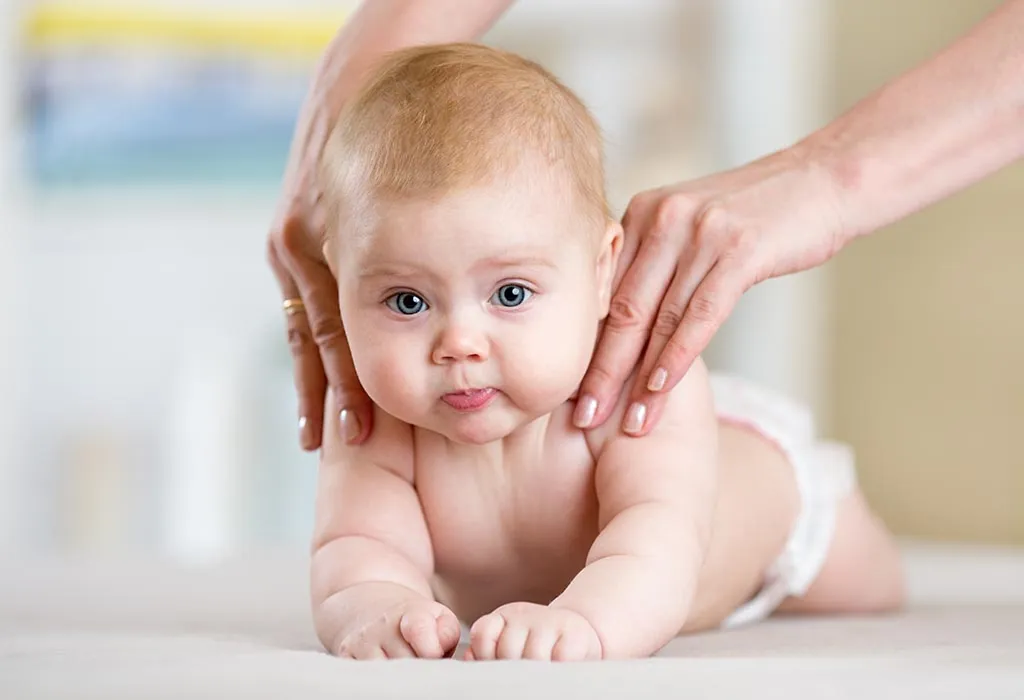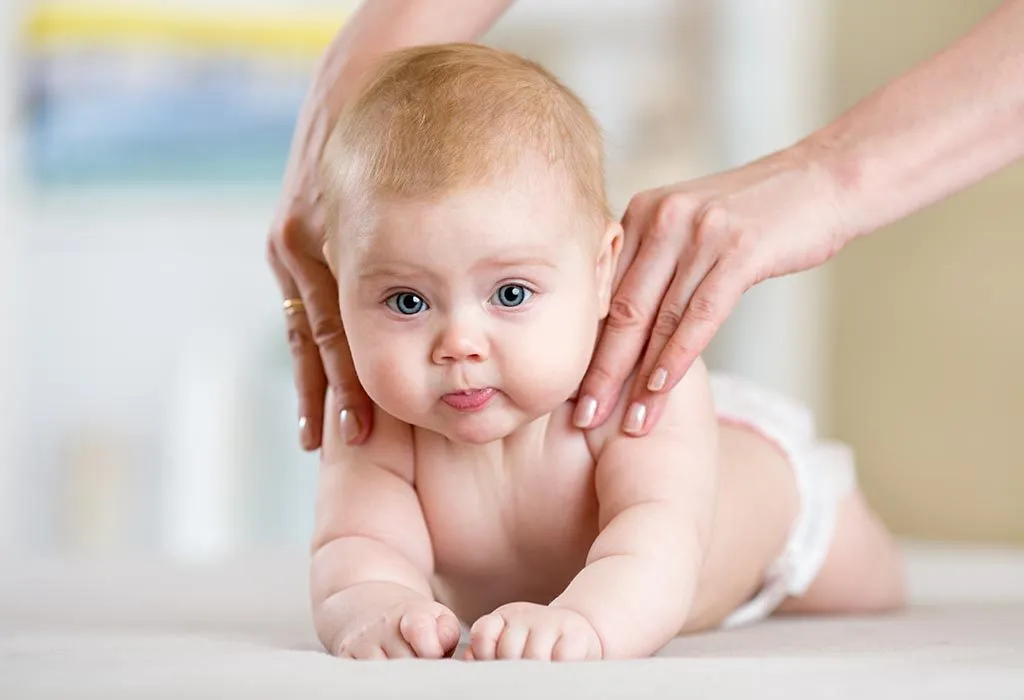 Here are some additional baby massage tips to make a daily massage more safe and beneficial for your baby!
1. Create a Warm and Calm Atmosphere
Find a quiet and warm place in the house to massage your baby, so that she feels comfortable and there are no interruptions.
2. Remove Jewellery and Trim Your Nails
Long nails or jewellery on your hand can hurt the baby. Make sure you remove any rings or bracelets and trim your nails before the massage.
3. Warm the Oil
Take a few drops of oil and rub it between your palms to slightly warm it before applying it on your baby's skin. This is comforting for the baby and also helps her skin absorb it better.
4. Let the Oil Get Absorbed
Take your time while massaging the oil into the skin. Ayurvedic formulations such as Dabur Lal Tail are made with natural ingredients and are free from artificial fragrances and colours. The oil is completely safe and healthy for babies, strengthening the bones and muscles while adding a glow to the skin. The crimson colour of the oil comes from the presence of a unique Ayurvedic herb, ratanjot, which soothes and protects the skin. Complete with shankhpushpi, and sesame oil, this oil soothes and protects the skin while imparting a natural glow to it, and increases blood circulation in the body. Clinically proven to provide faster physical growth to achieve milestones and formulated with time-tested herbs, the oil aids physical development, so taking that extra time for the oil to get absorbed can do wonders!
5. Be Gentle
Always use gentle strokes and very less pressure when massaging your baby, as she is still quite delicate. If your child tends to cry out loud at certain times during the massage, it may be a cue to lessen the pressure.
6. Talk to Your Baby
Talk to your baby during the massage and maintain eye contact, so she feels safe and happy. This will also strengthen your bond with her, and she giggles and smiles at you during the massage, you're on the right track.
7. Follow Up With a Bath
While some parents may prefer swaddling their babies and letting them sleep after the massage, others prefer to bathe them immediately. Whichever you may choose, make sure to give your little one a bath no later than 2 hours post the massage. Warm the water slightly, so that any excess oil is removed properly, leaving your little one with smooth and soft skin.
A massage is a great way to connect with your child while giving her skin and muscles a boost of nourishment and strength. Babies love being massaged gently, as they feel relaxed and get to spend some time with their caregivers. It may take some time to set the perfect massage routine, but once you get the hang of it, a massage will become an irreplaceable part of your baby's day!
Also Read:
Baby Massage – Benefits and Techniques
Massaging Techniques for Baby to Relieve Gas
Baby Massage Oils – Which One Is Good for Your Child?