Apple pear mash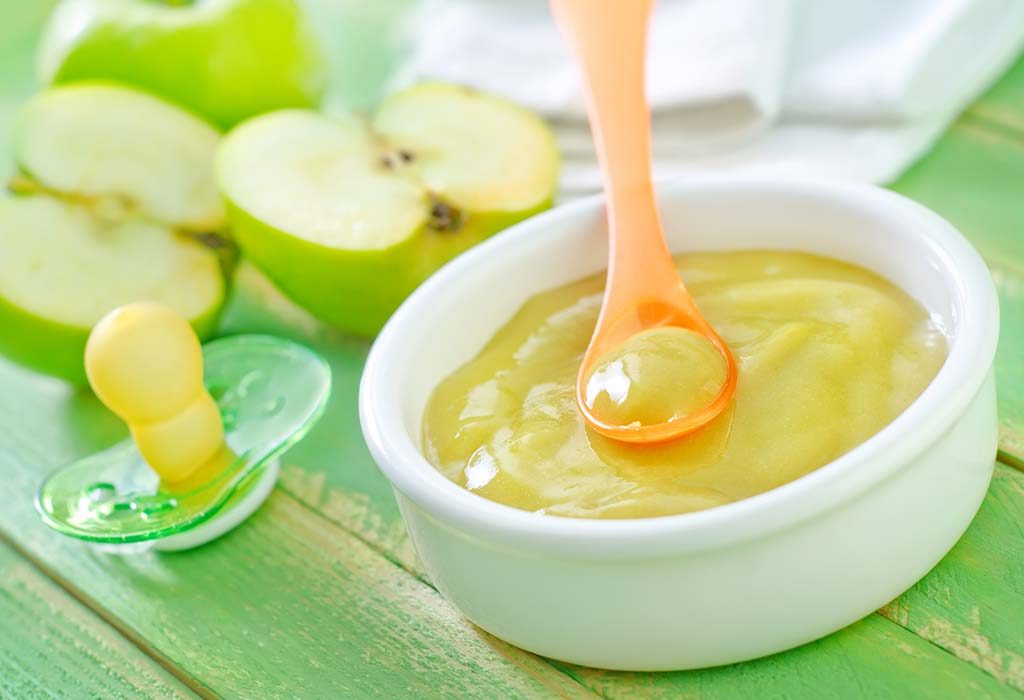 In this Article
Apple and pear mash is among ideal first foods for a baby as it is easy to digest and unlikely to cause allergies. Choose sweet and juicy apples like the Pink Lady or Royal Gala variety. The pectin in apples and pears is helpful if your baby has loose stools.
| | | |
| --- | --- | --- |
| Serves | Preparation Time | Cooking Time |
| 4 People | 5 Minutes | 15 Minutes |
Ingredients
2 medium apples
2 ripe pears
4 tbsp (tablespoon) pure unsweetened apple juice or water
Generous pinch of ground cinnamon (optional)
Method
Step 1
Peel, core and cube pears and apples.
Step 2
In a small saucepan, simmer pear, apple and cinnamon(optional) with apple juice or water for 10-15 minutes or until tender.
Step 3
Test the doneness by piercing a fork.
Step 4
Drain and transfer fruit to a bowl. Allow to cool a little.
Step 5
Mash to get the desired chunky texture.
Step 6
Serve immediately or transfer to ice cube tray for freezing.
Nutritional Information
Calories
97
Calories from Fat
3
Total Fat
0.3g 0%
Trans Fat
0.0g
Cholesterol
0mg 0%
Sodium
2mg 0%
Potassium
199mg 6%
Total Carbohydrates
25.8g 9%
Dietary Fiber
4.9g 20%
Sugars
17.4g
Protein
0.6g
Vitamin A
1%
Vitamin C
13%
Calcium
1%
Iron
2%
* Based on a 2000 calorie diet
Nutritional details are an estimate and should only be used as a guide for approximation.