Amazing Mexican-Themed Baby Shower Ideas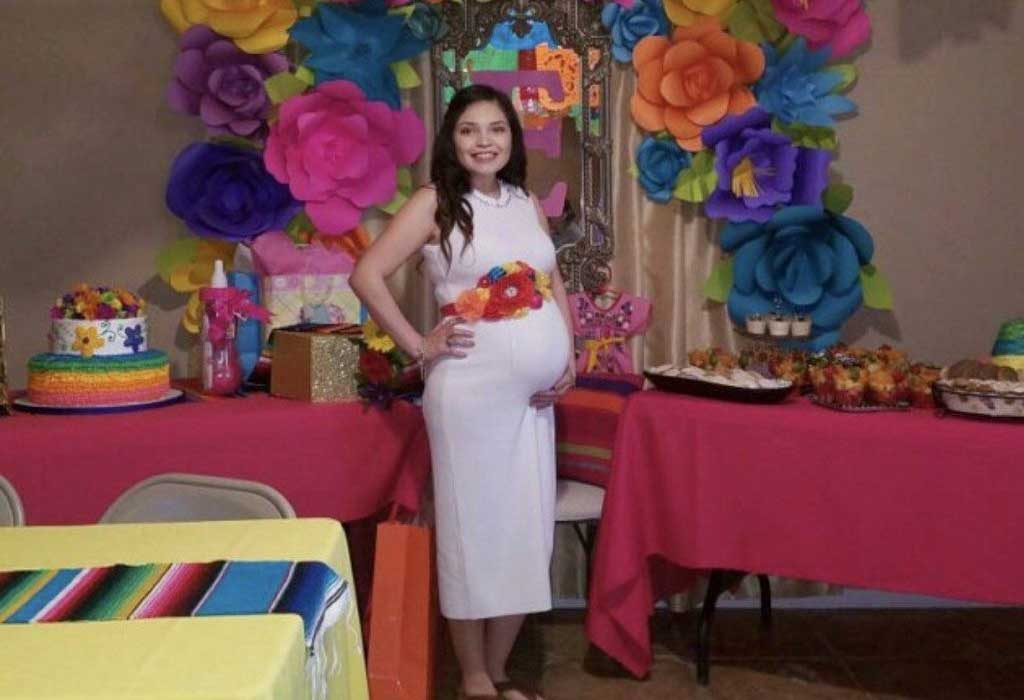 In this Article
If you or your family are of Mexican heritage or you are planning a baby shower for a Mexican friend, having a Mexican-themed baby shower is the perfect idea. It is a great way to celebrate the culture and traditions of the homeland, and also showcase its beauty. You can have colourful, festive invitations, decorations, food, drinks, party favours and games. Throwing an authentic shower, especially when you don't have easy access to Mexican products or if you don't know much about the Mexican heritage, can be challenging. Here are some ideas on how you can throw a fun Mexican-themed baby shower party.
Tips to Throw a Mexican-Themed Baby Shower Party
If you are throwing a Mexican-themed baby shower, procuring authentic supplies like decorations and food items can be challenging. Be sure to buy them from Mexican shops and bakeries. If you don't find such stores near your house, you can always make DIY decorations, invitations or party favours. For example, you can make colourful tissue paper flowers, Papel Picado banners and piñatas. You can get authentic Mexican caterers or make your own Mexican food. Be sure to make the celebration true fiesta-style – colourful, authentic and loads of fun!
Mexican Baby Shower Invitation
If you are throwing a Mexican-themed baby shower, make sure that your invitations are also cute and festive. Here are some ideas:
You can get customised pre-designed invitations that are ready-made. There are many card stores where you can have them done or you can even find online shops that deliver the invitations to your doorstep.
If you wish to spare expense on baby shower invitations, you can easily send festive invites to your friends and relatives through email. Digital invitations entail unending possibilities – you can have video invites, posters or even gifs. You can even send different invites to different people.
To make the invitations more thoughtful, you can even make them yourselves. Handmade colourful drawings or crafts with tissue paper flowers, ribbons and bows can make for very cute baby shower invitations.
Mexican Baby Shower Decoration And Centrepiece Ideas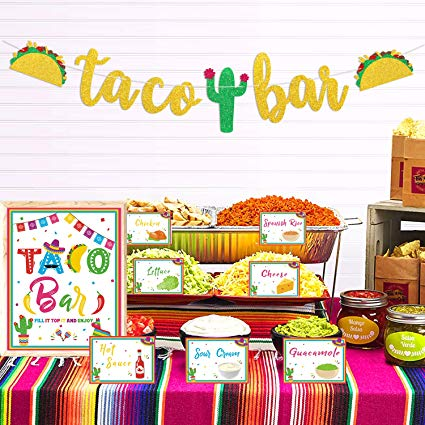 For your Mexican-themed decorations and centrepieces, you can go to Mexican supply stores or make your own cute DIY decorations.
Tissue paper flowers
Handmade tissue paper flowers are a traditional Mexican-themed decoration item. You can either make festive and colourful flowers. If it is a Mexican-themed baby shower for a girl child, you can have pink flowers and for a Mexican theme baby shower for boy child, blue ones. You can even have the flowers in decorative and colourful vases or attach them to hair clips that you can give to your guests.
2. Fringe Piñatas
Fringe piñatas are one of the most fun fiesta baby shower decorations that you can easily get at any party decoration store. If you wish to make them more festive, get donkey shaped piñatas that you can decorate with paper flowers and bows. You can even use mini-fringe piñatas as centrepieces. You could also spray paint your piñatas with bright colours like pink or gold and embellish them with some tissue paper.
3. Papel Picado Banners
Papel Picado banners are a colourful and authentic form of Mexican-themed decorations. You can either buy them from a local supply store or get some craft paper and make it yourself.
4. Talavera Piggy Banks
Handmade Talavera piggy banks can be really cute centrepieces at your Mexican-themed baby shower. You can get them at a local supply store or order them online. You could even give them out as party favours.
Mexican Shower Cake, Food and Snack Ideas
Mexican food and snacks are flavorful and festive and there is an array of options for both savoury and sweet dishes. You can either make them at home or order them from a Mexican restaurant. Here are some ideas:
For savoury foods and snacks, you could get some spicy loco style fruits which are sweet fruits covered in some sweet-spicy-sour and delicious sauce. You could also opt for a baby shower taco theme party with a live taco station that serves different varieties of tacos and quesadillas like al pastor, birria or carne asada. You can also have a nacho bar with some salsa and guacamole.
You can serve Margaritas, with little sombrero stirrers instead of tiny umbrellas, and Modelo beers as drinks or even make cute margarita cupcakes. On the cupcakes, you can use customised baby shower decorations or cute Mexican-themed decorations like sombreros, Papel Picado or flowers.
Cakes or desserts are a must at a Mexican-themed baby shower. You can either get a bunch of mini churro cupcakes or a beautiful Gelatina de Mosaico. Another traditional dessert you could serve is the Arroz con Leche pudding. You could also get some Mexican candies like ollitas de tamarindo, tamales de tamarindo or Mazapan.
Mexican-Themed Favour Ideas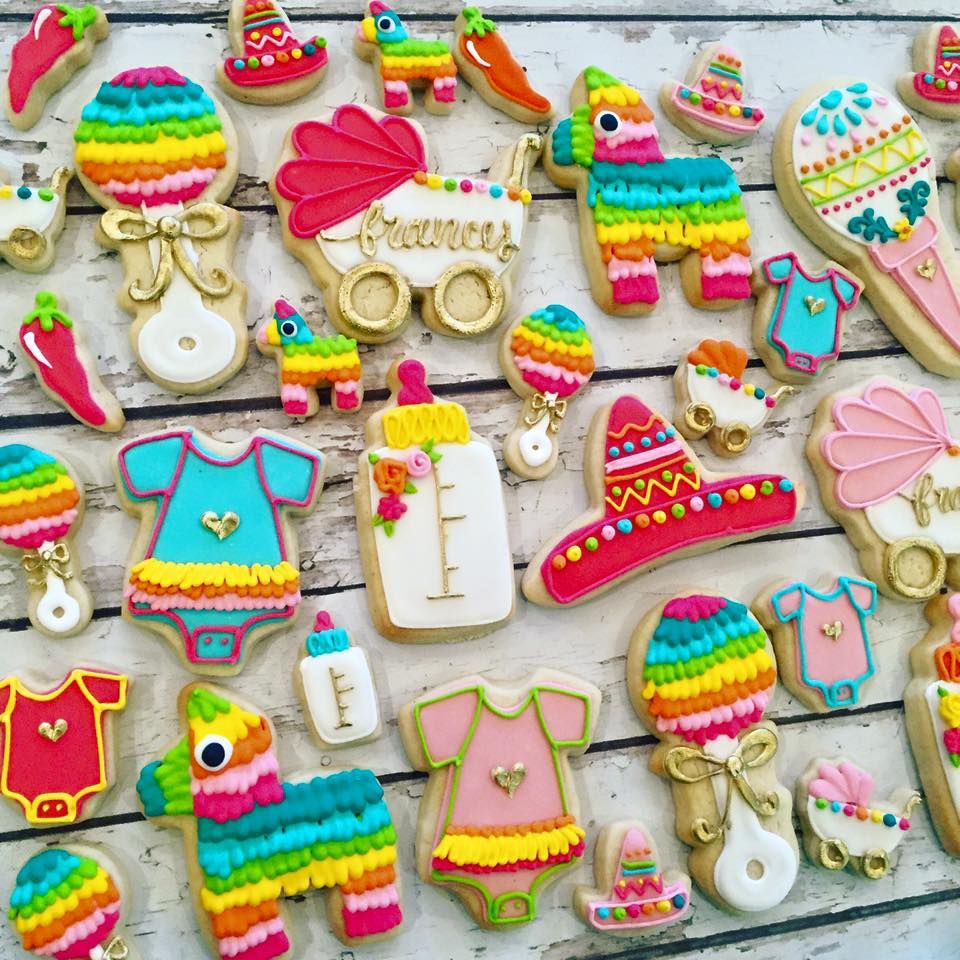 You have to give your guests party favours that will help them remember the fabulous once-in-a-lifetime experience they had at your fiesta baby shower. Be sure to use colourful festive packaging. Here are some party favours you could give:
You can give out cute Mexican handicrafts like talavera piggy banks, mini maracas or mini sombreros. You could also give out some of those adorable tissue paper flowers or decorate the gift bags with them. The gift bags can also be covered with Papel Picado banners.
Be sure to include some delicious authentic Mexican candies in your little bag of favours. You can put some ollitas de tamarindo, tamales de tamarindo, or Mazapan in the bags. Your guests can even share these with their family members, while they talk about the wonderful time they had at your party.
Mexican Baby Shower Games and Activity Ideas
No baby shower is complete without a few traditional baby shower games. Here are some Mexican-themed games you can play at the shower:
The Spanish baby name game can be played while sitting down. All your guests try to come up with a list of cute Spanish baby names. It is easy and fun.
If you want to play a more active game, you can play the traditional Mexican game where everyone tries to carry a baby doll wrapped with a shawl on their back in the traditional manner, after which they run an obstacle course and hand the baby over to the next guest in line.
Celebrating one's roots and traditions is very important and sharing it with others is a wholesome experience. Throw a fun Mexican-themed baby shower that you and your guests will always remember with these helpful tips and ideas.
Also Read:
Disney Themed Baby Shower Ideas
Nautical Themed Baby Shower Ideas
Harry Potter Themed Baby Shower Ideas