60 Beach or Surfer Names for Boys and Girls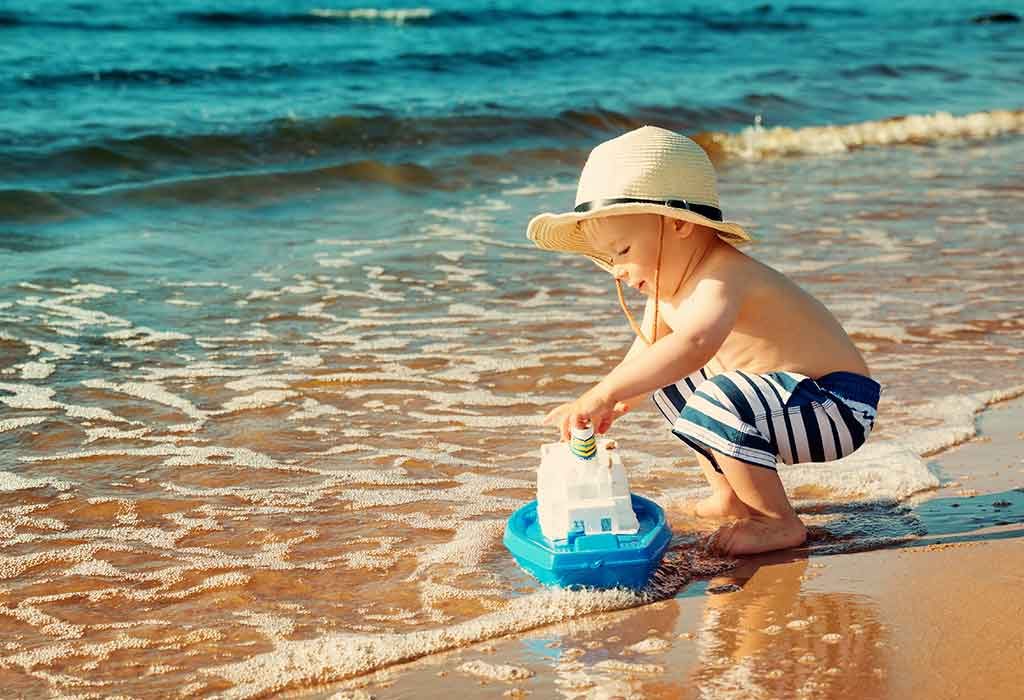 Who does not love the calming waves and a quiet sunset near the sea? The sea has a magnetic pull for those who love adventure and even otherwise. The mysterious ocean reminds one of the depths of human emotions. Would you love naming your precious child after something which reminds you of the sea? Surfers could pick up some splashy and sparkling, while the beach lovers would pick something soothing and calming. Here's a list of beach-inspired baby names that are sure to remind you of the last surf you experienced while at the beach.
Beach or Surfer Baby Boy Names
To have your baby boy named after strong waves and the rocky beaches would certainly give them an edgy feel. Why not then give your baby boy an exhilarating surfer boy name? They would love getting called by the beach boy names we have chosen for you here.
1. Aalto
This name has a Scandinavian origin and denotes the sea "waves". A strong and sturdy name for your strong little boy.
2. Adrian
This name has Latin origin and means "water". This is also the name of famous Australian surfer Adrian Buchan. Those who love surfing would love to give this name to their boy.
3. Arnav
A Hindu word of Indian origin, this means "ocean". Your son will have the depth and gravity of the ocean with this name.
4. Beach
This is a straight forward English name defining the sandy and fun place around the sea. It used to be a surname which originated in England, but now a popular choice for even first names.
5. Beau
This name is French origin and means "handsome" and if surfing is your thing then you would surely be able to associate this name with the famous Australian surfer Beau Foster.
6. Beckett
A name with old English origin, it means "beehive" or "small brook". This is a handsome name for your handsome boy.
7. Birch
Apart from being the name of the famous tennis player, this name also means "abode by the stream". This name has an English origin.
8. Bodhi
This beautiful name of Sanskrit origin means "Nirvana" or the one who is free of any feelings of hatred and jealousy. Those who are into surfing would also identify it with the 14-year-old surfer boy's name Bodhi Leigh-Jones who is the new kid on the block, in the surfing world.
9. Brett
This has English origin and was used as a middle name. It signifies people who moved to Britain during the Norman conquest. The surfer boy Brett Connellan gave this name its strong appeal.
10. Cove
A name which spells serenity and calm, it means "bay" or "inlet". It has an English origin.
11. Cruz
A name that has Iberian origin and was quite popular in Spain and Portugal. Its literal meaning is "cross" but it also reminds one of the beach towns, Santa Cruz in California.
12. Dax
It has Anglo-Germanic roots, and it means "water". A dapper name for your smart boy.
13. Deniz
A name with Turkish roots, it means "sea waves". This name is reigning the popularity charts currently.
14. Dover
Dover is the name of a seaport city in England. This name would make you think of the white cliffs of Dover which overlook the splendid coastline and are also used for the safety of sailors.
15. Dylan
It is a unisex name; though primarily used for boys. It has Welsh origin and means "son of the sea". A name with depth and beauty will suit your baby boy a lot.
16. Finn
This name has an Irish origin and means "fair". But, one would also be instantly reminded of Huckleberry Finn's character. It has a lilting tone and is reminiscent of the fins of fish thriving in the oceans.
17. Hurley
An Irish name by origin, it means "sea tide". A cute name for your cute little boy.
18. Irving
A name of Scottish origin, it was used as a surname earlier. It means "friend of the sea". This name has been donned by many creative men in the history like photographer Irving Penn.
19. Kai
This name has different meanings depending on its origin. The Japanese version means "forgiveness". We can consider its more popular meaning in Hawaiian which is "sea". A cool name that would suit your charming boy.
20. Kent
Kent is a county in southern England which is famous for its many coastal towns. This name would remind one of the beautiful cottage houses and fish markets along the coast.
21. Luke
This name of Italian origin denotes "someone from Lucania", an ancient place in Italy. The world-famous surfer Luke Davis of California added appeal to this name for beach and surfing lovers.
22. Marlin
Having roots in old English and Welsh, this name means "area near the sea". This name has a boyish charm and flair.
23. Oakley
A masculine and strong name which stands for the "oak tree". It has old English origin and is also one of the most famous surfing brands with products like sunglasses.
24. Ocean
We all know what the ocean means, don't we? This name has Greek origin and encompasses the vastness of the sea in it.
25. Ronan
This Irish name means "small seal". It is a unique name yet rising in popularity these days.
26. Seaton
It means "a city by the ocean". It has old English roots. The name has a laid-back touch to it.
27. Slater
This has old English roots and means "slate makers". This name has friendly vibes but if more famous as the last name of a world-renowned surfer, Robert Kelly Slater.
28. Storm
This is a name which would remind every beach lover of sunny days on the beach. It is also the name of Hawaiian surfer, Sunny Garcia, who was the world champion in 2000.
29. Wade
An old English boy name which has been a big hit through many years. Its literal meaning is "at the crossing of the river" and it evokes thoughts of gentle water in mind. The name is also the last name of an American bodysurfer, Terry Wade.
30. Zale
It has Greek origin and means "sea strength".
Beach or Surfer Baby Girl Names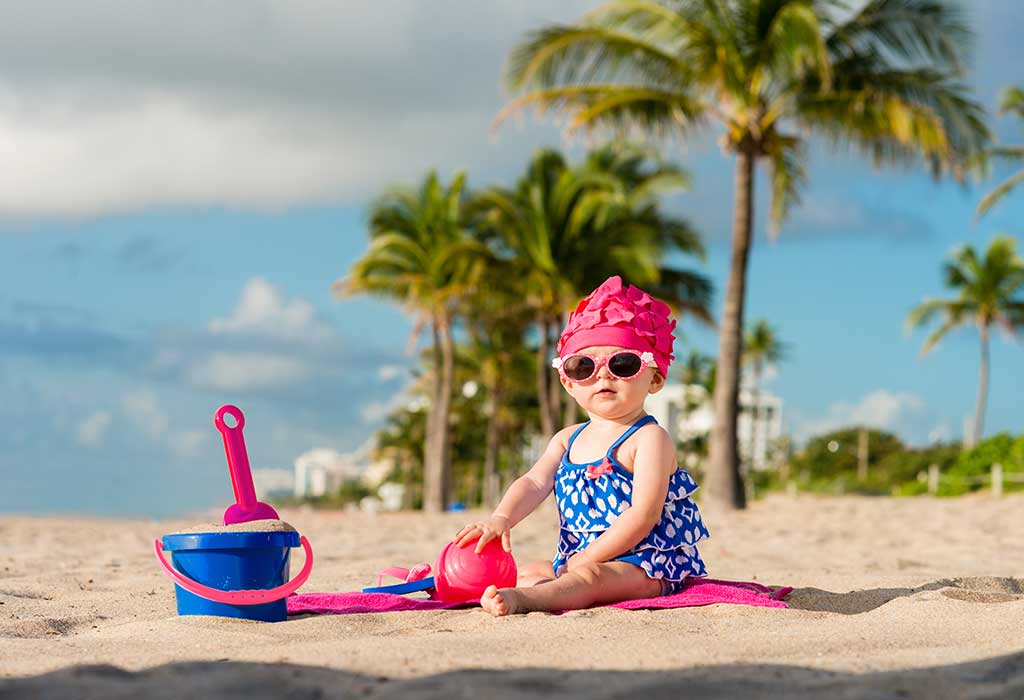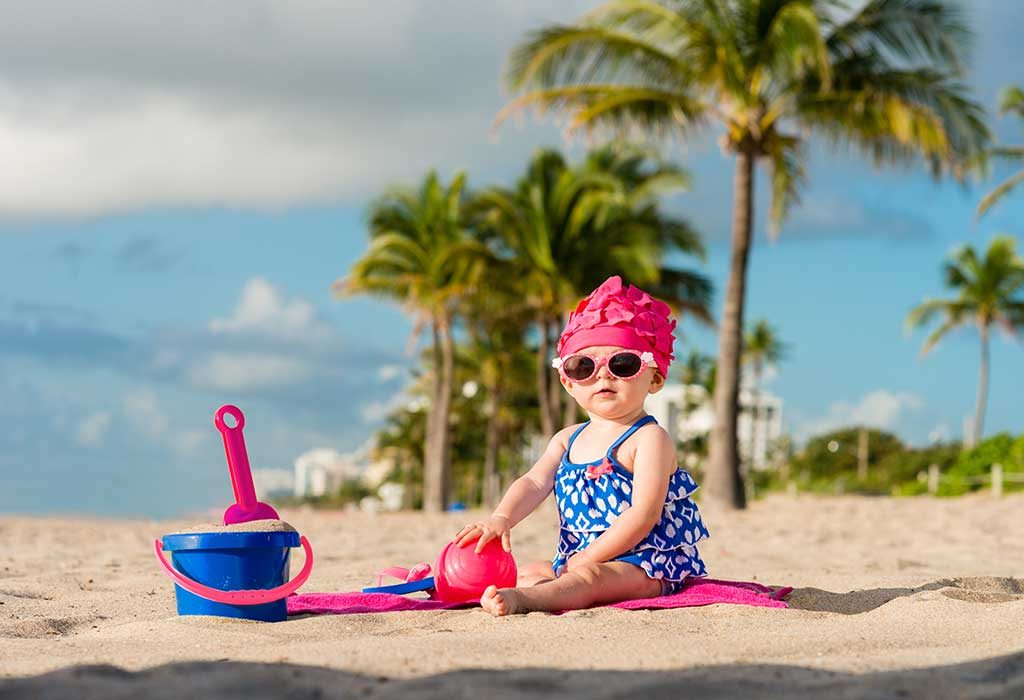 Beach-inspired baby names for girls are also quite a thing nowadays. Choose the one that sounds the best for your liking and your little angel's personality.
1. Alana
It has German origin and means "precious". The famous American surfer Alana Blanchard makes this name dear to the beach and surfing loving people.
2. Aquata
A name of Latin origin, this means "water". A befitting name for your little mermaid.
3. Ariel
It is a biblical name and means "lion of God" in Hebrew. But the adorable character from the movie "Little Mermaid" is what we would think of when we hear this name.
4. Azul
It is a Spanish word which means "blue". Hearing this name would conjure up vivid images of the deep blue ocean.
5. Azure
A name of French origin, it means "blue". The beautiful blue sky and the vast blue ocean is what this name would remind you of.
6. Bay
An English name means "red-haired'. This is a catchy and sweet beachy girl's name.
7. Bethany
Who doesn't remember the surfer girl's name Bethany Hamilton? Your baby will be inspired by the same grit and determination that this surfer had.
8. Cordelia
Cordelia is a stylish name which means "daughter of the sea". The name is said to have Celtic and Latin origin.
9. Coral
Corals are the pink underwater growths which are just gorgeous. This name has Latin origin and you could also shorten it to "Cora" for a cuter name.
10. Damia
A name of Greek origin, Damia is the Goddess of nature. This name has a feminine and contemporary appeal and denotes the force of nature, including the oceans.
11. Dalis
This sweet-sounding name has a Hebrew origin and means "drawing water".
12. Darya
A Persian baby name, it means "royalty of the sea". A regal name with an exotic flair, so befitting for your little princess.
13. Dwynwen
Dwynwen is a name of Welsh origin and means 'wave'. This is an apt surfer baby name for your little girl.
14. Delta
This has Greek origin and depicts the mouth of a river. This is also the name of a popular brand that makes swimming gears. It is also the fourth letter in the Greek alphabet.
15. Dune
This name with Scottish origin will give you the feel of enchanting and soft dunes of the beaches.
16. Eilidh
It has a Scottish origin. The literal meaning of this word is "the shining one" and also used for Sun. The bright summer and sun are the most beautiful part of the beaches.
17. Hama
A perfect name for a girl born near the seashore, this Japanese names means "seacoast".
18. Ginevra
This has Italian origin. It means "white wave".
19. Gali
This name has Hebrew origin and used popularly in the US. It means "my wave".
20. Indie
The name has an Indian origin. One of its meanings is "blue".
21. Isla
It is a shortened version of the island. It has Spanish and Scottish origins.
22. Junia
This means "born in June". The month of June is the perfect time to hit the beaches. It has a Greek origin.
23. Lana
This beautiful name has a calming feel to it. It has Hawaiian origin and means "floating in the calm waters".
24. Maya
This means "water" It has roots in Spanish, Hebrew, and Greek languages.
25. Morgan
It means "sea-born" and has a Welsh origin.
26. Pearl
A name derived from the English word pearl denotes the precious stone found in the seashells.
27. Sailor
A boyish name but suits girls as well, it denotes those who take a voyage into the sea.
28. Serena
A name with Latin origin, it means "calm". You will be reminded of calming sea waters when you call your girl with this name.
29. Serena
A name with Latin origin, it means "calm". You will be reminded of calming sea waters when you call your girl with this name.
30. Talulah
This name has an American origin. It means "leaping/jumping water".
Here you can find names of all kinds which would be related to the sea, beach, and surfing. Some are the names of famous surfers or some are the names of months. But, all of them talk about the grand sea and all the things surrounding it.