6 Ways To Look Slim In a Saree Post-Pregnancy, WITHOUT Actually Losing Weight!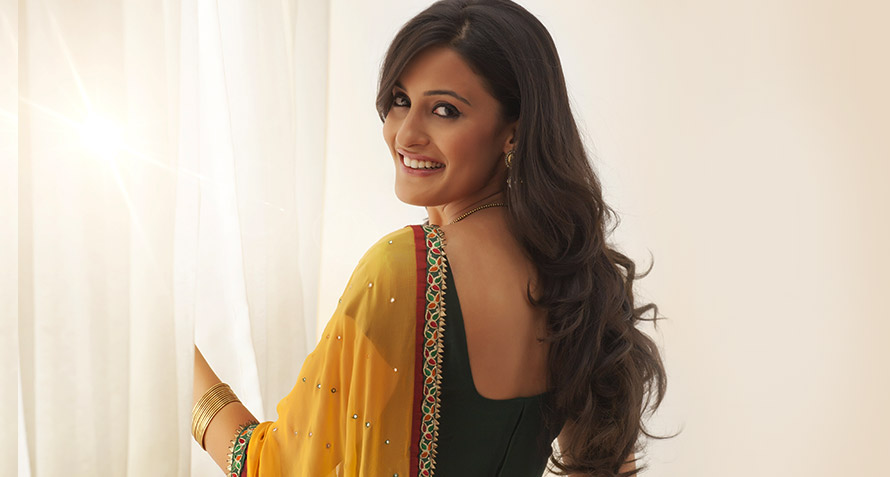 In this Article
As Indian women, the saree has always been an intrinsic part of our culture and tradition. We wear sarees during Pujas, weddings, traditional occasions, parties…you name it. There is something so very elegant and charming about a saree that it suits every woman irrespective of her body type. However, when it comes to wearing a saree after pregnancy, things tend to become difficult for many of us. After the several kilos of weight we gain during pregnancy, we worry that a saree will make us look plumper and reveal our 'fatter' areas such as belly and arms…
Nothing is perhaps as life-changing as giving birth to a baby. It changes everything in us, including our body. The extra belly fat, love handles, and bulkier arms are some of the reasons we often hesitate in sporting a saree after delivery. However, the good news is that it is entirely possible to not only wear a saree after pregnancy but also look ravishing in it! In fact, fashion experts believe that wearing a saree at this time can actually make you look and feel SLIMMER if done the right way!
Check out these simple saree draping tips to look slim after pregnancy. We promise you will love the final effect as it will make you look slimmer without any extra effort!
How to Wear Saree to Look Slim Post Pregnancy
1. Drape Your Saree Like This
After pregnancy and delivery, many of us struggle with a chubby belly or a muffin top. This can make it difficult to wear a saree without bringing the focus to your belly. The best solution is to go for a loose and open drape instead of a pleated pallu. This is one of the most-effective saree draping styles to look slim. An open drape will hide your belly while also making you look comfortable and fashionable!
Many Indian mothers also use a belly band which is of the same colour as that of the saree. You just need to select a stretchable material of the same colour and fix it with hooks/zip to wrap around your belly. The main purpose of this is to give you extra support both during and after your pregnancy. It is also said to help bring your tummy back in shape with time – worth trying out, right?
2. Choose The Right Kind of Blouse
To look amazing and toned in a saree, it is very important to pick the right kind of blouse. As a thumb rule, you should look at blouses that keep your arms covered – i.e. full-sleeved or quarter-sleeved blouses. This will hide the extra weight in our arms that many of us tend to put on during pregnancy. Plus, these blouses are very much in vogue right now, so you will also be making a fashion statement!
Also, consider wearing blouses with fuller necks or high necks. They will make your torso look more toned. Try and stay away from deep necks at this time, as far as possible.
3. Wear Sarees With Sleek Borders
Do you like wearing sarees with broad, large borders? It might be a good idea to switch these with sarees that have sleek borders instead. A sleek saree style to look slim works for this reason: after pregnancy, it is natural for our body frame to appear bigger, thanks to the weight we put on to bring our little one into the world. If you wear sarees with broad borders, it will add further volume to your figure.
Sleek, narrow borders make you look fitter and slimmer as they tend to flatter your curves better.
4. Wear Sarees in These Slimming Fabrics
When trying to look slimmer in a saree, try and pick sarees in fabrics such as chiffon, silk georgette, crepe or satin. These will help accentuate your overall figure as they are flowing and smooth in nature.
Avoid wearing sheer/translucent fabrics as they will bring attention to tummy fat. Also, avoid heavy fabrics like south cotton or south silk. These tend to add volume while draping and will make you look plumper just because of how heavy they are.
5. Choose These Prints and Designs to Look Slimmer
Did you know that the design or pattern on the saree also plays a role in how slim you look while wearing it? Sarees with newspaper prints, graphic prints and digital prints are known to help women appear slimmer, without actually losing any weight! These prints also help you flaunt your curves better.
If you are wearing embroidered sarees, go for small motifs while avoiding chunky embroidery. You can definitely wear floral sarees to brighten up the summer but avoid big floral prints. Small floral prints and abstract prints will help hide flabby areas and make you look wonderful.
As a rule, it is best to avoid wearing sarees with large prints at this time. Also avoid horizontal lines and patterns in your saree as they tend to concentrate focus on your belly fat.
6. Choose Darker Colours for Your Saree
Finally, try and dig out the dark-coloured sarees from your wardrobe, for now is the perfect time to flaunt them! It is indeed true that dark colours like black help you look slimmer as they make you 'disappear' or blend into the background. Black also helps conceal creases and folds in your body.
If you are not much into black, you can also explore plain/monochrome sarees in reds, purples, bottle green and dark blue.
That's it, moms! If you follow these tips while picking and draping a saree, we guarantee you will look slimmer without actually losing any weight. The postpartum period can be really tricky for us women, as we battle with numerous problems along with taking care of our baby. It helps emotionally and mentally to feel beautiful at this time – and nothing quite like a saree to get the elegance on. So, go ahead and sport your favourite sarees; we promise you will be getting compliments by the dozen! 🙂
Do you love wearing a saree too? How did you drape it after your delivery to help look slimmer and more toned? Please share your tips in the comments so fellow moms can benefit from your experience!