6 Genius Ways to Wear Regular Clothes When Pregnant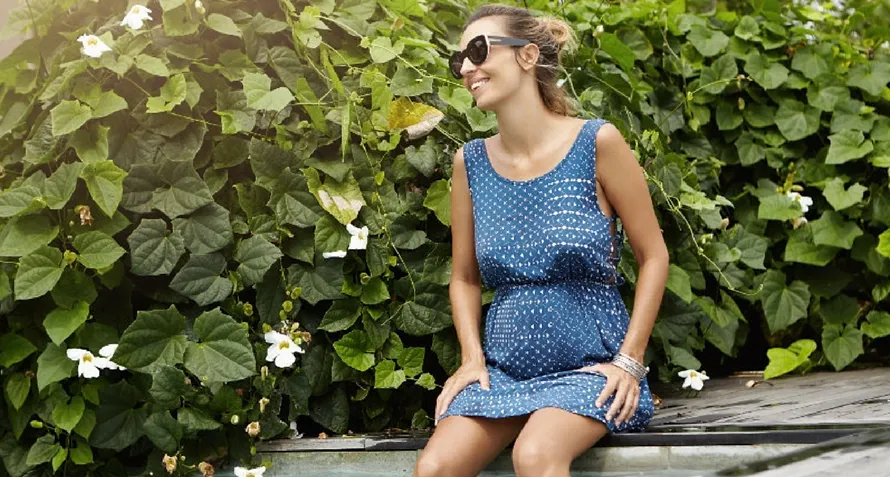 In this Article
Many expecting moms would rather not buy maternity wear and with good reason – they don't come cheap. And when you have regular clothes that work as maternity clothes, who needs a wardrobe full of maternity outfits to make room for that baby bump?
Irrespective of whether you can afford it or not, stacking up on maternity clothes to accommodate your growing belly is nothing short of a sheer waste. Especially when you've got a closet full of regular clothes that can be stylishly modified to do the job, at least up until your second trimester. For those of you wondering how you're possibly going to fit into your pre-pregnancy clothes, here's a list of what to take out from that closet and make it work for you.
How to Wear Regular Clothes While Pregnant and Look Cool
1. Mini dresses
Pregnancy is the only time when you can get away with so many things. Take your mini dresses for example. During pregnancy, they hug your expanding body in all the right places. As long as your growing belly doesn't make the dress ride up too high, this is the one you can wear, teamed up with a pair of leggings, without feeling the least bit self-conscious!
2. Blazers
Got a couple of colourful blazers in your wardrobe? They are perfect regular clothes for maternity. Wear them unbuttoned with a tank top inside, exposing just what needs to be in focus, your baby bump. They look classy and are a great fit for work.
3. Maxi skirts
Consider maxi skirts your best friend right up until your second semester. The elasticated band is made for comfort, which you can allow to sit below your tummy or right above it. Either way, the look is complete with any of your long tops that have some elasticity in it. Fitted maxi skirts curve well around the bottom of your belly and give you a slimming look.
4. Empire dresses
Empire waistline dresses are one of your best regular clothes that work as maternity clothes right throughout your entire pregnancy. Sitting at the bust and flowing down below, empire dresses are a favourite among pregnant women to accommodate their full-grown bellies.
5. Tunic tops
Tunic tops are lifesavers when it comes to opting for non-maternity clothes for pregnancy. They flatter your body, baby bump and all and are long enough to wear with leggings, amounting to the most comfortable outfit during your pregnancy
6. Slim-fit jeans
There's no need to worry about not being able to wear your slim-fit jeans for the next couple of months when you can use the rubber band trick! You can still get into those jeans and get a few extra inches on them by looping a rubber band through the buttonhole. Wear them with a long top and no one will be the wiser.
You'll see that wearing regular clothes during pregnancy really does work wonders. It saves you precious time and money stacking up on maternity wear that you're only going to wear for a couple of months anyway. Working with the few pieces in your regular wardrobe serves its dual purpose, and you end up the winner in the long run.