51 Fun Things to Do With Kids in New York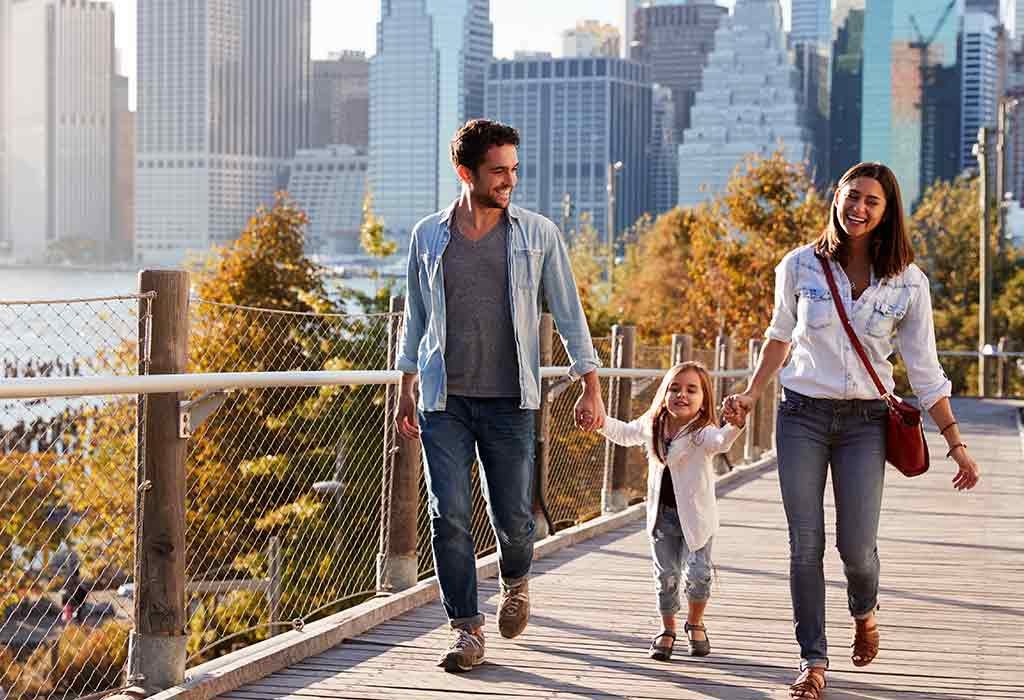 In this Article
New York City is full of fun things that you and your kids can do, ranging from museums, stadiums, skyscrapers to beaches, parks, and restaurants. You can visit famous landmarks like the Statue of Liberty, the Rockefeller Center, Times Square along with fun-filled activities at Coney island, Central Park and get some enlightening experiences at the different Museums. Here are 51 things you can do with your kids in NYC.
Best Things To Do With Kids In NYC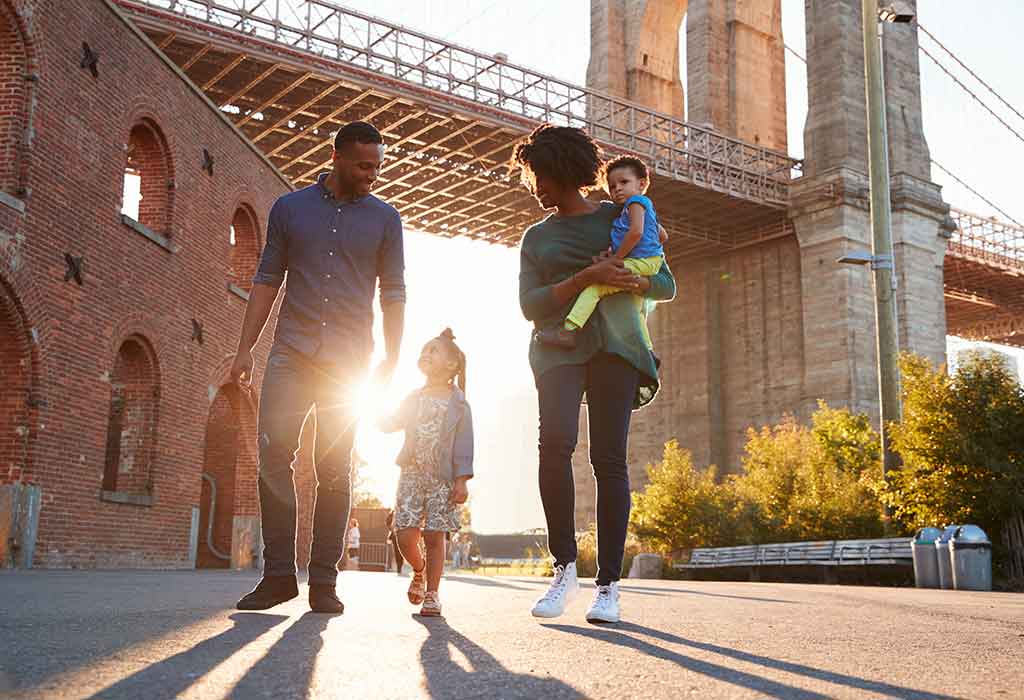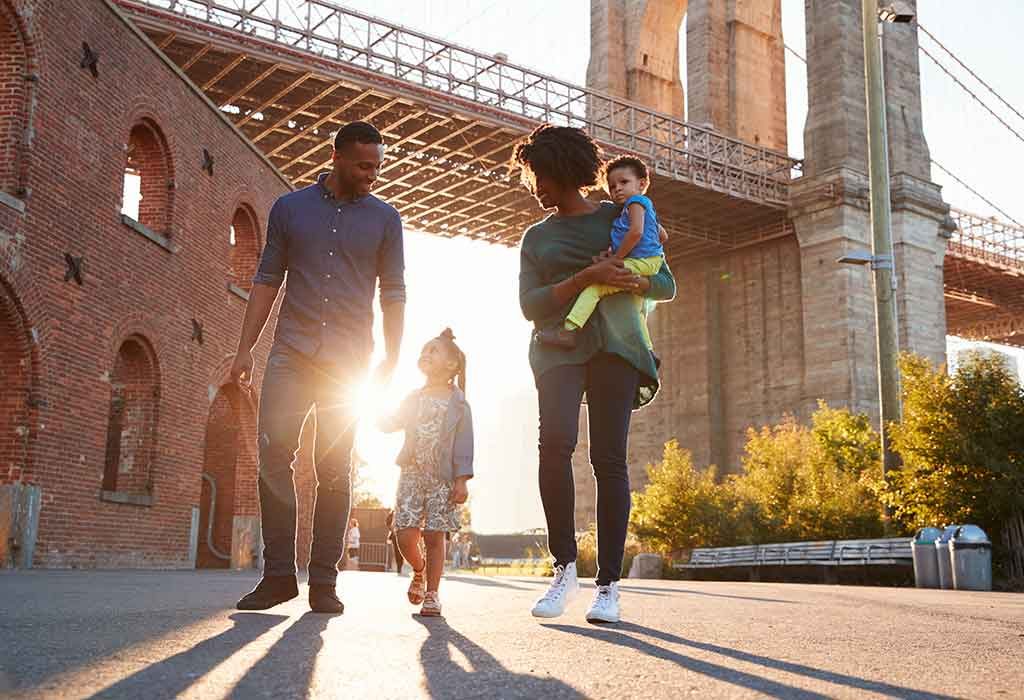 New York City is filled with parks, museums, theatres, shops, restaurants as well as landmarks that you can enjoy. If you are wondering what to do with kids in NYC, here are 51 places you can go to for some exciting family time:
1. Dylan's Candy Bar
This three-floored colourful establishment with over-sized lollipop trees, dripping chocolate shelves and candy-embedded staircase is like Willy Wonka's Chocolate Factory. Kids can also buy varieties of unique themed and customised candy.
2. The Bronx Zoo
The Bronx Zoo is home to over 6,000 animals including lemurs, leopards, lions, baboons, sea lions, and reptiles. The largest zoo in the United States, it also has a Dinosaur Safari, Bug Carousel, and Treetop Adventure.
3. Central Park
This historically and ecologically endowed park has numerous bridges, monuments, fountains, sculptures, playgrounds, and fun activities at the Trump Rink, Ancient Playground, Victorian Gardens, Marionette Theatre, Central Park Zoo as well as boating, carriage rides, horseback riding, swimming, and fishing.
4. Statue of Liberty
Lady Liberty, with her torch, is an icon of America and a must-visit in NYC. You can take a ferry ride to the iconic Statue of Liberty National Monument and discover the history of our great nation.
5. Dave and Busters
This Times Square arcade with varieties of food, drinks for the adults and games for the kids is one of the most fun places for kids in NYC. The game room can be enjoyed by the whole family and you can also win prizes.
6. American Museum of Natural history
If you're looking for kid-friendly things to do in NYC this weekend, this Museum is the place to be. Explore the 13-billion year history of the universe with space shows, interactive activities and exhibits like the T-Rex skeleton. The "Night at the Museum" sleepover is a one-of-a-kind experience.
7. Gulliver's Gate
Gulliver's Gate at Times Square will give your little ones an exciting feeling of monstrously large amid the 50,000 square feet of miniature, meticulously detailed cityscapes with fun surprises like Spiderman. There is also a gift shop.
8. The Metropolitan Museum of Art
This renowned culturally endowed museum can be a very enriching and educational experience for your kids as they explore famous historical and artistic experiences.
9. Coney Island
Coney Island offers an array of fun activities, amusement park rides including the famed Wonder Wheel, the New York Aquarium, go-karts, shops, and restaurants. It is definitely one of the places to take kids in NYC, especially in summer.
10. Broadway
Seeing a Broadway show is a must in NYC, it will be a thrilling experience for the kids and parents. Your kids will enjoy shows like The Lion King and Frozen, being mesmerized by the performances as they sing along to the musicals.
11. Build-a-Bear Workshop
This place offers a unique experience where your kid can create their own customized stuffed animal or even buy NY themed bears and accessories. It is one of the most fun toddler activities in NYC.
12. Intrepid Sea, Air, and Space Museum
This floating museum houses exciting experiences and exhibits like an aircraft that served in World War II, Vietnam War and the Cold War and other famous air and spacecraft.
13. Yankee Stadium
Watch a fun ballgame with your family at the Yankee Stadium while you enjoy the enthralling atmosphere. You can even buy cool team merchandise like bobble-heads and t-shirts.
14. Barclays Center
Another place for you to enjoy sports with your family is the Barclays Center. Enjoy an action-packed game of the Brooklyn Nets, the half-time shows, giveaways, dance performances as well as the sports arena fairs.
15. Brooklyn Bridge Park
This 1.3-mile waterfront park running along the East River has facilities for your kids to play handball, soccer, basketball, shuffle-boarding, and even go rollerskating.
16. Snug Harbour Cultural Center
The scenic cultural centre has the Staten Island Children's Museum where you can have an interactive experience and also see the Connie Gretz Secret Garden and enjoy the Winter Lantern Festival.
17. NYC Ferry
This ferry offers an indulgent tour of Williamsburg, Manhattan, and Brooklyn Bridges from right in the middle of the East River, letting you relax in to bask in the Sun while enjoying the scenic views of the island.
18. New Victory Theater
This midtown theatre offers Broadway-quality productions that are most suited for a family to enjoy together. The performances are designed specifically for younger age groups and have a family-centric ethos.
19. Rockefeller Plaza
This NYC landmark is the place to be during the winter. Their Christmas tree is the largest in the world, decorated with handmade ornaments and shimmy trimmings. You can also take your kids ice skating at the Rockefeller Center. Located on Fifth Avenue, the Plaza has numerous shopping options around and your kids would love a trip to the LEGO Store.
20. The American Girl Place
The two-storied studio at the Rockefeller Center is a paradise for little girls. The studio allows girls to personalize their own dolls and also has a hospital where their dolls can get surgeries and physical therapy. The store also has a salon for the kids and their dolls.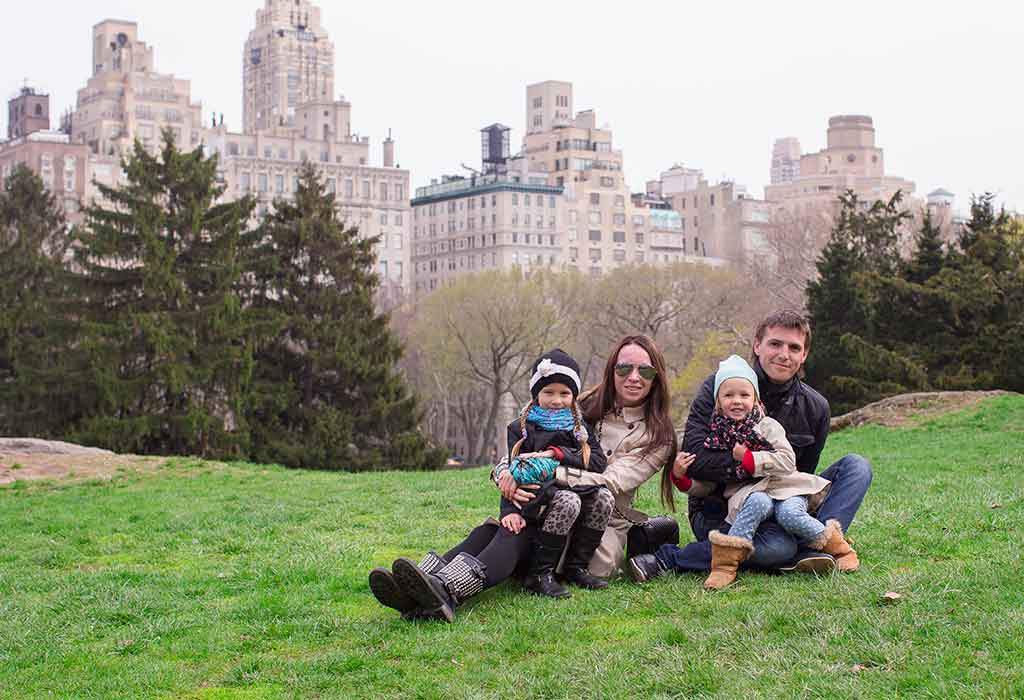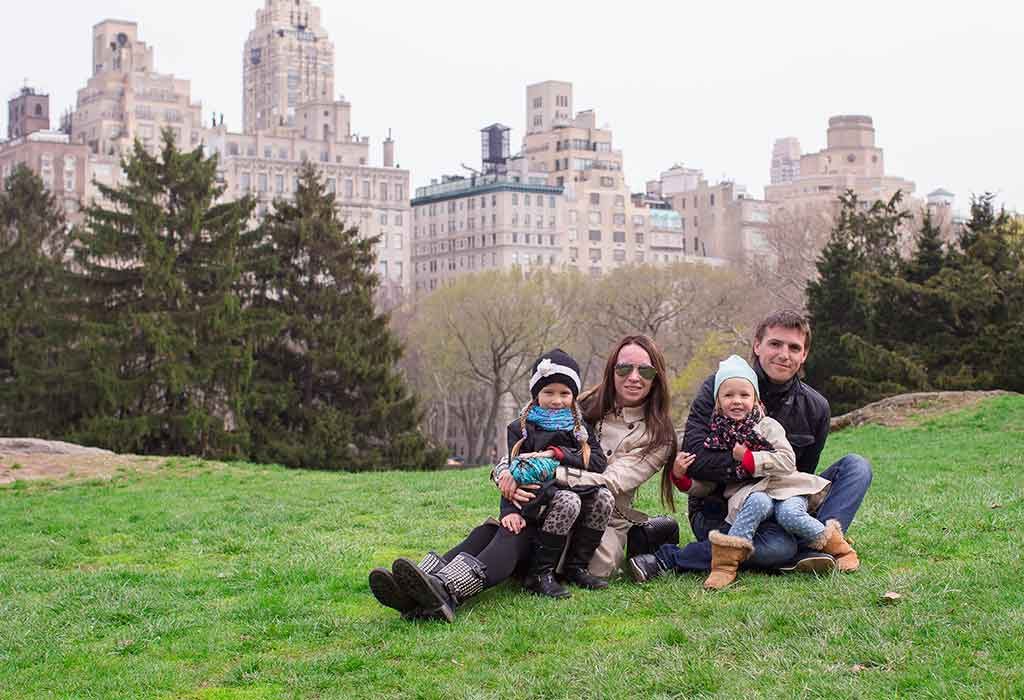 21. Sea Glass Carousel
This aquatic carousel creates a mystical underwater experience where the rider sits within iridescent fish, gliding through sights and sounds of a wholesome aquatic adventure.
22. Ancient Playground
Located next to the Metropolitan Museum of Art, this Central Park Playground has stone pyramids, tunnels, wooden forts, tire swings and kid-activated waterfalls.
23. Radio City
A famous landmark, home to the Rockettes, Radio City offers a tour where you can discover masterpieces, learn about the history of the Great Stage and meet the Rockettes. Be sure to visit in December for the Christmas Spectacular.
24. Madame Tussaud's, New York
Located in the heart of Midtown, Madame Tussaud's houses wax figurines of your favorite celebrities that are painstakingly detailed and life-like. Your kids will enjoy looking at statues of their favorite stars and taking pictures with them.
25. FAO Schwarz
The beloved toy store, FAO Schwarz, houses endless rows of stuffed animals, Barbies, and other toys along with interactive experiences like science experiments, toy race cars and spa treatments. Some of the activities are even free.
26. Rockaway Beach and Boardwalk
This massive beach in Queens is a popular family-getaway. Apart from playing on the beach and building sandcastles, your kids can take part in surfing lessons and camps or rent paddle boards or boogie boards. There are also many delicious food options.
27. Strand Book Store
For those inquisitive, book-loving kids, this 18-mile store with a collection of over 2 million books of varying genres will be like paradise for your child.
28. Governors Island
You can take a ferry to this 30-acre park, a former military base, offers fun activities like bike-riding, and also houses a 57 feet long slide. The island also has a castle and an outpost of Manhattan's Children Museum of the Arts.
29. Children's Library at the Central Branch of the Brooklyn Public Library
The Children's Library has a Youth Wing with designated spaces for toddlers, grade-schoolers, tweens, and teens for them to read and also puts on over a hundred events per month. The state-of-the-art performances are aimed mainly at kids.
30. Bryant Park
Bryant Park is the perfect place for your kids to spend a fun-filled day during the summer. The park organizes programs like story-time at the Reading Room, game socials at 40th Street Plaza, juggling lessons at 42nd Street Plaza as well as Monday night outdoor movies. During winter, the park also has an ice skating rink.
31. Classic Harbor Line Cruise
This cruise offers a breathtaking panoramic view of the island that you can enjoy from open decks or glassed-in solariums. This comfortable activity is ideal as a breather from the hot summer rush of NYC.
32. Serendipity 3
This renowned Upper East Side restaurant, with its old-school charm, is the perfect place to unwind and share a meal followed by one of their legendary desserts like the frozen hot chocolate.
33. Grand Central Terminal
This architectural marvel has a spectacular celestial ceiling that will leave your kids gaping in awe. It is an NYC landmark.
34. Children's Museum of Manhattan
The Museum has two permanent exhibits that offer a child-friendly, interactive and educational experience for your children. It is ideal for toddlers.
35. Skyscape
The Skyscape in Times Square is one of the best kids activities in NYC. Kids who love detective books and shows will have an exciting time learning the truth about lie detectors, spies, codes and also indulge in interactive experiences like making their way through a room full of laser beams.
36. Rose Center for Earth and Pace
Situated in the American Museum of Natural History, this complex is a glass enclosure that offers a glimpse into the history of our universe and to learn about planets, stars, and galaxies.
37. Lincoln Center
At the Lincoln Center, you'll find the Josie Robertson Plaza, Lincoln Center Kids, the NY Philharmonic's Young People's Concerts as well as a family-friendly performance of The Magic Flute by the Metropolitan Opera.
38. Ninja, Tribeca
Ninja is a LEGO Ninjago themed restaurant where black-clad warriors leap out and perform magic tricks at your table.
39. Queens County Farm Museum
This museum offers you a serene, agrarian experience right in the city. Your kids can feed and pet barnyard animals like goats, sheep and ponies, take a tractor-pulled hayride and also participate in corn harvesting and pumpkin picking.
40. National Geographic Encounter: Ocean Odyssey
Located in Times Square, this state-of-the-art interactive exhibit has visuals that meticulously recreate the ocean habitat and life forms of the Pacific Ocean. Cutting edge technology used to create virtual animals like humpback whales, squids, great white sharks, and sea lions offers an interactive experience where the creatures react to the visitors in an impressive manner.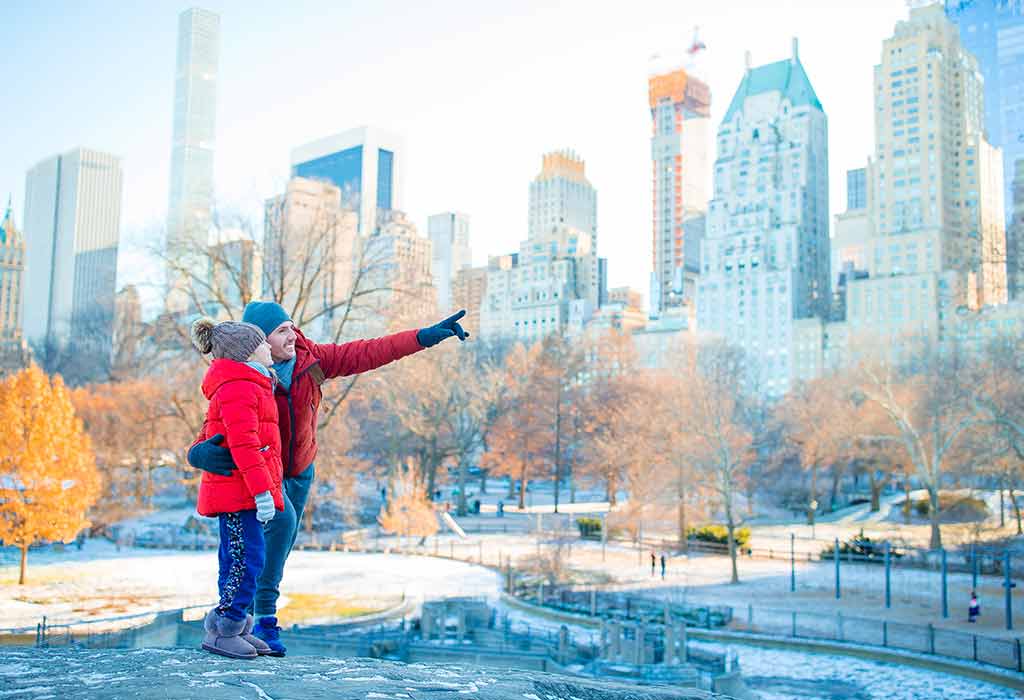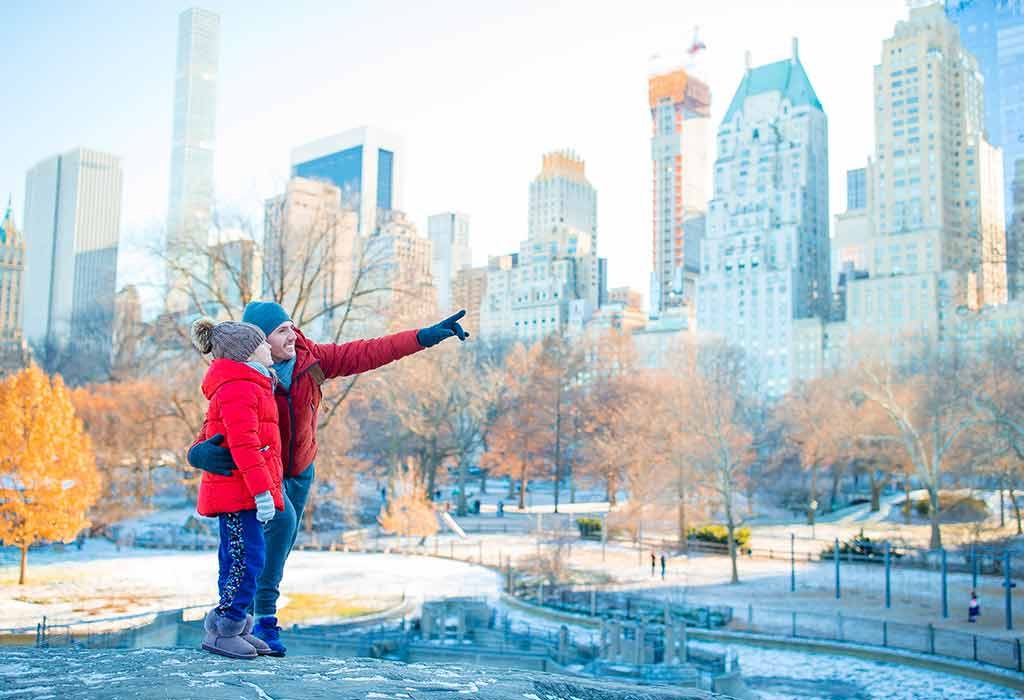 41. Macy's Thanksgiving Day Parade6
Along 6th Avenue on Thanksgiving, the Macy's parade is a well-known attraction. There are oversized balloons like Snoopy, Hello Kitty, Spongebob, Paddington Bear, and the Pillsbury Doughboy. It is a very exciting experience for all kids.
42. NYC Audubon
Take a break from the buzzing rush of NYC and head to NYC Audubon for an afternoon of tranquillity. You can do some bird-watching and you might spot some shimmering Blue Jays or orange-chested American Robins. There are also fun workshops and school programs for your kids.
43. Chelsea Piers Sports and Entertainment Complex
The Complex has a wide range of sports and training centres. You can take your kids ice-skating, golfing, or play games like soccer and basketball. As they say, "A family that plays together, stays together".
44. Empire State Building
An architectural landmark of NYC, the 102 storied skyscraper was the world's tallest building for 40 years. It offers a breathtaking view of the city.
45. Children's Museum of the Arts
Bring your kids here to take part in workshops and studio activities to develop their creative side. The museum also exhibits sculptures, paintings, and multimedia creations made freshly every day by children visitors.
46. St. Patrick's Cathedral
The famous cathedral houses intricate marble towers and the rose windows and altar designed by Louis Tiffany, both of which are marks of master craftsmanship. The cathedral has been a famous spot for celebrity visitors like Presidents, movie stars and business moguls and is a must-visit in NYC.
47. Randall's Island Park
Located along the strip of the East River, this is another location to get your family for a fun-filled day of games and activities. There are facilities to play baseball, football, soccer, and other field sports, along with trails for walking and cycling. On summer weekends, there is an Urban Farm where kids can feed chickens and learn about fruits and vegetables.
48. Staten Island Ferry
The Staten Island Ferry is a renowned cruise, taking you around the New York harbour while you view the Statue of Liberty, Governor's Island, the Brooklyn Bridge, and the Manhattan skyline. And what's better is that the whole experience is free!
49. Time Out Market
If your children love devouring varieties of food, this food-eatery and cultural centre is the perfect place for them to indulge in some of the city's most delicious dishes.
50. New York Transit Museum
The Museum has numerous exhibits that tell the story of the extraordinary and elaborate NYC transportation system.
51. One World Observatory
The Observatory at the World Trade Center offers an adventurous and educational experience. It has a SkyPod elevator that goes up 102 floors in 47 seconds with a scenic view and it also has exhibits that inform of the rich history and culture of the city.
New York City has a rich culture and heritage but has also become one of the most developed cities in the world. There is no want of attractions and activities that you and your kids can enjoy together. The city caters to all kinds of interests and has something in store for you, whether you're looking for something adventurous, exciting, entertaining, or educational.