19 Best Museums for Children In the US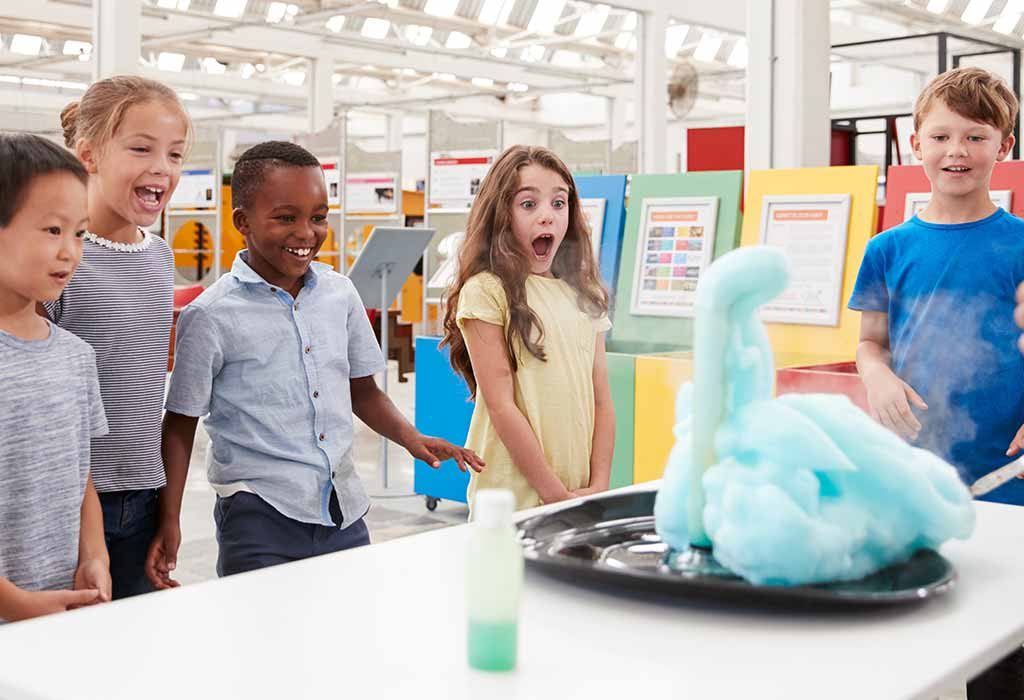 In this Article
Museums pique curiosity, develop lateral thinking skills, foster and nurture creativity, and encourage imagination by giving wings to the varied thoughts of human beings. When it comes to children, it also tends to spark a life-long desire to explore the world. The world is now seeing a rise in the number of museums for toddlers and kids to help them learn and explore new things. Childhood is an integral part of one's life and an important phase when learning takes place through play, experience, and exploration. The United States of America is home to one of the best interactive children's museum, the primary goal of which is to learn to lead a rich and fuller life. The US has some incredible spaces that have been transformed into amazing museums for children. Here, we have a list of 19 fun museums for kids in the United States that one must visit with the family. Let's get started then!
Top Museums for Kids to Visit in the US
Major cities in the United States have museums for kids. Each of them is a place to have fun and to learn too! Visiting a museum is an economical outing with kids, and great for the days when the weather is not conducive for outdoor activities.
1. The Strong National Museum of Play
Location: Rochester, New York
Why It Is Great
The Strong National Museum of Play is one of the best museums for kids in NYC. It is the second-biggest children's museum with the largest collection of games, toys, and dolls. The 282,000 square foot facility has a fun, playful architecture with caterpillar shapes, several fun structures and building blocks in myriad colors. Kids can dress up as their favorite superhero – Batman, Superman and climb buildings too. They can also get the chance to prance around in landscapes inspired by popular book series like Harry Potter and Grimm's Fairytales. From playing with classic computer games, video games, dancing with Sesame Street Characters to frolicking in joy in the National Toy Hall of Fame with toys like Hula Hoops, Barbie dolls and LEGO, kids can just let their imagination take wings.
2. Smithsonian National Museum of Natural History
Location: Washington DC
Why It Is Great
One of the best museums for kids in DC, this one is the best out of all the ones based in Washington DC. The museum boasts of the largest natural history collection in the world and most important of all, the entry is free! If your kid is a dinosaur lover, then you can find everything from animal specimens, precious and rare gemstones, skeletons of dinosaurs, mummies, the Hope Diamond and a large playroom. The key highlight is the insect zoo where you can watch live insects and even hold then if you are brave enough.
3. Exploratorium
Location: San Francisco, California
Why It Is Great
Exploratorium offers a plethora of exhibits that include observatory, studios, domes, games and outdoor fun. The museum is a fusion of entertainment, games, art, and science, all under one roof. This makes it a perfect getaway for a family to visit with children of all ages. The museum has diverse programs that range from fun/educational experiments to exhibits like the bubble tray that makes giant bubbles, the solar X-Ray activity, data analysis by mapping sunspots, inspecting chocolate through the sweet lure of chocolate and learning all about rock candy delights and recipes. What's more is that the Bay Area residents enjoy discounted rates, including officials who work for the California State Public. The museum also offers parking facilities at discounted rates. The SeaGlass restaurant has a great dining experience, and the Seismic Joint Café has healthy eating options with take-away services.
4. Kohl Children Museum
Location: Chicago, Illinois
Why It Is Great
The Kohl Children Museum focuses on empowering and accepting rather than just learning through play. Here, kids get a chance to play as a team, gather confidence and discover a lot of things about themselves. And, all of this is achieved by working at the play café, making music, interacting with other visitors via video phones, face painting with washable crayons, and even nurturing their parental instincts by caring for newborn baby dolls. This Chicago museum also hosts storytime, fitness sessions and science-focussed events for those who are keen on learning new things.
5. Please Touch Museum
Location: Philadelphia
Why It Is Great
This museum is one of the first museums designed solely for kids under seven years of age. It has over eight themed interactive exhibits. The Alice in Wonderland area with its rabbit holed entrance along with the Rainforest Rhythm where musical instruments reign are the star attractions here. Children also love Flight Fantasy and City Capers where they can cruise through a supermarket, construction site, and a hospital. There is a 150 seater theatre that showcases folklore and musical programs.
6. Boston Children's Museum
Location: Boston, MA
Why It Is Great
It's the second oldest children's museum in the US. Here, kids can regale with Arthur and Friends, ride a real Bobcat, deploy trucks and also experiment with science, engineering, and technology at the Steam Lab. Each exhibit perfects the art of fun with learning. Little ones can enjoy the PlaySpace by participating in stimulating activities. Kids also work on machinery at the interactive construction site and immerse themselves in the Japanese culture at the Japanese House from Kyoto.
7. Liberty Science Center
Location: Jersey City, NJ
Why It Is Great
This museum is a perfect place for 2 to 5 year old kids. Here, kids can climb a rock wall, watch live animals, learn about sound, and check out underwater species indigenous to the Hudson River. This New Jersey Science Center has a revolving door of cool exhibits that travel around the world. The top floor of the museum also offers a skyline view of the city.
8. Kidzania
Location: Frisco, Texas
Why It Is Great
The first of its kind to open in the US, Kidzania lets kids explore over 100 occupations, from a cop to a chef. Housed in an 80,000 square feet area, every activity ranges for around 20-30 minutes and is aimed at children from 4-14 years of age. You will need to shortlist the activities you want your kid to explore as there are many to cover all in a day.
9. The DoSeum
Location: San Antonio, Texas
Why It Is Great
Both you and your toddler will have equal fun at this three-story museum that has fun packed in six different sections. The Spy Academy lets kids unleash the detective in them, while the Innovative Station has cool activities for all age groups. Older kids also get a chance to program robots.
10. Children's Museum of Indianapolis
Location: Indianapolis
Why It Is Great
Children's Museum of Indianapolis is the world's largest museum. It has an International Space Station, a Dinosphere to dig fossils and bones, a Science Lab and an outdoor interactive sports-themed area. This museum is also the first-ever museum to house a Paw Patrol exhibit.
11. Madison's Children Museum
Location: Madison, Wisconsin
Why It Is Great
Go back in time to visit Wisconsin's past where your kids will write with quill pens, churn butter, harvest vegetables, and cook them on an open hearth. The 'Urb Garden' helps kids to learn about composting, and the colorful art studio lets their imagination go crazy.
12. Children's Museum of Houston
Location: Houston, Texas
Why It Is Great
This elaborate space lets kids step into another space where they run the show. With its city hall, bank, news centre, vet's clinic- it helps kids learn about different occupations and economics. Budding engineers can create their gadgets in the Invention center.
13.
Children's Museum of Denver
Location: Denver, Colorado
Why It Is Great
At this cool museum, both you and your child can design helicopters, build trucks, explore a real fire engine, crawl through an anthill and also pretend to be a vet or a chef. The museum has a creative space that houses the art studio, a DIY space, and a teaching kitchen. Kids can explore kinetics and water at the investigation exhibit.
14.
Carnegie Science Center
Location: Pittsburgh, Pennsylvania
Why It Is Great
A favourite for all ages, the biggest attraction in this museum is the Highmark SportsWorks. It has 30 interactive exhibits that focus solely on sports and how biology, anatomy, physics, and chemistry determine performance. The museum also has a robotics exhibit, a Miniature Railroad, and a Village that has a mini version of the Pittsburgh area. The Little Learner Clubhouse and the Skytykes Ropes Course cater to the ones younger than six years.
15. National World War II Museum
Location: New Orleans, Louisiana
Why It Is Great
This museum is a fantastic educational opportunity that offers interactive experiences. Parts of the museum offer insights into the war, and the lives of the people who fought the war. A train ride follows the path of the different stories of people who served in the war. Kids can experience several events of the war and understand the history and sacrifice of the ones honoured.
16.
Center for Science And Industry
Location: Columbus, Ohio
Why It Is Great
From the moment you walk in, you can experience an out of the world feeling from swinging on the giant pendulum to the high-wire unicycle. With over 300 engaging, interactive and hands-on exhibits, you can task young minds to take on challenges of all kinds. The fascinating space provides at least half a day of fun if not a full day of exploration.
17.
Discovery Place
Location: Charlotte, North Carolina
Why It Is Great
It is a perfect family place to explore and experience nature, science, and technology. Kids can take part in recreational activities too. The Discovery Place aims to inspire, challenge and educate young minds on subjects of science, mathematics, technology, nature, and engineering through experiential tasks. They also have an IMAX theatre for an educational 3D cinematic experience.
18.
The Treehouse Museum
Location: Ogden, Utah
Why It Is Great
The Treehouse Museum is an ideal place for kids to indulge in imaginative play. Their programs include several art, exploration and storytelling activities designed for kids of all age groups. They also have theatre and art shows that focus on bringing creative and engaging performances that will help kids to stir their thoughts.
19. Center for Puppetry Arts
Location: Atlanta, Georgia
Why It Is Great
The Centre for Puppetry Arts is a place where the family can enjoy puppetry, storytelling, and performances. The museum uses puppets as a source to engage, inspire and educate children. The museum also has a collection of puppets from all over the world, historical books, photographs, and documents that relate to puppetry.
Museums dedicated to children are places that combine recreation with education through tailor-made experiences. Most of these museums are worth a visit and designed for different age groups. Hop in with your kids if you are in the vicinity to enjoy an educational outing.