5 Amazing Baby Care Tips Straight Out of Nature's Lap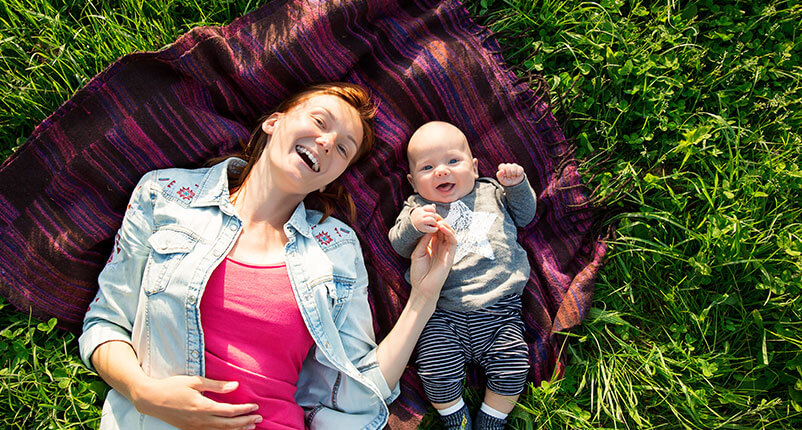 After his mom, no one can care for your baby the way nature can. Nature offers the gentleness and purity that you want for your baby but cannot find elsewhere. This is brought to you in the form of herbs that have antioxidant and antibacterial properties, natural emollients that keep skin hydrated, and vitamins and essential oils that create a protective aura around your baby. The best part is that herbal-formulations now make it possible for you to put to use these glorious gifts of nature.
To help you with natural baby care, we have brought to you some amazing ideas that are surprising in their effectiveness but guess what – they have wonderful results. Using them as part of your baby care routine is a terrific way to bring nature home!
Tip 1: Bond with your baby with a relaxing olive oil massage
Along with skin to skin contact and breastfeeding, giving your baby an oil massage is a sure-shot way to bond with him. What's more, regularly massaging your little one helps reduce crying and fussiness, enables your little one to sleep peacefully, and even provides relief from common painful conditions like constipation and colic. There is a wide variety of amazing massage oils, but we recommend olive oil for a number of reasons. Rich in Vitamin E, it nourishes, protects and softens baby's sensitive skin. Its soothing and antimicrobial properties keep baby's skin healthy and lustrous. Himalaya's Baby Massage Oil is loaded with the goodness of olive oil. A light and non-staining oil, it can be used both before bathing as a massage oil and after bathing as a moisturizer.
Tip 2: Keep baby's skin moist and supple with honey
It's no secret that honey has a range of benefits, both when consumed internally and when applied externally. So even if your little one is too young to consume honey, you can always avail its skin-related benefits. A natural emollient, honey acts as a moisturizer and effectively nourishes the most sensitive skin. Use a baby soap that contains not just honey but also other natural oils like castor oil and sunflower oil. This will reduce itching and inflammation and keep baby's skin soft and well moisturized.
Tip 3: Say goodbye to that diaper rash with Five-Leaved Chaste Tree
Diaper rash is inevitable; every baby in diapers is prone to it despite the best precautionary measures. So what can you do to ensure it goes away as quickly as possible? The trick is to keep baby's bottom clean and chemical free. So make sure you stay away from scented diapers and baby wipes, which although good to smell, tend to irritate baby's skin, and even dry it out. And of course, you need to apply a naturally soothing diaper rash cream to create a protective layer between your baby's skin and her cloth or manufactured diaper. Himalaya's Diaper Rash Cream contains extracts of the five-leaved chaste tree and also contains aloe vera which accelerates healing. It helps treat skin infections and prevents further diaper rashes while also effectively minimising inflammation and redness.
Tip 4: Battle skin diseases with chickpea
Chickpea is known to have antioxidant properties that protect your child's skin from major skin diseases and dandruff. Since some babies have allergic reactions when they consume chickpeas, it is better to go for external application of the same. You can use a gentle baby bath that contains not just chickpeas but also other natural antioxidants such as green gram. This will gently clean baby's skin of dirt without causing any irritation that chemical-laden body washes typically do. This is for sure an essential bath-time tip for your little angel!
Tip 5: Calm baby into peaceful sleep with lavender
Many moms struggle with making their baby fall asleep. You can say goodbye to your baby's sleep woes with lavender. With its soothing aroma and its calming effect, it reduces baby's fatigue and restlessness to induce sound sleep. Himalaya's Soothing Baby Wipes contain lavender and other natural goodies like almond oil and Indian madder which promote sound sleep while also soothing, moisturizing and protecting baby's skin. Use the wipes before bedtime and you can see noticeable difference in his sleep quality.
As a new mom, you are going through a lot of anxiety. You incessantly worry about whether your baby is safe, in good health, sleeping and eating well, and whether you are being a good mom. Putting your faith in nature for his skincare is an excellent way to combat at least some of this stress. With nature by your side, you know you have no side effects to worry about. Nature's lap is the next best thing for your infant after yours!