Useful Hacks to Organize Baby Clothes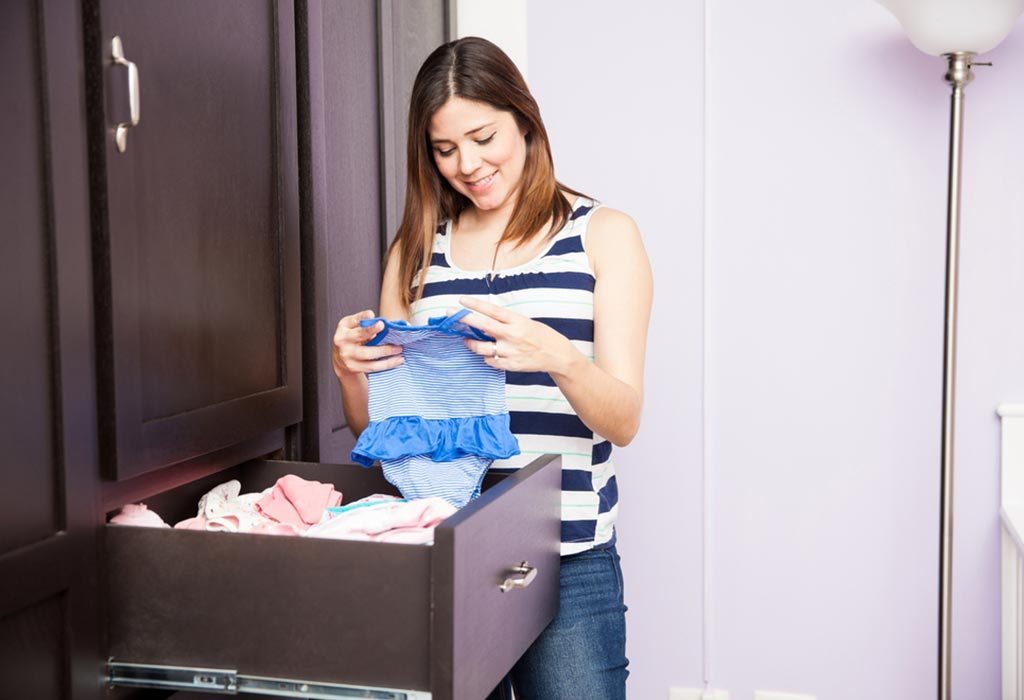 Being a parent is one of the best feelings in the world. The baby changes your world along with your everyday habits as you have to adjust to the baby's eating and sleeping routine. It is a bliss to have a baby but it is definitely not easy to bring one up. Keeping all 'baby things' organised and arranged by having a storage strategy in place will make this journey a little easier.
Keeping your baby's clothes clean and organised will help reduce clutter in the closet and make finding things easy. Also, babies outgrow their clothes pretty fast and you will have to make space for new clothes without throwing away the old. If you are a new mom or dad who is finding it difficult to arrange all those tiny pyjamas, bodysuits and socks, you are at the right place.
Baby Closet Organization – Important Tips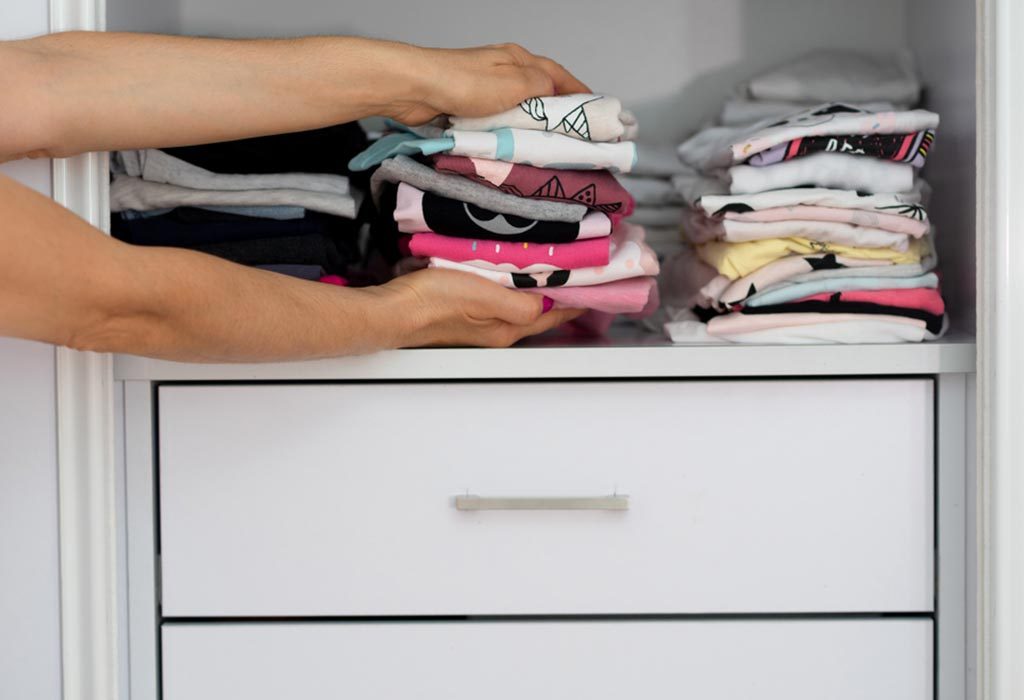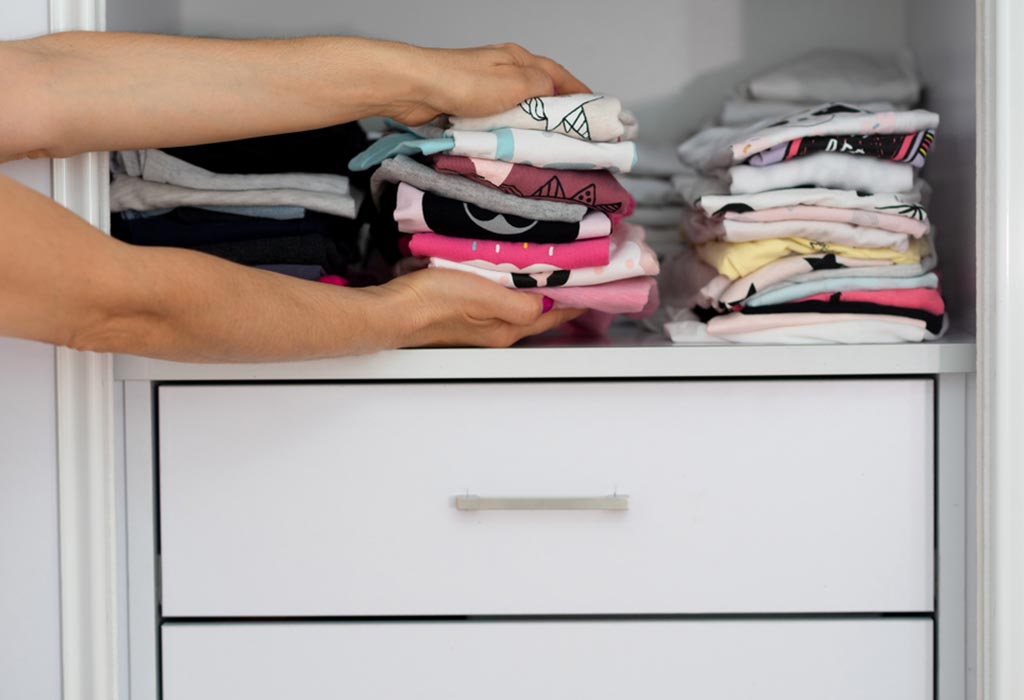 Most closets are inefficient—they have so much unused space. Here are some smart tips to keep in mind while organizing baby clothes in a closet:
1. Sort Baby Clothes
Well…it is a known fact that your baby has clothes sized through their first year and beyond. Even if you don't purchase them yourself, you will have friends and family members gifting oversized clothes to your toddler.
The best way to organise clothes of different sizes is by dividing them based on size and age. This will ensure that you don't misplace larger clothes and can find them easily.
2. Flexibility is the Key
Try and maximise the vertical hanging space of the closet. Make use of a custom closet system or rod doubler to make use of the wasted space. You can also add drawers and think of creating a foolproof drawer system so that finding clothes becomes easy. You can also label these drawers. Stacking drawers also offer a lot of flexibility.
3. Divide the Existing Space
A great way to maximise the vertical space on shelves is by making use of organisers. You can use these to keep bodysuits, tees, and even shoes stacked up. These will also be perfect to keep clothes that your baby is yet to grow into. Make sure to label these organisers.
If you don't want to buy organisers or dividers, you can make them yourself. Cut cardboard, and use these pieces to divide a drawer into four to six equal parts. You can now use these different sections for different clothing types. Foam core board will also make a great option as an inexpensive divider.
4. Make Use of the Doors
Increase nursery storage by utilizing the space available on the back of the closet doors. Add racks to the doors, and use them to hang hats, hair accessories, and more. Some of these racks can also hold toys and diapers. Over-the-door organisers are designed with pockets and these are great for keeping washcloths, diapers, and anything else that you need to find quickly.
5. Make use of Clothes Pins
Don't spend a lot of money buying clip hangers for your baby's closet. Instead get a pack of clothespins. Clothespins are a great way to organise those two-piece apparel. Clip pants or skirts to the bottom of the hangers.
6. Hang Shoes from a Rail
Chasing after those tiny shoes can be a real pain! Reduce this pain by hanging your toddler's shoes from a rail in the closet using curtain rings. You can install an inexpensive rod in the closet if all the others are already in use.
7. Use Ornament Boxes and Baskets
Baby clothes usually come in sets apart from onesies, dresses, jumpsuits and the like. When you toss all the clothes into the dresses or closet, finding the matching pair can be a daunting task. This is where ornament baskets can come to your rescue. These boxes are designed with little square sections where tiny baby clothes will fit perfectly.
Well…let's face it! Dresses, jumpsuits and onesies are only the clothing requirements babies have. There are so many more things in their list like bibs, hats, socks and mittens that they need. Towels and blankets also need to be arranged. Baskets will come handy in such cases. Plus, baskets come in all shapes and sizes, and you can use them with all clothing types and things beyond.
8. Always Plan Ahead and Make Use of Any Existing Dresser
Keeping a labelled box at the bottom of the closet for each clothing size and category will make things a lot easy for you. Place all the outgrown clothes into these boxes so that finding them becomes easy for a future child, garage sale or donation.
If you have a dresser that has not been put to its optimal use, it will be just perfect for your baby's clothes. Label each drawer using chalkboard paint and that is a great way for organizing baby dressers. And when your baby grows up, you can let them paint the dresser the way they want and use it to store their art and craft supplies. Chalkboard paint is available in all art and craft stores.
Other Ideas You Can Try to Arrange Baby Clothes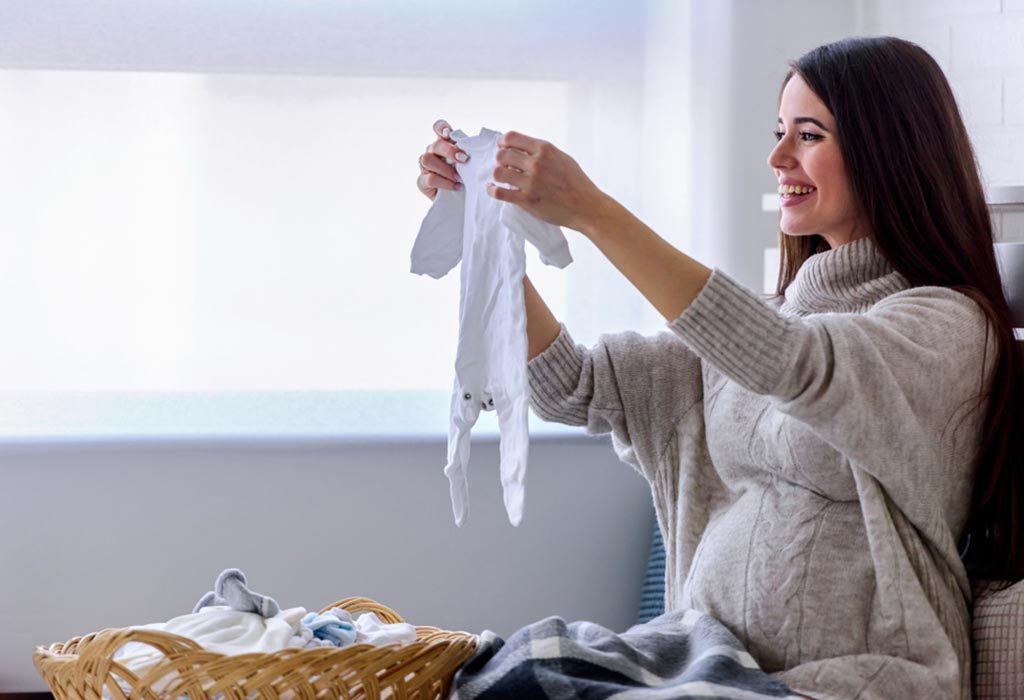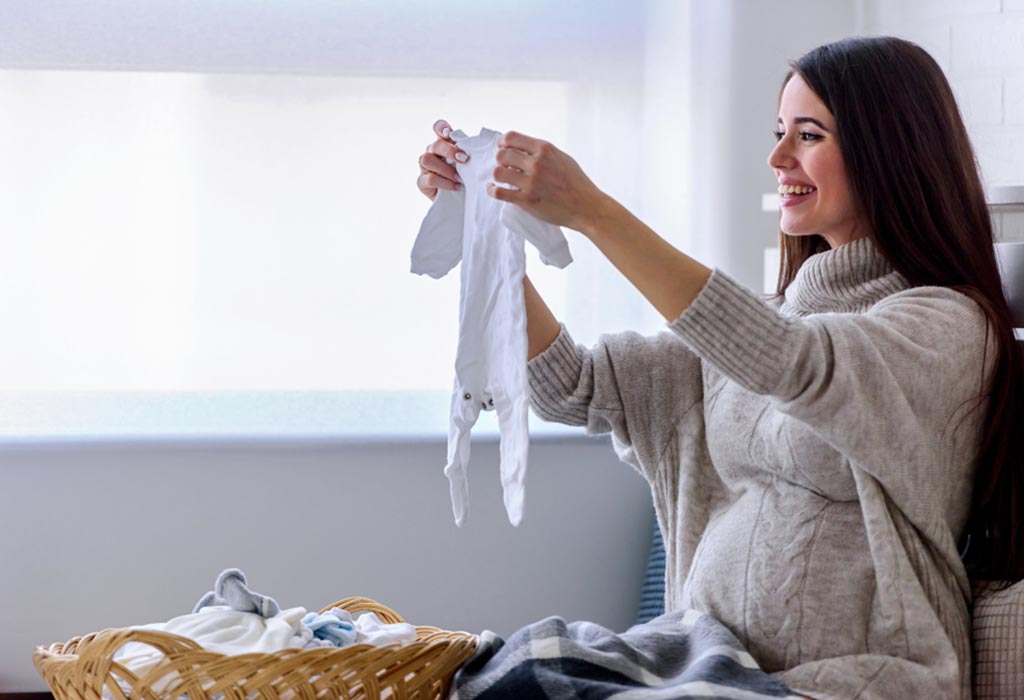 Dressers and closets are not the only places where you can organise your little one's clothes. Read on to know the other options for some wall and floor storage:
1. Shelves
Add a shelf or two to any wall of your baby's nursery to create some extra space for organizing clothes on the wall. Add a dowel to one of these shelves to create a small closet that you can hang anywhere in your home that has space. You can paint the dowel and shelf to make them compliment the nursery decor.
Such a setup will work when your baby is small and so is their clothing. Once your baby grows up, replace the dowel with pegs and use them to hang jackets and hoodies.
2. Clothespins and More Clothespins
Baby girls need to have their hair accessories right! While hair accessories come in different styles until a certain age you can accessorize your little girl's little hair with only a headband.
Headbands are easy to match as they come in all colours and designs. And, most babies usually have a matching headband for everything in their closet. Storing so many headbands can be an issue.
But, having a clothespin rack in place will make your life easy. Install a sleek wood panel on the wall and glue clothespins to it. Hang headbands from each of these clothespins. Color the clothespins and the wood panel in bright hues to spruce your room decor.
3. Hang Hair Bows
Some chicken wires and a thrift store frame are all you need for this hack. Remove the frame back, cut wires to make them fit the frame and staple them to the frame's back to create a rustic hair bow organiser.
4. Time to Hook Up
This is a great but unconventional way to maximise storage with the available space. Though small, a sturdy hook can hold a lot of weight. Hang knitted baskets from these hooks, and use them to keep diapers and things that your baby needs on an everyday basis. You can hook up canvas bags too and use them to store toys, towels and blankets.
5. Make Your Own Cardboard Boxes
If you can't afford the expensive storage bins, you can make a few yourself. All you need is some hot glue, cardboard and a little patience. You can refer to online videos for help. These cardboard boxes are great to store tiny and lightweight baby clothes and accessories. Adorn the boxes with printed fabric to make them match the nursery decor.
6. Use Wire Baskets
Wait, haven't we already talked about baskets? Using baskets to organise clothes is common. But, how many of you have actually thought of adding such a basket or baskets to an empty wall in the nursery?
Use these baskets to keep your baby's everyday clothes and diapers. You can decorate these baskets with string lights and let them double as a decor accent.
7. Rolling Cart
A metal rolling cart can also be used for a variety of purposes, storing baby stuff being just one of them. They are perfect for storing your little one's blankets, onesies, shoes and more. Once your baby is up and running, use it to store craft accessories.
Rolling carts are available both online and in physical stores. If you don't get the colour you want, spray paint it to make it match the nursery decor.
8. Bookshelf
Yes…you heard it right! Bookshelves can be easily transformed into a baby closet. Do this only if you don't have a closet for your baby.
Bookshelves are easily available. But one from a local furniture store or order one online. They have shelves and you can put baskets and boxes on these shelves. You can also attach a rod for hanging clothes.
9. Toy Bins
Toy bin shelves are also great for organising baby clothes. You can easy label them, and together the bins can hold quite a number of things together.
When your little one grows up, you can use these bins to hold their toys. Toy bins are available in all furniture stores, both online and brick-and-mortar shops.
10. Use the Space Under the Crib and Keep Socks Separate
Using the empty space underneath the crib is one the best ways of organizing clothes on the floor. Check out a YouTube video and bring out the hidden DIY carpenter in you to design a custom under-the-crib drawer. If you can't make one, opt for plastic bins and cardboard boxes that can fit under the crib. When your baby is big enough to sleep in a bed, get one that comes with drawers. This way you will have ample storage options for their clothes, toys and even linen. Add a couple of cheap laundry bags to your hamper, and use them to keep socks, bibs etc.
With all these hacks and ideas, you are all set to organise your baby's clothes. While it won't be possible to use all, make sure you decide on the ones that suit you best and help keep your baby's nursery clutter-free and clean. All the best!
Also Read:
Right Way to Choose and Buy Clothes for Your Baby
Things to Keep in Mind While Washing Your Baby's Clothes
Look Out for Harmful Things Before Buying Your Baby's Clothes