22 Best Christmas Movies for Kids to Watch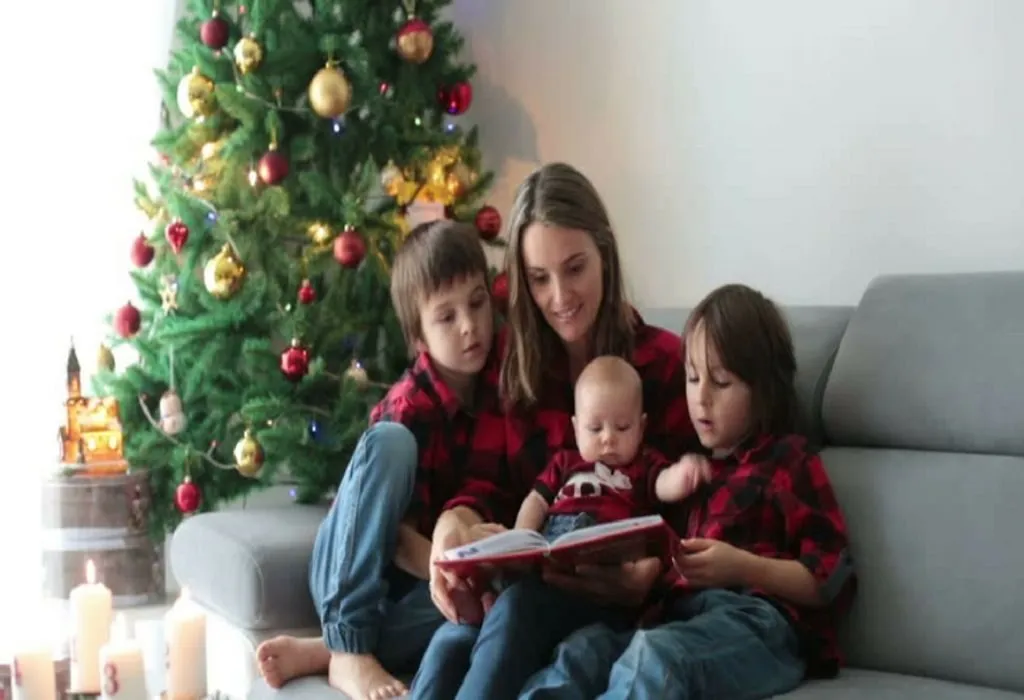 In this Article
With the holiday season just around the corner, it's time to start making a list of the best kids Christmas movies. So, once you're done with the tree decoration and gift wrapping, cuddle with your darlings and watch some evergreen, fun-filled movies that warm the yuletide spirit.
When Christmas approaches we get our hands full of things to do, right from decking the halls, putting up holiday trees to wrapping gifts and baking treats. With so many things to do, it's easy to forget that the most important thing to do is spend quality time with your loved ones. And there's nothing better than to watch a slew of movies snuggled in bed with your munchkins!
Children's Christmas movies are eternally charming, and the best part is that you are never too old for them. Take your pick, get ready some munchies, and make the most of Christmas night!
Top 22 Christmas Movies for Children
1. It's a Wonderful Life (1946)
Topping the list of holiday movies for kids, Frank Capra's 'It's a Wonderful Life' features Jimmy Stewart in the role of George Bailey, who makes sacrifices for the sake of spreading goodwill in the small town of Bedford Falls. Watch out for the scene where he helps angels get back their wings!
2. A Charlie Brown Christmas (1965)
This kids Christmas movie brings cartoonist Charles Schulz's Peanuts comic stories to life via a divine television special. It is a heartfelt celebration of the season's holiness.
3. Rudolph the Red-Nosed Reindeer (1964)
A young reindeer, because of his red, bright nose, is banished from traditional reindeer games. Rudolph makes it his mission to help them. This movie is among the classic kids Christmas movies!
4. The Polar Express (2004)
When it comes to the best animated Christmas movies for kids, The Polar Express (2004) by Chris Van Allsburg wins hands down. This is the story of a train that's headed for Santa's workshop.
5. The Nightmare Before Christmas (1993)
Santa is abducted from Christmas Town by Jack Skellington, a restless ghoul, who decides to deliver all the presents himself. This mash-up of Christmas and Halloween is super entertaining!
6. Millions (2004)
A sack of money falls into the hands of a seven-year-old boy and his brother. What do they do with the dough after knowing where the loot came from? Do they invest in charity or blow up the treasure on material goods?
7. Home Alone (1990)
Macaulay Culkin, a cheeky kid, holds ground against bumbling burglars after his family accidentally flies off to Paris, leaving him home alone. Watch this action-packed comedy for many warm moments with your kids. A sure rib-tickler!
8. The Star (2017)
Embark on a journey with a sweet yet brave donkey who frees himself from a village mill to fulfil his dreams. On his journey, he meets some exciting characters who inspire him, love him, and teach him many values. Watch this animated Christmas comedy movie that will take you through the greatest story ever told, i.e. the first Christmas.
9.
Jingle Jangle: A Christmas Journey (2020)
This is a musical tale of a toymaker who stops creating new toys after his assistant steals his book of ideas. When his adventurous granddaughter visits him, things take a turn for everybody. It is certainly an adventure-packed movie to watch with your kids.
10. White Christmas (1954)
The Bing Crosby musical gives you some swell times with your excited kids and makes you exchange Connecticut for Vermont. It's certainly a cinematic victory lap for its juggernaut title song.
11. Holiday Inn (1942)
The movie is all about a Connecticut resort and star-crossed show guests that make your kids dream of a wonderful "White Christmas." This comedy is oft-watched for its best-selling Irving Berlin songs.
12. Elf (2003)
Will Ferrell (Buddy), a wide-eyed sweetheart, is an elf that has outgrown the North Pole. He arrives in New York to live a life of his own. A must-see for city kids who'll love to see Buddy enjoying Christmas in NYC.
13. The Santa Clause (Film Series)
When Scott Calvin (Tim Allen), helps Santa during a Christmas crisis, he finds out that he has unintentionally agreed to be the next Santa Clause! An inside look at Santa's home and toy factory on the North Pole is incentive enough for your kids to be hooked!
14. Fred Claus (2007)
When Fred Claus (Vince Vaughn), Santa's bitter older brother is in dire need of money, he is forced to move to the North Pole and help him out for the cash. Set the tone for the night with this heartwarming yet hilarious kids Christmas movie!
15. A Christmas Carol (2009)
A Christmas Carol is probably the most popular Charles Dickens novel and its movie adaptation is as captivating as the classic book. The story follows a bitter old miser (Jim Carrey) who learns about compassion when visited by three spirits on Christmas. While the story in itself is beautiful, the motion-capture animation effects are fascinating!
16. How the Grinch Stole Christmas (2000)
Adapted from a children's story by the beloved Theodor "Dr Seuss" Geisel, How the Grinch Stole Christmas is a comedy about the Grinch (Jim Carrey) who hates Christmas and sets out to ruin the holiday. Cindy Lou, a six-year-old who is a strong believer of the spirit of Christmas sets out to help him change his ways.
17. Arthur Christmas (2011)
Arthur Christmas tells the story of Santa's clumsy young son Arthur who sets out to save Christmas for a little girl. A festive tale with a wonderful message, Arthur Christmas is an excellent choice for your kids.
18. The Christmas Chronicles (2018)
Every child has been told the story of how Santa comes in through the fireplace on Christmas eve to leave presents under their Christmas tree, and we're sure most kids have once dreamt of actually being able to catch him in action. Watch what happens when two siblings try to prove Santa exists by setting a trap.
19. The Grinch (2018)
Watch this musical of how the Grinch, along with his loyal dog, Max, try to steal Christmas by posing as Santa Claus. This is one of the best Christmas movies for toddlers, that has everyone humming along to the music.
20. Trolls Holiday (2017)
A sequel of the award-winning film Trolls, Trolls Holiday revolves around the queen of the trolls, Poppy, who sets out to instil some holiday cheer and spirit in the Bergens, who don't have any holidays to celebrate. Watch the fun that ensues.
21. Jingle All the Way (1996)
Get into the spirit of gift-giving by watching this movie about two fathers who race to buy their kids their favourite toy for Christmas. This is an all-time favourite that is heartwarming and funny at the same time.
22. Frosty the Snowman (1969)
Watch what happens when a snowman comes to life in this classic movie. Everyone, right from kids and adults is sure to have a great time watching this movie on Christmas eve.
There you have it! These top kids Christmas movies are sure to give you hours of snuggle time and bonding with your loved ones, this holiday season. So, gather some comfy blankets and pillows, get some popcorn ready, and have a Merry Christmas!