28 Entertaining Christmas Movies You Can Watch With Your Family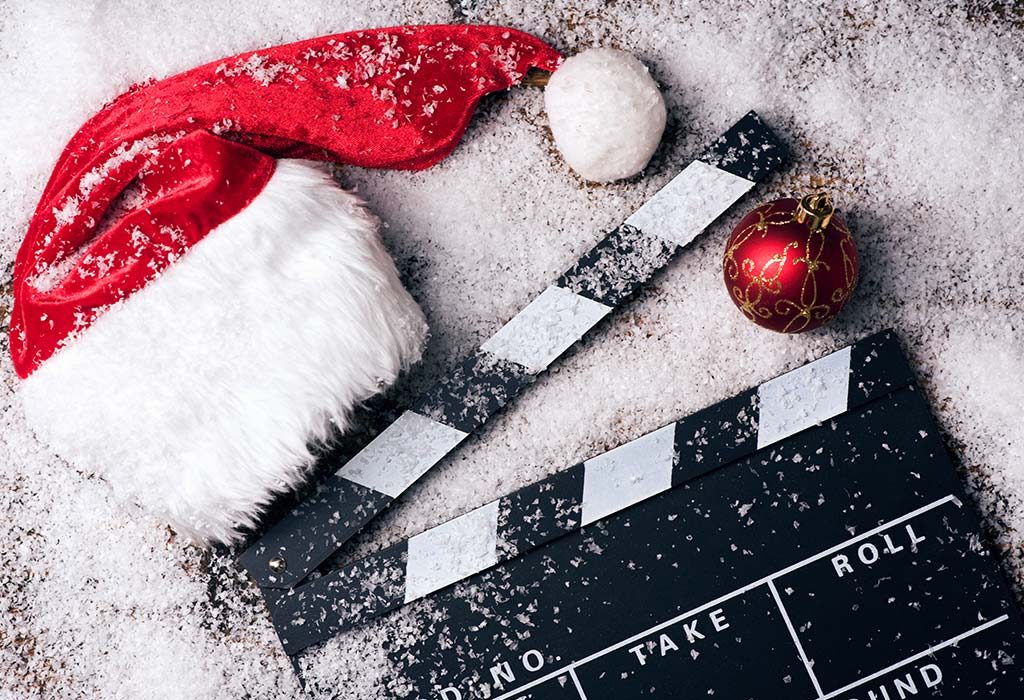 In this Article
It's the Christmas season and just the perfect opportunity to spend plenty of time at home with the family watching movies. What better way to relax during Christmas break than to catch the best Christmas movies. You no longer need a whole shelf to store your entire favourite movie DVDs; they can all be streamed online!
28 Best Christmas Movies to Watch With Your Family and Kids
We bring you a list of the best Christmas movies streaming on different online platforms in the next couple of months that you shouldn't miss.
1. The Princess Switch
Starring Vanesa Hudgens, Nick Sagar, and Sam Palladio, this is a fun movie to watch with your family. Stacy (Vanessa Hudgens) who is a type-a planner and obsessed with schedules takes a spontaneous trip to the beautiful land of Belgravia when her best friend Kevin (Nick Sagar) persuades her to go. While Stacy prepares for the Royal Christmas Baking Contest, she runs into Duchess Margaret Delacourt who happens to be identical to Stacy in looks. Margaret, who has always wanted a chance to experience life as a "normal person" one last time before she marries the Crown Prince of Belgravia, switches places with Stacey.
2. The Star
This beautifully crafted family/comedy movie is definitely a star among all the Christmas movies. One fine day, when a friendly donkey breaks free from a village mill, he embarks on a journey of his dreams. On his journey, he meets wonderful characters and all of them start following the Star. In this movie, the characters display the emotions of friendship, loyalty, and courage. What starts with following the Star, the donkey and his friends become superheroes in the worldwide story ever told – Christmas.
3. How the Grinch Stole Christmas
This classic starring Jim Carrey, is one of the best Christmas movies for kids. The movie revolves around the famous fictional character: The Grinch- a green, hairy, pear-shaped creature with a cat's face, a snub nose, and a cynical personality. The story unfolds in Whoville, a magical land that exists inside a snowflake. The Whos inhabit Whoville; they are human-like people who love Christmas. The Grinch lives just outside Whoville and hates Christmas and plans to steal it away from the people who he loathes just as much. Things start turning around when a small child decides to befriend the Grinch.
4. Gremlins
Gremlins is another classic that's a blend of children-centric entertainment and some high-tech violence. Trouble ensues in the small town of Kingston Falls as small green monsters tear through the town. When a mild-mannered bank teller gets a new pet, he violates three simple rules that come with it: no water, no food after midnight, and no bright lights. This unleashes an army of hideous loonies that bring hilarious mayhem and cause destruction in the town.
5. Home Alone
When an 8-year-old is accidentally left at his home alone by his parents going on a Christmas vacation, he gets to enjoy the full house to himself. Although he plans to enjoy the holiday alone at home, he is visited by some unexpected burglars. Now, he must protect the house and himself from the burglars. This epic movie starring Macaulay Culkin, John Heard, Joe Pesci, Daniel Stern, and Catherine O'Hara is a hilarious movie where you will find yourself rolling from your seats just with laughs!
6. Saving Santa
This movie is an animated story of an elf, Bernard, and his task of saving Santa after he is kidnapped. Bernard is an opportunist and eccentric who dreams of being an inventor. When his innovative creation that can bring people's favourite Christmas memories back to life fails, he is made to feel like a fool yet again. However, Bernard gets a chance to prove his worth when the Evil Neville Baddington kidnaps Santa. The movie is a wonderful mix of holiday fun and Christmas spirit that can be enjoyed by all.
7. Santa's Apprentice
This family entertainer is a unique French animated movie where Santa is looking for a boy to replace him. Santa is reluctant to retire, but there is no breaking the rules. He must find someone to train and replace him. A lucky winner will be chosen from among millions of children. However, there are three clauses. He must be an orphan, he must be named Nicholas, and he must possess a pure heart. A perfect match lives on the other side of the planet, a little boy who has low self-confidence and a fear of heights.
8. Bad Santa
This one portrays what happens when a con man turns into Santa Claus. The character of Billy Bob Thornton as a not-so-saintly Santa is hit with the adult crowd and is a fun movie to watch if your family doesn't have any kiddos. The storyline involves Willie T. Stokes, a convicted con man who has led a miserable life. He drinks excessively and always embarrasses himself publicly. His work involves dressing up as Santa only once a year. But on Christmas Eve, with the help of his pint-sized dwarf Marcus, Willie stages elaborate robberies and sweep department stores clean of everything they have. This time, he gets distracted by a woman, a bartender who is into Santas.
9. The Christmas Chronicles
This is a Christmas Netflix movie enjoyable for adults and kids alike as it features great cinematic quality, excellent script, and acting. The story revolves around the lives of siblings Kate and Teddy Pierce who plan to catch Santa on camera on Christmas Eve. When their plot causes Santa to crash his sleigh, the trio must work together to deliver all the gifts before dawn.
10. Pottersville
Maynard (Michael Shannon) who is a local businessman loved by all is mistaken for Bigfoot, a legendary ape-like creature, thanks to his wasted romp through town in a gorilla costume. The sightings set off an international media frenzy and a downpour of tourism money on a simple town hit by hard times. The movie is fun and entertaining for all ages.
11. A Christmas Prince
This Netflix produced rom-com adds the leftover royal wedding fever to your holiday spirit as it follows an American journalist who travels to shadow a playboy prince. Amber (Rose McIver), an American reporter, goes undercover as a tutor to get an inside look into the life of Prince Richard who is perceived to be a playboy. She gets entangled and ends up finding love. How long will she be able to keep up her lie?
12. Christmas Inheritance
This movie stars Eliza Taylor as Ellen Langford, the ambitious heiress of her father's gift business. Ellen must travel to her father's hometown to deliver a Christmas card to his former partner. During her visit to her hometown, she is stranded by a snowstorm at the town's inn. She has no choice but to work for her keep and in the process discovers she fits right into the life of a small town.
13. The Legend of Frosty the Snowman
This is one of the movies to be watched around Christmas as children enjoy it thoroughly. Frosty the snowman travels to where he is needed the most. This time, the town of Evergreen needs a visit as its mayor Mr Tinkerton runs a tight ship and has no room for talks on nonsense such as magic. But as Frosty goes through town, he restores the children's faith in magic. As Tinkerton's sons, Tommy and Charlie, along with their friends, try to spread the word about Frosty's magical antics, they meet with resistance from Hank Pankley, Evergreen Elementary's wicked principal. Watch this movie to find out how Frosty succeeds in making magic a part of this town.
14. Christmas With The Kranks
Based on the book "Saving Christmas," the film comes to the viewers as a crazy comedy Christmas movie. Centred on the Kranks who are famous for their cheerful Christmas celebration, the storyline goes along a comical chain of events when they decide to skip Christmas altogether for the first time to go on a Caribbean cruise. The movie written by the director of Home Alone is sure to keep you and your family entertained throughout.
15. Just Friends
This American rom-com stars Amy Smart and Ryan Reynolds. Chris (Ryan Reynolds) who is an obese teen nerd in school, tries to get out of his crush and best friend Jamie's (Amy Smart) friend zone. Her rejection eventually turns him into a womaniser. During an unplanned visit for Christmas to his hometown many years down the line, he comes face-to-face with his high school crush. Although it isn't a movie that children can relate to, this flick is entertaining for the grown-ups.
16. The Nightmare Before Christmas
The king of Halloween Town, Jack Skellington, is bored of his Halloween routine every year and wants to do something different. Upon stumbling into Christmas Town one day, he is so captivated by the idea of Christmas that he tries to get the residents of Halloween town, goblins, ghouls, and bats to help him with Christmas instead of Halloween. This visually beautiful movie is enjoyable by audiences of all ages. The monster cast is greatly lovable, and the movie is set in a beautiful design with its narrative and lyrics quite far from Disney's animated musicals.
17. A Christmas Star
When a conniving developer threatens her village, Noelle O'Hanlon resorts to using her gifts to save the village. Noelle, who was born under the Christmas Star, believes she has a gift to perform miracles. She and her friends use the gift to thwart the developer's plans and save the village. This heartwarming movie also has Pierce Brosnan in a guest appearance.
18. Scrooged
This Bill Murray movie is a must-watch for all. This classic Bill Murray-styled comedy is based on Charles Dickens's classic "A Christmas Carol", with a dark touch. Francis (Bill Burry) is a cynical television executive who is mean-spirited and treats his loyal assistant with disrespect. He has alienated himself from his brother who still invites him for Christmas dinner despite his refusal to go every year, and he just fired a staff member for simply disagreeing with him on Christmas Eve. When three ghosts visit him, he learns what Christmas is all about.
19. The Muppet Christmas Carol
This puppet rendition of the classic Charles Dickens's tale of Ebenezer Scrooge is one of the funniest ever. With Michael Caine cast as the irritable Scrooge, he is held accountable for his despicable ways by the ghosts of Christmas that visit him at night.
20.
Get Santa
An immensely enjoyable family movie, Get Santa is the story of a father and son who team up setting aside their differences to save Christmas. The estranged father and son who discover Santa sleeping in their garage after his sleigh crashes try to bond in the process of helping him. Throughout they attempt to bust the myths around Santa and his reindeers and how they fly.
21. Dear Santa
This is the story of a wealthy girl- Crystal (Amy Acker) who enjoys spending her parent's money and is a die-hard party girl who is trying to change her frivolous ways. When her parents decide it's time for her to do something with her life, she has until Christmas to change her ways. In the struggle, she has a moment of inspiration upon finding a letter to Santa from Olivia, a seven-year-old girl.
22. Holiday Engagement
An entertaining flick follows the events after the thirty-something Hillary Burns gets dumped by her boyfriend whom she intended to marry. After having spent a lifetime trying to get the approval of her judgemental parents, Hillary finds an actor to pretend as her boyfriend and introduces him to the family.
23. Arthur Christmas
Arthus Christmas is an animated movie that will entertain the entire family and fill your heart with emotions. When Arthur, Saint Christmas' clumsy but kind-hearted son finds out that a little girl's Christmas gift has been misplaced due to technical issues he decides to deliver the presents before it's too late.
24. It's a Wonderful Life
This old black-and-white film is based on Phillip Van Doren Stern's short story "The Greatest Gift," and it has become a classic Christmas movie around the world. When the film's main lead, George Bailey gives up on his dreams and decides to commit suicide on Christmas Eve, his guardian angel Clarence Odbody intervenes. Clarence shows Gorge all the good he has done and how he has helped the people of Bedford Falls. Although this movie is not suitable for kids, teenagers and adults can watch this old-time classic and celebrate the Christmas spirit.
25. The Polar Express
Another animated Christmas movie with stunning visuals will definitely entertain the entire family. The film depicts the life of a young boy who boards the train to the North Pole to meet Santa Claus. As he and the other children in the train embark on this journey together, they encounter many adventures and negotiate with the mean train conductor. The film celebrates the beliefs around Christmas and will keep your family hooked till the end.
26. Miracle on 34th Street
Another old classic, Miracle on 34th Street is based on the story of a department store's Santa Claus convincing the department store's owner's daughter, Susan to believe that he is the real Santa Claus. As Kris Kringle persuades the store's customers that he is the real Santa, he finds himself entangled in a court case regarding his mental health. As the movie reexamines the faith surrounding Christmas traditions, it holds its audiences' attention till the end.
27. Christmas in Love
If you're looking for a Christmas romantic movie to watch during this Christmas season, then Hallmark Christmas movies have answered your prayer. Set in small-town, Christmas in Love depicts the love story of Ellie Hartman and Nick Carlingson. When Nick the CEO of Carlingson Bakery comes to visit the small town of Missouri and fire people, Ellie introduces him to the residents and convinces him that businesses are successful because of people and not machines.
28. Noelle
This Disney+'s comedy Christmas movie is a fantastic script about Santa's daughter who accidentally turns things upside down in an effort to do good things. When Nick, the next Santa, elopes, it becomes Noelle's duty to find her brother and bring him back in time to save Christmas. Suitable for both kids and parents, this 2019 Disney movie is a must-watch this Christmas season.
These movies are sure to keep you and your family entertained throughout the Christmas holidays.
Also Read:
Netflix Shows to Watch with Kids
Amazing Summer Vacation Movies for Kids
Animal Movies for Children