25 Best Places To Visit in Hyderabad for Kids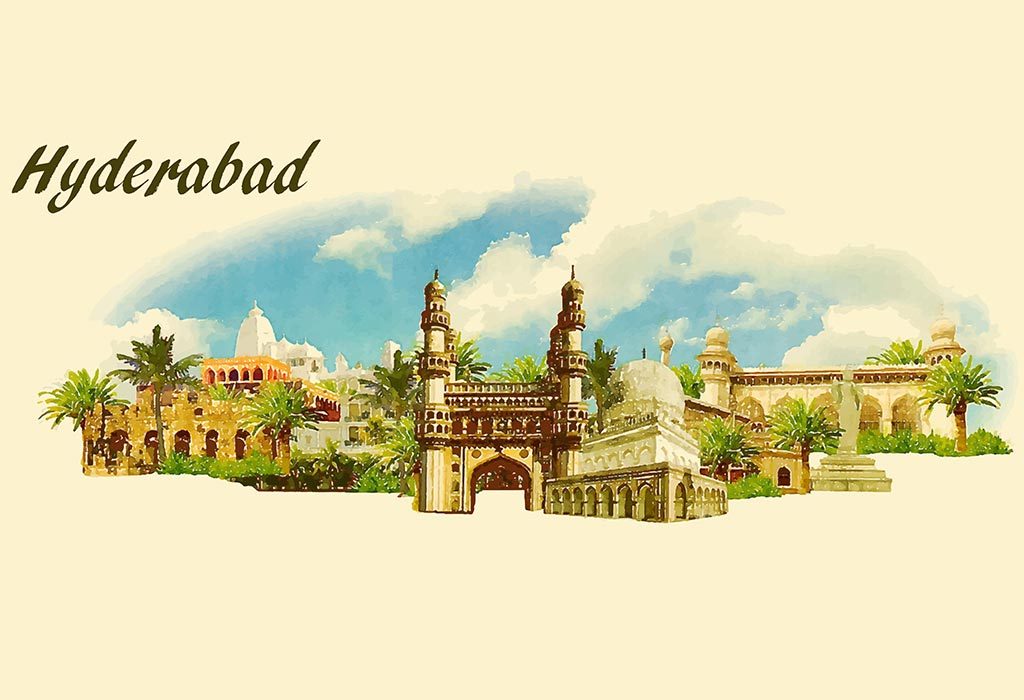 Travelling is known to have a lot of benefits for adults and children. One such beautiful place to visit is Hyderabad. Hyderabad, also called the City of Pearls, has a lot to offer to visitors in terms of sightseeing and interesting places. Though it is no hill station and has no beaches, it brilliantly compensates for that with artificial lakes, beautiful parks, fabulous malls and magnificent historical monuments that are bound to intrigue both kids and adults. There are many places to visit in Hyderabad for kids to visit. From the stunning Ramoji Film City to the mighty Golconda Fort, Hyderabad has many jewels!
25 Incredible Places to Visit in Hyderabad With Your Children
Hyderabad has several exciting places where you can revel in numerous fun activities along with your kids while learning about the ethos and culture of the city.
1) Museums & Historical Places
A trip to the city's famous museums can help your kids become aware of some interesting facts. You may like to visit the following museums and historical places:
1. Salar Jung Museum
The museum boasts of a collection of more than one million items and is one of the popular National Museums of India. It is a treasure house of paintings, books, jewellery, antique furniture, daggers, clothing, manuscripts, etc. It was a private gallery when it first opened in 1951. In 1961, it gained the status of a National Museum and since then has attracted hordes of visitors yearly. The museum consists of 18 galleries, many virtual exhibitions, and a library that helps you understand the history and evolution of the city over the years.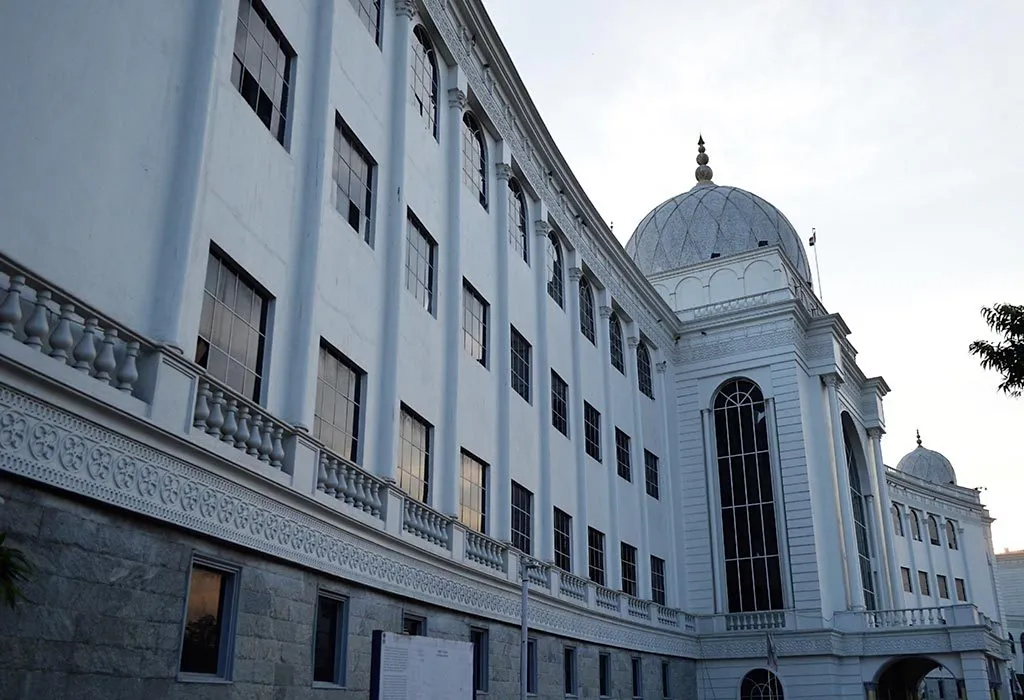 Location: Darul Shifa, Hyderabad
Days Open: All days except Fridays and holidays
Entry Fees: For Indians Rs. 20, Foreigners Rs. 500
You may wish to reach the clock room by noontime to witness the caretaker of the clock strike the hammer 12 times!
2. Sudha Cars Museum
Have you ever seen a car designed like a shoe, handbag or a burger? If not, then you ought to tour Sudha Cars Museum which is maintained and owned by the talented artist Sudhakar Yadav. The remarkable cars have been handwrought by the artist. Your kids will be elated to see cars shaped like a helmet, basketball, billiards table, and even a sofa! The museum also showcases replicas of vintage cars and uniquely formed commercial vehicles.
Location: Bahadurpura, Hyderabad
Days Open: All days
Entry Fees: For adults Rs. 50, children Rs. 10
It is a delight for particularly those kids have a good imagination and love mechanics.
3. Birla Planetarium and Science Museum
Stated as one of the finest planetariums in India, it is a must-visit in Hyderabad. It holds hourly shows throughout the day that are very entertaining and informative. It also has an enthralling dolls gallery, and a communicating science section where kids can solve math and science puzzles, understand handmade exhibits which present laws of mechanics, physics, electronics and energy among others.
Location: Khairtabad, Hyderabad
Days Open: All days
Entry Fees: For planetarium Rs. 80, for both science museum and planetarium Rs. 150
Kids below the age of four are not allowed entry into the sky theatre.
4. Golconda Fort
It was previously the capital city of Qutub Shahi Kings. The fort is built on rock and covers an expanse of 4.8 kilometres. Its height is 130 meters. It contains tombs of the rulers, mosques and other ruins. It was initially constructed in the 11th century and later fortified in the 16th century.
Location: Golconda, at a distance of 11 kilometres from the city
Days Open: All days
Entry Fees: For Indians Rs. 5, Foreigners Rs. 100
It may take about three hours to explore the entire fort. Also, there are many steps to climb for reaching the top. Your kids may also like to attend the light and sound show held in the evening.
5. Charminar
The monument's architecture has made it famous worldwide. It has four minarets which are connected to enormous arches, each tower standing high at 20 meters. Several stories suggest different reasons for its construction. Some believe it was built to mark the culmination of the plague while others think it was to honour the beginning of an Islamic year. Regardless, it is a beautiful example of the magnificent Islamic architectural style.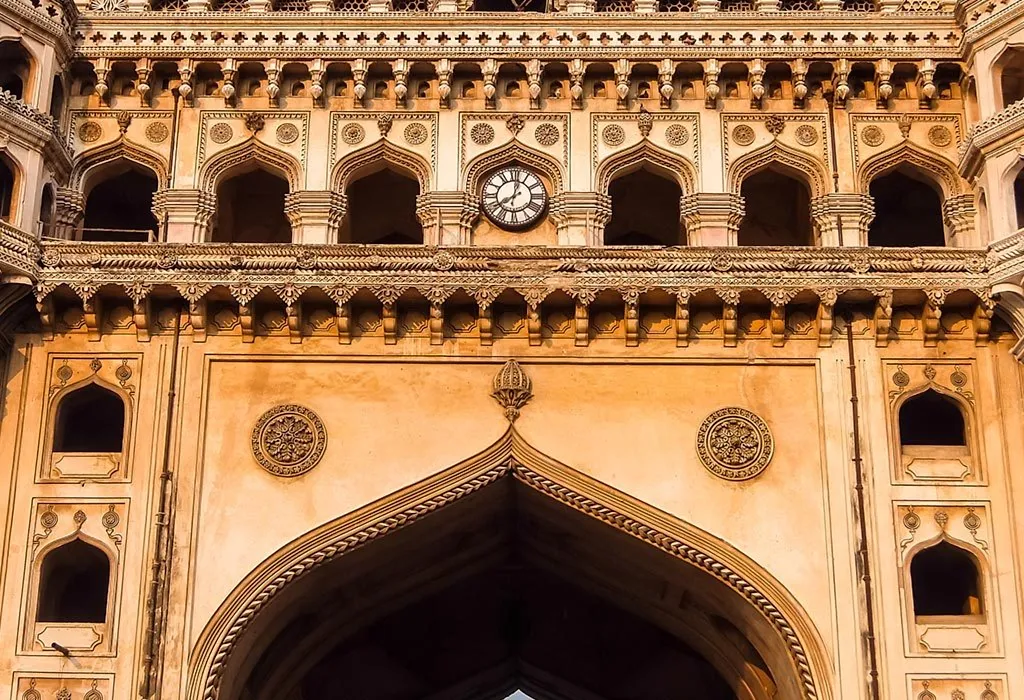 Location: Hyderabad
Days Open: All days
Entry Fees: Nil
You must check out the bazaars or market places surrounding the monument. You can indulge in the well-known Hyderabad pearls, bangles and apparel.
6. Chowmahalla Palace
It is a well-maintained complex consisting of four palaces. An imitation of the Shah's fortress in Iran, it was the endorsed abode of the Hyderabad Nizams during their reign. It possesses a Southern courtyard (the oldest portion of the palace) and a Northern courtyard (the area open for public viewing). The palace also owns wedding halls that can be hired for events.
Location: Khilwat, Hyderabad
Days Open: All days except Fridays
Entry Fees: For Indians Rs. 80 (adults), Rs. 10 (kids), foreigners Rs. 200
Set aside a minimum of two hours to absorb the majesty and stunning architecture of the place.
7. The Nizam Museum
This beautiful Museum showcases the gifts that the last Nizam of Hyderabad State received during his silver jubilee celebrations. The Museum is a repository mainly of souvenirs, gifts, and mementoes presented to the last Nizam on the occasion of the silver jubilee celebrations in 1936. The museum was then opened to the public on 18th February 2000 by the Nizam Trust.
Location: Purani Haveli, Hyderabad, Telangana
Days Open: All days except Fridays.
Entry Fees: Rs. 100 for adults and Rs. 15 for children.
2) Parks
Hyderabad hosts some of the most beautiful and greenest parks. These can serve as wonderful picnic spots for the entire family. The popular children's parks in Hyderabad include:
1. Lumbini Park
This lovely park enjoys a place next to the banks of Lake Hussain Sagar. It has a walking trail along with a kid's play area. The park also offers boating and water sports facilities.
Location: Khairtabad, Hyderabad
Days Open: All days
Entry Fees: Per person Rs. 10
You may want to schedule your trip to this place on weekdays to sidestep the weekend rush. Do make time for the spectacular laser show.
2. Jalagam Vengal Rao (JVR) Park
A relatively new park, the JVR park is beautified with several colourful flower-bearing plants and lush trees. It is an ideal place to enjoy leisure walks. It also has a children's play area. It is often a preferred venue for musical get-togethers and parties.
Location: Banjara Hills
Days Open: All days
Entry Fees: Per person Rs. 5
It is a perfect place to enjoy the greenery and cool your heels after hectic sightseeing.
3. NTR Gardens
NTR gardens next to Lake Hussain Sagar is a brilliant kid's destination. It has distinctively shaped swings, a toy train and play zones to keep kids amused and engaged for hours.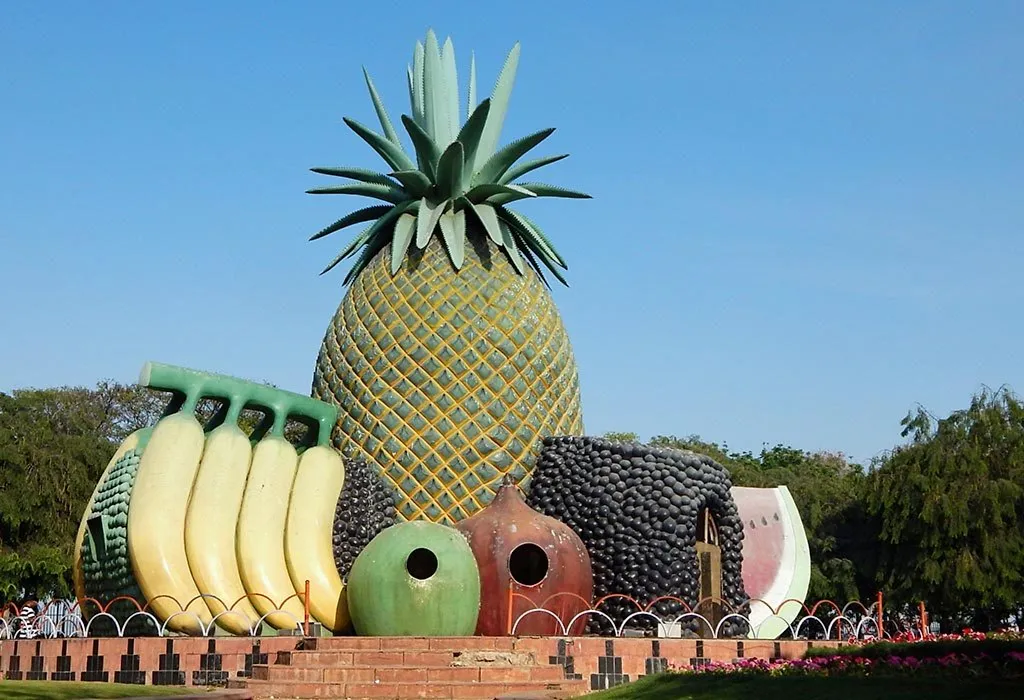 Location: Khairtabad
Days Open: All days
Entry Fees: For adults Rs. 15, children Rs. 10
A great place to head for with your children. You can consider exploring it instead of other bigger parks.
4. Nehru Zoological Park
Also called the Hyderabad Zoo, it is a go-to place in the city. Apart from a lovely collection of birds and animals, the park also has a Natural History Museum, a tortoise house and a toy train. The Nehru Zoological Park has more than 100 species of mammals, birds and reptiles.
Location: Mir Alam Tank
Days Open: Tuesday to Sunday
Entry Fees: For adults Rs. 20, children Rs. 10
The zoo is very close to the Salar Jung Museum. Thus, you can easily plan to visit both on the same day and save some travel time.
5. Sanjeevaiah Children's Park
This green public park is located in the heart of Hyderabad. It spans over 92 acres along the banks of Hussain Sagar lake and is named after a Cheif Minister of Andhra Pradesh. Interestingly, the park is home to the second-tallest Indian flag in the country. It is also a perfect place to introduce your little one to bird watching as the park is home to over 100 species of birds and also houses migratory birds.
Location: Hussain Sagar, Khairtabad, Hyderabad
Days Open: Open all days from 5 am to 7 pm.
Entry Fees: Free entry for children under the age of 10. Rs. 5 per person for adults or Rs. 50 monthly pass.
3) Lakes
Hyderabad has many artificial ponds and lakes where the whole family can unwind and enjoy some pleasant evenings. The common ones are the following:
1. Hussain Sagar Lake
It is locally called 'Tank Bund'. It is heart-shaped and covers an extent of 5.7 kilometres. In the middle, there is a Gibraltar Rock Island where the largest Monolithic Buddha statue of the world stands. The gorgeous lake receives its waters from the Musi river and splits the cities of Secunderabad and Hyderabad.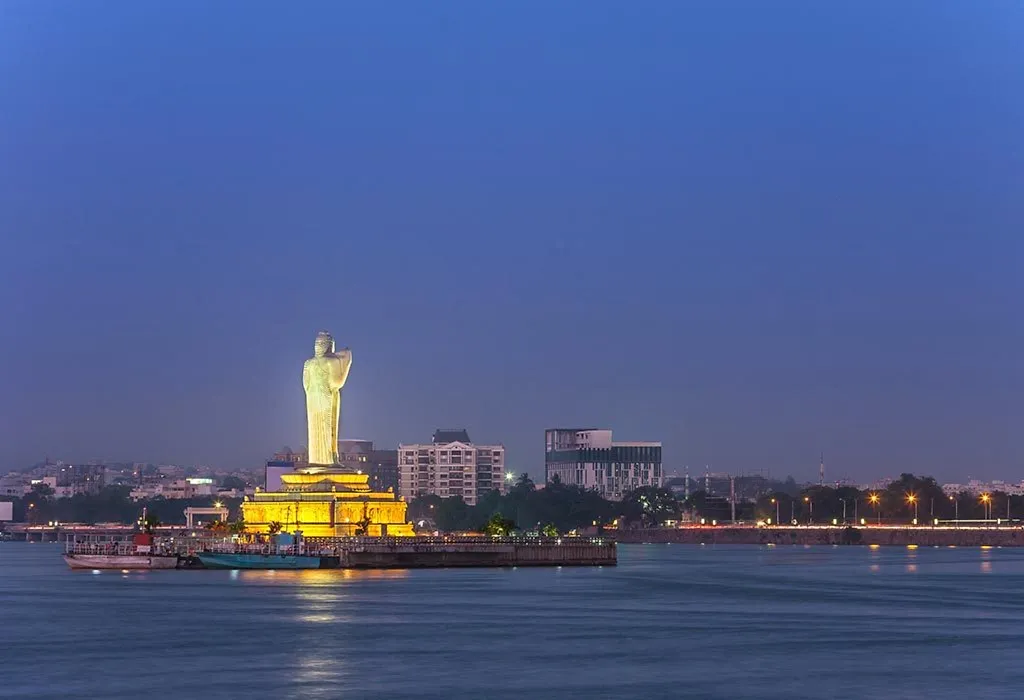 Location: Secunderabad, Hyderabad
Days Open: All days
Entry Fees: Nil
The lake enjoys proximity to many parks including a snow-themed park and a water park. You can plan your trip in such a way that you can see everything in one day.
2. Shamirpet Lake
It is an artificial lake bounded by natural rock creations. Many businesses have opened up resorts in the vicinity. It is also a fantastic place for bird watching particularly during the early morning hours. There is a deer park near the lake which is another interesting spot for kids.
Location: 24 kilometres from the city of Secunderabad
Days Open: All days
Entry Fees: Nil
An awesome picnic spot for some quality family time with kids.
3. Nagarjuna Sagar Lake and Dam
Spare a day to see the vast Nagarjuna Sagar Dam, built on the River Krishna. The area also maintains an island, Nagarjuna Konda, a Buddhist town and a museum.
Location: Nalgonda, about 155 kilometres from the city of Hyderabad
Days Open: All days
Entry Fees: For adults Rs. 20, children Rs. 15
The ideal time to see this place is during the monsoons or immediately after monsoons.
4. Osman Sagar
Osman Sagar is a lake created by damming the Musi River in 1920. This was done to provide additional drinking water to the people of Hyderabad and protect them from any future floods. It is a popular tourist attraction during Monsoons when the reservoir is full, and the nearby gardens are lush.
Location: Gandipet, Ranga Reddy District, Telangana
Days Open: Monday to Sunday, 9:30 am to 5 pm.
Entry Fees: Rs. 5 per person.
4) Shopping Places & Malls
There are numerous malls in Hyderabad which offer numerous entertainment and dining options as well. Some worth visiting shopping places and malls are:
1. GVK One Mall
It is a fairly new mall which provides wonderful entertaining options for children. Sited in a luxurious locality, it has good restaurants, movie screens, gaming zone and known retail outlets.
Location: Banjara Hills
Days Open: All days
Entry Fees: Nil
You can club both shopping and fun time for kids with a visit to this mall.
2. Prasads Imax and Multiplex
One of the earliest malls of Hyderabad, it has a large screen with a magnitude of 90 x 72 feet. Thus, it has a fabulous movie experience. It comprises of a multiplex, restaurants, gaming zone and some retail outlets.
Location: Necklace Road, Hyderabad
Days Open: All days
Entry Fees: Nil
The mall is close to NTR Park and Hussain Sagar Lake. So, you can cover all the three places in a day.
3. Inorbit Mall
It is a happening mall of Hyderabad as it has many dining and shopping options. It boasts of local and international brand stores, a huge food court and game zone for children. Kids can also amuse themselves on the toy train which completes a ride in about 15 minutes.
Location: Madhapur, Hyderabad
Days Open: All days
Entry Fees: Nil
Visiting the mall on a weekday may be a good idea to avoid the usual weekend rush.
4. City Centre Mall
City Center Mall is the perfect mall for you and your little one. You can go on a shopping spree and then take your child for a fun gaming experience. After all your shenanigans, you can sit down for a nice family dinner at one of the many restaurants in the mall.
Location: Banjara Hills
Days Open: All days from 11 am to 9:30 pm
Entry Fee: Nil
5) Amusement Parks
Hyderabad has a few amusement parks for kids' enjoyment. You can consider the following children's entertainment places in Hyderabad:
1. Ramoji Film City
It is the world's largest cohesive movie studio. It covers an expanse of 2000 acres. It has various recreational centres including an adventure park, an amusement park, live shows, a bus tour of the film city, a bird park, etc.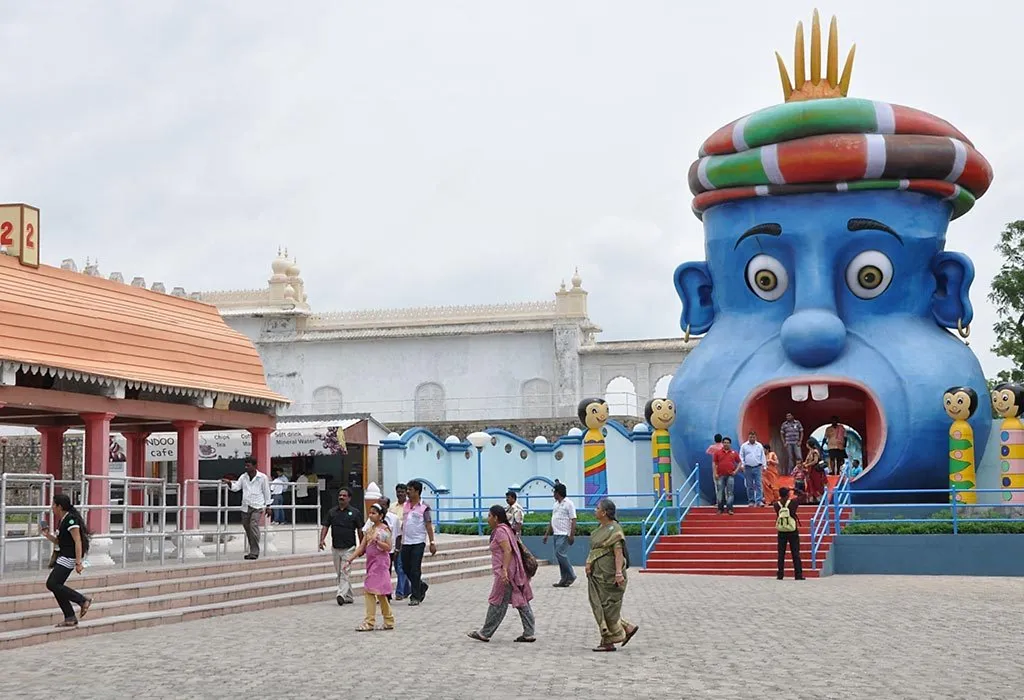 Location: Anaspur Village, Hyderabad
Days Open: All days
Entry Fees: Fees differ for different packages
The film city is quite big. Therefore, it may not be feasible to tour all of it in one day especially with small children.
2. Snow World
It is an amusement park for kids. You can easily beat the exhausting summer heat and feel refreshed and cool here. Kids can visit an igloo, slide on sledges and even experience a snowfall.
Location: Lower Tank Bund Road, Hyderabad
Days Open: All days
Entry Fees: For adults Rs. 450, children Rs. 250
Make sure you keep an eye on your children at all times to avoid any untoward incidents.
3. Wonderla
The theme park covers an extent of over 50 acres. It has about 18 water rides and 25 land rides for both adults and kids. You will have to travel outside the city to reach this park. But it is worth the effort!
Location: About 28 kilometres from the city
Days Open: All days
Entry Fees: For adults Rs. 920, children Rs. 740 on weekdays, for adults Rs. 1,150 and children Rs. 920 on weekends
Do carry towels and a fresh change of clothes.
4. Ocean Park
This amusement park has many things to offer including water rides and land rides. The entry package covers particularly the kids' rides.
Location: Kokapet Village
Days Open: All days
Entry Fees: For adults Rs. 300, children Rs. 230
5. Jalavihar Water Park
The Jalavihar Water Park is the largest water park situated in the centre of Hyderabad. It spans nearly 13 acres of land and has many things you can do. It is located beside Sanjeevaiah Park and along Hussain Sagar Lake.
Location: Necklace Road
Days Open: Open all days from 10:30 am to 7 pm
Entry Fees: Rs. 400 for adults and Rs. 300 for children.
Kids can have a taste of adventure and fun at reasonable rates.
A holiday to this lovely city can be particularly rewarding for kids as it has many fun destinations to keep them well-entertained. While marvelling at its monuments, you can also soak yourself in the deep-rooted culture and cuisine of this fascinating city.
Also Read:
Kid-Friendly Places to Visit In India
Top Family Destinations In Andaman
Islands In India You Should Visit With Family