20 Best Musical Movies For Kids To Watch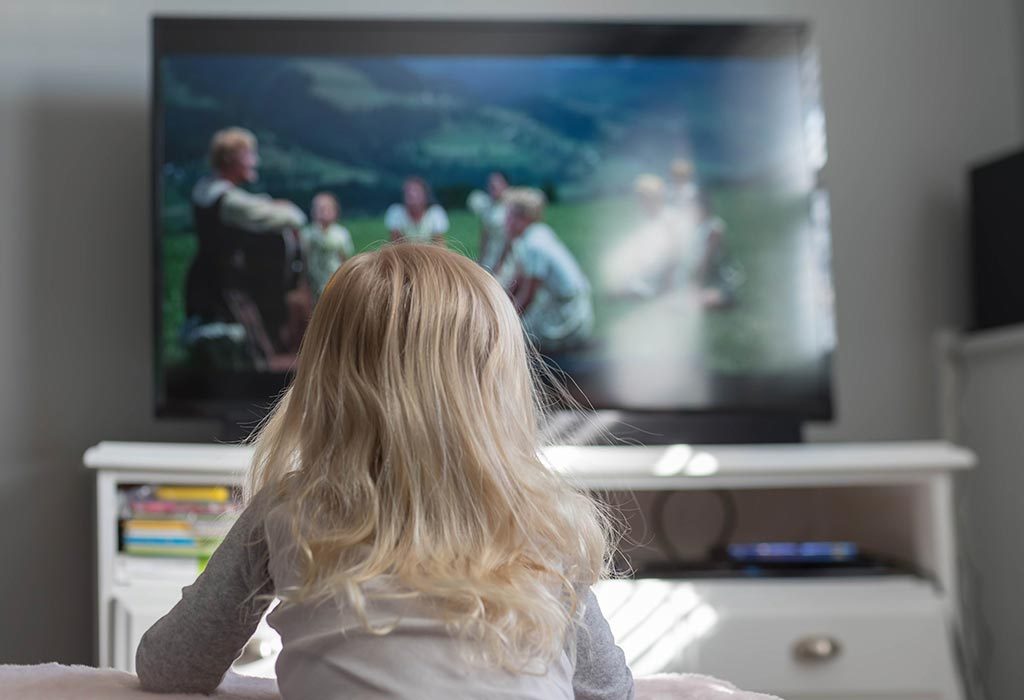 Want your kids to get smarter and have fun while they're at it? Try showing them musical films. Singing is a great way to learn new things; musical movies will teach them just that. With captivating storytelling, vibrant choreography, and memorable melodies, musical films can ignite your child's imagination and creativity. They offer a unique blend of entertainment and education, fostering a love for music, dance, and storytelling. Whether exploring historical events, unravelling moral lessons, or discovering the power of friendship, these musicals provide a captivating journey that leaves a lasting impact. If you want your kids to have fond childhood memories, our list of kids musical movies will have you covered. So, gather the family, grab some popcorn, and embark on an enchanting cinematic experience that will inspire and entertain both young and old alike.
Musical Movies for 3 to 5-Year-Old Children
These top music movies for kids are best suited for kids aged 3 to 5 years. For the best viewing experience, we recommend sitting down with your kids and joining the fun.
1. Frozen
Frozen is one of the most enchanting Disney musical movies. The movie is about two sisters' estrangement and how they get back together. The bond of sisterhood is showcased in this powerful and heart-touching movie.
Why It's Great
We think it's great because it shows kids what life is like without parents. The story takes us through the struggles of both sisters, a sweet little love story of a sister and also emphasises being true to yourself no matter what. These key messages in the movie make it a recommended movie for kids.
Age Range
For kids aged 4 and above.
2. Jungle Book
This movie is about a young boy, Mowgli, raised by the wolves. Jungle Book is one of the most famous musicals that revolves around the adventures of the boy. The movie has lovable characters, beautiful songs, and a wonderful plot, making it a classic musical you'd want to keep revisiting as time goes by.
Why It's Great
Jungle Book is a hit among kids and adults alike because of the characters. We think it's great, and it has catchy tunes too.
Age Range
Kids aged 4 and above.
3. The Snowman
The Snowman beautifully narrates the bond between a young boy and the snowman he made on Christmas Eve. With songs like 'Walking in the Air' and silent animation blended with gorgeous music, it's a wonderful musical film for kids to watch.
Why It's Great
The movie is a great one for kids because it conveys emotions through actions and gestures that are highly relatable.
Age Range
Kids aged 2 and above.
4. You're A Good Man, Charlie Brown
Remember the famous graphic novel series 'Peanuts'? This musical is based on that. The movie also has several adventures and characters brought to life to make an interesting musical.
Why It's Great
The staging is simple, and we think the cast of characters is great too. Charles M. Schulz's work is a huge hit among younger and older kids, so we think your kids will love it. There are also two new songs in the script, and you'll see the Red Baron appearing too.
Age Range
Kids aged 3 and above.
5. Alice in Wonderland
Based on Lewis Carroll's Alice's Adventures in Wonderland, this musical is a very modern spin on our dear old Alice's tales. The plot is similar; Alice follows a rabbit down a hole and comes across an interesting world she once visited as a child. Through the story, we see traces of the classic story until Alice commits to fight the evil Red Queen.
Why It's Great
We love it because there's magic, innocence, wonder, and nonsense. But we absolutely love it because it is relatable to kids and adults alike.
Age Range
Kids aged 4 and above.
6. The Aristocats KIDS
Disney's The Aristocats Kids is a beloved children's musical with jazzy and upbeat scores. When a millionairess decides to hand over her entire estate to a Duchess and her family of feline companions, things start to take a wild turn, and it's up to the cats to save the day.
Why It's Great
We love The Aristocats because it beautifully blends adventure, romance, comedy, and family fun.
Age Range
Kids aged 4 and above.
7. The Muppets
A 2011 American comedy musical, The Muppets, makes a pleasant share of everyone's childhood. Characters like Cookie Monster and Kermit the Frog are adorable and lovable in the show. Their theatrics and adventures on-screen will make your kids smile as they sing along with them.
Why It's Great
We love The Muppets mostly because of Kermit. His insanity is gleeful, and the other characters complete the stage/story.
Age Range
Kids aged 4 and above.
8. The Magical Music Box Adventure
In this movie, join Lily and her magical music box on an enchanting adventure through a whimsical world. Filled with colourful characters and delightful songs, this film takes young viewers on a journey of imagination and self-discovery.
Why It's Great
"The Magical Music Box Adventure" combines the magic of music with a heartwarming storyline that teaches valuable lessons about friendship and believing in oneself. With its captivating animation and catchy tunes, it captures the attention of young children, encouraging their curiosity and creativity. This movie introduces them to the power of music and imagination in an entertaining and educational way.
Age Range
Ideal for children aged 3 to 5 years
9. The Dancing Animals Parade
Get ready to groove with a delightful cast of dancing animals in "The Dancing Animals Parade." This lively musical extravaganza follows a group of animal friends as they prepare for a joyous parade filled with music, dance, and laughter.
Why It's Great
The Dancing Animals Parade is a visually stunning movie that introduces young children to various animal species while showcasing different dance styles. The vibrant colours, infectious energy, and memorable melodies make it a captivating experience encouraging kids to express themselves through movement.
Age Range
For children aged 4-5 years.
10. The Musical Land of Make-Believe
This imaginative film follows a group of lovable toys as they sing, dance, and the quest to find the missing melody that keeps their land enchanted. This musical movie encourages imaginative play and introduces basic musical concepts entertainingly and educationally.
Why It's Great
The Musical Land of Make-Believe" sparks the imagination of young children by combining the wonder of make-believe with the joy of music. Through its charming characters and delightful songs, it teaches valuable lessons about teamwork, creativity, and the power of imagination.
Age Range
Suitable for children aged 3 and above.
Popular Musical Movies for 6 to 8-Year-Old Kids
If you have older kids in the house and want movies that appeal to them, we've got good news. Here are the best movies you can let your child watch if he is between 6 and 8 years of age.
1. Aladdin
Aladdin is one of the greatest Disney musicals of all time. It's a classic tale of a young boy named Aladdin. The movie takes us through Alladin's journey from a poor lad to a wealthy suitor who comes to court the princess and how his fate changes when he encounters a magical genie.
Why It's Great
It's a musical film that stays with you forever. It also teaches kids that love can conquer everything and that being just wealthy isn't enough to win in life. The musical also focuses on how to turn the tables even if you're off to a poor start.
Age Range
For kids aged 6 and above.
2. The Sound of Music
One of the most popular old musicals, it visually narrates the story of a young Austrian convent who goes on a journey to care for a Naval officer's children. The film is also based on the true story of the life of Maria von Trapp. With magical songs like Do-Re-Mi and Edelweiss, plenty of romantic moments and charming adventures throughout the movie keep the kids entertained.
Why It's Great
We think it's an excellent musical film because it flows smoothly from one song to the next. The very focus of the film is on music, and many critics have rated it as an outstanding film.
Age Range
Ideal for kids aged 7 and above.
3. Anastasia
Anastasia is a musical film created for older age groups. It is based on a 1997 film and is an animated Broadway musical about a princess who seeks to find out if she really is a princess. The romance, thrilling adventures and fascinating scenes of the ghosts of the Romanov Empire dancing across the screen make it sheer entertainment.
Why It's Great
It's a great film because it is a journey of self-discovery and adventure. The 1997 cartoon version is popular among kids, and there is a theatrical version of the movie too.
Age Range
For kids aged 7 and above.
4. The Wizard of Oz
If you want your child to be emotionally intelligent and have healthy self-awareness, the Wizard of Oz is a must-watch. It's the story of a young girl who meets a Wizard after being swept away from her village by a tornado.
Why It's Great
It's a wonderful musical film that tackles the subject of the deepest insecurities of childhood and narrates how to overcome them.
Age Range
For kids aged 6 and above.
5. Annie (1982)
Annie is the story of an orphan who daydreams about life outside the orphanage. It's based on a Broadway musical film with many memorable songs.
Why It's Great
It has humour and is rated by critics as one of the greatest musicals in the drama genre.
Age Range
For kids aged 6 and above.
6. Parent Trap (1961)
A charming musical film where two twins switch places and bring their parents back together.
Why It's Great
The songs are heart-warming, and the film has many magical moments that parents and kids love.
Age Range
For kids aged 7 and above.
7. The Lion King
The Lion King is one of the best musicals out there. It is based on the original animated Lion King Movie. The story is about the wildlife of the Pride Lands of Africa, the kingdom of King Mufasa, Queen Sarabi and their newborn, Simba, its fall and rise.
Why It's Great
The show has impressive costumes, acrobatics, and wonderful narration.
Age Range
For kids aged 7 and above.
8. Peter Pan
When Peter whisks away Wendy and her brothers to the magical world of Never Land, many adventures unfold before their eyes. It's a wonderful musical and is often recommended amidst new musical releases.
Why It's Great
Besides the gorgeous animation and story, we loved the 'Virtual flight' and behind-the-scenes segments in this musical the most.
Age Range
For kids aged 7 and above.
9. The Melody of Friendship
This movie is about Emma and Oliver, two talented young musicians, on a heartwarming journey of friendship and self-discovery. Set in a vibrant musical academy, this film follows their quest to overcome challenges, embrace their unique talents, and create a harmonious duet that captures the essence of true friendship.
Why It's Great
The Melody of Friendship combines a captivating storyline with memorable musical performances, showcasing the importance of resilience, collaboration, and following one's passion. Its relatable characters and inspiring melodies encourage children to pursue their dreams while valuing the power of friendship and teamwork.
Age Range
Ideal for children aged 7 and above
10. The Rhythm Quest
This movie shall make you embark on an extraordinary adventure with Max, a young drummer, in "The Rhythm Quest." When the beats of the world start to fade away, Max sets off on a rhythmic quest to restore the lost music. Along the way, he encounters a diverse ensemble of musical creatures, each representing a unique style of music.
Why It's Great
This musical is a visually stunning and musically captivating movie that introduces children to different genres of music, from jazz and rock to classical and world rhythms. Max's journey highlights the power of music to bring people together and celebrates the richness of cultural diversity.
Age Range
Suitable for children aged 6 to 8 years
What Are the Benefits of Watching Musical Movies for Kids?
Watching musical movies can have numerous benefits for kids, stimulating their creativity and providing a range of educational and emotional advantages. Here are some of the key benefits of engaging with musical films:
1. Enhanced Learning and Retention: Musical movies intertwine captivating songs, rhymes, and melodies with visual storytelling. This unique combination engages multiple senses, making it easier for children to grasp and retain information.
2. Development of Language and Communication Skills: The lyrics and dialogues in musical movies expose children to a rich and diverse vocabulary. As kids sing along or engage in discussions about the movie, they strengthen their language skills, improve pronunciation, and expand their vocabulary.
3. Emotional Expression and Empathy: Music is a powerful tool for emotional expression, and musical movies tap into this by presenting characters and stories that resonate with children's emotions. Through the ups and downs of the characters' journeys, kids learn to identify and understand various emotions.
4. Encourages Creativity and Self-Expression: Musical movies inspire children to explore their own creativity and express themselves through music, dance, and storytelling. Kids watching characters perform on screen may feel motivated to sing, dance, or even create their own stories and performances.
5. Cultivates Cultural Appreciation and Diversity: Musical movies often incorporate different musical genres, styles, and cultural elements. By exposing children to diverse musical traditions, they develop an appreciation for various cultures and broaden their horizons.
FAQ
1. Which Disney Movies Are Musical?
From classics like "The Lion King" and "Beauty and the Beast" to more recent hits like "Frozen" and "Moana," Disney has a rich history of creating magical and immersive musical experiences for audiences of all ages. The following are some of the most popular Disney musicals for kids:
"The Lion King" (1994)

"Beauty and the Beast" (1991)

"Aladdin" (1992)

"The Little Mermaid" (1989)

"Frozen" (2013)

"Moana" (2016)

"Cinderella" (1950)

"Tangled" (2010)

"Pocahontas" (1995)

"Mulan" (1998)
Now that you have a clear idea about the best musicals for young and old kids, it's time to sit down and set aside some time to watch them. These aren't just musicals but a gateway to a world of exciting adventures and fun learning times.
Also Read:
Best Educational Movies for Children
Inspirational Movies to Watch with Your Kids
Animated Movies for Kids to Watch
Comedy Movies for Children to Watch