14 Super Ideas to Make Valentine's Day Special for Him or Her
Plan a special Valentine's Day for your better half in this season of love. Make them feel all the love and devotion that you always wanted to share with them, but were unable to do so, due to a hectic schedule. Here are some cute Valentine's Day date ideas you can try.
The concept of Valentine's Day originated a long time ago. The day gets its name from the Roman saint, St. Valentine. The history of this day is still a mystery, and it contains traces of both Christian and ancient Roman traditions. According to certain beliefs, it is celebrated as a tribute to St. Valentine, who was ordered to be put to death by a Roman Emperor for breaking the law and secretly officiating the marriage of young soldiers with the women they loved. Another belief states that Valentine, who was imprisoned, sent a card for the first time to his lover from the prison, which stated 'from your Valentine'.
Why You Should Celebrate Valentine's Day
Whatever the history may be behind this day, February 14th is now celebrated as the day of love and romance. Therefore, Valentine's Day would be the best time to make your spouse realise how much you adore them. Even though you may be a parent, busy with your little kids around, you may still have that romantic drive in you, which you would like to share with your better half. Revive that romance in your life, on this special day, by presenting them with something that would surprise them.
We have put forth an array of easy, but extraordinary ideas, to make your Valentine's Day special.
Romantic Valentine's Day Ideas for Him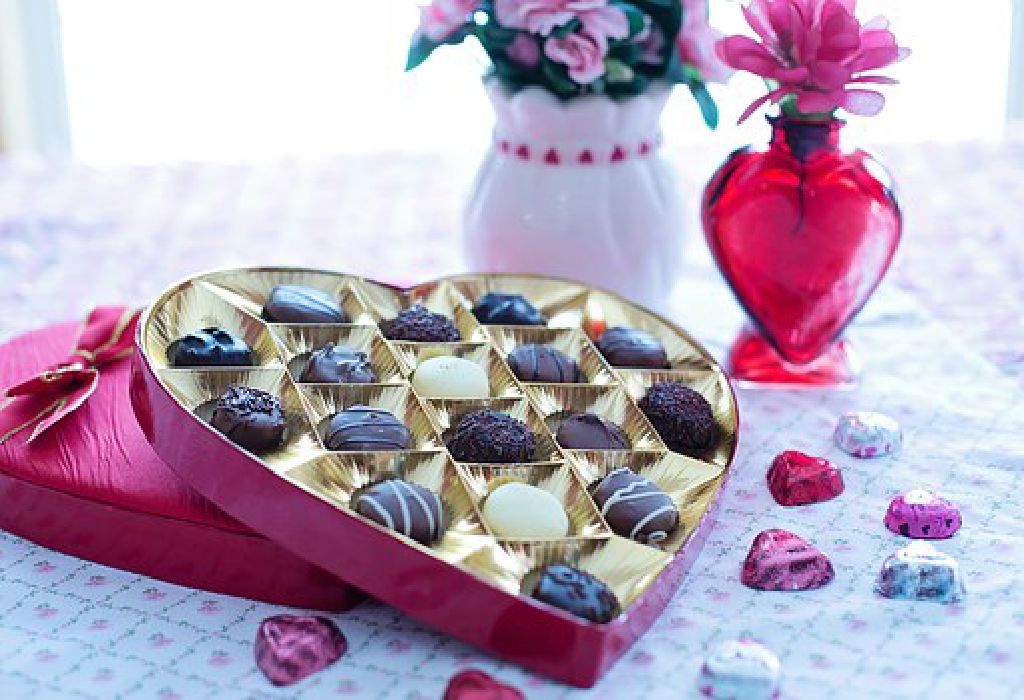 Keep surprise gifts or Valentine's Day cards, at different locations at your home. For e.g. In the bathroom where he keeps his toothbrush, next to his watch, in his wardrobe or wallet, in his car, between his files, in his laptop carrier, and so on. These surprises will bring a smile on his face.
Write a message on the bathroom mirror with your lipstick, or stick a note on the bedroom door with some beautiful lines of a romantic poem. You can write the poem yourself. However, if you are not a poet at heart, all hail the Internet! Write a few lines in sparkle ink, and you are all set.
Make a love note and hide it in his shoes, or write all that you want on a long role of tissue paper and hide it inside his shoes. His foot wouldn't fit into the shoes, and surprisingly he would get the tissue papers with all your love messages.
Dedicate him a romantic song on his favourite FM radio station.
Prepare a coupon booklet of the tasks that he would like you to do for him. Ask him to use one coupon at a time. Yes, of course, you need to ask what all he would like you to do, during your conversations, a week before you plan to give him the coupons, so that you get the time to arrange the requisites for the tasks in case they are elaborate.
Plan a candlelight dinner at home. Prepare his favourite dishes; and make him a drink, with romantic background music.
Send him a love letter by post – do you remember? – the very old inland letter, but anonymously. Keep sending it for 3-4 days until on Valentine's Day, when you can disclose your name. (If he discusses the letter with you before revealing your name, react with a fuss, and create a hue and cry about it. Pretend that you are annoyed about the fact that some female is writing a letter to your husband).
Romantic Valentine's Day Ideas for Her
Make her feel like a 'queen' for a day. Do all that she wants- prepare her favourite breakfast, take her out for lunch, and dress up well. Nothing turns a woman on as much as a well-groomed and well-dressed man.
Prepare her favourite items and take them to her office during her lunchtime. Be sure to click a photo to frame the expression on her face when she sees you at the office all of a sudden.
Surprise her with a romantic night. Decorate your bedroom with red, heart-shaped balloons and spread some red rose petals on your bed. Place some flowers and a wine bottle next to your bed and dress up in a dashing tuxedo. Can you imagine anything more romantic for your wife than this?
One of the best things to surprise your wife is to do a thing that you hate to do, whereas she loves doing it. For e.g. watching a TV show she loves.
As Valentine's Day falls on a Friday this year, don't restrict the celebrations to just one day. Plan a spontaneous romantic weekend by whisking her off to an exotic place she's always wanted to visit. Take care of all the reservations- like packing the bag and making sure you arrange for a babysitter for the kids. All your wife has to do is wake up and go away with you for the weekend. She'll be thrilled by this gesture!
Bake her a cake and write a cheesy message or an inside joke, in icing. Don't worry if the cake doesn't come out as per your expectation. She'll be floored by your gesture and the effort taken.
Make her a mixtape of love songs you both like. It can even contain songs you may have randomly heard and just hummed the tune together. This one's sure to bring back memories while she listens to each song. Be ready, though, as she may shed a few tears of happiness in the process!
Bring back that spark in your life, this Valentine's Day, using some of these creative Valentine ideas and make it special for your loved one. And don't forget to share their reactions with us. Happy Valentine's Day!