10 Quick & Delicious Toddler Dinner Ideas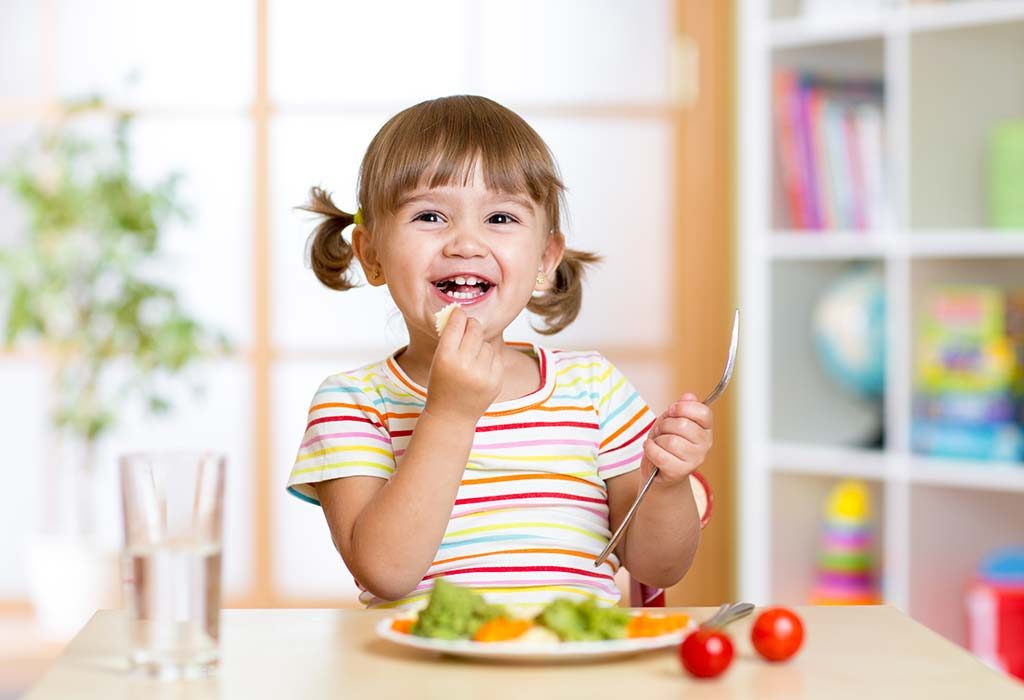 It is natural for your toddler to refuse to eat the same food every day. They need a change of taste to get through every meal without throwing tantrums. Sometimes, it is also not possible to prepare a variety of dishes. Plus, you have to take care of the fact that whatever you are preparing corresponds to a balanced diet. Protein, vitamin, fat, and carbohydrates are essential during the kid's developmental stage, and so they should be balanced in every dish.
Video: 5 Easy & Healthy Toddler Dinner Ideas
As much as maintaining nutrition is important, not compromising on the flavour and taste is also essential if you want your kid to enjoy the meal. Kids never compromise on the taste and mostly hate foods that do not appear tasty and delicious. Also, you need to cook foods that you can store in a refrigerator so that your cooking time is saved. If you are wondering how to make your toddler's dinner recipes colourful at the same time tempt your little one's taste buds, we have just what you'd most need. Here are 10 delicious and healthy dinner recipes for toddlers you can make any time you sense your little one needs some variety.
Healthy & Tasty Toddler Dinner Recipes
Try these recipes and see your little one finish every morsel on the plate. What's more, is that these recipes can be refrigerated, so you can make this preparation in the morning and just heat it in the evening.
1. Easy Marinara Sauce With Extra Veggies
Pasta is already a winner when it comes to dinner. With this tasty sauce, your toddler will not say no to dinner anymore.
Ingredients:
2 tablespoons of olive oil
3 cups of preferred vegetables, roughly chopped
29 ounces fresh diced tomatoes
1/2 teaspoon salt
1/4th teaspoon pepper
Cooking Time: 40 minutes
Servings: 4 servings
Instructions:
Heat oil on medium flame.
Add the vegetables to the oil and stir well.
Cover it and cook for 10 minutes for it to get soft.
Add tomatoes after removing the lid.
Then, put the lid again and let the mix simmer for 20-25 minutes. Make sure the lid covers the food and yet is not tightly sitting on the bowl to avoid burning the food.
Now, puree this veggie mix in a blender. Add salt to taste.
Serve the sauce with a portion of your child's favourite pasta.
2. Healthy Meatballs With Hidden Vegetables
If your kid loves meat, then you can bid adieu to your constant worries that your toddler's dinner might not be healthy as this preparation of meatballs is healthy as well as delicious.
Ingredients:
1/2 cup carrots, roughly chopped
1/2 cup parsley leaves, lightly packed
1 small onion, peeled and halved
1/2 cups of Italian flavoured breadcrumbs
1 pound ground beef
1 egg
2 tablespoons of milk
1/2 teaspoon salt
1/2 cup grated Parmesan
Cooking Time: 32 minutes
Servings: 20
Instructions:
Preheat the oven to 375 degrees Fahrenheit.
Coat the baking tray with non-stick spray.
Grind the carrot, parsley and onions in a food processor.
Add all the remaining ingredients and grind and blend into a smooth mixture. Now portion the entire mix into medium-sized meatballs (2 tablespoons each) and place them on the baking tray.
Bake the balls for 22-25 minutes.
Serve with Marinara sauce and pasta (recipe discussed earlier). This is a great option for toddler meals for picky eaters.
You can also store these balls in an airtight container and save them for up to 3 days.
3. Broccoli Tots
Broccoli is extremely healthy and has high nutritional value; therefore, it is the best meal for your kid. This recipe is one of the most prolific freezable toddler meal recipes.
Ingredients:
1 cup broccoli florets, chopped
1 cup short-grain brown rice, fully cooked
½ cup shredded mozzarella cheese
1 tablespoon grated Parmesan
2 eggs
1/4th cup Italian-flavored or regular breadcrumbs
Salt as per taste
1/2 teaspoon cumin powder
1/4th teaspoon Italian seasoning or cumin, optional
Cooking Time: 35 minutes
Servings: 20
Instructions:
Preheat the oven to 375 degrees Fahrenheit.
Boil a kettle of water and pour it over the broccoli. Let the broccoli sit in hot water for 2 to 3 minutes. Drain the water.
Then, put the rice, broccoli, cheese, eggs, Parmesan, salt, cumin powder and breadcrumbs in a food processor.
Grind the mixture well until you get a uniform batter.
Portion the batter into small-sized cylinders (1 to 1.5 tablespoon each) and place them on the baking tray.
Bake the tots for 25 to 27 minutes or until the cylinders turn light golden brown.
Cool the tots before serving.
4. Baked Chicken Nuggets
Chicken nuggets are delicious, and no kid can resist them. But, if they are baked, you'd get the same taste and make the dish healthy. Here's how you can make some.
Ingredients:
3/4th cup all-purpose flour
1 teaspoon garlic powder
1¼ teaspoons salt
3/4th teaspoon black pepper
2 eggs
2 cups cooked quinoa
2 pounds boneless, skinless chicken tenders, cut into bite-size pieces
Honey mustard, as needed for serving
Barbecue sauce, as needed for serving
Cooking Time: 30 minutes
Servings: 6
Instructions:
Preheat the oven to 400 degrees Fahrenheit.
Prepare the baking tray by spraying some cooking spray on it.
In another bowl, stir the flour and the garlic powder together.
Add salt and black pepper to it.
Whisk the eggs in a small bowl.
Now take each piece of the chicken and coat it first with the flour mixture. Then dip it into the egg. Finally, coat it properly with quinoa.
Follow this process for every piece of chicken.
Put the nuggets on a baking tray.
Bake them for 12 to 15 minutes, till they turn golden brown. Flip the chicken to bake all sides evenly.
Serve them warm with your child's favourite sauce.
5. Greek Yoghurt Chicken Salad
Greek yoghurt is a healthy ingredient. So, if you cook a chicken salad in Greek yoghurt, it is going to be mouth-watering as well.
Ingredients:
1 cup Greek yoghurt
2 tablespoons Dijon mustard
2 tablespoons seasoned rice vinegar
Kosher salt and freshly ground black pepper
1/4th cup chopped fresh parsley
Meat from 1 rotisserie chicken, cooked and cubed
4 stalks of celery, sliced
1 bunch of scallions, sliced and divided
1-pint cherry tomatoes, quartered and divided
1/2 English cucumber, diced
3 bell peppers, halved and seeds removed
Cooking Time: 30 minutes
Servings: 6
Instructions:
Take a medium-sized bowl. Pour the Greek yoghurt, rice vinegar, and mustard together and whisk properly.
Add salt and pepper to it and stir.
Then add the parsley and give it a good mix.
Now, add the cooked chicken, celery, tomatoes, scallions and cucumbers. Mix them all up after stirring well.
Make boats out of the bell peppers and stuff the salad in them.
6. French Toast Sticks
A recipe as simple as French toast can also taste delicious if you put the touch of spices. The syrup makes it even better.
Ingredients:
1/2 loaf of white or wheat bread, preferably stale
2 cups of milk
2 eggs
1/4th cup of granulated sugar
Pinch of salt
Pinch of cinnamon
1/2 teaspoon pure vanilla extract
3 tablespoons unsalted butter
Confectioners' sugar, for garnish (optional)
Honey-Vanilla Syrup
1/4th cup honey
1/4th cup agave syrup
3/4th teaspoon pure vanilla extract
Cooking Time: 40 minutes
Servings: 4
Instructions:
Cut the loaf of bread into slices that are one inch thick. Then cut each of the slices into 3 to 4 strips.
Whisk together the sugar, salt, cinnamon, and eggs. Add vanilla extract also.
Melt the butter on medium heat. Dip all the breadsticks into the egg mixture and coat all its sides.
Let them soak for about 30 seconds.
Then, remove the sticks and clear the excess.
In a shallow pan, brush some butter and toast the sticks for 1 to 2 minutes, until they are golden-brown at each side.
Take a small pot. Heat honey and vanilla extract with 2 tablespoons of water.
Add the agave. Heat it for 3 to 4 minutes to melt it.
Serve the toasts with the syrup.
7. Cheese and Garlic Steak
Cheese and garlic steak is delicious and healthy too. Your toddlers will love the combination is sure to ask for more.
Ingredients:
100 g steak, cut into small pieces
1/2 cup mixed green vegetables
1 small clove of garlic, chopped finely
1/4th cup fresh cream
1/4th cup cheese, grated
1 tablespoon butter or olive oil
Cooking Time: 30 minutes
Servings: 3 to 4
Instructions:
Cook the vegetables in a steamer or boil them in water.
Heat the butter or olive oil in a frying pan. Fry the steak pieces in it until they turn brown.
Add some garlic to it and stir properly. Cook it for a few minutes.
Then add the cooked vegetables and cook further. Make sure you strain out the water before adding them to the pan.
Now add some fresh cream and stir. Continue cooking until the sauce becomes thick.
Now turn the heat off.
Add cheese and mix it in until it melts into the sauce.
Let is sit in the pan for some time and then serve.
8. Basic Beef Stroganoff
Kids love soft meat. This Italian dish is just the perfect one for your toddler.
Ingredients:
100 g steak, sliced into small pieces
1 tbsp finely diced carrot
1 tbsp finely diced celery
1 – 2 small button mushrooms, sliced
2 tbsp sour cream
Cooking Time: 20 minutes
Servings: 4 to 5
Instructions:
Take a frying pan and heat some butter in it. Add the steak pieces.
Now fry the steak on medium heat until the meat turns brown.
Remove the pieces from the pan.
Now, add some carrot to the pan along with the mushrooms and the celery.
Cook on medium heat for 3 to 4 minutes or until the veggies become tender.
Now, add the meat and also the sour cream.
Stir for a few more minutes and let it cook until the sour cream becomes a light brown sauce. The sauce should coat all the ingredients.
9. Mashed Yellow Peas
Most kids do not like to eat peas even though peas are quite healthy. This is the best way to make your kid eat peas.
Ingredients:
1 cup yellow split peas
1/2 cup finely chopped onions
1/2 cup finely chopped garlic
1/2 tablespoon vegetable oil
3-4 cups of water
Cooking Time: 1 hour
Servings: 4 to 5
Instructions:
First, thoroughly rinse the split peas.
Then, soak the split peas in water for 30 minutes.
Put the peas in a pressure cooker and add enough water till the peas are submerged completely.
Cook the split peas in a pressure cooker (at least two whistles).
Heat vegetable oil in a pan and fry the garlic and the onion till they turn light brown.
Now, transfer the cooked peas to a blender and blend the mixture.
Pour the paste into the sauteed garlic and onions. Give it a good stir and cook it for 2 to 3 minutes.
The preparation is complete.
10. Pumpkin Carrot Soup
This dish is a healthy one to feed your little one pumpkin and carrots. Kids take to this dish like bees to honey because of its vibrant colour and smooth texture. Here's what you'll need for this recipe.
Ingredients:
2-3 cups of diced pumpkin
1/2 cup finely chopped onion
1 cup long and thin, sliced carrots
1/3rd cup fresh cream/ soy milk
4 cups of water
Cooking Time: 30 minutes
Servings: 5
Instructions:
Take the pumpkin, carrot, and onion together and boil them for at least 20 minutes. Then pressure-cook the vegetables and wait for three whistles.
Now shift the cooked veggies to a blender. Add some cream to the mix. Keep on blending until you get a soup-like consistency.
Now, pour the soup into a soup bowl and garnish it with some diced boiled carrot.
These 10 toddler-friendly dinner recipes are unique and tempting. Toddlers might refuse boring meals, but with these 10 recipes, that is not even an option. Each of these dishes tastes great and is sure to become your toddlers' favourite.
The best part about these dishes is that all of them are made with ingredients that are extremely healthy and help add essential nutrients into kids' diet. These dishes will give your toddler energy and ensure appropriate growth and development. Also, you can always improvise. Experiment with the recipes and using nutritious ingredients that would make your child's meal delicious as well as healthy.
Also Read:
Snacks for Toddlers – Ideas and Recipes
Healthy Lunch Ideas for Toddlers in Daycare
16 Months Old Baby Food – Ideas, Chart and Recipes