13 Best 80s Movies to Show Your Kids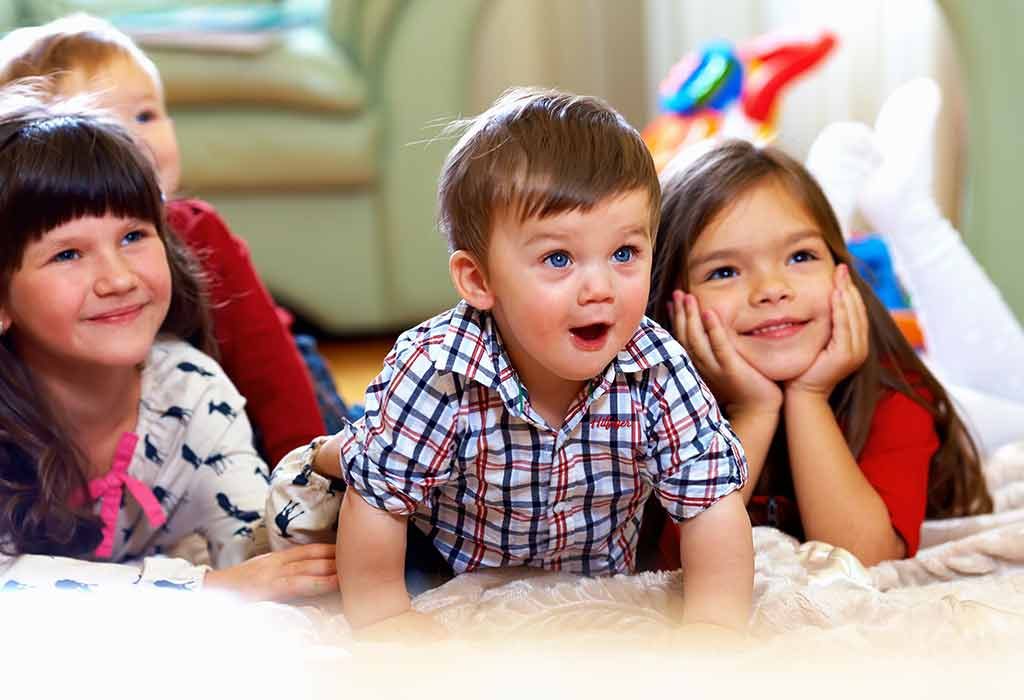 In this Article
Many of us have some wonderful memories associated with the movies that were released in the '80s. Yes, they belonged to the times of our parents; we were made to sit through those movies, but at times, we enjoyed them too. Today, many of them are true classics, and a mere mention of some of them would make us nostalgic. The movies from the '80s were entirely different from those made today. However, they have a certain charm that will appeal to the current generation too. Then why not share them with your kids? Here's a list of movies from the '80s that you should encourage your kids to watch.
Best '80s Movies to Show Your Kids
The movies given below can be a great way to teach life lessons to your child and let him know about the movies that entertained you once.
1. The Little Mermaid
Age Recommended: 5 Years
This 1989 movie is considered one of the best Disney films. This animated movie is based on a fairytale written by Christian Andersen. The story revolves around Ariel, a mermaid, who is fascinated by the world of humans, but forbidden to contact them. She even falls in love with a human, Eric. Her fascination lands her in trouble, but with the help of her will power, trusted friends and her father, Ariel manages to save herself and win the love of her life. This movie has the ability to linger on for years.
2. The Princess Bride
Age Recommended: 8 Years
This movie is a fantasy adventure/comedy movie. It is the story of a beautiful young woman, her true love, and their struggle to get united. The movie is a good one for kids; however, a little bit of parental guidance is recommended.
3. An American Tail
Age Recommended: 10 Years
An American Tail is an American animated musical comedy film with adventure and drama that was uncommon in animated movies, at least in the 1980s. The movie is about Fievel Mousekewitz who separates from his family while migrating to the United States and finds a way to reunite with them. The movie was well-received by the audience and was the highest grosser at that time as well.
4. E.T. the Extra-Terrestrial
Age Recommended: 7 Years
This classic movie from the '80s was produced and directed by Steven Spielberg. It is a story of a boy named Elliott, who befriends and helps an extra-terrestrial (E.T.), who is stranded on earth. The movie revolves around keeping E.T. safe from the Government and helping him return to his planet. The movie became so popular that it was released in 2002 again to mark its 20th anniversary.
5. The Never-Ending Story
Age Recommended: 8 Years
The never-ending story is a fantasy that was released in 1984. The movie is based on the novel with the same name. It is the story of a boy who finds a magical book that belongs to a young warrior. The plot is interestingly knit, and your children might need parental guidance as several scenes are quite scary for kids. The movie could also turn some children into book lovers.
6. The Karate Kid
Age Recommended: 7 Years
This movie is a martial arts drama film released in 1984. It was the first of the Karate Kid franchise. The story is about a teenager who learns karate from a karate expert, Mr. Miyagi, to protect himself from bullies. He also competes in a tournament and wins. It is an engaging movie that went on to become a huge commercial success.
7. The Land Before Time
Age Recommended: 5 Years
The movie was jointly produced by Steven Spielberg, Kathleen Kennedy, George Lucas, and Frank Marshall. It is an animated adventure film released in 1988. The film is about an orphan dinosaur named, Littlefoot, and revolves around the hardships the different species of the time witnessed.
8. Annie
Age Recommended: 4 Years
We would say it is one of the top '80s movies for kids you must show you little one. It is an American musical comedy directed by John Houston directed and is based on a Broadway musical with the same name. The film is about Annie, an orphan, who is adopted by America's richest billionaire. The story engagingly takes you from the Hudson Street orphanage to a millionaire's mansion.
9. The Fox and The Hound
Age Recommended: 4 Years
This is a Walt Disney movie based on a 1967 novel with the same name. The story is an animated musical comedy of two unlikely friends – a red fox and a hound dog, who struggle to keep their friendship intact despite their rival natural instincts. The story has several twists and turns and you are taken through them being friends, then become rivals, and eventually, becoming friends again.
10. Honey, I Shrunk the Kids
Age Recommended: 6 Years
This movie is about 4 children who accidentally get shrunk to the size of ants by one of their dad's science inventions. After shrinking, they are lost in their lawn and what was once a little patch of grass becomes a dangerous expanse of huge green stalks containing insects that are now bigger than them. They have to somehow get to their parents and tell them what happened so that their dad can bring them back to normal size. This fun movie was a huge hit back then and is sure to be a hit with your child too.
11. The Great Mouse Detective
Age Recommended: 6 Years
The Great Mouse Detective is an American animated mystery film. This 1986 movie has mice and rats living in Victorian London as the main characters. The film is based on the children's book series titled "Basil of Baker Street", written by Eve Titus. The movie was a runaway commercial success.
12. The Black Cauldron
Age Recommended: 7 Years
It is an animated fantasy movie based on Irish mythology. This 1986 Walt Disney film is set in Prydain, a mythical land. The story revolves around the evil Horned King, who is in search of a magical cauldron that can help him conquer the world. The king is, however, opposed by a young pig keeper, a young princess, a bard and a wild creature who want to destroy the cauldron to save the world from the evil king.
13. A Christmas Story
Age Recommended: 7 Years
A Christmas Story is a comedy movie from the 1980s. It is based on Jean Shepherd's book titled "God We Trust: All Others Pay Cash". The movie presentation is through a series of vignettes with powerful narration. Ralphie, a nine-year-old reminisces his Christmas time when he wishes for an air rifle, and how he felt when everyone warned him saying, "You'll shoot your eye out." This Christmas story is a must-watch with your kid.
The joy of watching popular movies gets amplified when you share it with your kids. With great storylines and meaningful messages, these movies for kids are a pure delight. Watching movies together as a family is a fantastic way to bond and have quality time together.
Also Read:
Best Educational Movies for Kids
Best Horror Movies Your Kids Can Watch Without Getting Afraid
Best Animated Movies for Kids to Add to Your Child's Watchlist