Funny Food Songs for Kids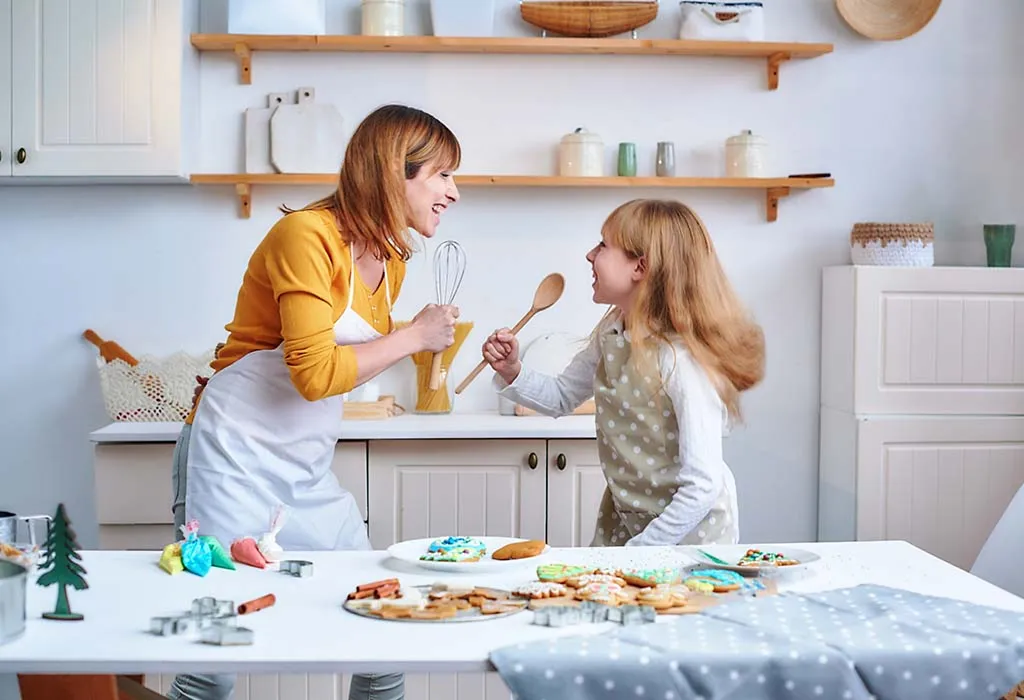 In this Article
Singing about food is an integral part of your child's daily routine and is a natural way to incorporate musical learning from an early age. However, most parents complain about consistent food refusal and kids' tantrums during meal times. Songs on food help develop your understanding, not just about fruits, vegetables, or any other delicious food items that your child may crave but can make them conscious of their nutritional benefits. The best food songs preschool can make them an expert in talking about food after they have a fun time singing together with friends in any situation. Food songs lyrics for kids can be particularly silly and entertaining at the same time. Parents are looking to help children develop healthy relationships with food as much as they can refer to the list given below.
List of Songs About Food for Children
Here we share some of the most popular healthy food songs that can enrich your child's knowledge about good food and make them an expert on eating in all situations and setups.
1. Apples And Bananas – By Super Simple Songs
This silly and funny food song helps kids develop phonemics about letters and vowel sounds through music. Moreover, these introductory fruits are most beneficial in speech development. It also provides an understanding of good accents, spelling, and speech patterns. Singing along with this catchy song is a wonderful opportunity to teach your kids all about a balanced diet.
2. Pat-A Cake – By Super Simple Songs
One of the oldest and most widely known English nursery rhymes has been converted into an animated song to bring joy to all kids who adore cakes meant to be relished on any celebratory occasion.
3. On The Good Ship Lollipop – By Shirley Temple
This signature song by child actress Shirley Temple first appeared in the 1934 movie 'Bright Eyes,' and it transports kids to a candy land where yummy chocolates await them to relish to their heart's content.
4. C Is For Cookie – By Sesame Street Cookie Monster
What better way to enjoy snack time with friends than with Cookie Monster's theme song? A Muppet character from the preschool television series Sesame Street performs this popular song for children of all age groups.
5. The Muffin Man – Do You Know The Muffin Man? – By Artist
Dream of the light, airy crumbs, and a moist interior of tempting muffins while singing along to this baked-goods classic song. Moreover, its colorful English animation will get the children excited about their next breakfast and lunchtime.
6. Do You Like Broccoli Ice Cream? – By Super Simple Songs
Ice-creams are one of the biggest indulgences for most kids. This silly song about food will make your kids laugh with its funny lyrics that showcase weird combinations of foods that might make them curious and inspire them to explore.
7. On Top of Spaghetti – By Tom Glazer
Filled with lots of fun surprises about spaghetti and meatballs, this classic food song with its zesty little tune is mainly a spoof of the folk song 'On Top of Old Smokey.'
8. Cheeseburger In Paradise – By Jimmy Buffett
This favorite food song is sure to whet the appetite for kids' and adults' food. Its cute lyrics talk about making the right choices about food that can promote a healthy lifestyle.
9. I'm A Little Teapot – By HooplaKidz
Accompanied by classic playtime games in the tea party, this food song upholds sharing values. You can also get the children to explore all about different varieties of tea available worldwide. After listening to this hilarious song where inanimate objects come to life, your child will pick that cup up and start drinking.
10. Banana Pudding – By Southern Culture On The Skids
The eclectic sound of this song combines elements of rockabilly, country music, and R&B with humorous lyrics inspired by the culture of the Southern United States. It talks about this sweet, rich, and creamy banana pudding that's easy on the teeth and reminds your child of the hard work that a doting mother puts in to serve this recipe.
Exposing children to music helps them learn the sounds and meanings of words faster while strengthening memory skills during early development. Dancing to music based on food can also be used to plan interactive activities that help practice self-expression and boost the confidence level of kids. Furthermore, these songs can help develop an ear for the English language as both their rhyme and rhythm help kids identify syllables in words and develop their reading and writing skills.
Also Read:

Color Songs for Children
Clean-up Songs for Kids
Camp Songs for Children