10 Lovely Winter Poems For Kids
In this Article
The Winter season is loved by every kid. They love the snow, festivity and even the cold weather to snuggle in a blanket and enjoy hot chocolate and marshmallows. Everything around seems magical covered with white snow. This magical environment has inspired many poets and writers to write about all things associated with winter from snow, snowflakes, snowman, icicle, ice-cream, sled, etc. These poems written for kids are an amazing way to teach the kids language, sight word recognition, fluency, rhyming, expression, and creative thinking. Kids learn these poems and visualize everything in the poem, enhancing their visual imaginary and sight word recognition.
10 Best Winter Poems For Children
Winter inspired poems for young kids are the best way to teach them about all things associated with winters. Kids enjoy learning and reciting these December poems as they are funny and relatable as the kids are seeing all the things said in the poem around them.
So here are some of the best winter or snow poems for kids:
1. Mother Nature's Freezer
– by Michele Meleen
This is one of the funny and easy winter poems for kindergarten is loved by kids as it is very relatable to the winter season.
"Winter is Mother Nature's freezer
that's been opened to find a meal.
But when her children need her,
she forgets to close the freezer.
When her babies need warmth
or food or drink,
Mother Nature heeds their call,
leaving frozen food free to squall.
Bits of freezer burn and ice cream,
drift out into the world,
But, Mother Nature doesn't see,
since she's busy with her babies.
Finally Mother Nature is free
and heads back to her kitchen,
she closes the door with a hurried slam
and in trots the spring lamb."
2. Behold My Breath
– by Michele Meleen
This short winter poem is easy and rhymes well for kids to learn it easily. It is one of the perfect winter poems for pre-schoolers as they can learn it easily and recite it too.
"In and out,
fast or slow,
I feel my breath,
but can't see it go.
When winter arrives
my breath comes alive
In and out,
fast or slow,
In the cold winter air
My breath is there to behold!"
3. Huddle for Warmth
– by Michele Meleen
A short and cute poem loved by young kids as it's so easy to learn.
"Fit me with socks,
and a fluffy sweatshirt.
Give me a blanket,
and some hot cocoa.
Tuck in with me
for a warm cuddle
in our winter family huddle."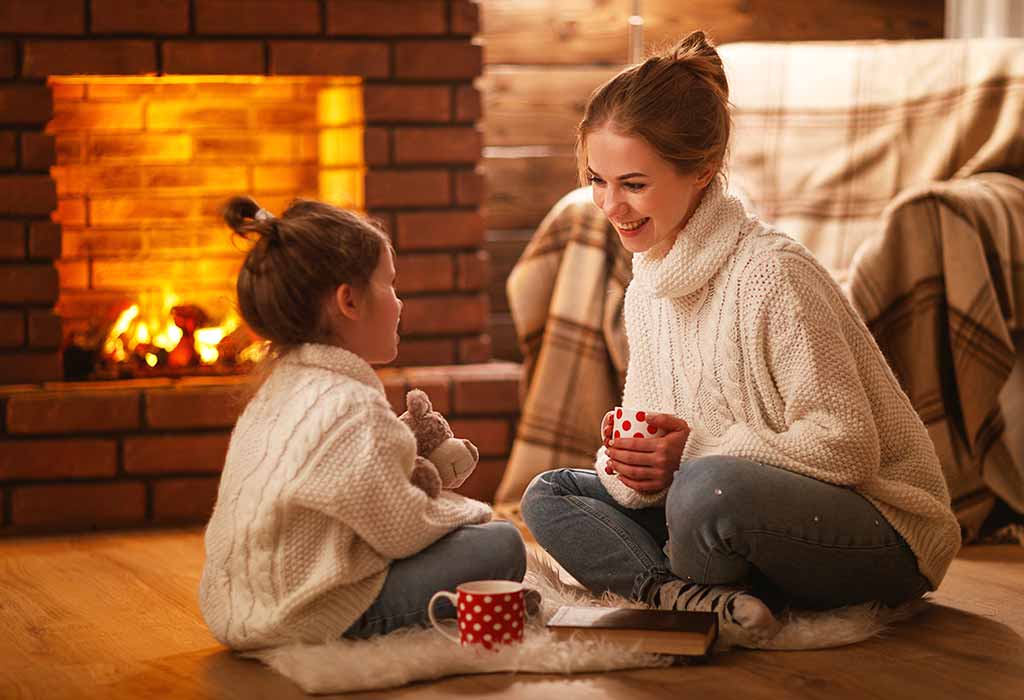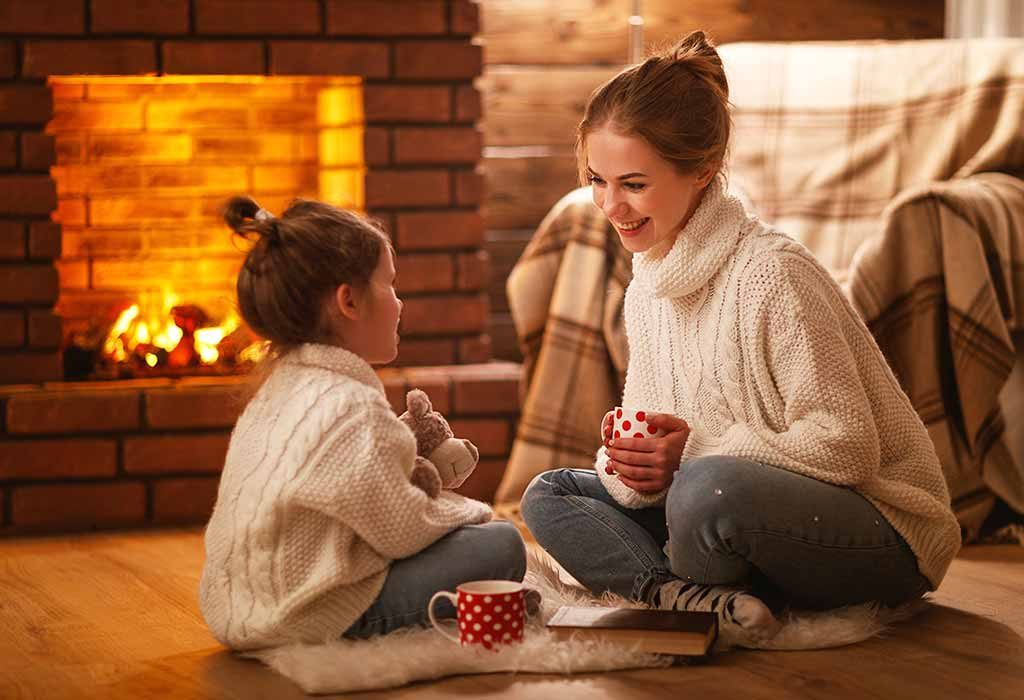 4. Snowball
– by Shel Silverstein
This funny poem about winter is a well-loved poem by kids as it's hilarious and relatable to their emotions.
"I made myself a snowball,
as perfect as could be.
I thought I'd keep it as a pet,
and let it sleep with me.
I made it some pyjamas,
And a pillow for its head.
Then last night, it ran away.
But first, it wet the bed."
5. Ice Can Scream
– by Jane Yolen
This popular poem is one of the most loved winter poems by kids.
"Ice Can Scream Ice can scream,
Ice can shout:
Winter in And autumn out.
5 Ice can shout, Ice can call,
Signalling The end of fall.
Ice can call,
10 Ice can yell Secrets no one Else can tell.
Ice can yell, Ice can howl,
15 Naming winter's Weather foul.
Ice can howl, Ice can wail,
Counting up 20 Each storm and gale.
Ice can wail,
Ice can shriek Till the land Is winter-bleak.
25 Ice can shriek,
Ice can scream Straight across The autumn dream.
Ice can scream,
30 Ice can shout: Winter in And autumn out."
6. Icicle Decorations
-by Michele Meleen
This short poem tells about the holiday and seasonal decorations perfect for the winter season.
"Inch by inch
Circling down
Icicles form
Crystal cones
Lavishly decorating
Every home"
7. Winter Songs
– by Douglas Florian
A lovely poem telling about winter.
"The winter sings a windy song
That hustles rusty leaves along.
The winter sings a song of hail
That pings and pangs like falling nails.
5 The winter sings a song of sleet
As sloshing cars slip down the street.
The winter sings a song of snow,
A whispering as whiteness 10 grows. "
8. Snow Kisses
-by Barbara Vance
This is one of the shortest children's poems about snow captures the joy of snow and snowflakes.
"If you go out when it's snowing
And look up at the sky,
You'll feel lots of icy kisses
As the snowflakes flutter by."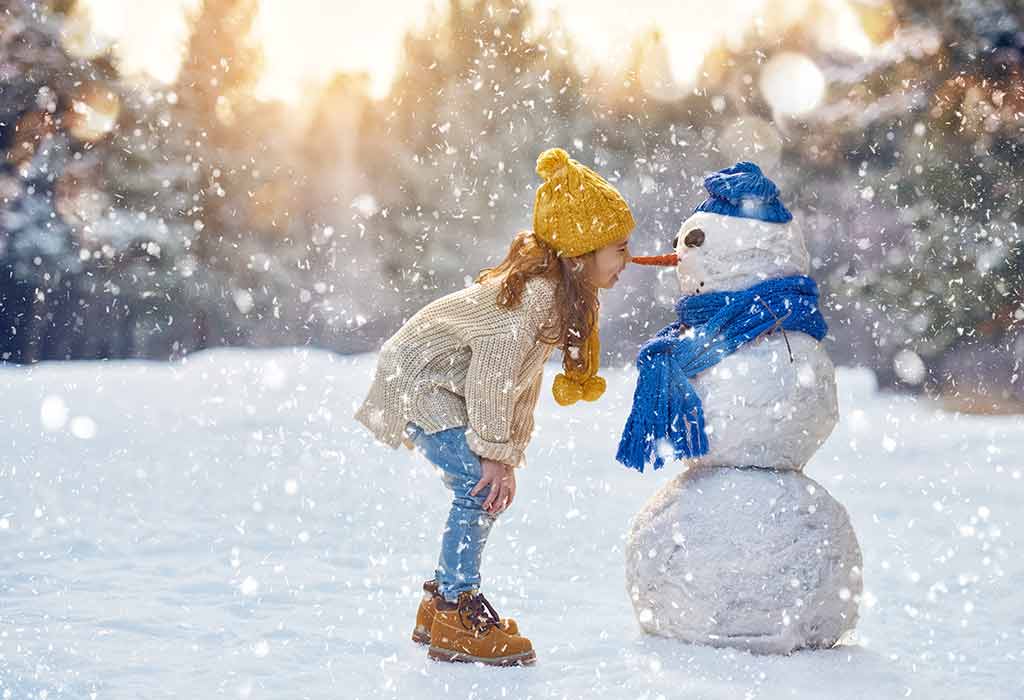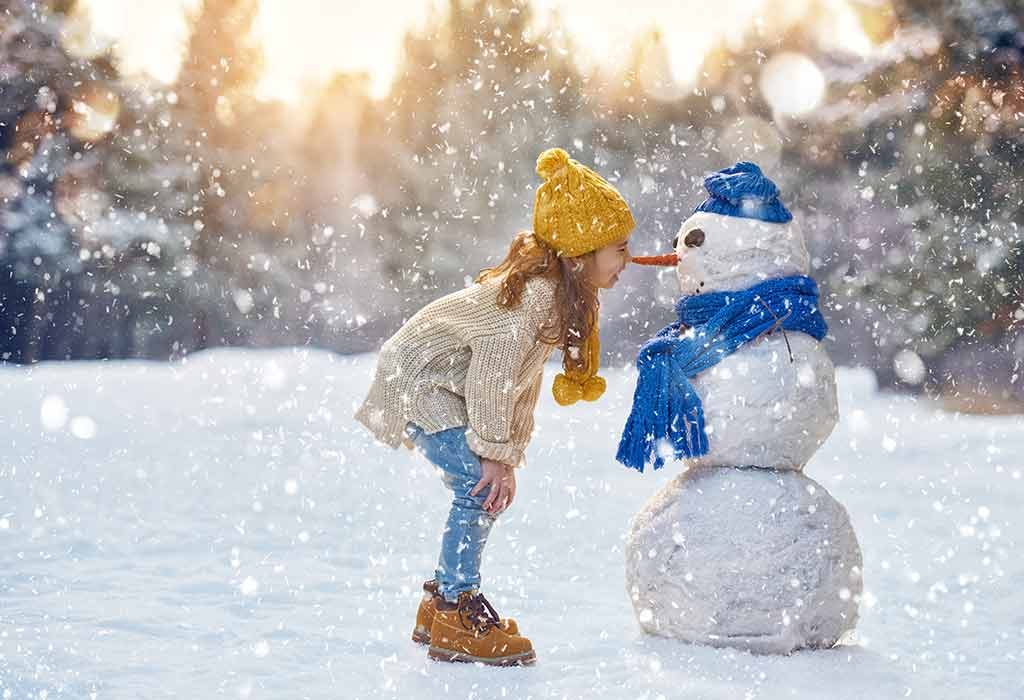 9. Stopping By the Woods on a Snowy Evening
– by Robert Frost
One of the most popular winter poems for kids as well as adults.
"Whose woods these are I think I know.
His house is in the village though;
He will not see me stopping here
To watch his woods fill up with snow.
My little horse must think it queer
To stop without a farmhouse near
Between the woods and frozen lake
The darkest evening of the year.
He gives his harness bells a shake
To ask if there is some mistake.
The only other sound's the sweep
Of easy wind and downy flake.
The woods are lovely, dark and deep,
But I have promises to keep,
And miles to go before I sleep,
And miles to go before I sleep."
10. There Was an Old Sled
– by Michele Meleen
This cute winter poem is inspired by "There was an old lady".
"There was an old sled who was ready to ride,
I don't know why it couldn't slide.
There was a snowy hill sitting under the slide
it glistened and gleamed and begged for a ride.
There was a small boy standing on the hill
who wanted to slide, but stood quite still.
When the moment was right,
the boy sat on the sled.
He pushed off the hill and down they went
The boy and the sled began to slide
on their first and best snowy hill ride."
Teaching the kids winter poems is a good way to tell them about creativity and language. The kids learn sound word recognition and rhyming by learning to recite these winter poems. They also enjoy these lovely poems which take them to the magical winter world.