10 Fashionable Ethnic Outfits for Your Baby's First Diwali Under Rs. 999!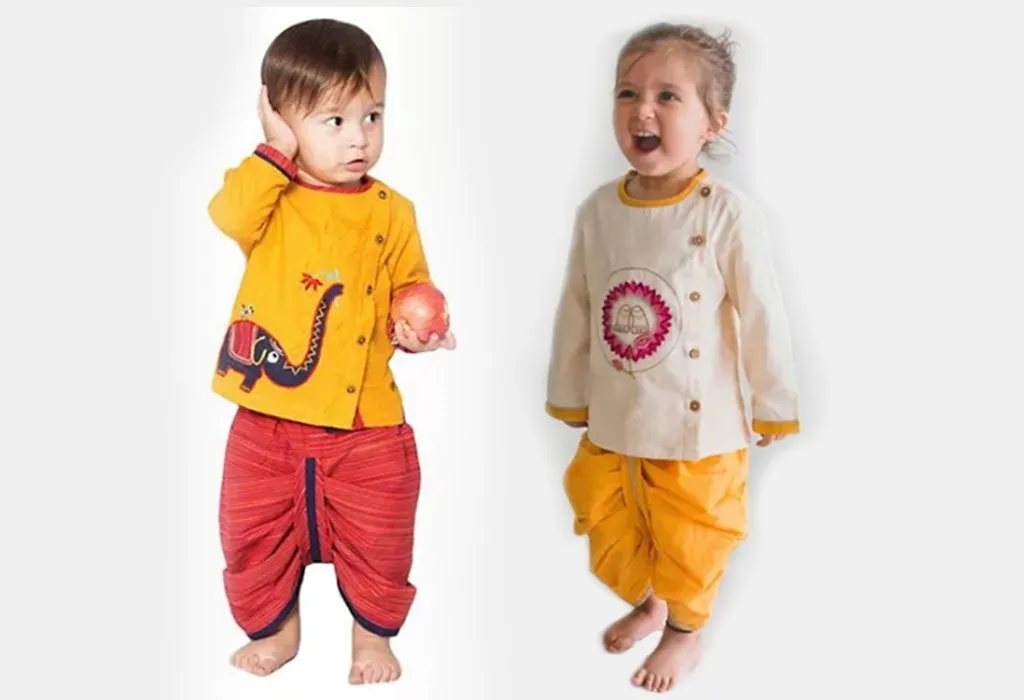 In this Article
The festive season is upon us – make way for lights, music, dancing, and food! This season is all the more special for a new mom – it's your baby's first festival! Looking forward to dressing your little one in the most adorable and cute ethnic outfits without burning a hole in your pocket? Well, look no further!
Trendy Ethnic Outfits for Kids Under Rs. 999
It is understood that babies grow out of clothes incredibly fast, so it's practical to get your baby clothes that are both cost-effective and gorgeous. However, comfort is always key when it comes to dressing little ones. Here are trendy, fashionable and comfortable ethnic outfits for your child (both boys and girls) that you can get for under Rs. 999!
1. Dhoti Kurta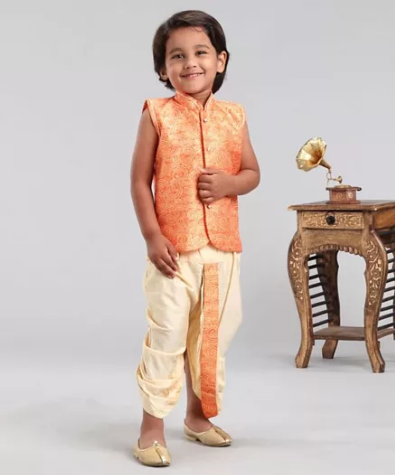 Price: Rs. 817
How adorable would your little one look in this gorgeous dhoti-kurta set? Depending on your baby's age, you can recycle this set for another occasion that may come along in the future, especially since wedding season is around the corner too. To get this or see more dhoti kurta options for your baby, click here.
Tip: Pair your child's kurta with different coloured dhotis for different occasions, or vice-versa to get more use out of one outfit. You could even pair the same kurta with jeans or trousers that your child already owns to save on extra bucks!
2. Lehenga and Blouse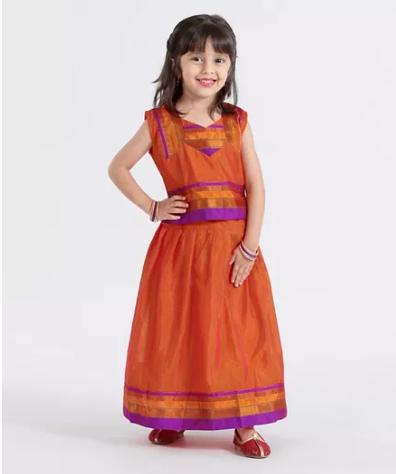 Price: Rs. 588
Lehenga cholis are both stylish and comfortable, making them the perfect choice for your little one's first Diwali. Choose from myriad colours and styles, and don't hesitate to accessorise the outfit with bangles and a bindi! Lehengas allow freedom of movement, so your little one can run around and enjoy the festivities freely. For this and more lehenga choli options for your little girl, click here.
Tip: You can check if the fit of the blouse is comfortable with one simple trick: slide your index finger in the blouse as your baby is wearing it. If it slides in comfortably and you can pull your finger back easily, the fit is just right!
3. Kurta Pyjama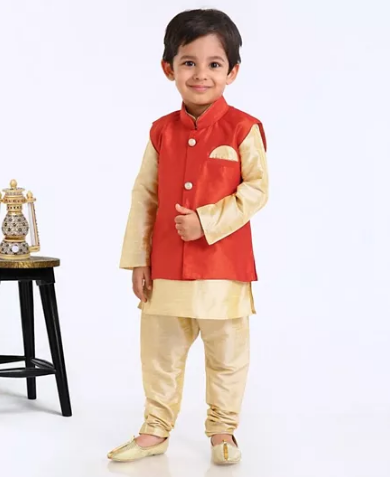 Price: Rs. 799
Nothing says 'celebration' like a classic kurta-pyjama duo. This comfortable and evergreen outfit will most definitely ensure that your baby steals the limelight this festive season! To buy this or to browse through more kurta pyjama options for your little one, click here.
Tip: Style your baby's kurta pyjama with a cute jacket or achkan that can also keep him warm!
4. Ghagra Choli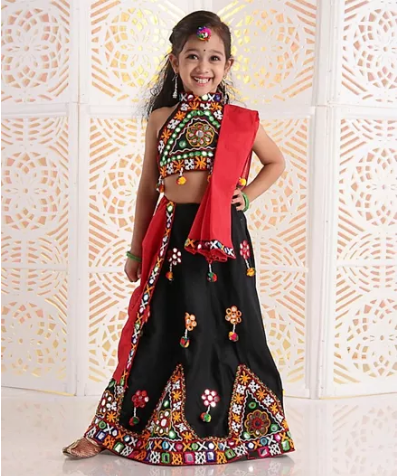 Price: Rs. 799
Ideal for any kind of celebration, a ghagra choli is a dressy ensemble that will make your child festive-ready! It is airy and easy-to-wear, so expect minimal hassle when your baby is dressed in it. To get this outfit or choose from a bunch of designs and colours, click here.
Tip: You can modify the ghagra into a cute, casual skirt for when your child grows a little bigger!
5. Kurti and Palazzo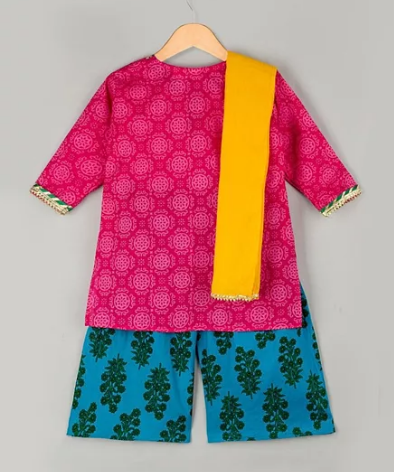 Price: Rs. 799
A cute kurti and palazzo pants set is just the kind of thing you need if you want to dress your child up for a puja at home. Since your child will most likely be sitting or running around, the pallazo pants will offer comfort and ease of movement. To buy this piece or pick from a wide range of similar styles, click here.
Tip: A kurti and palazzo duo can be worn for festive as well as casual occasions – the trick lies in how you accessorize the outfit!
6. Sherwani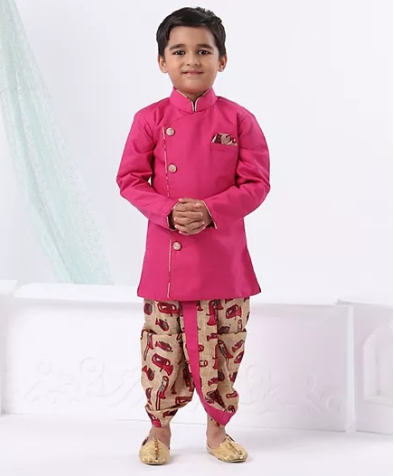 Price: Rs. 999
Your little boy will look dapper in this gorgeous sherwani! This number spells style, and it is the perfect outfit for a big fat family gathering. To buy the outfit pictured or look for similar options, click here.
Tip: To make sure that the embroidery on the outfit isn't bothering your baby, dress him in comfortable inner-wear. This can also double up as another layer of clothing so that he stays warm.
7. Kurti and Dhoti Pants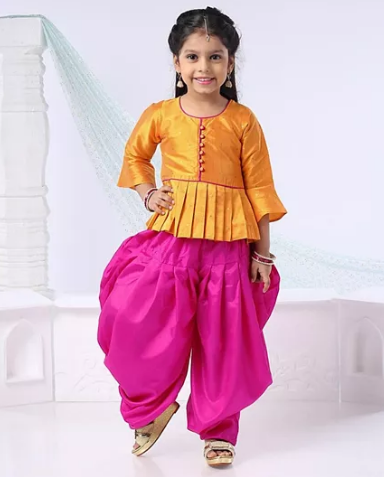 Price: Rs. 799
Dhoti pants are the latest fashion trend, and there's no way your little one should get left behind! These aww-dorable kurti and dhoti pants are perfect for Diwali – imagine taking a family picture with your munchkin looking like a mini princess Jasmine! To buy this and check out the entire range, click here.
Tip: You can repurpose your baby's dhoti pants by pairing them with a cute t-shirt for an Indo-western look!
8. Dressy Frock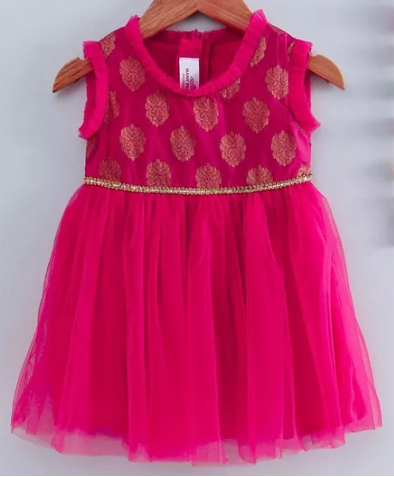 Price: Rs. 911
A simple choice for younger babies, frocks can suit both casual and formal occasions. If you wish to dress your baby in a simple yet cute festive outfit, you can't go wrong with frocks! There's something so endearing about a little baby in a cascading frock, isn't there? To shop this dress or look for others like it, click here.
Tip: Ensure that with all clothes, nothing gets caught on the baby's jewellery. Make sure to remove all the jewellery first, and then proceed with the clothes at the end of the night.
9. Sari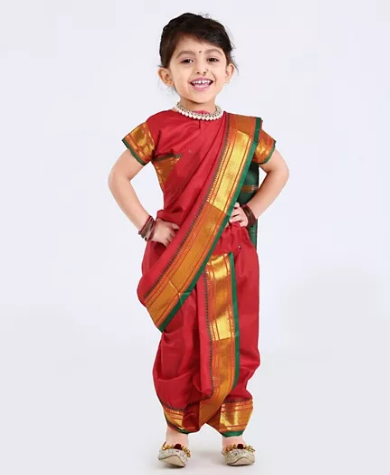 Price: Rs. 738
If you want to go a more traditional route when dressing your child up this Diwali, a sari is your best bet – it's also a cute addition to your baby's wardrobe! After all, is there any baby who doesn't look cute in a sari? We think not! To buy this sari or choose from among other colours and designs, click here.
Tip: A ready saree is more hassle-free than one that needs to be draped and pinned and also poses a lesser chance of it coming undone when your child is running around.
10. Salwar Kameez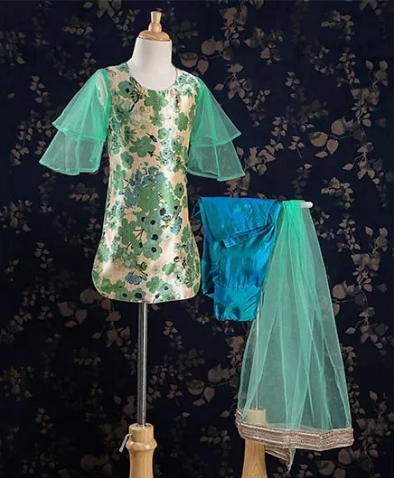 Price: Rs. 999
A salwar kameez set for your baby is another great Diwali outfit idea. It's is a popular choice because of its simple elegance. To buy this outfit or to look for others just like it, click here.
Tip: An outfit with stretchy fabric is the way to go because it will let your baby's skin breathe!
With these ethnic clothes for babies, your little one's first Diwali will surely be remembered by you and your entire family. With cute outfit ideas to choose from, your baby can take part in the festivities comfortably and happily. Happy shopping!
Disclaimer: The prices mentioned were accurate at the time of writing this article. These prices are subject to change.