10 Easy and Yummy Dessert Recipes for Kids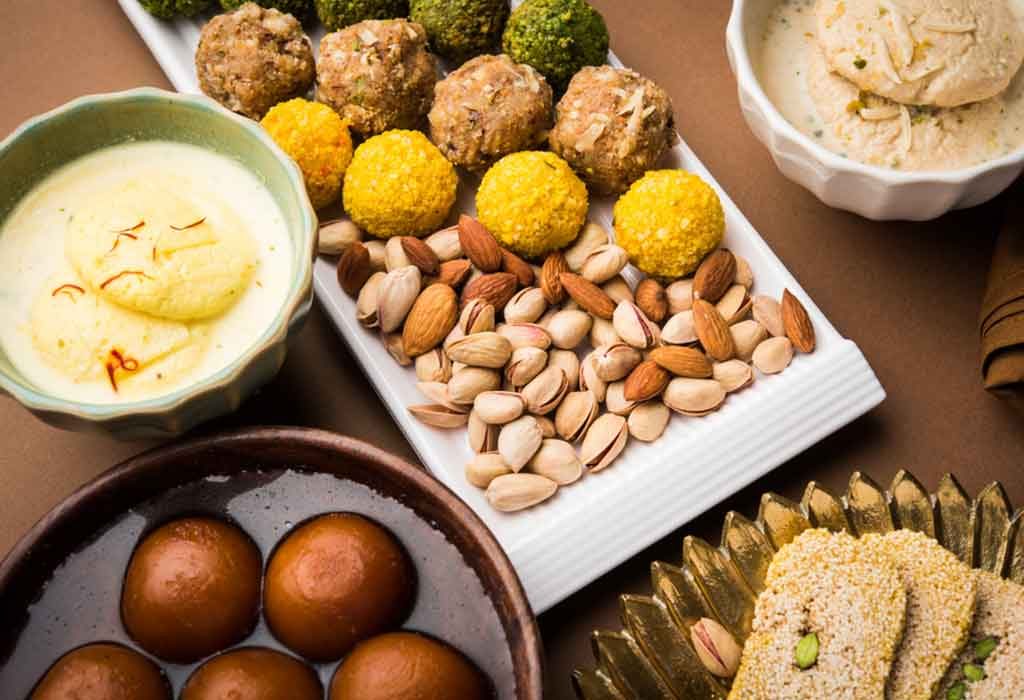 Kids love sweets, and that's an undeniable fact. It powers them with fuel, supplies them the calories, and makes their days so much brighter. If you dislike the processed foods industry and want to give your kids some healthy homemade options, you've come to the right place.
Don't worry, even you will be enjoying these recipes guilt-free and join in on the fun (er, tasting).
Video: 5 Easy & Nutritious Dessert Recipes for Kids
10 Quick and Healthy Dessert Recipes for Children
Here's a list of our top ten kid-friendly dessert recipes. Try these out and watch their faces light up once they have a bite!
1. Whole Wheat Halwa
Halwa is a traditional Indian dessert recipe and one of our favourites. Here's how you make it.
Ingredients Needed
Half a cup of whole wheat flour
A third-cup of canola oil
Half a cup of brown sugar
Two cups of water
A quarter cup of raisins
Two tablespoons of fresh organic almonds (sliced)
A tablespoon of pistachios (to garnish)
Half a teaspoon of ground cardamom powder
How to Make
Get a pan and boil the water and brown sugar on medium flame until the sugar dissolves. Set that aside and heat up the canola oil in a non-stick frying pan.
Add in the whole wheat flour and roast until it turns golden brown.
Add in the dissolved sugar and stir slowly. Make sure you see no lumps and after that. Add in the rest of the ingredients except the almonds and pistachios.
Stir until you are happy with the consistency, set aside, and let the mixture cool.
Garnish with almonds and pistachios and serve fresh.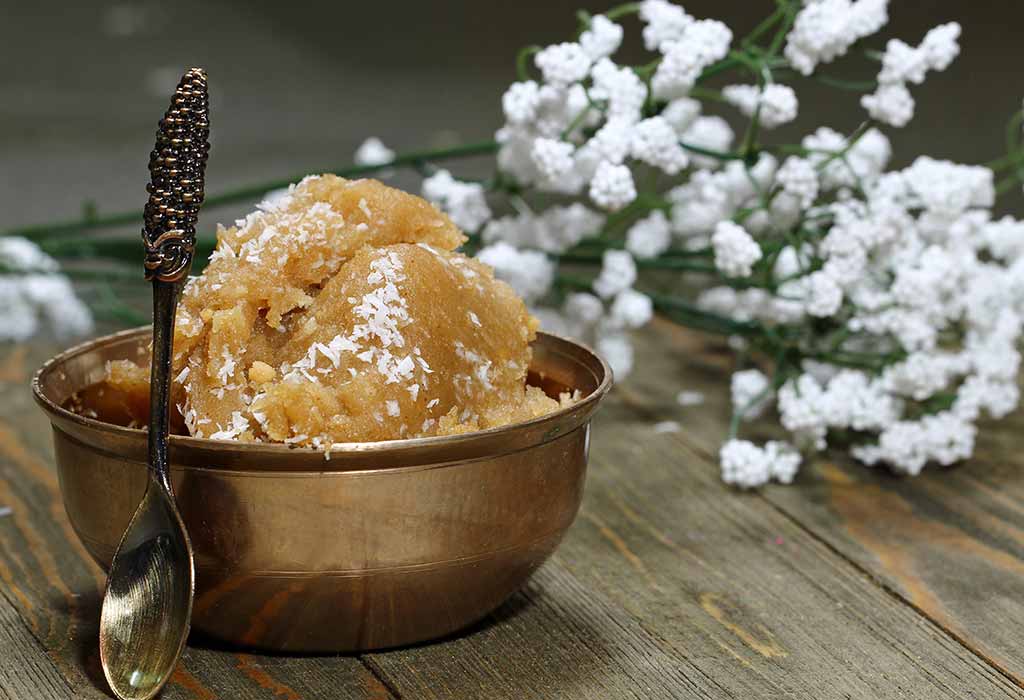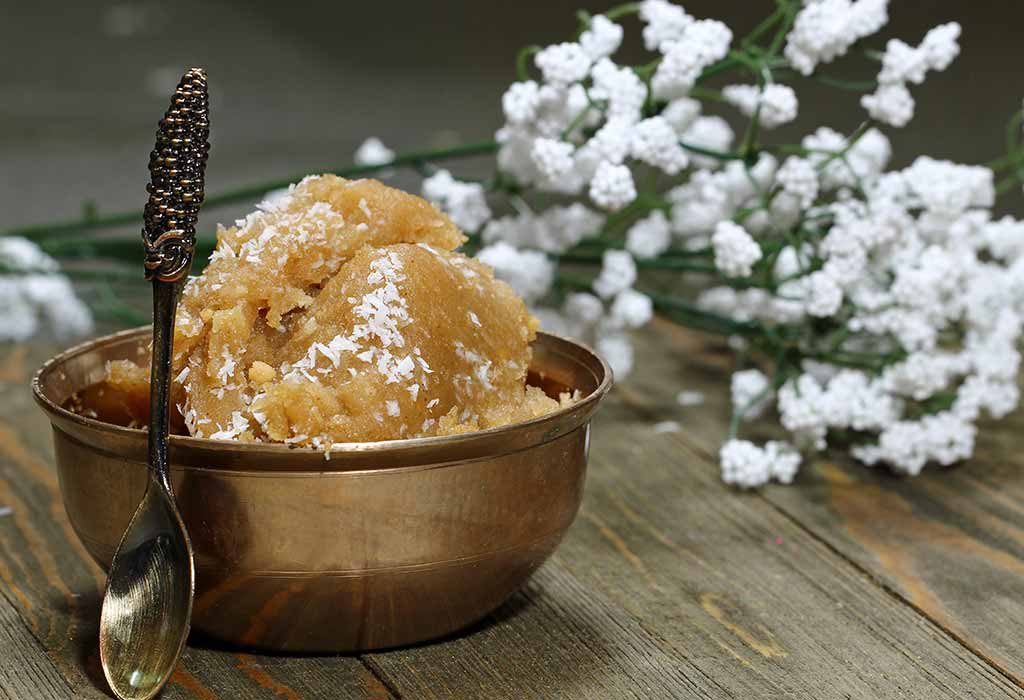 2. Coconut Laddoos
Coconut laddoos are one of the few Indian vegan milk desserts for kids that are perfect for those who are lactose-intolerant. Here's the recipe.
Ingredients Needed
One and a half cups of freshly shredded coconut
A cup of coconut cream or coconut milk (low-fat)
One-third cup of jaggery powder
Grounded cardamom powder
A pinch of Himalayan pink salt
How to Make
Get a skillet and put it on medium flame. Add in the shredded coconut and cook until it turns golden brown. Mix in coconut cream and cook for another two minutes.
Stir in the salt and sugar now, eventually adding in cardamom powder.
Cook until the toasted coconut shreds soak in the milk an there is no creamy texture left when you press with a spoon.
Cool this blend at room temperature and shape up into balls for serving.
If you're storing these laddoos in an airtight container inside the refrigerator, it will last a whole week.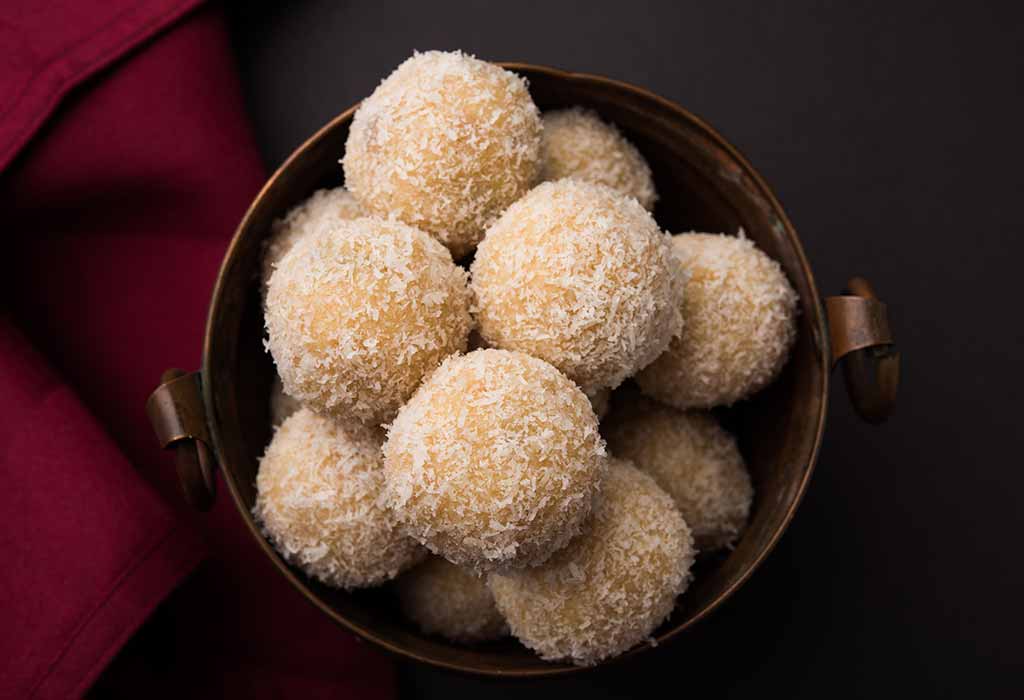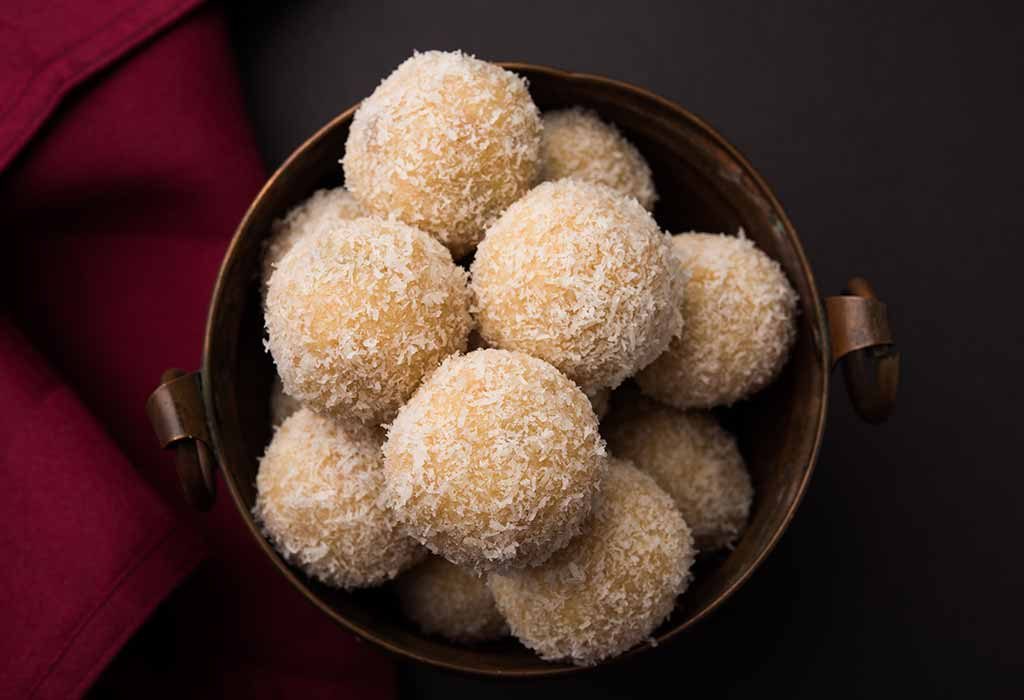 3. Orange Kheer
Orange kheer is a unique spin on the classic Indian kheer recipe. The vitamin C boost gives a great kick.
Ingredients Needed
A cup of orange segments (chopped and de-seeded)
Two tablespoons of cornflour
A quarter cup of cold milk (full-fat version)
Four and a quarter cups of milk (full-fat)
Half a cup of white sugar
Half a teaspoon of cardamom powder
How to Make
Get a medium-sized bowl and blend the cold milk and cornflour well.
Set aside and boil the regular cups of milk on high heat for 6 to 7 minutes roughly.
Add in sugar to the boiled milk along with the cornflour and cold milk. Blend well and cook on low heat for 10 minutes, stirring throughout.
Mix in the cardamom powder.
Let the resulting blend or mixture cool.
Add in the orange segments when cooled down and refrigerate for 2 to 3 hours.
Serve chilled.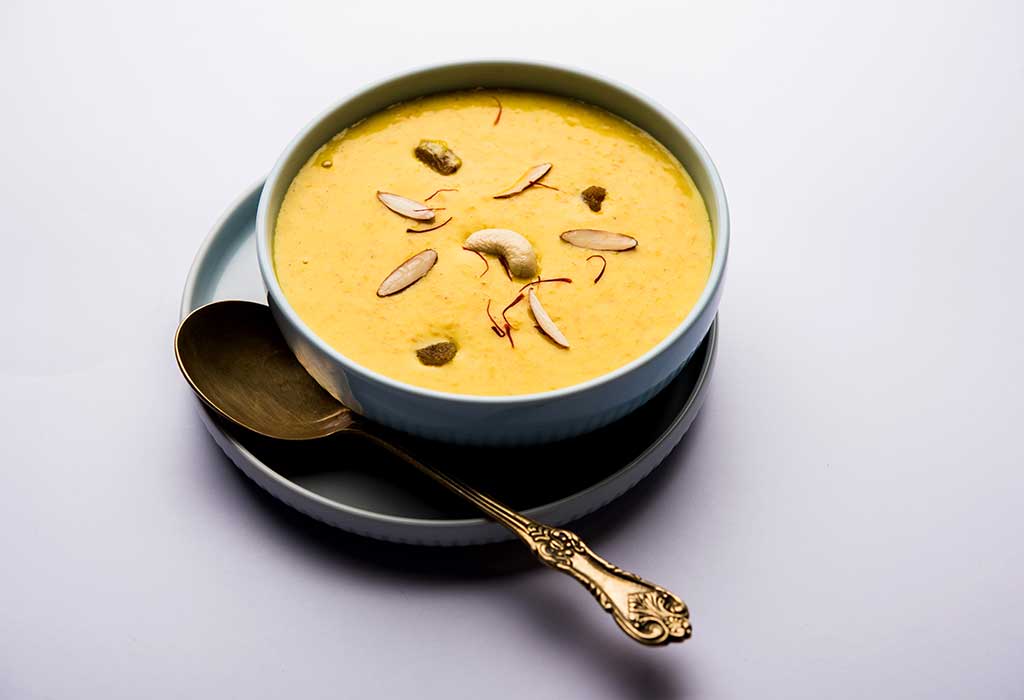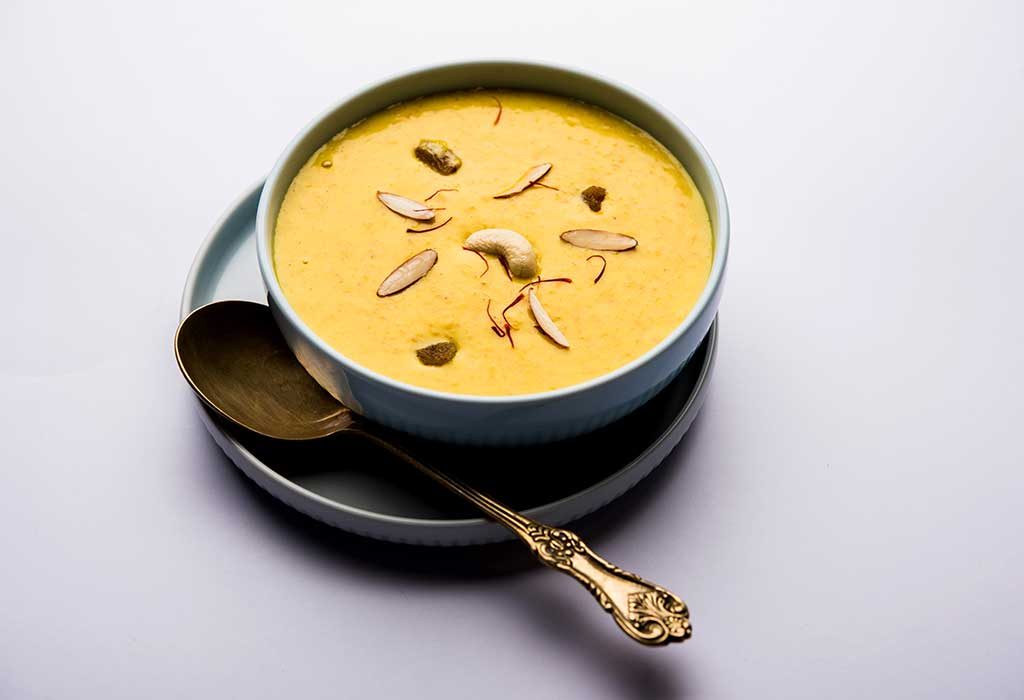 4. Almond Barfi
Who doesn't celebrate good times with a plate of barfis? This one's ideal for kids and is low in calories too.
Ingredients Needed
A three-fourth cup of almonds
Half a cup + one teaspoon of cow's milk
A few strands of saffron
One and a half tablespoons of ghee
Two tablespoons of sugar
One teaspoon of cardamom powder
How to Make
Soak the almonds in a big bowl of hot water for two hours. Then, drain and peel the almonds.
Use a food processor or blender and blend until they turn into a fine paste. Set the paste aside.
Blend the saffron and warm milk in another small bowl and mix. Set this aside too.
Heat up the ghee in a non-stick frying pan, stirring in the almond paste now.
Keep stirring until it mixes well on a low flame for about 4 minutes.
Add the sugar, cardamom powder, and continue stirring for another 4 minutes.
Transfer the mix to a 7″ plate. Grease it before transferring, and shape the blend into a nice square.
Get a cutting knife and slice this square into multiple pieces. It should make about 18 roughly.
Let the barfis cool down to room temperature.
Serve fresh or refrigerate for later use.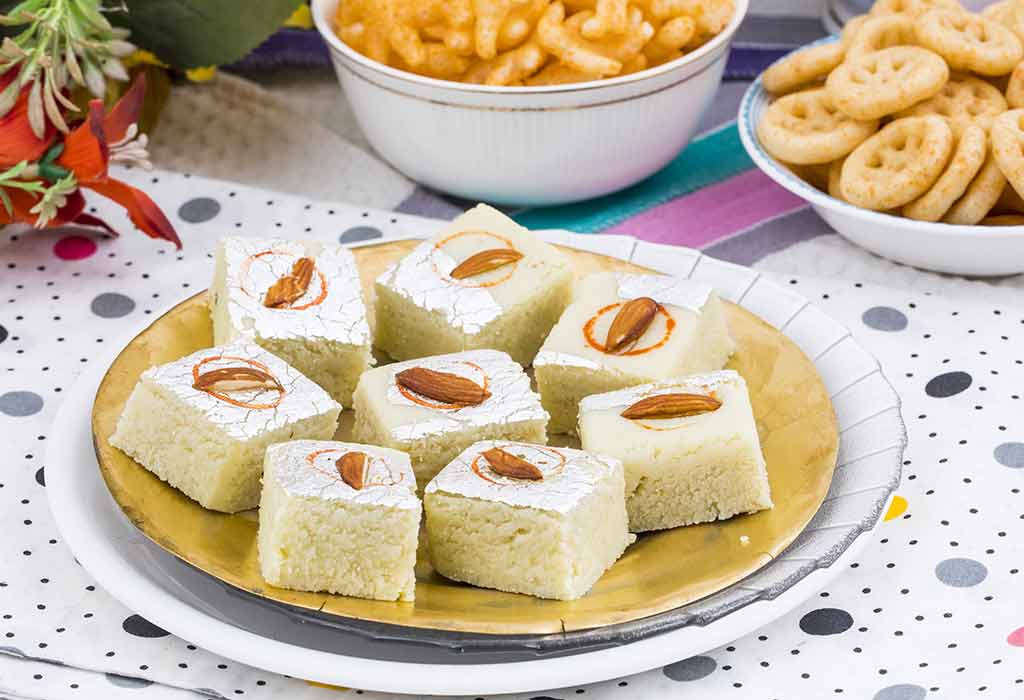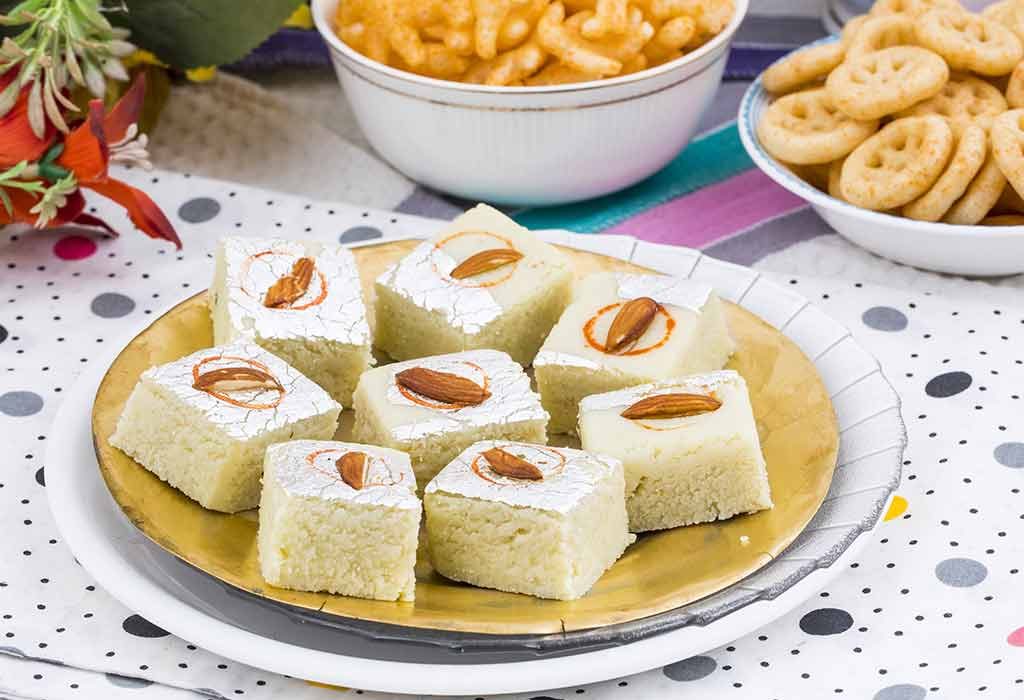 5. Til Chikkis
Til chikkis take just 15 minutes to make and are easy to whip up for your kids.
Ingredients Needed
A cup of sesame seeds
Half a teaspoon of green cardamom powder
Two tablespoons of fresh pistachios (finely chopped)
A cup of jaggery (chopped)
Half a cup of almonds (chopped)
A tablespoon of ghee
How to Make
Get a medium-sized pan and put it on a low flame. Roast the sesame seeds until their colour turns golden brown, and set them aside.
In a large pan on a medium flame, add in the jaggery and ghee. Stir until the blend melts into a syrup.
Mix in the sesame seeds and stir continuously.
Add the almonds and rest of the ingredients to this and mix finely.
Transfer the resulting mixture on a steel tray that is greased. Flatten the mix and shape it up into a rectangular block that is thin.
Get a knife and split this block into twelve equal portions. Serve once you've cooled these blocks down to room temperature.
6. Gur Ki Gajak
Gur ki Gajak is another traditional Indian dessert for kids that's easy to make and doesn't take much time.
Ingredients Needed
400 grams of organic jaggery
Four cups of organic raw peanuts
Six tablespoons of cow's ghee
Six teaspoons of fennel seeds
How to Make
Get a non-stick frying pan and cook the ghee on medium heat. Stir in the gur and reduce the flame. Let this blend melt and afterwards, throw in the fennel seeds and mix.
In another pan, blend ghee and the peanuts, making sure to roast them well. After the peanuts get roasted, mix it with the gur blend and heat on a low flame, stirring well.
Glaze a sheet of foil with ghee and transfer the resulting mix into that.
Cool this blend. Before it's just about to harden, cut it up into different small pieces with a sharp knife.
Serve fresh at room temperature.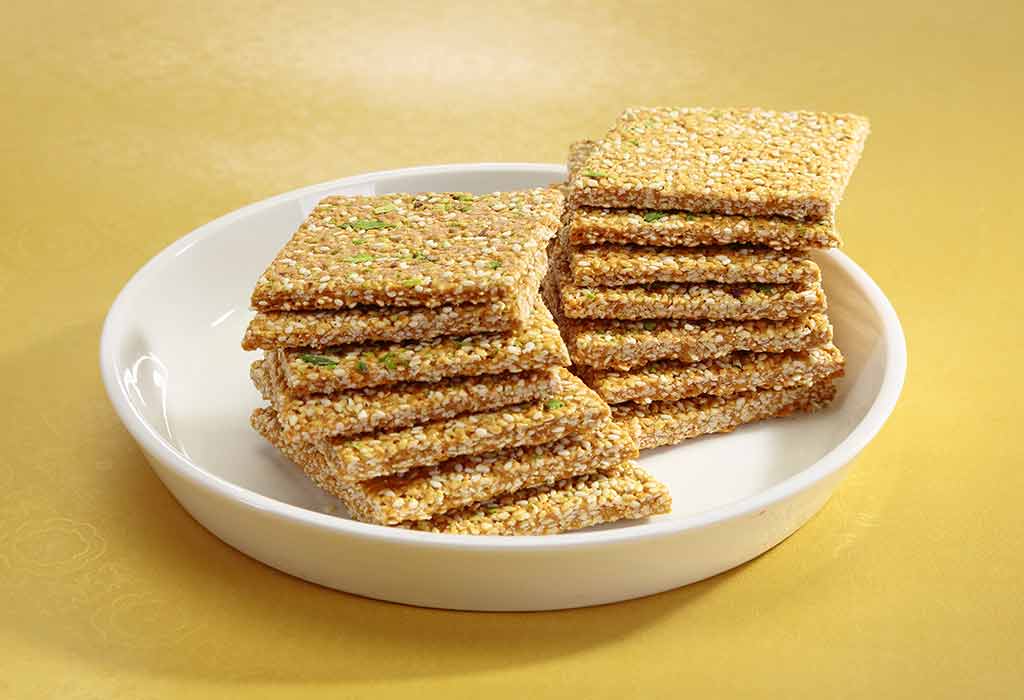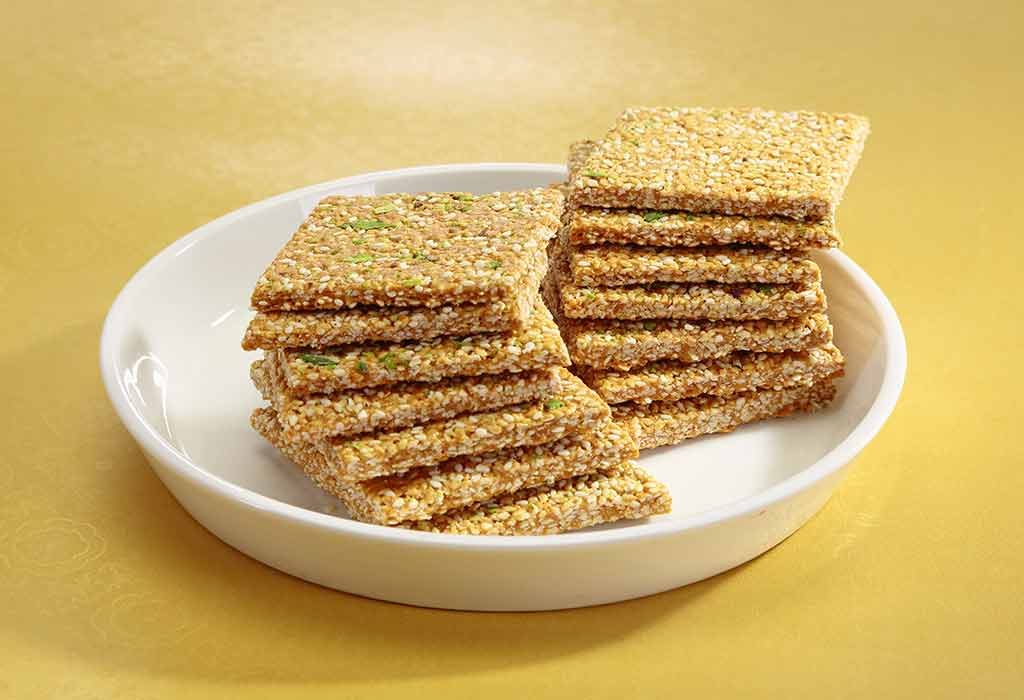 7. Desi No-Bake Cheesecake
How about a desi cheesecake which involves zero baking? Sound good? Let's dive right into it.
Ingredients Needed
A cup of graham crackers (about 12)
Four tablespoons of butter (unsalted)
One cup of cream cheese (room temperature)
One-third cup of sugar
Half a cup of thick chilled cream
A teaspoon of lime juice
How to Make
Crumble the graham crackers and mix with the butter.
Transfer this to a 4×7 inch pan, lined using parchment paper.
Press it firmly and spread the mix evenly to form a base, and refrigerate for about 1 hour.
Get an electric stirrer and whisk the cream cheese and sugar in a separate bowl.
Blend until smooth and lower the speed of mixing and slowly add in the cream and lime juice.
Increase the speed of the mixer or stirrer until you notice peaks forming.
Layer out this cream cheese mix on the crust uniformly.
Refrigerate for 4 hours and serve with the fresh fruits mentioned above, or of your choice.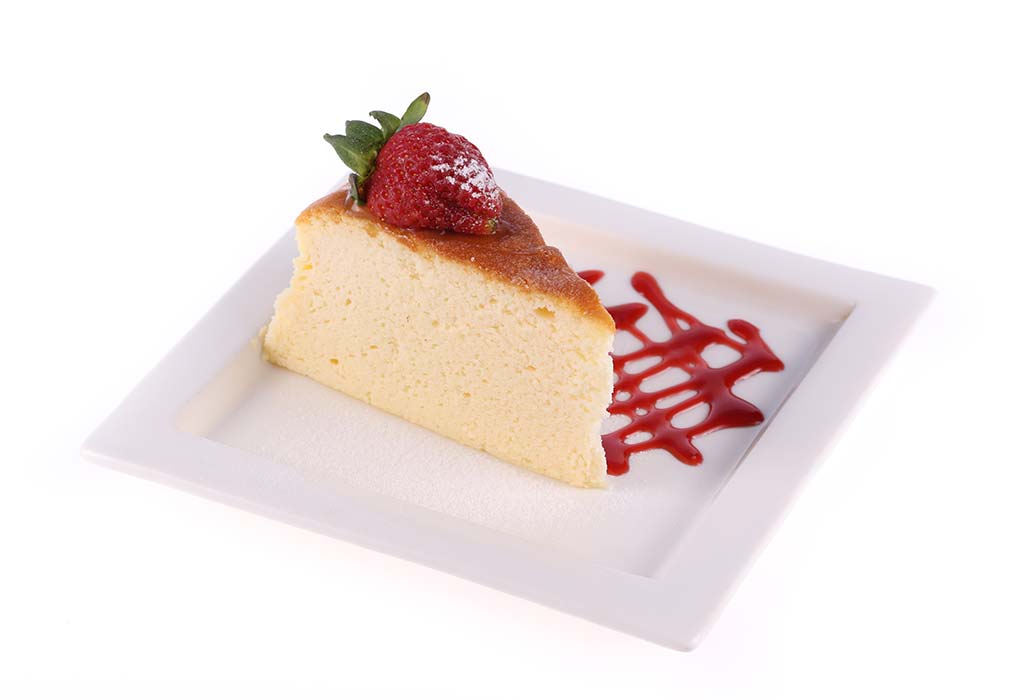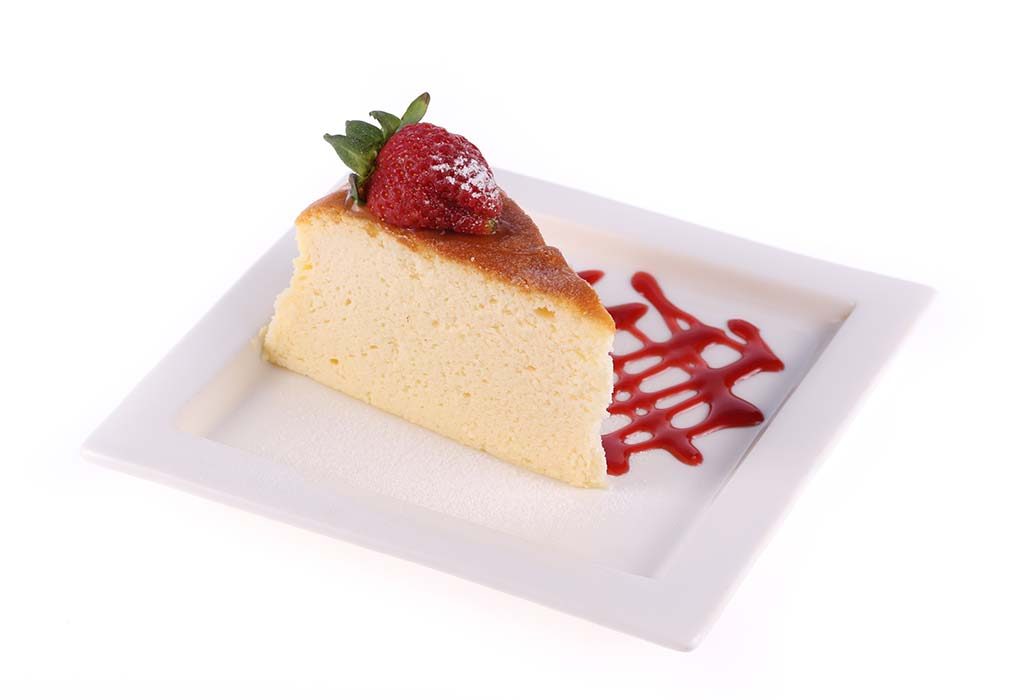 8. Paneer Laddoos
If your kids love laddoos and want to try something else besides coconut, try giving them these.
Ingredients Needed
A cup of fresh paneer
A cup of whole milk
A cup of milk powder
A tablespoon of cow's ghee
Half a cup of white sugar
Half a teaspoon of cardamom powder
Two tablespoons of pistachios (finely sliced)
How to Make
Add the paneer to a non-stick frying pan and stir in the milk powder and whole milk. Cook on a low flame, stirring continuously. Scrape off the sides and let the mixture turn into a soft dough, which will roughly take you 10 minutes of stirring.
Add in the cow's ghee, and stir for a whole minute.
Switch off the flame and move this paneer blend into another bowl.
Let it cool down to room temperature and knead in the sugar and cardamom powder.
Shape the dough into one-inch balls and top with pistachios for garnish.
Serve chilled.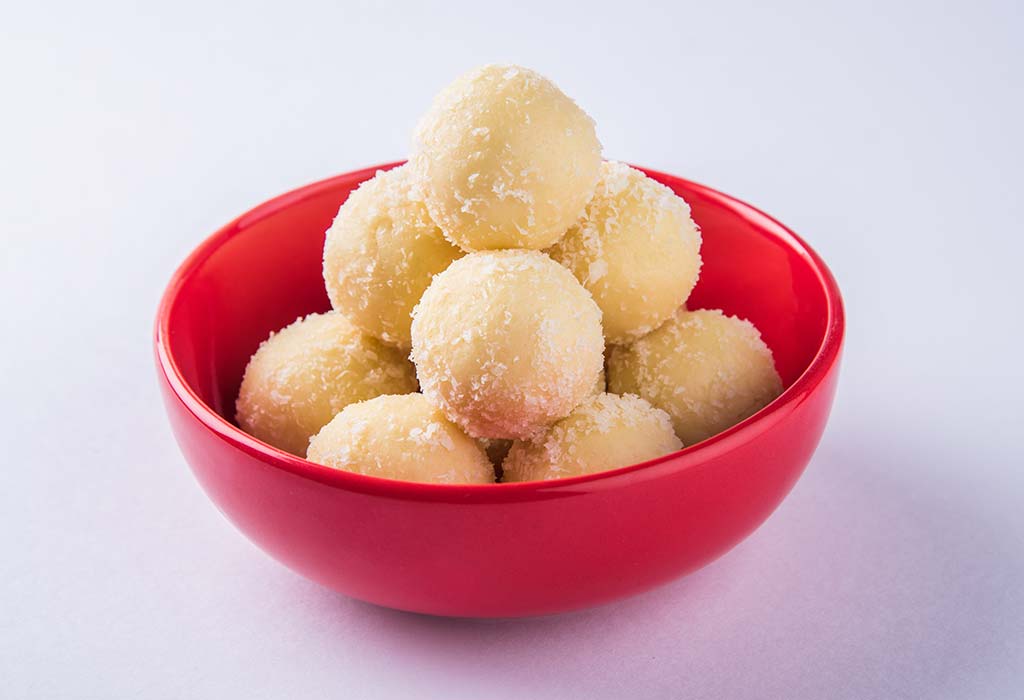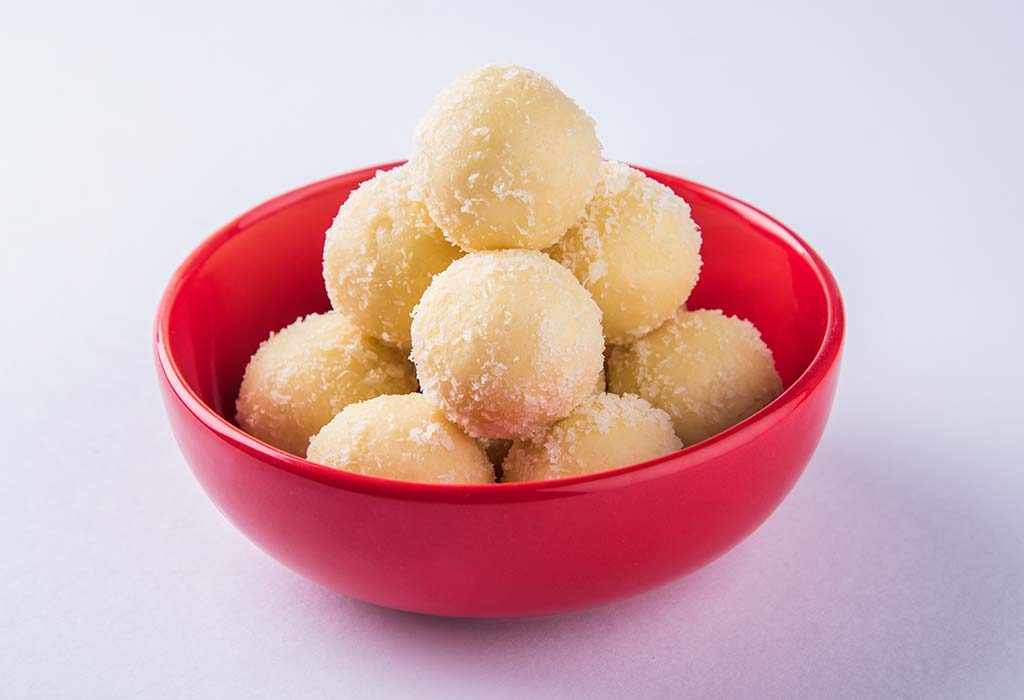 9. Sandesh With Pineapple
Sandesh is a traditional Bengali sweet, but when you spruce it up with pineapple, it becomes even more delicious!
Ingredients Needed
Four cups of whole milk
Three tablespoons of lime juice
Three tablespoons of refined sugar
A quarter teaspoon of cardamom powder
Six slices of canned pineapple
Two tablespoons of pistachios
How to Make
To make the paneer, mix in the milk and lime juice and bring them to a boil in a pan.
As the curd forms, the whey will come out. Drain that using a muslin cloth and wrap the curd in it.
Squeeze the curd to turn it into paneer after rinsing with cold water.
For the Sandesh, roll the paneer into a soft and smooth dough.
Add in sugar and cardamom powder, and start kneading it.
Your sandesh is ready – it's time to add in the pineapples.
Dry the pineapple slices by patting with a towel and layer them on top of the sandesh evenly.
Use pistachios for garnish and refrigerate for an hour.
Serve chilled.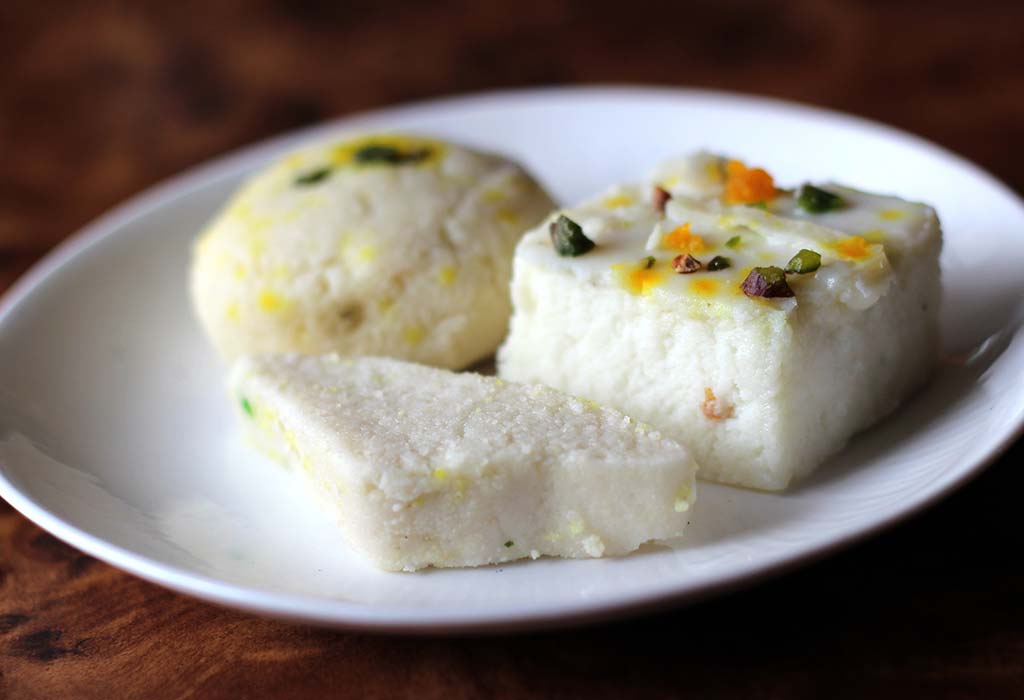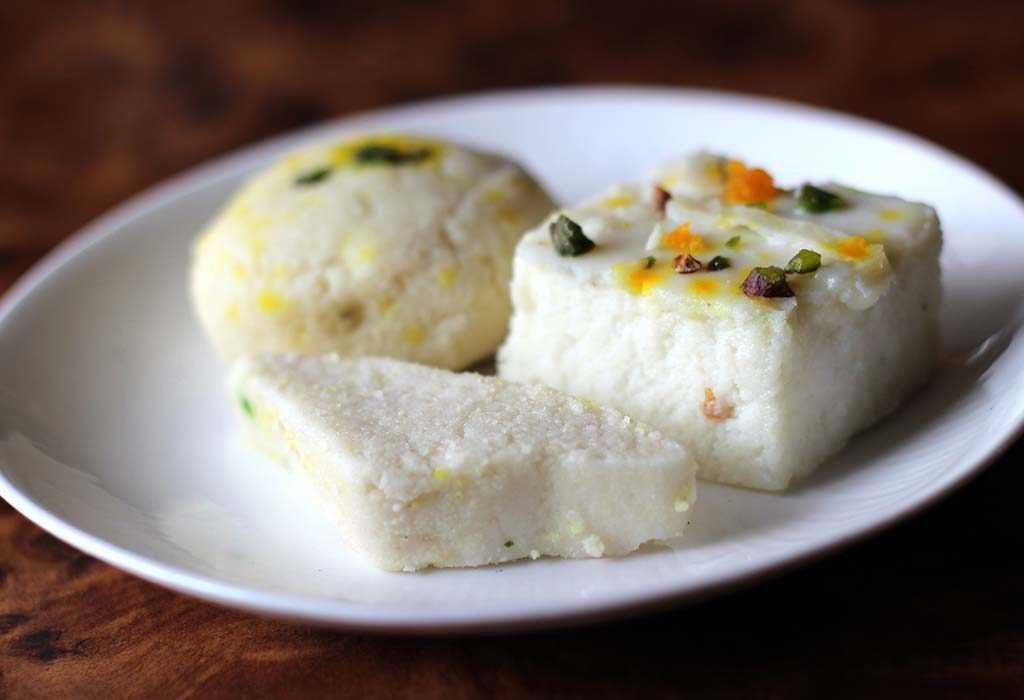 10. Mango Panna Cotta
One of the best sweet recipes for kids, mango panna cotta is sure to hit the spot.
Ingredients Needed
A can of fresh coconut milk
A quarter cup of refined sugar
A teaspoon of vanilla essence
One teaspoon of agar-agar powder
One and a half cup of mango puree
Two teaspoons of lime juice
A quarter cup of sugar (for the mango layering)
One and a half teaspoon of agar-agar powder (for the mango layering)
How to Make
There are two elements to this recipe – the cream and the layer of mango topping.
For the cream, boil coconut milk and sugar for 3-4 minutes on medium flame. Dissolve the agar-agar powder in lukewarm water and add it into the milk, along with the vanilla essence. Let this boil for two minutes and stir until you see no lumps. Whisk the milk and transfer into another bowl, allowing it to sit for 25 minutes.
For the mango topping, blend the puree, sugar, and lime juice in a pan and boil for two to three minutes. Mix in agar-agar with lukewarm water and transfer that to the pulp. Boil for a few minutes until you find zero lumps. Remove the pan from the heat and whisk this mix for a while.
Pour this mango puree topping over the cream layer and refrigerate for 3 hours.
Slice it, if needed, into equal-sized portions, and serve chilled.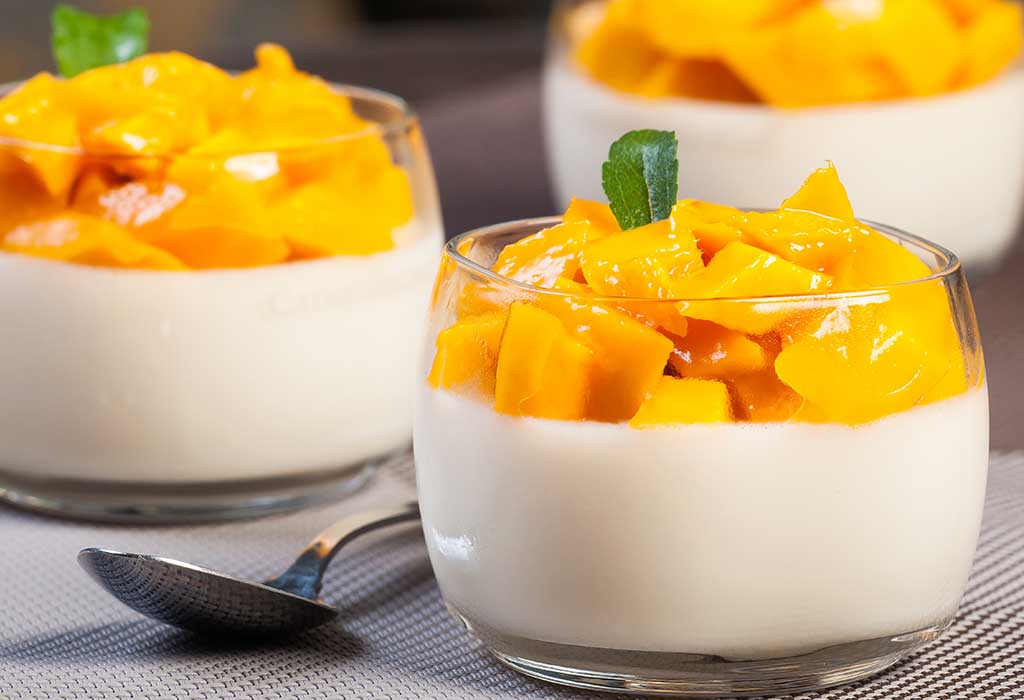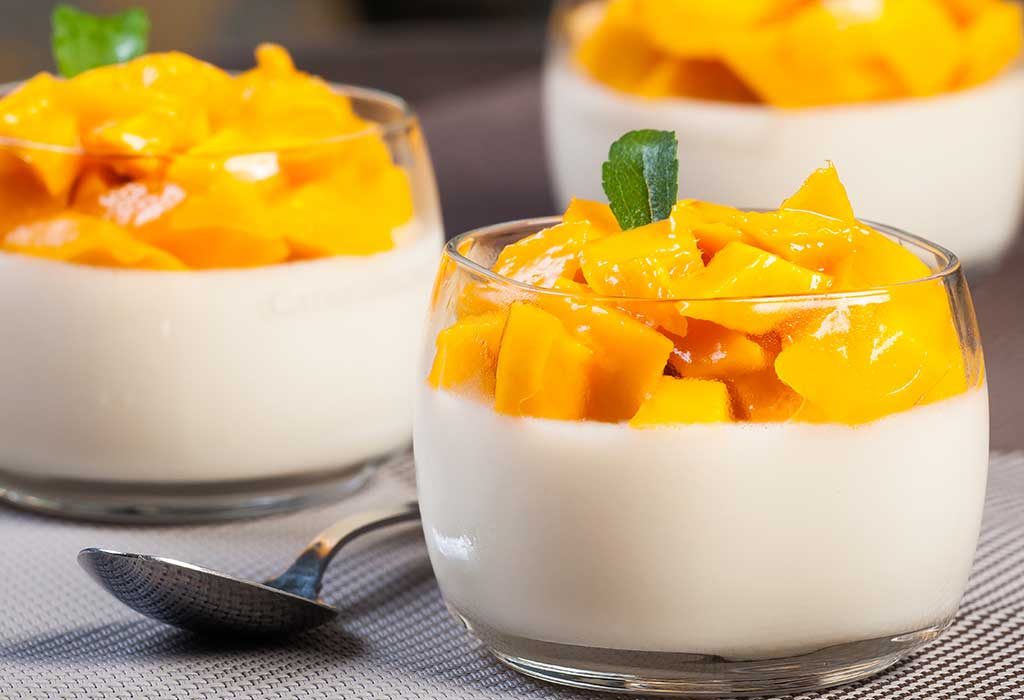 Try out these recipes at home and make dessert time more fun!
Also Read:
Simple and Easy Chocolate Recipes for Kids
Quick and Easy Cake Recipes for Children
Healthy and Easy Baking Recipes for Kids