15 Cool Halloween Pregnancy Announcements Ideas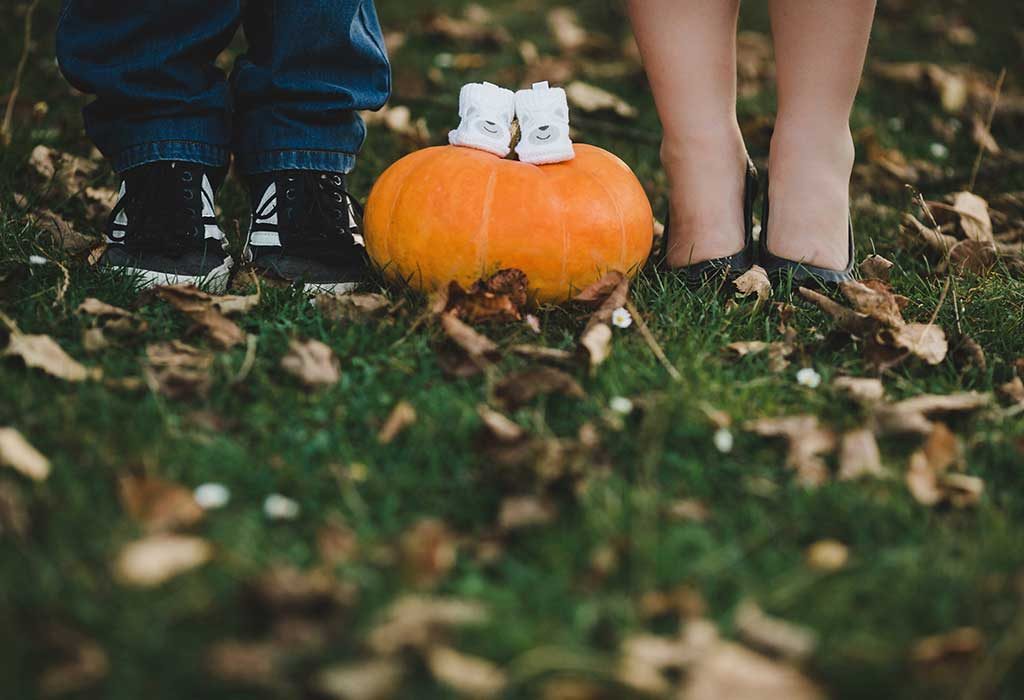 In this Article
Expecting a new member of the family is the most thrilling moment for any parent. They are very excited to tell the family and friends their good news. It's their exciting moment, and they want to say it in a unique way, different from others. The traditional ways of announcing your pregnancy are outdated. With the increased use of Instagram, Facebook etc. has given new avenues to announce the news uniquely with the help of pictures, text, email etc.
The would-be parents have the excellent opportunity of Halloween inspired pregnancy announcement if they find about the pregnancy during Halloween. Halloween inspired announcements are not only unique but have a lot of creativity too. They are cute and at the same time spooky, so they have the perfect elements of mystery and surprise in them. So, the would-be parents are getting more and more inspired by Halloween to make their special announcement.
15 Brilliant Halloween Pregnancy Announcements
Halloween is the fun time of the year, where everyone is celebrating and enjoying a spooky and fun holiday. So, when a couple wants to announce their good news to the world in a unique manner, this is the perfect theme. You can make your fall pregnancy announcement creative and cute. Parents tell the world in spooky and hilarious ways about their newest member. The announcements can be either a trick or a treat depending on how the couple wants them to be.
So here are some spectacular or 'spooktacular' Halloween-themed pregnancy announcement ideas. They also include Halloween costume pregnancy announcement ideas to get inspiration from. Choose one of these to tell your good news to the world.
1. Chalkboard Message
This simple and cute announcement idea is for the couple who want a Halloween-themed pregnancy announcement but don't want to go over the top. It's subtle, yet creative. The couple can arrange a Halloween themed party and invite all their family and friends. At the entrance or in the centre of the venue, there would a large blackboard or floor-to-ceiling chalkboard with the pregnancy announcement written with colourful chalks. The board can be decorated with spooky graffiti too and have some pumpkin scattered around it for added effect. The pumpkin symbolizes the baby bump and can be decorated with scary faces or just left plain.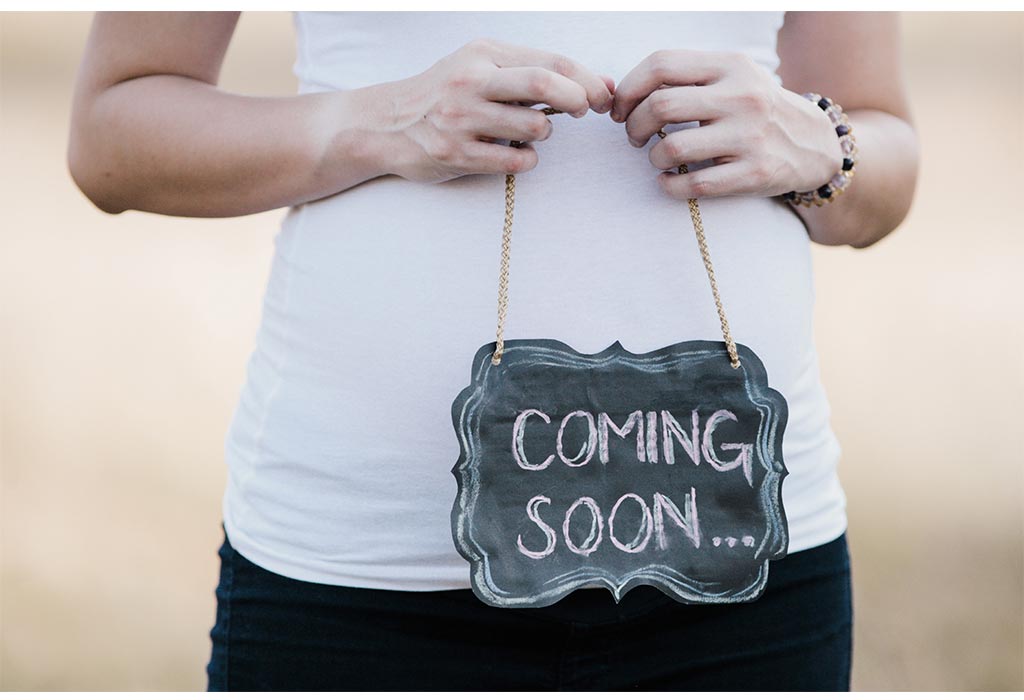 If the couple doesn't want to throw a party, they can opt for just a photograph taken with the chalkboard as their backdrop and post it on social media or just mail it. The idea is cute and has the elements of Halloween.
2. Treat Basket
A treat basket is a creative idea where the couple can make a cute treat basket with all the Halloween inspired objects like a small pumpkin, candies, witch hat, treats, cookies, etc. The basket can have a spooky ribbon and veil to give the perfect mysterious touch. Once the receiver lifts the veil, they see the cute pregnancy announcement on a card or small handmade poster. The receiver will enjoy the treats with the announcement. These treat baskets are perfect for sending to family and close friends. If the number of people is large, then instead of the basket, a small packet can be done with some candies and other treats. This is the sweetest way to tell your family about your good news.
3. A Spooky Surprise
If you are an ardent Halloween fan, then this is the perfect idea for you. Just pick full-on scary costumes from the market or online shopping portal and get a scary photo-shoot done. Couples also opt to make their own costumes as per their ideas. It all depends on them, what they want to wear.
The pictures of the couple dressed in scary costumes can be photo-shopped with the pregnancy announcement and be posted on social media or mailed to the family and friends.
4. The Cute Pumpkin Sibling Announcement
This announcement is perfect for couples who already have a child and are expecting another one. The little one can pose with a big pumpkin costume and another smaller pumpkin can be placed on the side announcing that he/she is expecting a sibling. The parents can either make the little one wear a pumpkin costume or can take a big pumpkin and clean it from inside to make the costume or seat for the little one. The parents can click the pictures themselves or get a photo shoot done and send the picture to the family or post it online. This cute pregnancy announcement will surely melt everyone's heart and the pictures can be displayed in the home too.
5. Jack-O-Lantern Pregnant Pumpkin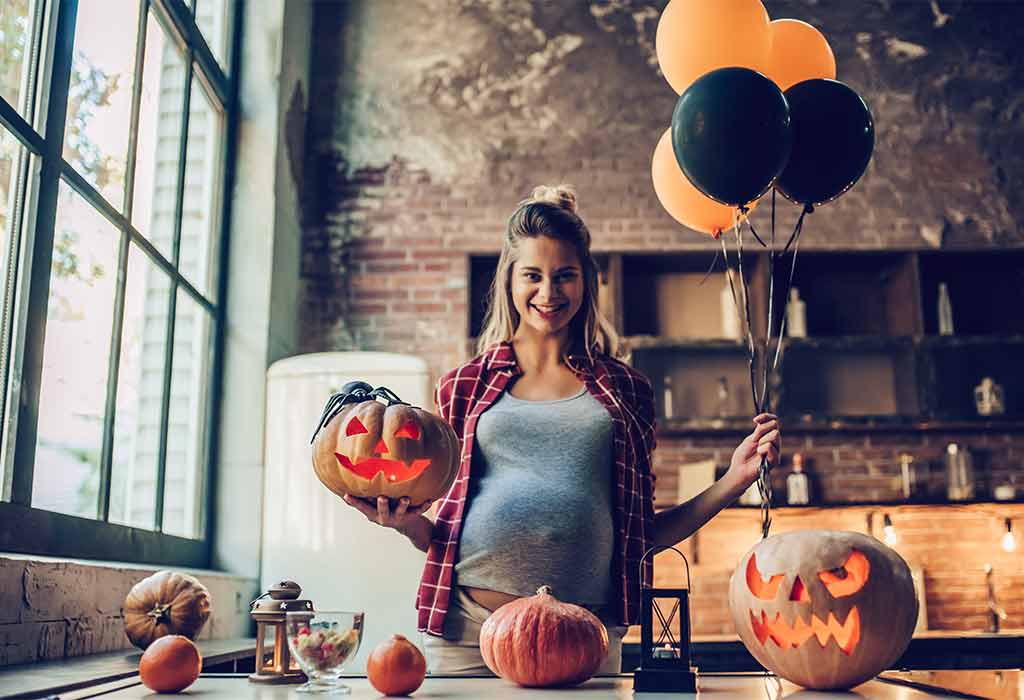 No other Halloween pregnancy announcement idea is better than this pumpkin pregnancy announcement idea. The would-be parents can make a big decorative Jack-O-Lantern or purchase one. They just need to choose a big pumpkin symbolising the expecting mother. In the big pumpkin, a smaller and cuter pumpkin will be placed inside it to symbolise the little bun inside mommy. For more effects, dress up the bigger pumpkin with some accessories the mother-to-be likes or wears. The cute little one will be accessories with things for a baby like small mittens, ribbons, etc. There can be another big pumpkin for the daddy, completing the family. Make sure to place a placard announcing the arrival, otherwise people might miss the announcement.
The couple can then post the pictures of these pumpkins online or mail them or just keep them at their Halloween party. The guests who see the pumpkins will know about their good news.
6. Mummy-to-Be
This spooky Halloween inspired pregnancy announcement is not for the light-hearted. The would-be mother will be dressed as an Egyptian mummy, covered in gauge or toilet paper and with spooky make-up and the daddy-to-be can be in any costume. He has the liberty to dress as an ancient king or just a commoner or anything. Just the would-be-mother needs to ensure the baby bump is visible; otherwise, the whole get-up would go to waste. The announcement is a witty pun, where the mother announces "going to be a mummy" while dressed up like a mummy.
7. Skeleton Mother and Baby
Another cool and creepy pregnancy announcement idea for the Halloween loving would-be parents. The mother can wear an expendable black outfit and draw a skeleton on her belly or get an iron-on skeleton sticker. There are even costumes available with skeleton print. Make sure the baby bump is visible or just tuck a pillow or cushion inside to make the bump. The mother can pose in her creepy costume and post the picture to her family and friends. For added effect, the daddy-to-be can also wear a similar costume and get the picture clicked.
8. Pumpkin Mother
What better way to announce the pregnancy and celebrate Halloween together! This is a cute and simple idea. The mother wearing all orange dress just needs to tie a big bow at her protruding belly, looking like a pumpkin. For added effect, if the belly is so not prominent tuck in a cushion to make the baby bump prominent. Dressing up as a pumpkin is a cute and fun way to announce the pregnancy. Post or mail the pictures or wear it to your Halloween party.
9. Pumpkin Family
Making a pumpkin family for your Halloween party is also a cute idea to announce the pregnancy. The would-be parents just need two big pumpkins and one small pumpkin. Then dress these pumpkins in woven bags or any other way you want. The couple can also paint them to make the bow, ties and dress for a colourful effect. There will be mom pumpkin, dad pumpkin and baby pumpkin. Keep these pumpkins at a prominent location in your house for everybody to see or just click the pictures and send to family and friends.
10. Pumpkin Photo-Shoot
Want to make your big fall pregnancy announcement but don't want to go overboard with a Halloween theme, then this is the ideal option for you. The would-be parents can get a photoshoot done in some park or forest with trees as their fall backdrop. Lots of pumpkins will be stacked with messages painted or written about their announcement. The pumpkins can be painted in different colours for vibrancy. The couple just needs to pose with them for the cute pregnancy announcement pictures. Mail the pictures to the family for announcing the good news.
11. Not a Trick, Just a Treat!
Next, we have a very cool Halloween theme reveal shoot. You can put up a sign that reads "No tricks, just a treat. Our family is growing by two little feet". Place a pumpkin, some flowers, and a scan around it. This is a witty way to reveal your pregnancy at your Halloween party, as this sign can be used as decor and everyone will understand at once. And in case it's a virtual party, you could also use this idea as a photo reveal to share with your friends and family online.
12. We Have Something Special Brewing!
Our next idea is definitely one of our favorites! Here you can have a baby onesie that reads "This Halloween, something special is brewing." The due date can be mentioned underneath. It is such an amazing idea and it's perfect, especially if it's a witch-themed announcement. This idea is very easy to pull off as you can buy this suit online. To add in a special touch, you can add a scan photo, a pumpkin and some brilliant Halloween decorations.
13. Hocus Pocus
Last, but not least, this pregnancy announcement theme is based on one of the classic Halloween movies – Hocus Pocus. You can include a Hocus Pocus sign, a pumpkin, a scan photo and a baby onesie that reads "Winnie I Smell a Child" with the baby's due date. This is a spooky and fun idea and is perfect for everyone who is a fan of Hocus Pocus.
14. Haunted House Announcement
Create a chillingly enchanting haunted house tableau. Amidst the eerie shadows, strategically place baby bottles, pacifiers, and other pregnancy-related paraphernalia. At the heart of this spectral abode, hang a sign illuminated with ghostly light, bearing the message "Our Little Boo is on the Way!" The ethereal ambiance captures the excitement of a new chapter in our hauntingly beautiful tale.
15. Bewitched Bookshelf
In a whimsical display, baby books come alive with a touch of magic. Watch as a broomstick hovers mid-air, suspended by an invisible force, while a wizard's hat perches precariously on a shelf corner. The air thrums with anticipation as pages rustle, whispering secrets of enchanting tales to come. Beneath this spellbinding sight, a sign proclaims, "A New Chapter Begins!"
Tell the world about your good news with these Halloween-inspired pregnancy announcement ideas. These ideas are innovative and cute and perfect for the Halloween theme. So, take inspiration and announce your good news in your own unique way.
Also Read:
How to Announce Pregnancy at Work
When is the Right Time for Announcing Your Pregnancy?
Effective Ways on How to Announce Pregnancy to Your Husband, Family and Friends