Coconut Oil for Stretch Marks During Pregnancy – Benefits and Usage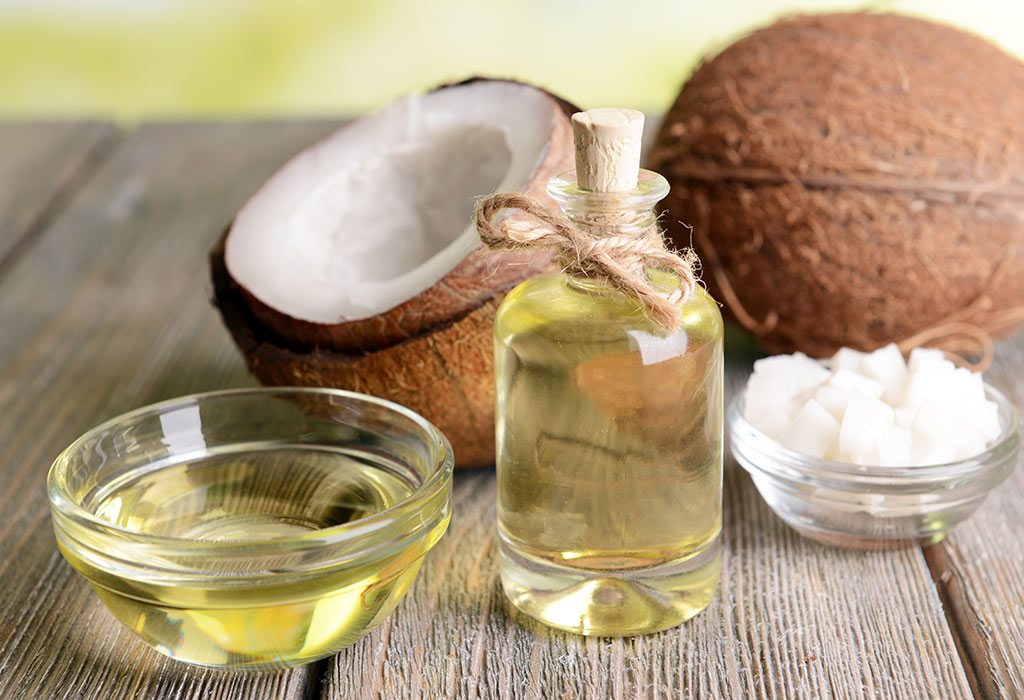 Stretch marks are a common thing to be observed after childbirth. Many women wonder how can coconut oil prevent stretch marks during pregnancy effectively. These remedies have existed for a long time, and many are rediscovering them in the modern era today.
How Does Coconut Oil Help to Reduce or Prevent Stretch Marks in Pregnancy?
While massages and certain essential oils help in bringing back the strength to your body after pregnancy and delivery, coconut oil has been known to be quite effective in reducing the presence of stretch marks.
Quite a common remedy used across homes in India, coconut oil is actually retrieved from the kernel after it has fully matured. A lot of households already make use of it as hair oil and something to massage the head with.
The oil has already found its effectiveness and usage in various ways. Many pharmaceutical industries utilize coconut oil in their medicines to derive from its health benefits. Similarly, a lot of moisturisers available in the market do have coconut oil as an essential ingredient to replenish dry skin.
One of the major constituents of coconut oil is Vitamin E. This element is primarily an antioxidant, which not only affects the body beneficially but also helps in quick absorption within the skin. All of it works together in allowing the skin to be firm and helps in removing the stretch marks.
Apart from tightening the skin as well as decreasing the sagginess after pregnancy, the health-boosting properties of coconut oil make it an easy anti-inflammatory, anti-fungal and anti-bacterial item.
The antioxidants present in the coconut oil work together in fighting the free radicals, thereby allowing the skin to repair itself and nourishing it. Since the oil is totally natural, there are no side-effects or complications that would arise as a result of using it.
The skin needs to rebuild its strength rapidly following childbirth. A lot of energy is required for this. Coconut oil contains numerous saturated fats that are a great source of energy for this purpose.
How to Use Coconut Oil for Stretch Marks While Pregnant?
Stretch marks may primarily appear on the stomach post-pregnancy. But they might also be present on your legs and arms, and even other parts of the body. Using coconut oil on all of those regions is important to reduce stretch marks considerably.
One of the added advantages of using coconut oil for this purpose is that it will help your skin recover its existing glow and radiance.
Make sure you rub coconut oil liberally on all the parts of your body wherever stretch marks might be present. Do repeat this at least twice or thrice in a day for good results.
You can rub the oil without any worry since it doesn't affect the baby in any harmful manner.
Massaging with coconut oil is also recommended during pregnancy as well. Doing that early on and continuing it after delivery can help bring better results.
When massaging with the oil, make sure you rub the skin properly and intensely so that all the oil gets absorbed fully. You can let it stay overnight or wash it away with some warm water after a while.
Some women tend to have stretch marks because they gained and lost weight considerably, as well as had a number of hormone-related issues. In these cases, heating a little extra virgin coconut oil and rubbing it on those areas before falling asleep can be effective.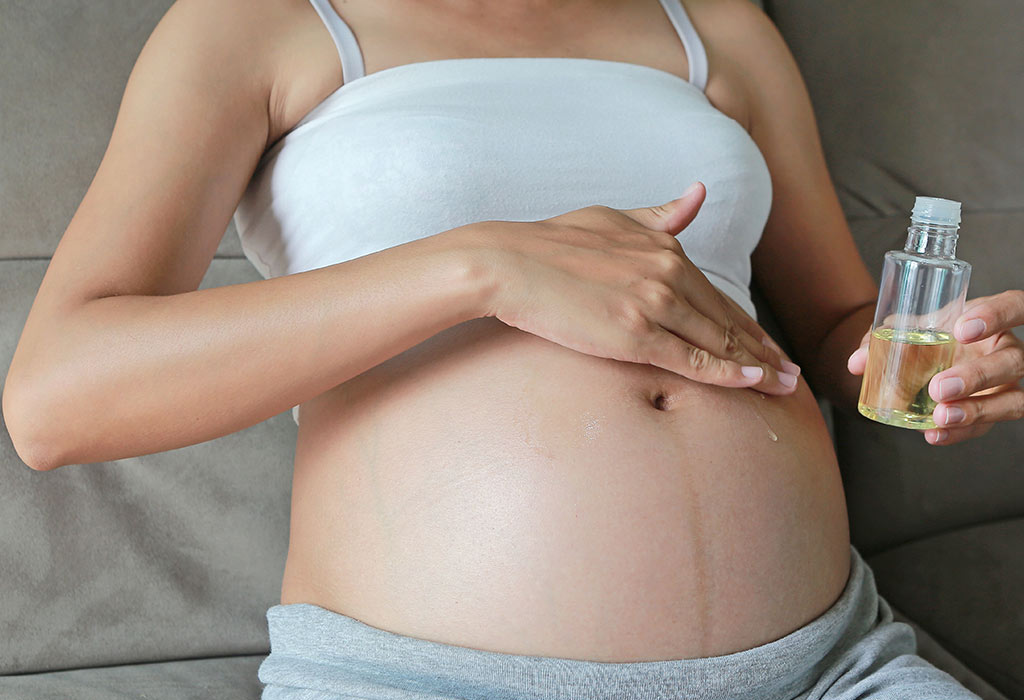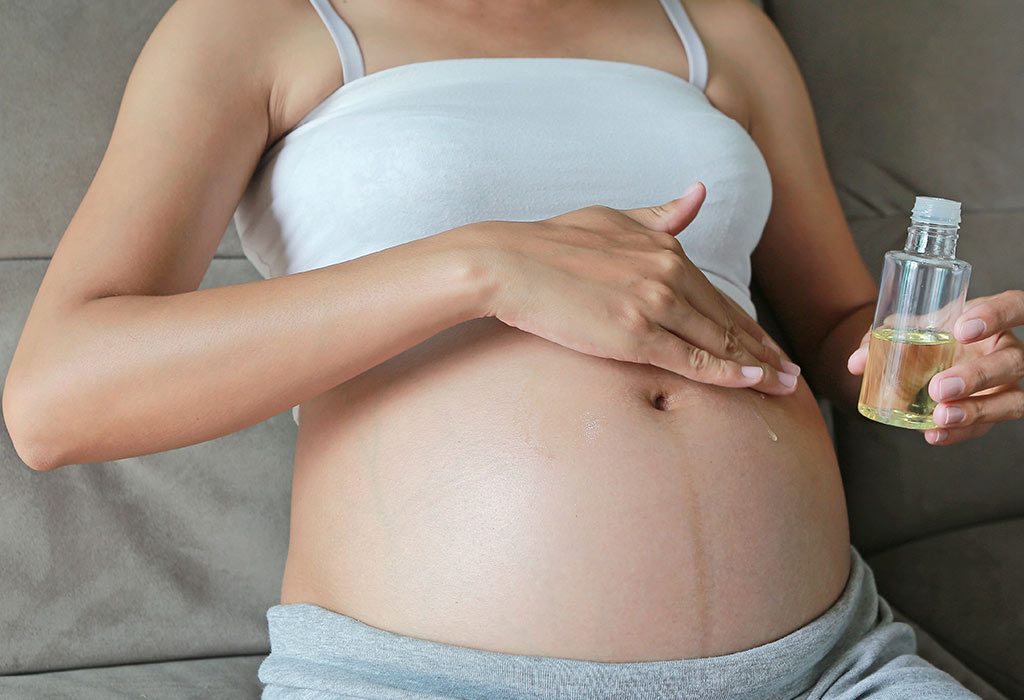 What to Expect While Using Coconut Oil for Stretch Marks When Pregnant?
Whether using virgin coconut oil for pregnancy stretch marks or even the normal coconut oil, the reduction in stretchmarks will not take place overnight. Regular application in the right manner is crucial to get the desired result.
Once that happens, stretch marks begin to change their colour. What was purple or reddish earlier, begins to morph into a slightly pink shade. With the further application of coconut oil, their colour changes to totally white or even have a silver tinge to them. The colour of your skin doesn't matter much, nor does the shade or intensity of the stretch marks.
The fading of stretch marks can be faster if the application of coconut oil begins during pregnancy itself. During that phase, massaging with coconut oil helps in smoothening out those marks and making them less evident. Later on, they can fade away and blend with the skin.
Some women tend to start using coconut oil for full-body massages right after their pregnancy is confirmed. This prepares the skin for the changes that are going to happen and provides it with the strength and elasticity it needs to encompass the enlarging body. Such women tend to have fewer stretch marks and even those are pretty light and undetectable.
Precautions for Pregnant Women While Applying Coconut Oil for Stretch Marks
While coconut oil itself is not harmful in any way, there are certain precautions a woman should take when applying the oil on her body.
Some women like to mix coconut oil with scented oil. Confirm the same with your doctor since that might trigger allergic issues.
Avoid mimicking any complex massage techniques that you might have seen on the Internet.
Use virgin coconut oil or natural pure coconut oil for the massage. Don't choose refined oil from the market.
Once you know that coconut oil is good for stretch marks during pregnancy, you can start using it in the right way rather quickly. Be patient and diligent with your efforts and the effects will show themselves soon.
Also Read: Eating Coconut during Pregnancy