White Pumpkin Soup Recipe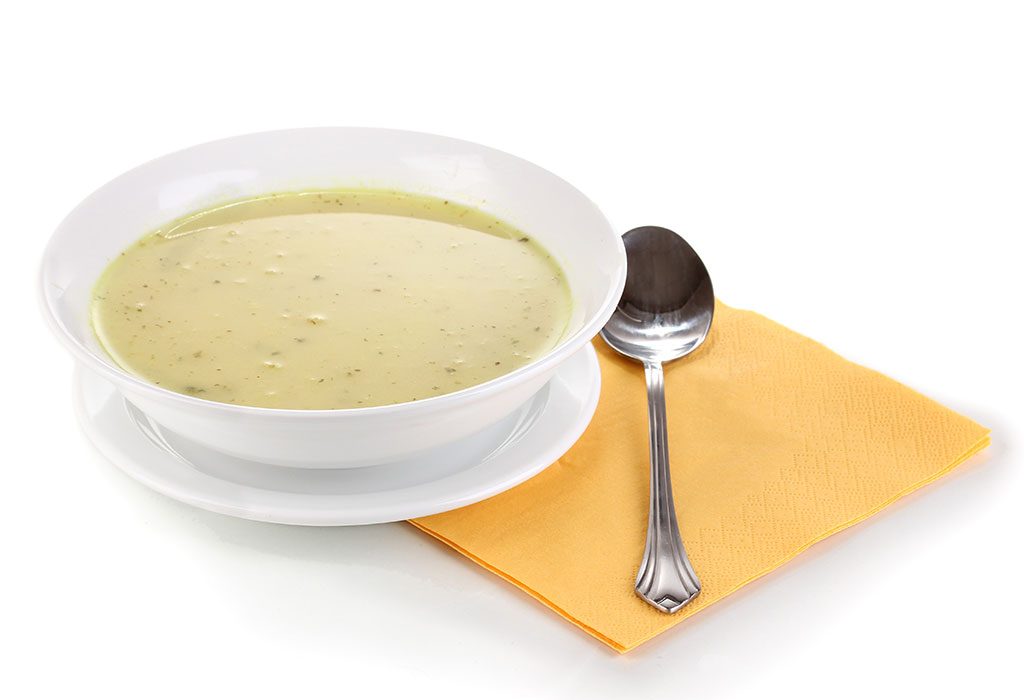 In this Article
Soups are a nutritious food option to be fed to kids with ease. Also, the proper mix of vegetables and spices makes it easy for you to feed vegetables to your picky eater. Pumpkins are not liked by adults too, but it has astounding health benefits attached to it. Today we will be making white pumpkin soup which is a delectable recipe and will be loved by your little one! Also, it doesn't take much time to get ready.
Video : White Pumpkin Soup Recipe for Babies and Toddlers

Some of the nutrients are better absorbed when you heat the food rather than eating it raw. Such is the story of a soup. When you add water into the soup, they become a great source of water-soluble vitamins.
Wondering about how to make white pumpkin soup? Let's start preparing the soup along with sharing the health benefits, tips, nutrient information, etc of this recipe:
Cooking Time
| | |
| --- | --- |
| Type | Time (hh:mm:ss) |
| Preparation Time | 00:10:00 |
| Cook Time | 00:30:00 |
| Total Time | 00:40:00 |
Cooking Method
Gas
Type of Meal
Vegetarian
Suitable For
Any babies above 11 months of age
Meal Schedule
Breakfast, Mid Morning Snack, Lunch or Evening Snack.
Recipe Type
Side Dish
Ingredients
| | |
| --- | --- |
| Ingredient | Quantity |
| White Pumpkin(chopped) | 250 g |
| Coriander Leaves(chopped) | 2 tbsp |
| Ginger | 1 inch |
| Butter | 1 tbsp |
| Oil(for frying) | 3 tbsp |
| Coconut powder | 2.5 tbsp |
| Water | As per requirement |
| Salt | As per taste |
Instructions
Following are the step by step directions to prepare white pumpkin soup for your kid:
Take a pan and add oil to cook the pumpkin.
Once the oil is hot add ginger, coriander leaves, and white pumpkin.
Add water into the pan and simmer the flame. Cook until the pumpkin turns soft.
Take a grinder jar and add pumpkin to it. Grind the mixture into a smooth paste.
Strain the mixture to obtain liquid from it.
Heat the obtained mixture in a pan and add water as per your taste. Do not make the soup too watery else the child might not like it.
Take half glass water and add coconut powder to it. Mix it well.
Now add the coconut powder water into the pan which contains soup.
Add butter, salt and black pepper (optional) into the soup.
Serve the soup hot.
Recipe Tips
Following these easy tips will enhance the taste of this homemade white pumpkin soup baby food recipe:
This soup once prepared can be stored in the refrigerator for later use until 24 hours. Heat and serve after taking it out of the refrigerator.
You must remove the pumpkin seeds properly before using it in the recipe. Else the taste might get spoiled.
Wash your hands properly before starting to prepare this recipe.
Nutrition Information (Per 100 Grams)
| | |
| --- | --- |
| Type | Value |
| Energy | 0.035 kCal |
| Carbohydrates | 5.2 gm |
| Protein | 1.3 gm |
| Dietary Fibre | 0.6 gm |
| Fat | 0.9 gm |
| Vitamin C | 2.9 mg |
| Vitamin E | 0.9 mg |
| Vitamin B9 | 11.5 mcg |
| Iron | 0.5 mg |
| Calcium | 13.5 mg |
| Phosphorus | 30.7 mg |
| Magnesium | 33 mg |
| Potassium | 130 mg |
| Sodium | 13.4 mg |
Health Benefits
Following points will introduce you to the advantages of this easy white pumpkin soup recipe:
The recipe holds a good amount of potassium which keeps the kid hydrated. Also, it helps in improving your child's metabolism and boosting the immune system.
The recipe is loaded with vitamins and minerals and hence is good for your child's vision, skin and hair. It also helps in the healthy development of tissues and bones in your growing child.
Pumpkins are known as good antioxidants. Hence these neutralize free radicals thereby reducing the chances of chronic illnesses.
The recipe is rich in iron too. This keeps the child energetic and maintains their hemoglobin level.
Pumpkin also helps in regulating bowel movements and solving indigestion issues in your child.
The coconut powder present in this recipe not only adds taste but helps in fighting infections and is good for your child's gut.
Buying Guide
White Pumpkin soup for toddlers recipe needs that the ingredients should be bought with utmost care. Following points needs to be kept in mind:
Buy the vegetables for this recipe from an organic store. This ensures safer methods of farming and hence your child does not ingest harmful pesticides.
Try making this quick recipe for your little one at home. Also, it will be nicer if this soup gets added to their daily diet as it is extremely nutritious.