When to Schedule Your Child's First Dental Visit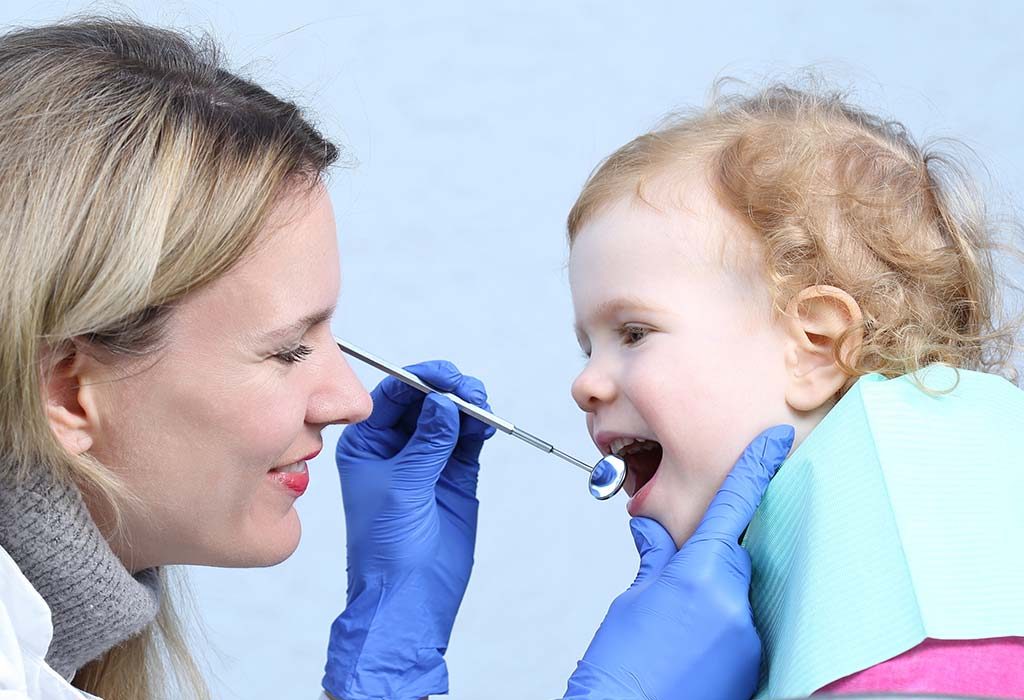 You love your baby's smile, don't you? Every time he smiles at you and shows his tiny teeth, you are overjoyed. But if you don't want any harm to come to him and his cute teeth, you need to ensure that his gums and teeth remain healthy! For that, you will have to probably build a proper oral care routine for him early on which will last a lifetime. So, make it a point to schedule an appointment at a paediatric dentist for your baby as soon as you see a tooth sprout, or when he turns one.
When Should a Baby Have His First Dental Visit?
As a new parent, you are less likely to be concerned about your baby's dental health during his early years of life, but it is something you should not ignore. It is highly important for you to know the age when your baby will be ready for his first dental visit. As per the guidelines from the American Academy of Paediatrics (AAP) and the American Academy of Paediatric Dentistry (AAPD), the recommended age for the first dental visit of a baby is within the 6 months after his first tooth sprouts or when he turns one year old.
What Happens at a Child's First Dental Visit?
You don't need to worry about your little one's first visit to a dentist because the majority of the first visits to the pediatric dentist are short, straightforward, and quick. The dentist shall ask one of the parents to sit on the dental chair holding the baby while he examines him. In the first visit, the dentist will look for the following things.
He will count your baby's teeth.
He will examine the existing teeth for any decay.
He will check how your child bites.
He will look for any potential problems in gums, jaws, or the oral tissues.
He may even cleanse your baby's teeth if required.
He will provide you with information on feeding practices, baby bottle tooth decay, teething, pacifier or finger-sucking habits and mouth cleaning.
He will also tell you about oral hygiene habits for your child and may suggest when to schedule the next appointment.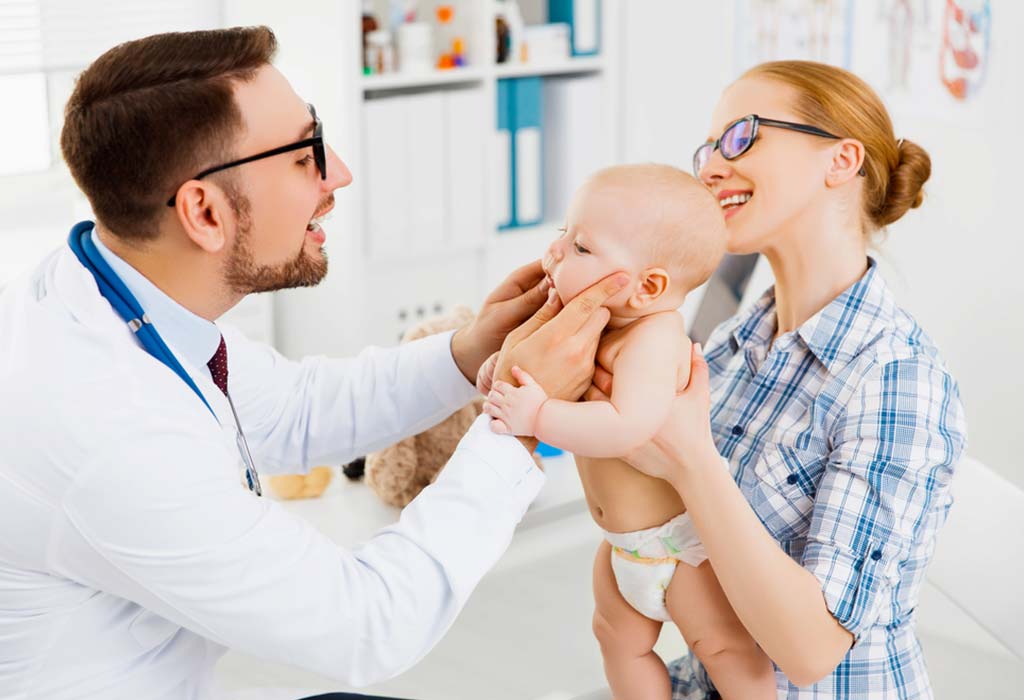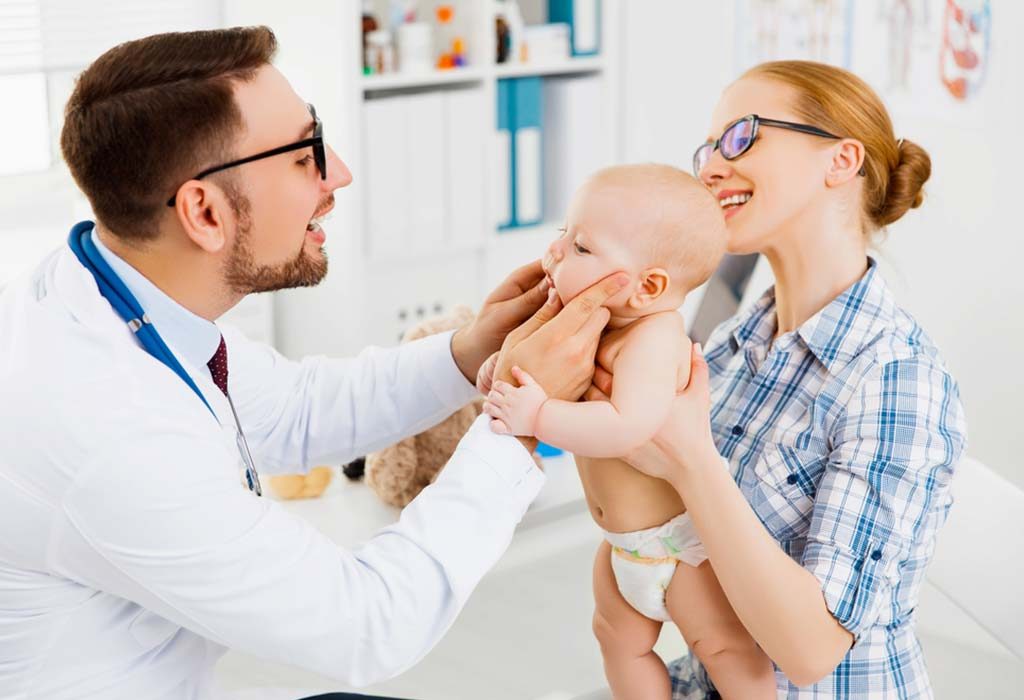 What to Do If Your Baby's Tooth Breaks or Cracks?
If your baby happens to crack or break his tooth, a visit to the dentist is recommended. Meanwhile, you should clean his mouth with warm water and pat it dry with a clean cloth. You can also apply a cold compress on your little one's face at the sore spot. When you meet the dentist, he will then check for any remnants or sharp edges of a tooth. He will also check for any swollen gums or possible cracks in the teeth which may cause problems like fractures affecting nerves or teeth infection.
When Should a Baby Get His First Dental X-Ray?
Usually, a dental x-ray for babies is not recommended because their teeth fall out with time. However, most children's first dental x-ray is taken when they are 5 or 6 years of age. It is during this period when a child's adult teeth start appearing. Hence, an x-ray taken at this time helps a dentist examine if the root of a jammed baby tooth is affecting the growth of an adult tooth or not. But for some babies who have dental problems such as tooth decay or cleft lip/palate and similar, shall require taking their dental x-rays much earlier than others.
How to Make a Baby Ready for His First Dental Visit
It is common that babies do not welcome strangers to carry them or touch them. Parents often face a challenge when taking their child to a doctor. It is best to schedule an appointment in the morning hours when your child is alert and fresh. To help ease your baby's anxiety and to make him aware of the possible activities at a dentist's office, you can do the following:
Make your baby look at picture books with dentists in them.
Ask your child to open his mouth. Once he does, pretend to count and examine his teeth. Practise this with your little one often, and he will be ready for his dental visit.
Pretend to be a dentist. Hold a toothbrush and a stuffed animal toy and show your dentistry skills to him.
When going to a dentist, do carry some distractions for him like colour pencils or comfort toys.
Give him lots of reassuring hugs.
Tips for First Dental Visit for Your Child
You need to be proactive about your child's oral health today so that you can keep his smile healthy for life. Make your child familiar about the dentist, start talking to him positively about what shall happen at the dentist's clinic. To have a smooth and hassle-free visit, consider the following tips.
Prepare a list of concerned questions to ask the dentist.
Carry a list of your child's current medications if any.
Be prepared to fill out forms regarding health history.
Ask for the forms prior to your visit if you may fill them up at home instead.
Pick a time for the appointment when your baby is usually at ease and cooperative. Do not disturb him at his nap time.
Ensure that your child has had a light meal before the appointment so that he is not hungry. You may carry some snacks for after the visit.
Difference Between a Paediatric Dentist and a Regular Dentist
A child's first visit to the dentist should be a memorable one because children often tend to remember their experiences with places and individuals. In general terms, either of the dentists can examine and respond to the oral health care your child needs. However, the major difference is that the paediatric dentist holds 2 years of additional training beyond the regular dentistry course. The extra training provides him with the expertise in child's behaviour, management and treatment of a child's developing teeth, his physical growth & development and any specific needs in the child's dentistry. Therefore, when you visit a paediatric dentist, you shall observe that your child is taken greater care of and put at ease in a better way when compared to the regular dentist.
Closely observe the oral health of your child from an early age. By keeping a positive working rapport with a paediatric dentist, you can ensure that your child receives proper dental care early on. It will eventually help your child to get accustomed to a healthy oral care routine.
Also Read: How to Take Care of Baby Teeth