What Is a Doula and How to Choose the Right One?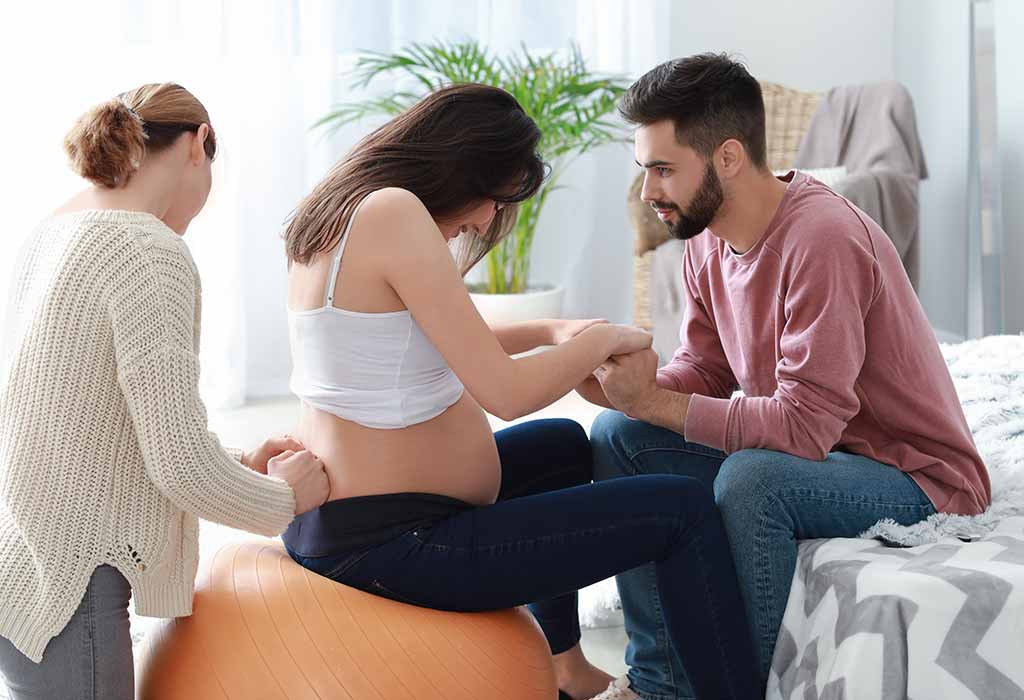 Like many expecting women, you probably would have planned your labor and birth with great detail. While no labor is smooth sailing, what makes it a more positive experience is to have trusted people who can meet your emotional, physical, and informational needs when you are in the middle of it. It could be anyone – your partner, family member, or even a friend. A growing trend lately is to hire doula services to help with labor. Doulas are a part of the birthing team present with you as your support throughout the whole process. This article explains who a doula is, what she does, and how to hire one.
What Is a Doula?
Doula is a Greek word that means "a woman who serves." Doulas have been part of childbirth around the world for centuries, and in the modern day, they are trained and certified birth coaches who play the role of the "mother of an expectant mother." There are different types of doulas, such as birth, postpartum, and antepartum doulas, who provide various services starting from emotional to physical support.
The main role of doulas is to give you continuous support, comfort, and encouragement during labor, and unlike your OB/GYN or midwife, they do not possess any medical training. A doula's purpose is to be a comforting, soothing voice that guides you through breathing exercises and relaxation techniques, along with advice on labor positions, and more. Doulas can also act as a mediator between you and the hospital staff, and can patiently explain the medical procedures and what comes with them.
Your doula will visit you before your due date, and tell you the process of labor and delivery in order to ease your anxiety and make you more comfortable with what is to be expected. She can also offer a number of non-medical pain management methods such as massages, reflexology, aromatherapy, and chants. She will try to find the right combinations that work for you, and help you prepare for the big day.
Types of Doulas
Doulas specialize in a number of areas, such as:
1. Labor/Birth Doula
The birth doula is a doula's traditional role. She stays with the mother during labor, and supports her through childbirth. First, she will meet the pregnant mother or the couple several times before childbirth, to understand the mother's expectations, preferences, and goals. She will be available to assist when the mother goes into labor. Some birth doulas also work with hospitals, and only join during the labor if the mother requests a doula. Birth doulas normally maintain close contact with the family in the days following the birth, and even visit the family once after a week or two.
2. Postpartum Doula
The postpartum doula has the job of supporting the new mother and her family in the first few weeks after the baby is born. The job might sometimes be done by the birth doula as well, who wishes to continue helping the mother after childbirth. If working exclusively as postpartum doulas, they will be called and put on standby when the baby is born. Upon arrival, a doula's duties will involve assistance with breastfeeding, emotional support for the mother, physical help such as preparation of meals, child care, laundry, housekeeping, running errands, and looking after older kids.
3. Antepartum Doula
Antepartum doulas are a bit more specialized, and help pregnant women with high-risk pregnancies. They provide emotional and physical support to these women who are undergoing a difficult pregnancy, and help them become comfortable with their condition. The doulas also help in preparing the mothers mentally for their birthing experience, so they won't be too anxious as the days get closer. They also offer plenty of knowledge and information about what to expect, as well as positive reinforcement. Some of them even transition into birth doulas during labor and postpartum care.
4. Sibling Doula
The sibling doula stays with the older children of the mother who is going to give birth, and looks after them when the parents are busy. She may also be experienced in childbirth, and helps children understand what their mother is going through, and puts them at ease if they are tensed or worried. She will also prepare them for the new baby's arrival and what to expect, along with the changes that are about to happen in the family, in the most comfortable manner. The sibling doula will meet with the family a few weeks prior to the due date, to get to know the children and become comfortable with them. She will remain with the siblings throughout the childbirth, and may even handle their transportation and care when the parents are unavailable.
5. Bereavement Doula
A bereavement doula is tasked with comforting mothers who are anticipating or experiencing a loss of pregnancy, such as a miscarriage, a stillbirth, or a terminal diagnosis during pregnancy. They are responsible for providing informational, physical, and emotional support, both as a friend and a mentor, to help them cope with their journey of loss. The support might continue throughout pregnancy, birth, and after the loss.
What Are the Benefits of Having a Doula?
Doulas offer a lot of benefits for mothers and families who are expecting a child.
1. They are professional labor assistants.
Doulas visit prior to the due date to get to know the mother and their families so they can build a rapport and a bond with them. They offer information and guidance during the last few weeks before delivery, and are always available when needed. During the labor, they will be by the mother's side to explain the procedures and steps, which the other staff may not have the time for. They also give massages, emotional reassurance, and assistance throughout all phases of childbirth.
2. They provide continuous support during labor and delivery.
The primary role of the doula is to provide support to the mother during labor and delivery, so that her experience is not stressful. It has been seen that the presence of doulas decreases the need for pain medications, the length of labor, and negative experiences during childbirth.
3. They provide support for the whole family.
Doulas are trained to be emotional and physical supports for the whole family. They stay with older children and take care of housekeeping to assist the family before and after the delivery. They will work at their best to ensure that the new birth is not stressful for the whole family.
Roles and Responsibilities of a Doula
It's important to understand that, unlike doctors and trained midwives who have years of medical training, doulas do not perform medical procedures of any kind. Their role is to make the space feel safe for the woman in labor, and help her cope with the stress of childbirth. They could also be monitoring who enters the room, and giving assurance to the mother with her presence. Doulas are also of tremendous help to young first-time mothers, or those who have no family to guide them through the labor and delivery process. They can offer information and simple but highly helpful tips to make up for the lack of guidance and support for mothers without a family.
Training and Certification
Since they do not perform any medical procedures, doulas don't need to have a certification. However, a certified birth doula with many hours of training and practical experience can offer a better sense of security to women. One of the most popularly known certifications for doulas is given by DONA International, which offers practical hands-on training for doulas.
Questions to Ask a Doula
Before hiring a doula, you can have an interview round to understand her competence and compatibility with your family. Here are a few questions that you can ask her:
How many births have you assisted?
Are you certified by a well-known organization? If so, may I see the certification?
What is your philosophy of childbirth and motherhood?
Why did you decide to become a doula?
How would you describe your style, and how is it similar or different from others?
Do you attend at-home births along with hospitals? Are there any centers you don't go to?
How does your pricing work? What happens if I am taken to an emergency C-section, and labor support is no longer required?
Do you meet with me prior to the birth and stay afterward to continue your services?
Do you have any reviews, and is it possible to speak to any references you may have?
How to Find the Right Doula
The best way to find a doula is through referrals or word of mouth. You could look at high-rated agencies that offer doula training and services. What's more essential is that you have good chemistry with the doula, as it can be counterproductive to hire a trained doula with whom you have no chemistry or good energy. Start around the third trimester to give yourself ample time to search for one, and start with those candidates who have a similar approach and philosophy as you do. Have clear expectations about the types of services you need, and where to draw the line and interview the prospects on the same lines. If you see any major red flags, such as strong opinions about the philosophy of childbirth or a history of conflict with health centers, those are the ones you should reject.
How Much Do Doula Services Cost?
The cost of a doula can vary depending on the region, and can range from $800 to $2,500. The average is about $1,200 around the country. Some of them have a flat price, while other charge by the hour. While having a doula is an extra expense you will incur, many insurance companies cover the costs as part of the plan. Call their benefits department to learn more. You will probably have to pay them first, and then submit a claim for reimbursement.
Doulas are birth support coaches and are present to help you with your labor and delivery. They do not have medical training, and cannot suggest or impose their views on the process. There are different types of doulas who perform a range of tasks, starting with looking after older siblings and helping with the baby during the first few weeks of delivery. Do your research well if you are looking for a doula, and hire one who the feels like the best fit for you and your needs. All the best!
Also Read: