Vegetable Stew Recipe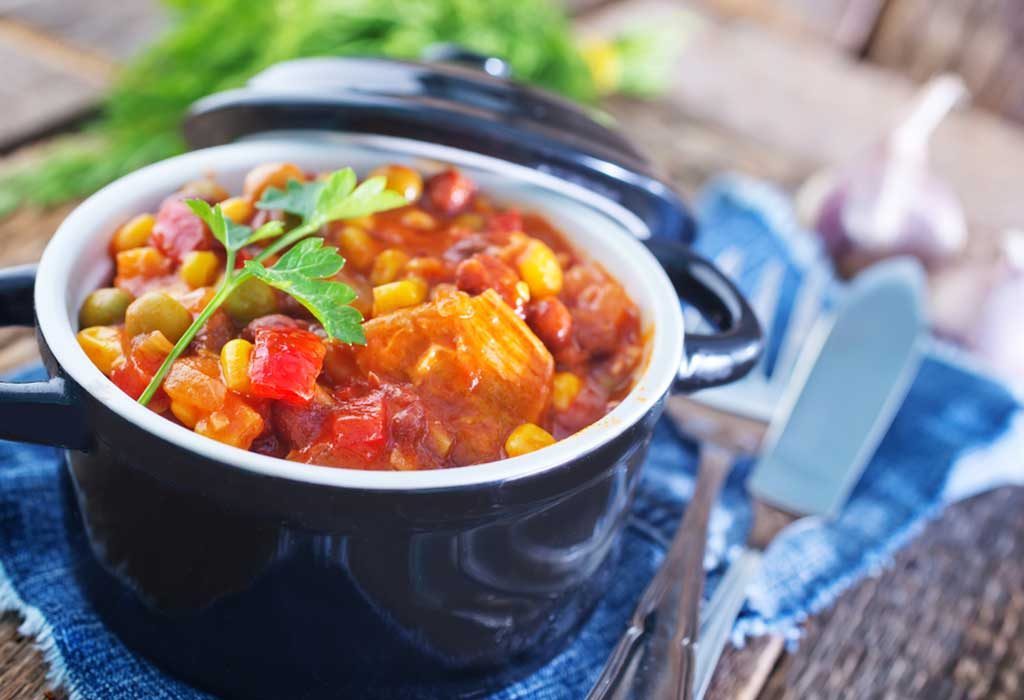 Introducing solids to your weaning baby is a vital process of establishing a healthy eating habit and limiting fussy mealtimes. This milestone can be crossed smoothly by feeding vegetables in the form of stew to your baby. The choice of varied vegetables used to cook this recipe encourages the acceptance of different textures, colours, flavours, and consistencies. Once your baby's tummy gets adjusted to clear vegetable stew it is time to cook a mix of vegetables in a mildly spiced stew. Easy to cook, vegetable stew can be accompanied by steamed rice, bread, or appams. Note down the recipe of how to make vegetable stew most simply and it could become a regular item in your baby's weekly diet.
Video: Vegetable Stew Recipe for Toddlers – An Step-by-Step Guide
Cooking Time
| | |
| --- | --- |
| Type | Time (hh:mm:ss) |
| Preparation Time | 00:10:00 |
| Cook Time | 00:30:00 |
| Total Time | 00:40:00 |
Cooking Method
Gas
Type of Meal
Vegetarian
Suitable For
Toddlers older than 15 months of age
Meal Schedule
Breakfast, Lunch or dinner
Recipe Type
Main Dish
Ingredients
| | |
| --- | --- |
| Type | Quantity |
| Carrot | 1 Tbsp. |
| Beans | 1 Tbsp. |
| Green Peas | 10 taken from the pod |
| Water | As Needed |
| Salt | As Per Taste |
| Ghee/Clarified Butter/Oil | ¼ Tbsp. |
| Tomato | ¼ Cup |
| Pepper Powder | ½ tsp |
| Minced Garlic | 2-3 Cloves |
| Small Onion | 1 |
| Corn-starch | 1 Tbsp. |
| Dried Rosemary/Celery | 1 Tbsp. |
| Ginger | 1 Inch |
| Potato | 1 |
Instructions
Follow the step by step directions given here to master the art of making the perfect vegetable stew for your little one.
Wash the vegetables in running water. Peel and cut the carrots, potato into small dices. Chop the beans into equal sizes. De-seed the peas from the pod.
Steam the chopped veggies in a steamer for about 10 minutes.
Once the vegetables are soft, cool, and blend them in a mixer till smooth.
Heat butter in a pan. Add the onion and sauté till it turns transparent.
Add the minced ginger, garlic, chopped tomatoes, and stir. As the tomatoes become mushy, pour in the vegetable broth.
Turn up the heat to boil. Mix 1 tsp of corn-starch with 2 tablespoons of water in a bowl.
Add the corn-starch to the stew. Stir it till the consistency becomes thick. Add more water if needed.
Add seasonings like salt, pepper powder, and herbs on top.
Switch off the flame and serve warm.
Recipe Tips
This simple vegetable stew recipe can be made using coconut milk instead of water. While adding curry leaves replaces the Italian seasoning.
Strain out the tomatoes if you think its skin or seed might cause choking while eating.
Sterilize the vessels well that is used for cooking and feeding your baby.
Make the baby sit in an upright position to feed the baby to avoid choking.
Feed each of the vegetables used in this recipe individually to ensure no allergies have been found.
You can pressure cook the vegetables with three whistles before making the stew.
You can even use a combination of dals with vegetables for this homemade vegetable stew baby food recipe.
Nutrition Information (Per Serving)
| | |
| --- | --- |
| Type | Value |
| Carbohydrates | 23.25gram |
| Calories | 134kcal |
| Protein | 6.33gram |
| Sodium | 540mg |
| Fiber | 4.1gram |
| Fat | 2.32gram |
| Potassium | 526gram |
| Calcium | 38mg |
| Vitamin C | 20.3mg |
| Vitamin A | 4130IU |
| Iron | 1.74mg |
| Sugar | 4.61gram |
Health Benefits
A warm bowl of vegetable stew has the best therapeutic property for a sick child. Nevertheless, you can make this dish on other times too to meet the nutritional needs of a growing child:
By sneaking vegetables into this dish, you can ensure that your child is getting well benefited from the essential vitamins and minerals present in the vegetables.
Carrots are a rich source of fibre, beta-carotene, potassium, Vitamin K1, and antioxidants. Carrots promote good eye health and are used in an effective weight-loss diet.
Beans are a good source of protein, vitamin C, folate, Vitamin A, fibre, and antioxidants. Start beans in small quantities for babies as undigested beans can increase flatulence.
Buying Guide
This shopping guide helps you to make informed choices about the products that are needed to make the tastiest vegetable stew for your baby.
Use unsalted butter for cooking for babies. Branded butter can be bought from a reputed store.
Spices can be bought in small quantities as they lose their aroma and colour easily. Check the expiry date of the sealed pack of spices.
It is always better to choose organically grown vegetables. Fresh vegetables can, however, be bought from the local farmer's market.
Check the ingredients mentioned on the label of the edible oil packet.
Self-fed or spoon-fed, homemade vegetable stew for babies always tastes best when made with love and care by doting mothers. This rich, savory broth is surely a healthy substitute for any packaged products that are readily available in the market. Serve it a little warm and your kid is sure to love it!