Is Ubtan Safe for Babies?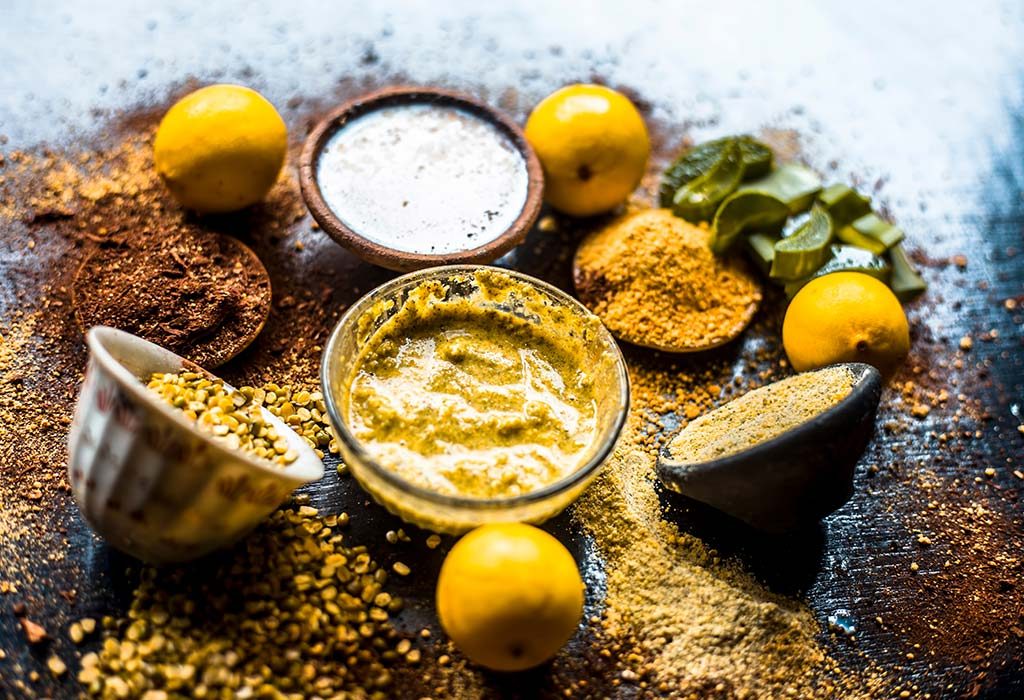 Ubtan is a traditional Indian mixture used on babies. However, before trying this on your newborn, you need to know whether it is safe to use, the risks, and precautions to consider. Read on to know more.
What is Ubtan?
Ubtan is a mix of natural and herbal ingredients. It is used as a skin cleanser and homemade body scrub for babies as well as adults. Ubtan is often used as a substitute for store-bought soaps. It comprises mainly three ingredients – ground lentils and flour, herb powder, and milk or rose water to form a paste. Adults use it as a natural face mask to get clear and smooth skin. Ubtan is traditionally used to massage newborns during bath time.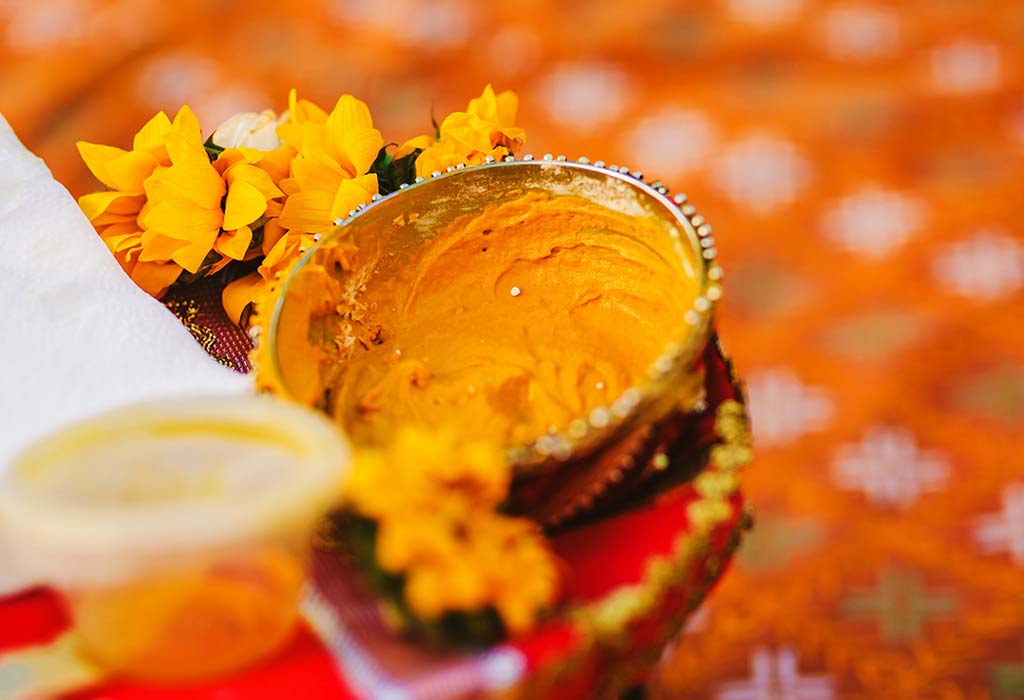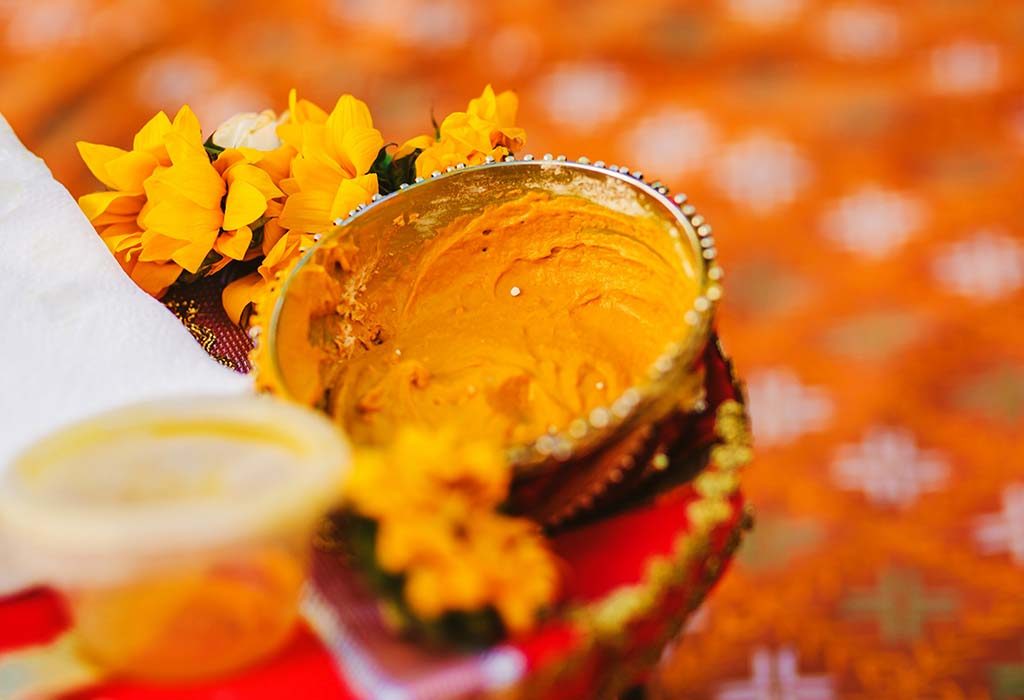 For instance, besan ubtan for babies consists of 4-5 raw almonds, ¼ tsp turmeric powder, ½ tsp red lentil powder, 1 tsp chickpea flour (besan), 1 tbsp almond oil, 1 tbsp milk, and 1 tbsp rose water mixed together to form a thick paste. To use, wet your baby with lukewarm water and massage the ubtan paste over his body gently. Let it remain for 1-2 minutes and then wash off with lukewarm water.
Masoor dal ubtan for babies is made of 4 tbsp red lentil powder (masoor dal), 2 tbsp turmeric powder, 1 tbsp sandalwood powder, 1 tbsp almond oil and ½ tbsp of milk cream mixed together to make the paste. Masoor dal ubtan is used in the same way as besan ubtan.
Is It Safe to Use Ubtan for Infants?
Although applying ubtan is a practice that has been followed for hundreds of years and is said to be beneficial for the babies' skin, it is best to exercise caution and know about the risks before trying ubtan on your newborn. The benefits include:
Nourishes the skin and keeps it healthy, as it contains nutritious ingredients like milk and lentils.
It can be used instead of soap as an excellent skin cleanser.
Ubtan is an effective natural exfoliant. It removes dead skin cells and makes the skin clear and smooth.
Ubtan is believed to be beneficial for skin problems like pigmentation.
The rose water and milk cream used in ubtan are soothing for the skin and reduce inflammation.
Despite these benefits, it is still wise to consult your baby's paediatrician before trying ubtan on your baby's delicate, sensitive skin.
When Is It Safe to Use Ubtan on Your Baby?
Ubtan is safe to use on your baby only after at least 15 days of birth. The baby's umbilical cord stump should have completely dried and fallen off before you start ubtan. You should also talk to your baby's doctor before trying new things like ubtan on your baby. It is also not safe to use ubtan if she has skin conditions like baby eczema or acne.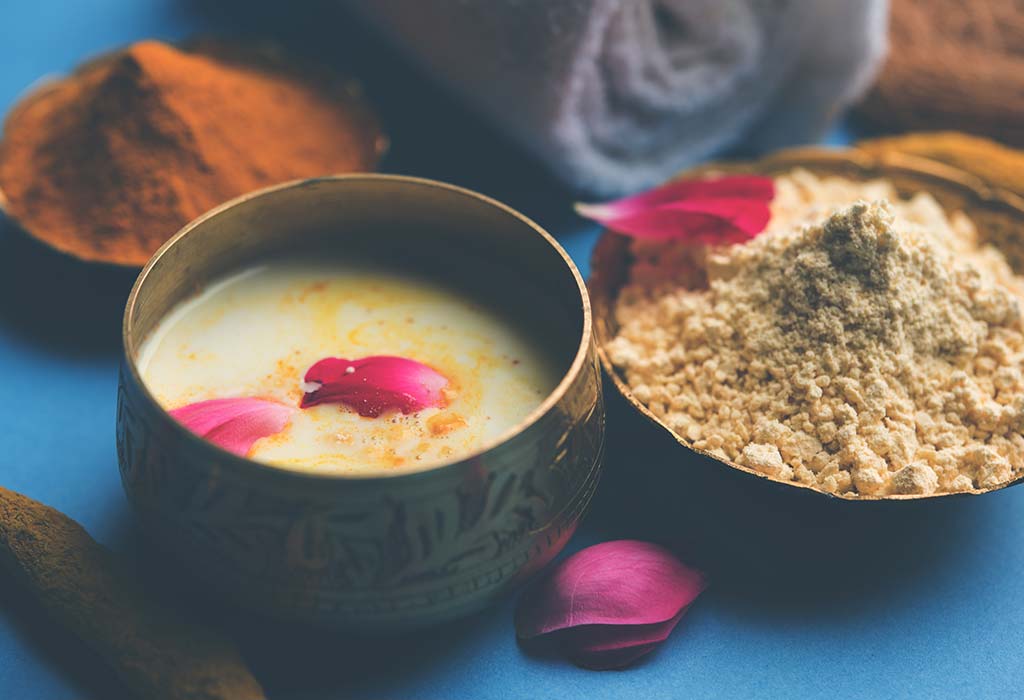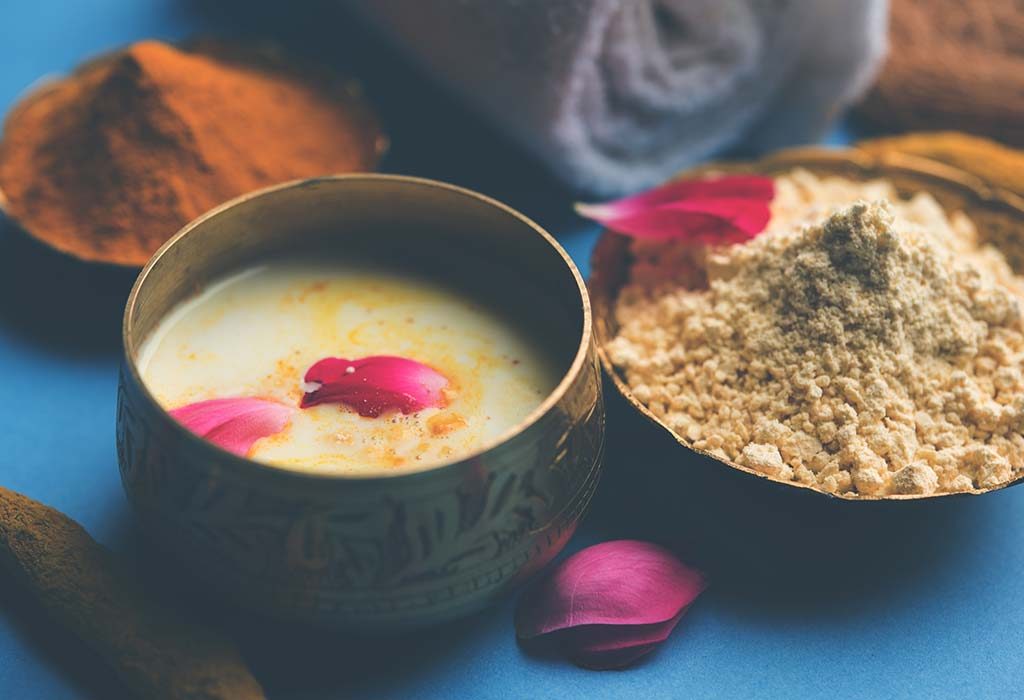 Possible Risks of Applying Ubtan on Your Baby's Skin
Although ubtan is a traditional Ayurvedic practice that is beneficial for your baby's skin, there are several risks associated with its use:
The coarsely ground lentils in the ubtan can be abrasive to her skin if you do not massage it gently.
The baby may be allergic to one or more ingredients in the ubtan, causing adverse skin reactions like rashes.
If you allow the ubtan paste to dry on your baby's skin, it can be very hard to remove.
Things to Keep in Mind If You're Considering Ubtan for Your Baby
Before using ubtan for your baby, do keep in mind the following tips and precautions:
You can start using ubtan on your infant only two weeks after birth. Also, use it after the belly button has healed completely.
Consult your paediatrician before using ubtan.
Do not allow the paste to dry on your baby's skin as scrubbing it off can be painful for your little one.
Do not try to use it to remove the baby's lanugo (the protective, fine hair covering the newborn's body). It is best if you allow the lanugo to disappear on its own.
Do not use ubtan more than 2 to 3 times a week as it can cause abrasions on your baby's sensitive skin.
Ubtan is beneficial for your baby's skin if used gently and with caution. Take extra care and use this bath time massage to bond with your precious little one.