Infant Swings and Your Baby – A Complete Guide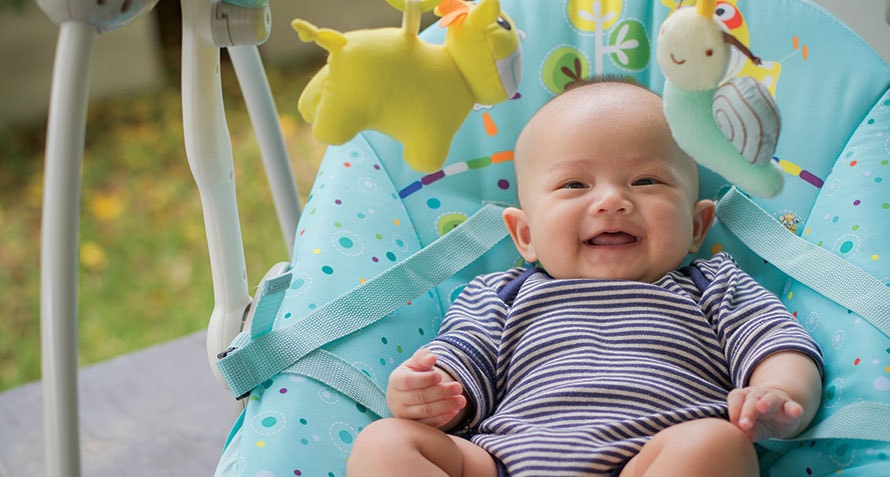 In this Article
Are you finding yourself pacing up and down with your baby in your arms, to put her to sleep? Do you end up running to your baby every time she cries? If you want a break from the routine chores of attending to your little one, an infant swing can do the job. Infant swings are known to have a gentle swaying motion that resembles the environment of the mother's womb. So there are high chances your baby will calm down or fall asleep on an infant swing.
A swing can come in handy when you want to soothe a colicky baby or also for your baby to take short naps in a semi-upright posture. Buying a swing can be tricky if you do not know what you are looking for. Keeping your choice simple and having a good knowledge about swings can help you a great deal with choosing the correct kind of infant swing.
Types of Infant Swings
1. Travel Portable Swings
For those of you who love to travel, these kinds of swings can be your best pick. These swings are designed to be folded and moved from place to place. They can be shifted to different places within your house, in your car, and also a motel in your tourist spot.
2. Full Size Baby Swings
These kinds of swings are designed for those of you who like it stationary and want your baby to stay in a place. It is designed best to be indoors and offers a variety of other features
Features to Look Out for
1. Frame
Look out for ones with strong frames and handles if you prefer the indoor type of swings. It's important that your baby should not fall when he tries to lean on one side.
2. Seat Settings
An ideal swing should have three reclining positions which are best suitable for your baby. These reclining positions help soothe and put your little one to sleep sooner than normal. Pick up a swing where the angles can be easily adjusted according to the baby's comfort.
3. Entertainment
Many swings come with toys, musical instruments and colourful objects. These additional add-ons keep your baby tuned and distracted. If your little one is fussy all the time or demands your attention more than required, these entertainment gigs on the swings will keep your little one hooked.
4. Speed
Most swings are either electrical or battery operated. Make sure you don't pick up a swing that has more than four speeds, as higher speeds can annoy your little one rather than relax him. Also keep in mind the age of your little one before picking up the swing. New-borns may require slower speeds and those above 1 year can opt for a higher speed.
Although infant swings can be a good option to calm your baby, make sure you never let your little one unattended for too long. Infant swings are useful for those little breaks you may want to take from your baby. Choose the one that fits right to your needs and budget. Your baby will surely have a joyful time on his swing!