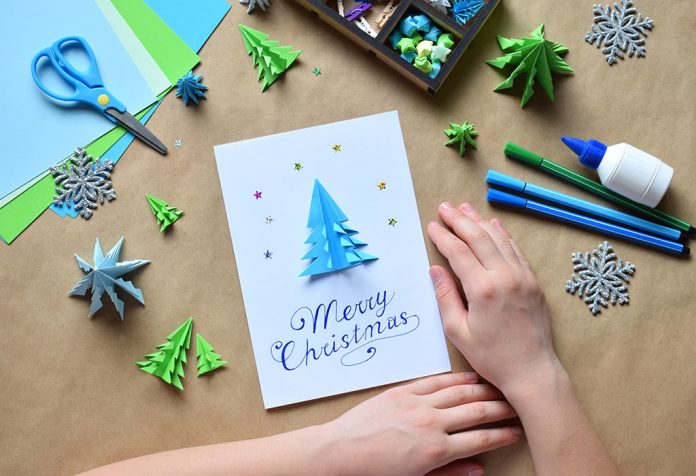 Christmas is a time of holiday and enjoyment. As it approaches closer, your child may want to put together some great wishes for his friends and family and make some lovely cards too. Well, if your child is showing interest then you can help him in creating cards for relatives and friends. You can provide some cute Christmas quotes for kids, which can be put to great use. A time of joy, happiness, and sharing, so the quotes and wishes ought to reflect the same emotions through them as well.
100 Best Christmas Messages, Wishes, and Quotes for Children
Every family member, relative, and friend deserve a special and unique Christmas wish or message on this festive occasion. So, we've put together a wonderful list of heartfelt wishes and Christmas quotes for kids that they can write in the cards they make.
A bunch of warm thoughts and wonderful wishes for a beautiful Christmas and a fantastic New Year. We wish you all prosperity and love in life.
May this Christmas you receive lots of love from your closed ones. We hope that you have a lovely year ahead in your comfortable home.
We wish that you have the happiest Christmas, full of joy, laughter, and pure love.
The cold chilly nights make for a lovely time to cuddle up in a blanket with your family. Have a lovely Christmas together.
There can be no Christmas and a New Year without being together with the best of friends. Have a wonderful Christmas with your friends and family.
It is a lovely season and a lovely time and we wish you all a lovely night of Christmas and a great New Year.
May this Christmas and the wonderful New Year bring an era of safety and peace all around the world.
We will always remember to wish you a Merry Christmas and a happy New Year.
There's no decoration that can make Christmas beautiful if it is missing your wonderful presence and smile.
This Christmas, we wish that angels bless every home and people love and respect each other, wherever they are.
There's no better way to make a lovely start than with Christmas presents and happy hearts. Merry Christmas!
The best gift that anyone can receive is the love of their family, which doesn't need to be gift-wrapped. Have an amazing Christmas!
The bright and shining Christmas lights are no match to the eyes of children with sparkling delights. Merry Christmas!
This is a festival of joy that's magical, for it brings reindeers and Santa and friends far and near.
The gift I want for Christmas is your love and affection, which would last a lifetime for us both.
We should be aware of strangers, but this Christmas, let's welcome the big, old, bearded-man who brings gifts for all of us.
Santa Claus is just one of the many reasons to celebrate this festival with joy and fervour.
Let's gift everyone with a hug and unending love for the coming year. Merry Christmas!
May the year ahead be filled with joyous occasions and open up new avenues for your success. God bless you and Merry Christmas!
A festive occasion that brings joy to everyone, because everybody deserves to be happy.
The real Christmas is not on the decorations of the tree or in the gifts that Santa brings. It is present in the heart.
Silent night, holy night, I hope Santa brings gifts for me and you tonight. Merry Christmas to you!
These holy days are the best holidays. Merry Christmas and Happy New Year!
Let's remember the ones looking upon us from above and cherish their memories through our Christmas celebrations.
May the blessings of God bestow upon all and bless with riches of the heart. Merry Christmas!
Christmas celebration is complete if you have the comfort of near and dear ones.
The warmth of love, the beauty of hope, and the spirit of peace are the best gifts for you this Christmas.
It doesn't matter how you celebrate Christmas, whom you celebrate it with is more important.
Christmas is the time to share love and affection. Give it to the ones who need it the most.
This December, let us celebrate Christmas together and treasure the happiness and love for years to come.
You, my closest friend, are the best gift anyone can get for Christmas. I would not need anything else from Santa.
Sparkling days and sparkling ways lie ahead, just wait for the right time. Merry Christmas and a very Happy New Year!
The magic of Christmas is an infectious one, as it spreads joy and peace far and wide.
Make this Christmas special by going the extra mile for your loved ones.
Christmas might be celebrated for a day, but the spirit of the occasion should last for a lifetime. Merry Christmas!
Bring forth the joy of holidays and the novelty of the year into your life. Accept my heartfelt Christmas wishes to you.
Christmas is a secret conspiracy to fill all the hearts with moments of happiness and spread smiles all around. Join the mission!
A gift of endless joy and a basket of love and prosperity is all we wish for you this wonderful Christmas!
May the coming year bring prosperous times and fill your Christmas with cheerful moments. Best wishes to you.
Cheerful cries and rollicking times, Christmas memories are on permanent rewind. Merry Christmas to all!
Let's make this Christmas a special one so that we remember it for years and years that follow.
You are a lovely person who deserves the loveliest Christmas, and all I wish for you is a heart full of happiness.
Let the coming year be the brightest for you and full of new ideas and great moments.
This Christmas share the warmth of love to your family and friends and beyond.
I want you to spend this Christmas with my family because nobody should be alone on Christmas.
A Christmas celebration without a tree and Santa is okay! But a Christmas without friends and family is not Christmas.
If Santa did not bring gifts for you, look around. The people next to you are your real gifts. Celebrate Christmas with them!
Let all your days be bright and merry, and Christmas be filled with cakes and cherries. Have a great Christmas!
Imagine having the joy and happiness of Christmas throughout the entire year. This is my Christmas wish for you.
Celebration and peace is the best way to bring forth Christmas to everyone. Have a great Christmas!
Don't be afraid if a big man in a white beard comes to your home. He is just getting me my Christmas present!
The 25th day in the month of December is the one that should be spent with family members. Come, celebrate with us. Merry Christmas!
To spend Christmas in laughter and fun, to have your family members biting into Christmas buns. That's the real celebration!
Let no honest effort go unrewarded and the coming year be filled with blessings. Happy Christmas and a great New Year to everyone!
Let's decide to spread happiness to the people around us. Merry Christmas to you all!
This holy occasion can exist only when our hearts are filled with warmth and joy of giving. Spread the love.
When you start seeing Christmas trees, cakes, and a white-bearded man all around, know that Christmas celebrations are on their way!
Christmas is a time for singing, Christmas is a time of glee, and I wish this New Year to be as happy as it can be.
The greatest gift for Christmas is peace, and the greatest wish for New Year is hope. May you have them both.
Don't count the number of presents that are under your tree. Count the number of people standing around it. Those are the real presents that Santa brings to you every year.



I am bundling up some joy and happiness for you this Christmas. Open it up whenever you miss me. Merry Christmas!
Explore every opportunity in the New Year and may Christmas bless all your endeavours. A wonderful Christmas to you!
You don't need to gift presents to everyone this Christmas. Spreading a smile around is much better. Merry Christmas!
The true happiness that defines the celebration of Christmas is the joy of giving and the love of receiving. Merry Christmas to you!
You don't need to have the tallest Christmas tree to celebrate. But you do need to have your friends and family together.
Presents are temporary but the joy and love that you receive being with your family are forever. Let that be your Christmas present.
When elves and reindeers come knocking on your door, just know that Santa is beyond the fore. Merry Christmas!
Let's dream of a Christmas filled with lights, let's dream of a year that's warm and bright. A wonderful Christmas and a fantastic New Year to everyone.
Don't forget to fill Christmas with happiness and cheer because Christmas just comes once in a year. Merry Christmas!
The joy of giving is best experienced by gifting the people around you with a cheerful smile. Have a lovely Christmas!
I don't need a Santa to bring me my gift. You, my mother, are the best gift I could ever have in my life. You are my Christmas!
The days of laughter and the time to wrap presents for the day of Christmas are nearly here. Let's be grateful that God has blessed us that we can celebrate. Merry Christmas!
The shining star atop the Christmas tree fills the dark moments of life with the light of happiness. May this New Year be illuminated by the joy of Christmas.
The cold chill and the warm fireplace makes Christmas even more beautiful than it already is. Merry Christmas to you!
Holding hands, exchanging cards, giving gifts, and wishing people wide and far. These are the moments that make the real Christmas.
Remember the ones that are not here for Christmas. Remember them through the biscuits they baked and the stories they shared. Merry Christmas!
Christmas is the day when Jesus was born and taught us the lesson of loving each other. Let's carry that lesson with us forever.
The true lesson of Christmas is not the celebration of Jesus' birth. The real lesson is the gift of friendship and love that can change the world.
As the bells start ringing, and the hearts start singing, know that Christmas is here, and the New Year is coming. Merry Christmas!
This Christmas, bless everyone with the gift of faith in each other. Let the days of sadness be over and bring forth moments of cheer. Merry Christmas!
May angels bless your family from the heavens, may they gift you endless joy, may Christmas be great for all the girls and the boys.
Christmas is a day filled with memories of our loved ones, those who are with us and those who watch us from above.
The true essence of Christmas lies in the moments shared with our loved ones and friends. I wish to spend this Christmas with you.
We wish you a lovely, prosperous and safe Christmas celebration for your friends and your family. Have a great New Year!
Let your life be overflowing with the gifts of laughter, love, and friendship. Merry Christmas and Happy New Year!
If Christmas itself isn't a reason for my smile, your love and affection can very well turn that around. Merry Christmas, my dear!
Welcome this Christmas with open arms and open hearts, and spread your love far and wide with peace and sanctity for the humankind.
The table is set, the desserts are ready, the lights are blinking, and the atmosphere is chilly. Wish you all a wonderful Christmas and a prosperous New Year!
Wake up this Christmas morning with a wonderful song and in the arms of the ones you love. Merry Christmas!
The gift of abundant joy and blessings is all that I wish Santa gets you this Christmas. Have a great one, my dear friend!
You may not find enough presents this Christmas, but you definitely will find more smiling faces than before. Merry Christmas!
Every Christmas turns out to be better than before. Let this Christmas be the best so the next one would be even greater.
The ingredients that help make a great Christmas are friends, family, gifts, love, and endless joy. Have a wonderful Christmas and a great New Year!
The moment you hear jingle bells know that Santa is on his way and there will be joy and cheers all around. Merry Christmas!
The sound of the choir singing the songs is a sign for you to sing along as well. Enjoy your Christmas and have a wonderful time together.
A basket full of hugs, a suitcase full of kisses, and a box of full of great wishes for you and your family. May this Christmas be a splendid one for all.
We wish a warm and joyous Christmas to you. May the love of God be unending and your prosperity keeps rising through the New Year.
Christmas can be spelt as "love", "joy", or "hope" because that's what Christmas is all about. And these are the true gifts that should adorn all lives. Have a great Christmas!
Let's welcome our dear Jesus into our lives once again, and spread the love and affection he taught us to everyone around. Merry Christmas to you!
The real miracle is not the birth of Jesus. The magic is when we all take the teachings of Jesus to heart, and learn to spread the glory of love, friendship and unity to our friends and family and everyone that lives on the Earth.
With these Christmas sayings for kids, we hope that your kids won't have trouble writing Christmas wishes for anyone. Let them spread the love to their dearest ones and enjoy a wonderful Christmas.
Also Read: Amazing Christmas Gift Ideas for Kids