Top 12 Songs That Kids Will Love Dancing To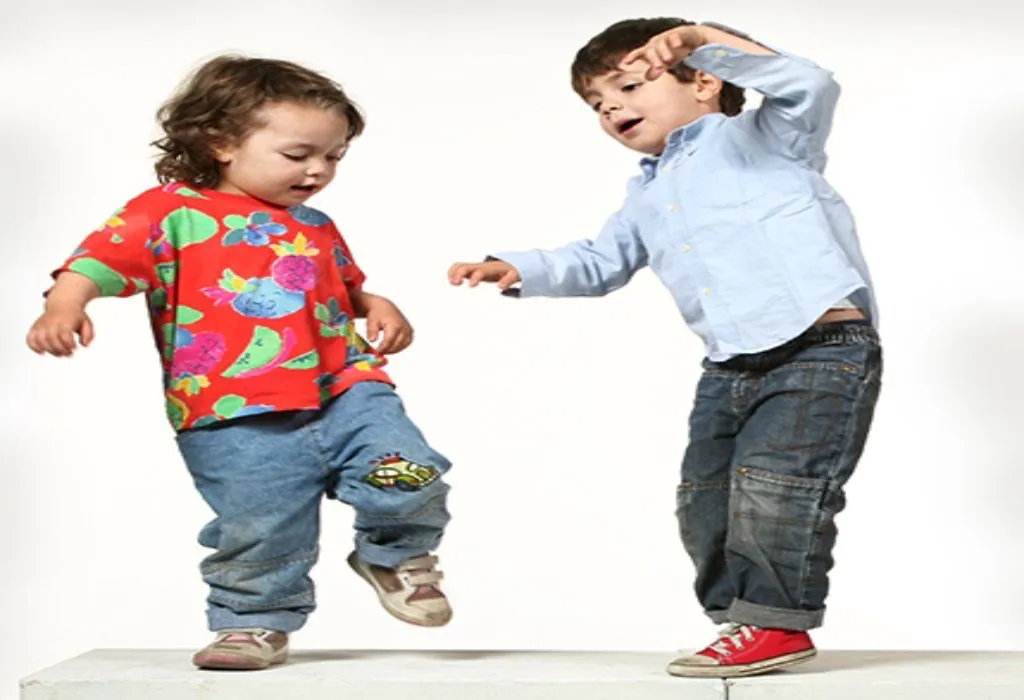 In this Article
Be it an old Bollywood melody or the latest English pop song, seeing your child shake a leg can be a lot of fun! So, how do you go about picking songs for your children to dance to?
Dancing is not only physically invigorating for your child but it also helps him develop his listening, learning, language and motor skills. When done with parents or in groups, it advances his social and bonding skills as well. But with present-day lyrics becoming offensive and not very child-friendly, it can be difficult to choose the right songs.
So, here's a mix of 10 English and Hindi dance songs for toddlers which will surely set the mood for your child to groove to, hop around, or simply sing along. Kids can not only dance to these songs, but you can also play them to build an enjoyable ambience when children are enjoying games like musical chairs, statue, and passing the parcel.
The Best Kids Songs to Dance To
Watching kids dance can instantly lift your spirits and bring a smile to your face. Pretty much any song that has a good beat can make them get on the floor and dance their hearts out. Easy melodies can also be included in the list of songs for kids for them to sing along as they try their unique moves. Here's our hand-picked list of dance songs for children that we bet your child will love to dance to!
1. Lakdi Ki Kathi (Masoom)
This evergreen number with an animal theme can be enacted by kids in a group. It never fails to pep the children up and is one of the most popular kids' dance songs ever.
Lakadi ki kaathi kaathi pe ghoda
Ghode ki dum pe jo maara hathauda
Dauda dauda dauda ghoda dum utha ke dauda!
2. Nanha Munna Rahi Hun (Son of India)
This song will send your tot marching to its tune. An appropriate costume can turn it into a truly patriotic routine too. You can also teach your child some basics about our country before or after you play the song and march along with your little one.
Nanha munna rahi hu, desh ka sipahi hu
Bolo mere sang, jai hind, jai hind
Jai hind, jai hind, jai hind!
3. Nani Teri Morni
This endearing song teaching children against stealing tells a catchy story. Your little one can easily sing and dance along to the chorus.
Naani teri morani ko mor le gaye
Baaki jo bacha tha kaale chor le gaye
4. Jadoo Jadoo (Koi Mil Gaya)
This foot-tapping song talks about friendship among children even if it means befriending an alien. Plus, there's a beautiful description of Mother Nature as well!
Aaj dharti se gagan kaa, phoolon se chaman kaa,
Ghataaon se pavan kaa, ho rahaa milan
Jaadoo, jaadoo, jaadoo, jaadoo!
5. Bum Bum Bole (Taare Zameen Par)
A very hummable song with great beats, this song makes learning fun. Don't forget the signature step "Bum bum bole".
Dekho dekho kya woh ped hai, chaadar odhe ya khada koi
Baarish hai ya aasmaan ne chhod diye hai nal khule kahin
Ho hum dekhe yeh jahaan waise hi jaise nazar apani
Khulke socho aao, pankh jara failaao
Rang naye bikhraao, chalo chalo chalo chalo naye khaab bunle
Bum bum bole, masti mein dole
Bum bum bole, masti mein tu dol re!
6. Mickey – Toni Basil
This 80's pop video will surely set your child's feet tapping. Dressing up in bright costumes can add even more fun and colour to the performance.
Oh, Mickey, you're so fine
You're so fine you blow my mind
Hey, Mickey
Hey, Mickey!
7. Groove Is in the Heart – Deee-Lite
Groove is in the Heart is an all-time hit dance song for kids. Then, how could it not be a part of our children's dance songs list? The song is an amalgamation of disco, funk and hip-hop that will make you and the kids get out of your seats and hit the dance floor.
Groove is in the hea-a-a-art
Groove is in the hea-a-a-art
Groove is in the hea-a-a-art (astronomical)
Groove is in the hea-a-a-art (hit me!)
8. I'm a Believer – Smash Mouth and Eddie Murphy
This lovable song comes from an equally favourite children's movie, Shrek! Your kid can dance like an angel to this fairy tale number.
I thought love was
Only true in fairy tales
Meant for someone else
But not for me
Love was out to get to me
That's the way it seems
Disappointment haunted all my dreams.
9. Break Free– Ariana Grande
All your child would want is to dance to this fantastic number! This song can be action-packed with you and your child flailing your hands wildly as in the video.
If you want it, take it
I should've said it before
Tried to hide it, fake it I can't pretend anymore.
10. Party in the U.S.A. – Miley Cyrus
This blast from the recent past will have your kid prancing around to its Jay Z song chorus.
I hopped off the plane at L.A.X. with a dream and my cardigan
Welcome to the land of fame, excess, whoa! am I gonna fit in?
Jumped in the cab, here I am for the first time
Look to my right, and I see the Hollywood sign.
11. Baby Shark
This song is a recent addition to the list of peppy songs for toddlers and never fails to get the kids to stand up and mimic the shark actions. Have fun along with the kids and watch them mimic the baby, mamma, daddy, grandma, and grandpa sharks!
Baby shark doo doo doo doo doo doo
Baby shark doo doo doo doo doo doo
Baby shark doo doo doo doo doo doo
Baby shark!
12. Happy by Pharrell Williams
This is another peppy song that is sure to make kids happy and get them on the floor to bounce with the beat.
It might seem crazy what I'm about to say
Sunshine she's here, you can take a break
I'm a hot air balloon that could go to space
With the air, like I don't care baby by the way
Huh, because I'm happy
Clap along if you feel like a room without a roof
Because I'm happy
Clap along if you feel like happiness is the truth
Because I'm happy
Clap along if you know what happiness is to you
Because I'm happy
Clap along if you feel like that's what you wanna do
Does your baby have favourite songs too? We would love to hear about more cool songs for kids to dance to. Share your playlist to set the perfect mood for his happy feet!
?>