The Inspiring Story Behind the Viral Breastfeeding Mum Photo by GAP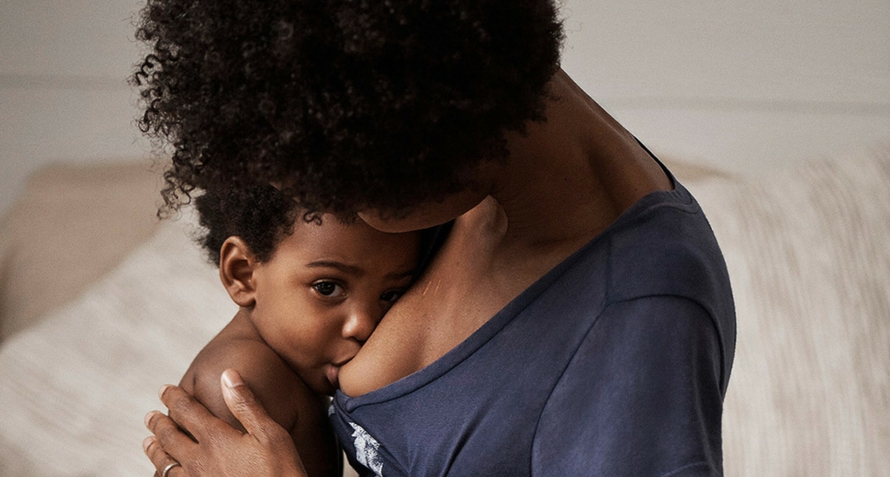 In this Article
Model Aadora Akubilo needed to nurse her son Arinze during a shoot for iconic brand GAP. The act was so natural and beautiful that GAP decided to use the moment as their campaign!
While it was a natural and normal moment for baby Arinze and model mum Aadora Akubilo, it was a moment to remember for so many Instagram followers when GAP posted this picture!
The image features a beautifully captured mum breastfeeding her child and here's the backstory!
Bridging the Breastfeeding GAP!
Akubilo was shooting for GAP's sleepwear campaign #LoveByGapBody when her baby needed to nurse mid-shoot. On letting them know they were supportive and said she could "do it right here."
Since Akubilo usually breastfeeds where she is she nursed her baby on set. The photographers then asked if they could capture some shots of the heartwarming act to which Akubilo obliged happily.
The images were so beautiful that they ended up being the anchor of the campaign!
"I was so happy. I felt it was affirming," she said.
The advertisement became a big hit considering that it was helping normalize and de-sexualize breastfeeding.
In fact, this is an issue close to the models heart. She has, like so many other moms, faces questions about where she breastfeeds her son. Nursing in public has never been a problem for her.
Akubilo also practices extended breastfeeding now that her son is a toddler. In fact she has also been asked why she is still breastfeeding him.
"I felt like I was doing something wrong," she said. "Our society in particular is not very supportive of women who nurse after a certain age."
Her son still wants to breastfeed, and she enjoys the bonding, so why not?
Akubilo hopes that this image of her unabashedly doing what some moms feel like they need to hide will empower women.
Comments flooded in from everywhere!
"Beautiful moment captured! Thank you for Normalizing Breastfeeding in the public eye ??!", said one Instagram user.
Besides GAP also wanted mums to know that their clothes are comfy enough for any task! And it just so happened that breastfeeding hit the nail on the head for a range called LOVE!
Well done GAP and kudos to Aadora!