Christmas Celebration With Kids – 8 Incredible Ideas!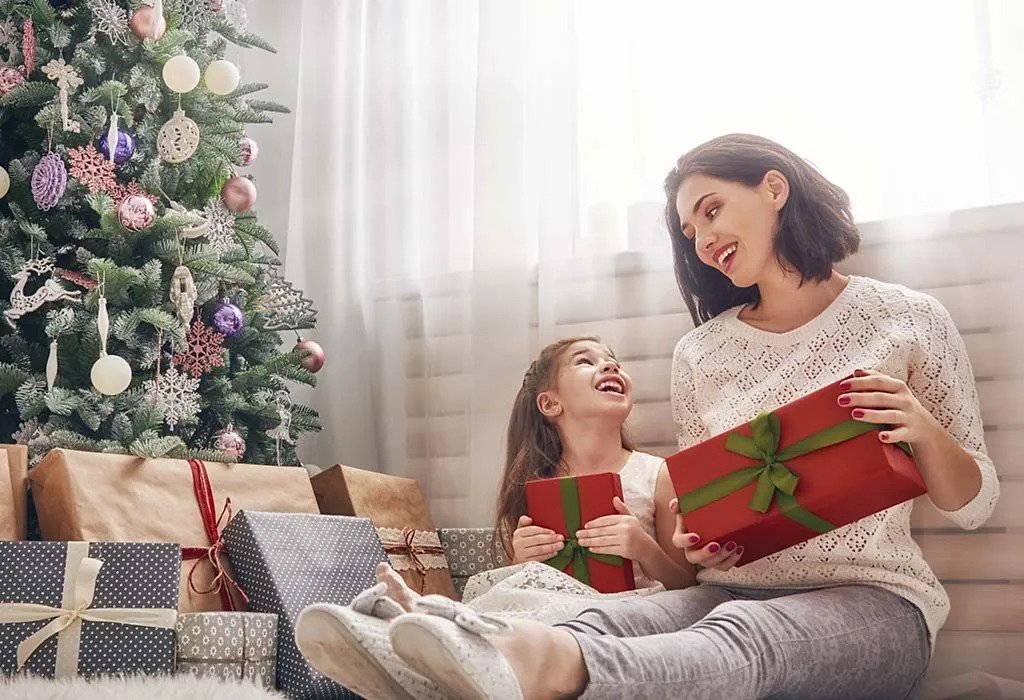 The cold breeze, the chilly mornings, the freezing nights, the bright shining moon, and the morning fog all indicate one thing – Christmas is here! This certainly is a much-awaited time for most because of all the celebrations that will take place.
The joy of celebration multiples in the company of loved ones, and this is evident in festivals like Christmas! Having children in the family is even more fun because your child will make the atmosphere energetic and joyful. If you have a kid and haven't thought of his participation in your celebrations, think again – you could be missing an opportunity to make this Christmas celebration memorable for both him and you!
Video :
8 Amazing Ways to Celebrate Christmas with Your Kids
Celebrating Christmas with your kids is actually a great chance for you to spend quality time with them. But to make this an unforgettable time of togetherness, here are some tips on things to do with kids for Christmas.
Advantages of Celebrating Christmas With Kids
To celebrate Christmas with your child means to create magical moments you will cherish forever. As a parent, you must be aware that your child is growing at a rapid pace – kids won't stay kids forever! Your child will soon grow to have his own social life and schedules for his friends and his academics. In other words, he will control his own engagements. Thus, to cherish every moment of his childhood, spend as much quality time with your child as you can, now. What better way to create memories than indulging in Christmas stuff for kids?
You can choose the activities or level of engagement according to his temperament. Having family things to do for Christmas will be a memory he will forever cherish.
8 Magical Christmas Activities to Do With Kids
You're on board, aren't you! Below we have for you fun Christmas things to do with kids that require minimal effort and yield maximum fun. Be ready with a camera, for you won't want to miss capturing your little one's elated face!
1. Make Your Child Write a Letter to Santa
Santa Claus is the first thing children remember (and love) about Christmas. Instead of going and buying presents for your little one every year, why not make him take that extra effort and talk to Santa himself? Sit with your child and make sure to have glitter pens, markers, crayons, sketch pens, and fancy papers and envelopes for this activity. Encourage your little one to write a letter to Santa, suggesting what he would like this year. Make sure he decorates it with all his favourite things. Then, you can help him with Santa's "address", and mail it off to him!
This activity will also make for a great keepsake – when he grows up, you can show him these letters and reminisce!
2. Include Your Child in Wrapping Gifts
Given the number of gifts needed for Christmas, it is always a great idea to ask for your kid's help when preparing some homemade gifts. Right from bundling the sweets to wrapping gifts and arranging them, your child will not only have fun but also pick up a lot of skills in the process.
3. Have a Storytelling Session
Christmas is a magical time, and what makes it better is the beautiful stories around the holiday. Snuggle up under a warm blanket with some hot chocolate, and narrate some Christmas stories to your child. Do this at bedtime – preferably on Christmas eve – so that your child wakes up in a festive mood on the big day! You will find a ton of delightful Christmas stories for kids online, so make use of them. This is one of the best Christmas activities to do with your toddler, as his imagination is bound to soar.
4. Have a Christmas Movie Marathon
Even better than Christmas stories is holiday movies – this is one of the most fun things to do with kids for Christmas, and can develop into a family tradition. On Christmas day, you can huddle up with your entire family and watch happy Christmas movies for kids. Your child will love this tradition and will look forward to it every year.
5. Have a Cookie-Decorating Party
Christmas for kids is a time of lots of delicious food that is otherwise restricted – this can be a fun game for you and your child! Make some plain vanilla cookies beforehand, and keep ready some icing (in different colours), sprinkles, chocolate chips, and other additions. Host a little cookie-decorating party at home on Christmas day! Your child will love decorating cookies in his own way, and he will definitely love eating his own little masterpieces!
6. Go on a Donation Drive
Christmas is a season of joy, but it is also the season of giving. This is one of the best family things to do on Christmas – it can even become a yearly tradition in your family! Take your child's old toys and clothes and donate them to the shelter closest to you. You can do the same for your own belongings as well – someone out there will thank you for it. Not to mention, this can teach your kid the value of being kind and giving more than taking.
7. Make Christmas Crafts Together
Christmas is all about enjoying the day to the fullest. What can be better than decorating the house and X-mas tree with handmade crafts especially, made by your little munchkins? If you are hosting a Christmas party at your home, then it would be the perfect excuse to engage your kids in art and craft activities as well as decorate the house with beautiful crafts.
8. Sing Christmas Carols
It is good to have a Christmas tradition, whether it is decorating cookies or singing Christmas carols. It teaches kids about togetherness and creates happy memories. You can practice with your kids before Christmas and on the day of Christmas huddle around the tree, piano, or the stereo, and sing carols.
All of this fun Christmas stuff for kids is enough to prompt you to walk an extra mile and make it an incredibly memorable day for your little one. Make this a gala event in your kid's eyes, because even though you cannot bring back lost memories, you can always cherish the ones you're making right now.
Also Read:
Easy and Fun Christmas Party Games for Kids
Fun Christmas Art & Crafts Activities for Kids