16 Cute Christmas Pregnancy Announcement Ideas to Surprise Your Loved Ones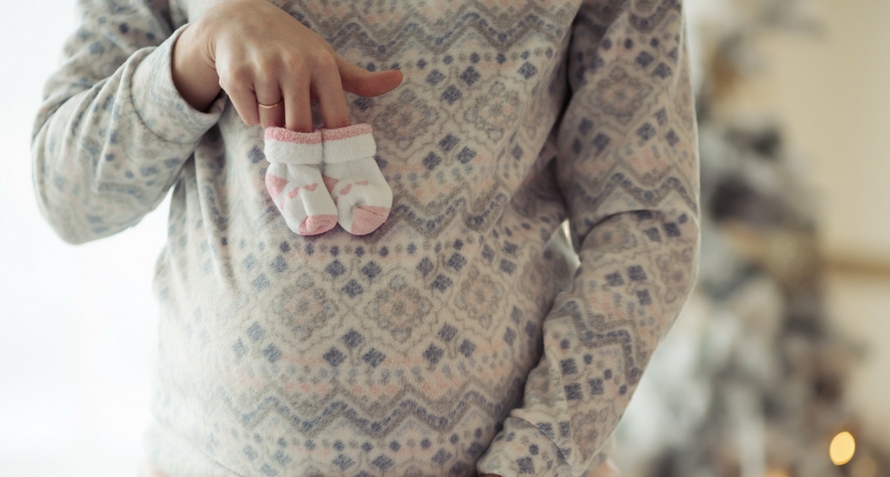 You've been blessed with a special gift this holiday season and are just dying to share the good news. You could call everyone for dinner and make a toast, but why not make it more meaningful with creative Christmas pregnancy announcement ideas? These adorable Christmas baby announcement ideas will provide you with the inspiration you need to break the wonderful news to your family and friends!
Pregnancy Announcements – Dads-to-Be
How exciting is it that this Christmas, it is you who gets to be Santa, gifting your hubby a surprise of a lifetime! Here are a few innovative ways to let him know the good news!
1. Hide the news in the tree.
Make your good news a part of your Christmas decoration. Paint an ornament, like a decorative ball, a stocking, or a little gift box, with the announcement of the arrival of the bub. Imagine your husband admiring the tree and the presents around it, and finding the ultimate present among the decorations!
2. Let your pet deliver the message.
If you own a pet, make it a part of the good news. Write your message on a piece of paper, attach it to your pet's collar, and let him greet your husband on Christmas day. What a merry Christmas it's guaranteed to be!
3. Surprise in the coffee mug!
Coffee is a breakfast staple. Purchase a coffee mug with the "You are going to be a Dad" statement, or get one customized with the same statement. When he finishes his coffee on Christmas morning, make sure he glimpses into the empty cup. The surprise he will get will be joyful to watch and will make up his entire day!
Pregnancy Announcements – Grandparents
Getting to know that your baby is now having a baby of her own is a joy that is unparalleled. Breaking the news with a dash of the Christmas spirit will only multiply this happiness for your parents and in-laws.
1. Provide a glimpse of the ultrasound.
Use Christmas gifts to announce your pregnancy. Attach an ultrasound image of your child along with a message on to-be-grandparents' presents. Their reactions will be priceless!
2. Gift a personalized onesie.
How about wrapping a onesie that tells your parents and in-laws that there is a little someone arriving soon to meet the grandparents? Get ready for delighted squeals and happy tears!
3. Hide the message in a plate of dessert.
Christmas and desserts go hand in hand. Serve a slice of cake on a plate inscribed with the message that reveals the message to the to-be-grandparents. It's definitely a sweet, lovely (and tasty) way to spill the beans!
4. Fortune cookie pregnancy teller.
Fortune cookies always make their way on the table, whether it's a movie night or a small celebration with family. They are light snacks, fun to eat, and offer a lot to talk about. If your parents and in-laws like eating fortune cookies, then it is the perfect idea of crumbling the cookie and pooping out the news. Get a personalized message of pregnancy announcement in fortune cookies and offer them. They will surely crumble with joy!
Pregnancy Announcements – Friends and Family
Happiness only multiplies when you share it with your near and dear ones, and what better occasion to break the news than when everyone gets together?
1. Add the message on the cake.
Surprise the family by icing your happy news along with the due date on the Christmas cake. Celebrate the happy news together!
2. Make a family tree photo frame
Another clever idea to make your announcement is to get a family tree photo frame and fill it up with everyone's pictures. Leave one frame empty and insert your message, complete with tiny bows.
3. Pull the family picture trick!
After the Christmas party, get everyone ready for a family photograph. Instead of the usual 'cheese', say "We're pregnant!" This is certainly going to be a noisy yet adorable Christmas pregnancy announcement, one that will be remembered for a long time!
Pregnancy Announcements for Instagram and Facebook
Social media announcements are the latest fad. So, use these creative and cute pictures on social media to spread the news to the world.
1. Hang up stockings or hats.
Hang 2 stockings with your and your partner's name on it and add a tiny one on the side with a question mark. This one certainly makes for a very Christmas-y pregnancy announcement!
2. Say it with blue and pink.
A cute Christmas pregnancy announcement idea is to decorate the Christmas tree in blue and pink with baby items like booties, onesies, and tiny milk bottles. These pictures are Insta-worthy and will surely convey your sweet message to the world too!
3. Make cute greeting cards.
Make 'expecting a baby' Christmas cards with images of footprints representing you, your partner and the addition who will soon arrive! Post the same on Instagram; your warm festive wishes with an additional dose of happiness will definitely add to the Christmas spirit and spread joy among your near and dear ones.
4. Pop the news with balloons.
Take a couple of pink and blue balloons and add your message with the due date to let your friends and family know you're expecting.
5. Let your pet announce the big news.
Here's another way to let your pet get involved in the announcement of your little one's arrival – a holiday card or a post with your pet sitting next to a pair of booties or baby accessories will definitely get plenty of 'heart' reactions on social media!
6. Dress it up with a bow!
Looking for a simple yet fancy Christmas pregnancy announcement idea? Wear a dress that hugs and emphasizes your baby bump. Then, make an elaborate bow with a ribbon and tie it just above the bump, like a belt. Everyone will easily guess what your Christmas present is!
Announcing the arrival of your little one to your friends and family is sure to be special, but these Christmas pregnancy announcement ideas will definitely turn things up a notch!
Also Read: