25 Fun Christmas Art & Crafts Activities for Kids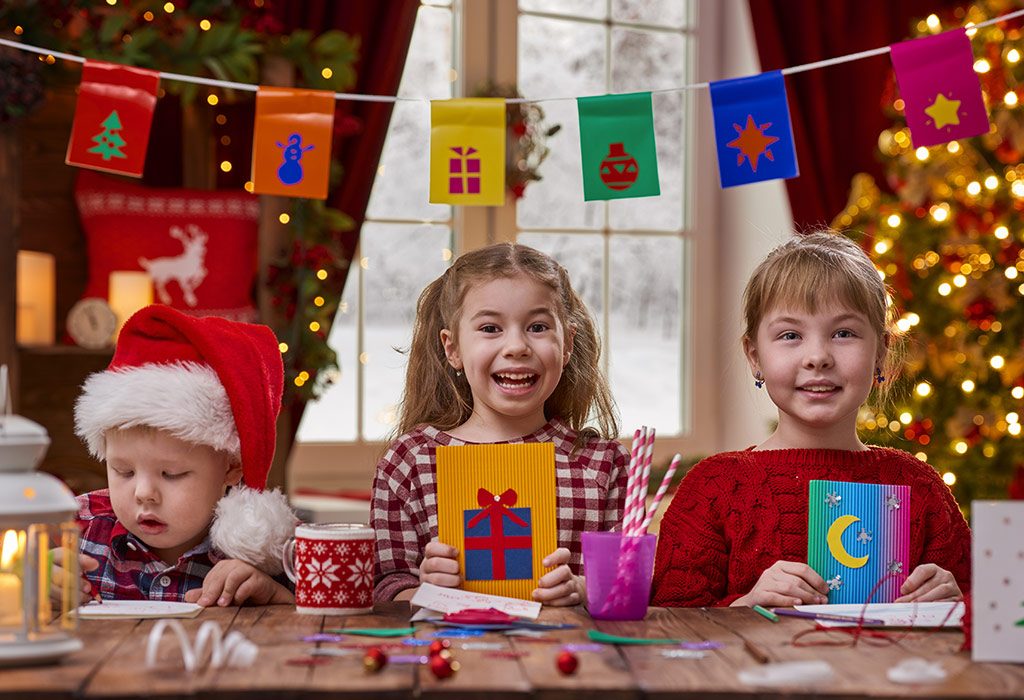 In this Article
As the festive season of Christmas approaches, there's a long list of things to do. It is the time for family gatherings, tons of shopping, and of course, decoration. It is also the time when the kids get a break from school, and you need to find something to channelise all that energy. This is where exciting activities and games can come to the rescue.
Best Children's Christmas Activity Ideas List
Games, crafts, and other activities never get boring and can keep children occupied for hours on end. By taking up craft projects and activities, children also get a sense of achievement, and it boosts their self-confidence. Here are some fun ideas that can help your child make the best use of their Christmas holidays:
1. Customised Christmas Stocking
One of the most popular Christmas themed activities for kids is to create a personalised stocking for Santa Claus to leave all the goodies in. Your kids can choose the colour as well as the embellishments they would like to put on it.
What You Will Need
Two equal pieces of felt
Stapler or craft glue
Colourful string or paper
Buttons, glitter, or stickers
Scissors
Pen
How to Do
Keep the two pieces of felt one over the other and draw a stocking shape with a pen.
Cut out the sock, and staple or glue the sides together, leaving the top open.
You can then glue on the colourful string or paper along the sides.
Make a small loop out of the leftover felt and fix it to the top corner so you can hang it up when done.
Finish up by embellishing with buttons, glitter, or stickers. You can also get your child to draw their initials on the stocking for a customised touch.
2. Memory Game With a Christmas Theme
Memory games are always fun and entertaining. They require very little preparation and can be customised to suit different occasions and themes.
What You Will Need
One sheet of paper for each child
A pen for each child
About 15 to 20 different Christmas themed items
A box to hold all these items
How to Do
Give each child a paper and a pen.
Put all the items in the box and place the box in a spot where all the children can take a good look at it.
Set a time limit for them to look at and memorise what they see.
Then, again set a time within which they have to jot down as many of the items from the box as they can recall. The child who gets the most things right wins.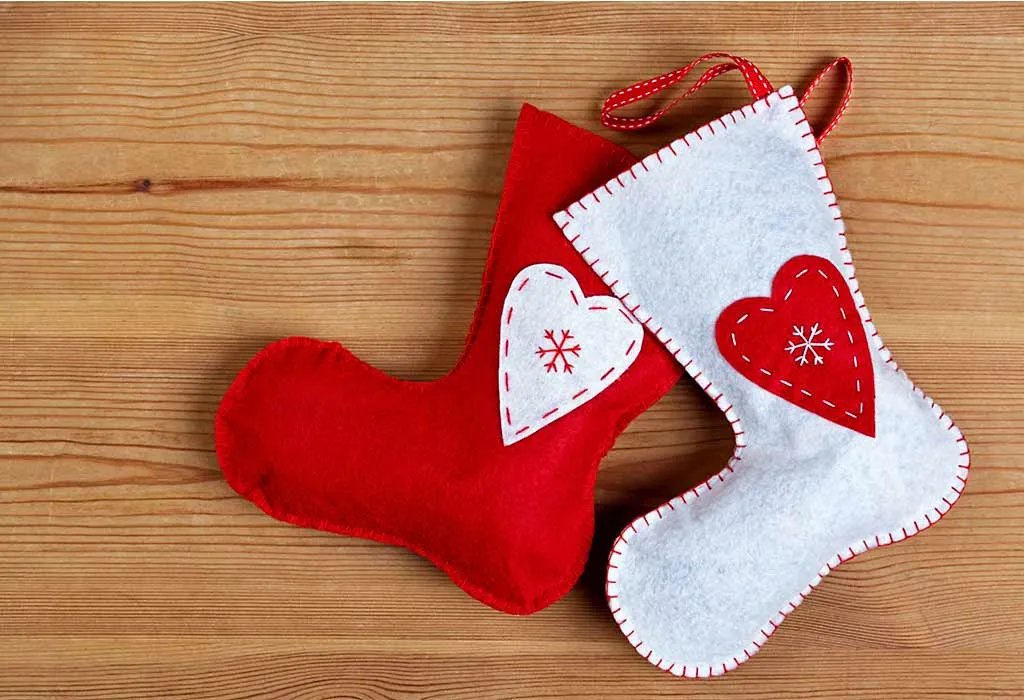 3. Bowled Over by the Tissue Box Snowman
Indoor bowling can be a fun activity to keep the kids entertained during the Christmas holidays when it's cold and dark outside.
What You Will Need
4 empty tissue box containers
Some white paper or white paint
Pieces of black felt or chart paper
A piece of orange card paper
Glue
Some twigs
How to Do
Paint the tissue boxes white all over or cover them entirely with sheets of white paper.
Stack them and then make a triangular nose from the orange card paper. Stick this on the first tissue box to make it appear like a nose.
Then use the black felt or chart paper on the first box to make a hat and eyes for your snowman.
Use a ball to topple over the snowman and stack the boxes back again for endless play!
4. Recycled Gift Bags
There is no season better than Christmas to give gifts to all your loved ones and you can add to your list of good deeds by recycling old paper bags. Put those shopping bags from the mall to some good use.
What You Will Need
Paper shopping bags
Cellophane
Tissue paper
Colourful ribbons
How to Do
Neatly cut out the store name or logo on the shopping bags.
From the inside, tape cellophane over this hole that you've cut out.
Then line the bag with tissue paper and finish off with colourful ribbon bows. You can use it as a goodies bag or gift bag.
5. Personal Snow Globe
A snow globe makes for a great showpiece or gift and definitely tops the list of interesting Christmas craft activities for children.
What You Will Need
One glass jar (with a tight lid)
Your child's favourite plastic figurine or a festive one if it's a gift for someone else (choose a size that fits in the jar easily)
Waterproof glue
Distilled water or boiled and cooled tap water
Liquid glycerine
Glitter
How to Do
Stick the plastic figurine on the lid with waterproof glue and let it dry.
In the meantime, fill the jar with the water. Add a few drops of glycerine and glitter to the jar and stir gently.
Once the figurine is properly stuck to the lid, screw on the cap tightly and flip the bottle.
6. Decorate Some Christmas Cookies
Christmas is incomplete without cookies. Bake some or buy some of your favourite ones for this fun activity.
What You Will Need
Regular biscuits or cookies
Colourful icing
Nuts and sprinkles used for cake decorations
Wooden ice cream sticks
Baking sheet/aluminium foil
How to Do
Place the cookies on the baking sheet or foil. Put the icing in small bowls.
Give your kids the wooden ice cream sticks to apply the icing on the cookies. Then finish decorating with the sprinkles and nuts.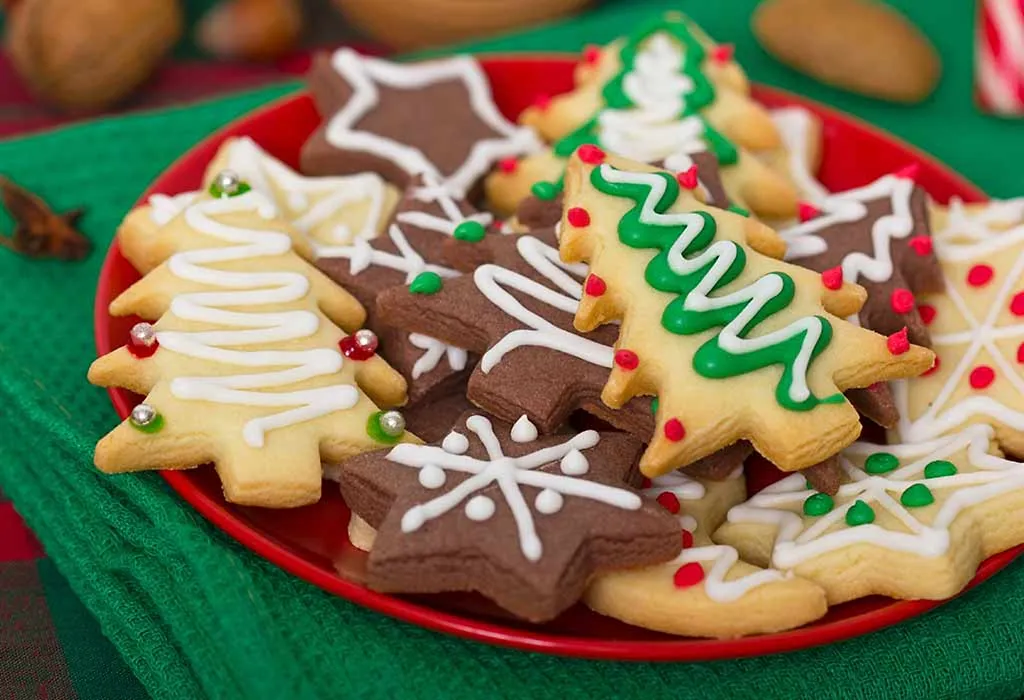 7. Make Some Wreaths
Green and red wreaths are an integral part of Christmas decorations. An easy Christmas craft for kids, this can be done with natural greens or coloured paper.
What You Will Need
Red and green colour chart paper
Scissors
Pencil
A ruler
Stapler
Glue
How to Do
Fold the green chart paper in half along the length and cut in a straight line from the folded side to about one centimetre.
Make such slits all across the length of each sheet of chart paper. Then roll the sheet into a tunnel shape as you join one sheet of paper to the other and also staple it to keep it in place.
Then twist it into a wreath and decorate with bows and berry shapes made from the red chart paper.
8. Snowman Buntings
It doesn't matter if you don't get a snowy Christmas. You can always put up some snowman buntings.
What You Will Need
White felt
Pieces of coloured felt
String
Hole puncher
Glue
Scissors
How to Do
Cut the white felt into squares of your preferred size.
Then stack them one over the other and draw the shape of a snowman before cutting out the outline.
Make felt hats for each snowman from the coloured felt and stick it on. Then punch a hole on the side of each and pass the string through.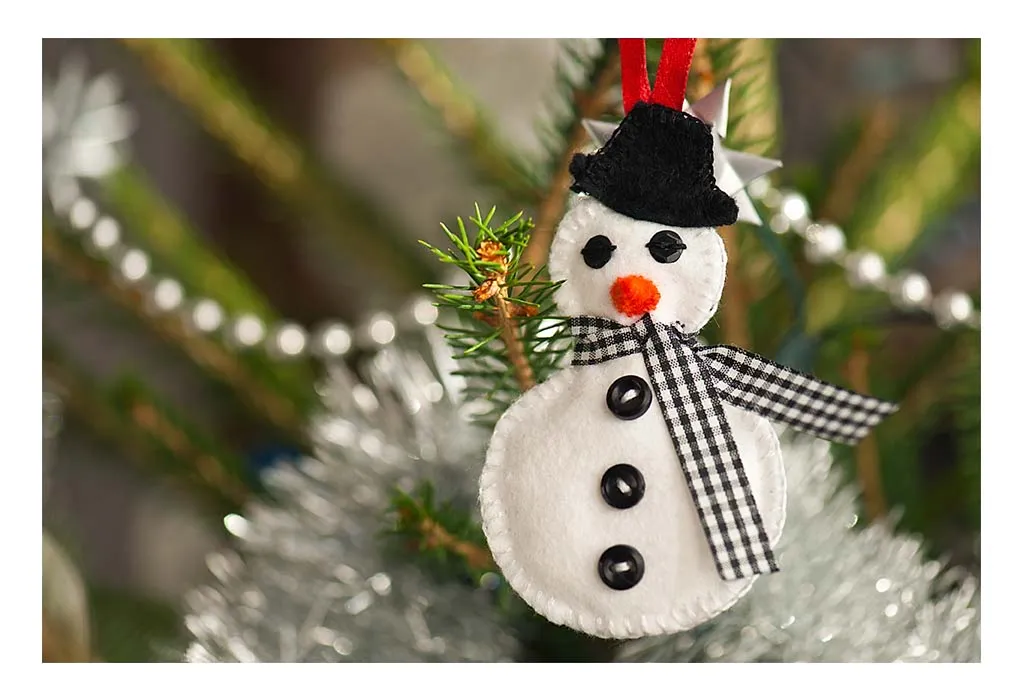 9. Candy Hunt
Treasure hunts are fun, and when the reward is something like candy or chocolates, it's even more exciting!
What You Will Need
Lots of candy or chocolates
How to Do
Hide the candy or chocolates in spots across a room or the entire house depending on how much space you have.
Then ask the kids to find it. They get to keep all the candy that they find!
You could make it more interesting by giving them clues to the hiding place or indicating if they are close to one.
10. A Christmas Story
A fun Christmas activity that you could have at a kid's Christmas party is the story game. This is best suited for kids of one particular age group at a time.
What You Will Need
A gift-wrapped storybook for each child and one for you, the host
How to Do
Pass on a book to each child randomly and ask them to open their gifts. Then you have to start reading out the story from your book.
After reading out some of it, you must choose a word and ask the children to find it in the books they are holding.
Once a child finds the word, all of them must pass their books to the child on the right.
This goes on until you are done with the entire story. Each child gets to keep whichever book is in their hands at this time.
11. Take a Holiday Lights Tour
As Christmas approaches, malls and streets are lit up with colourful lights, and there are also displays put up. Drive around and soak in the spirit of the festive season.
What You Will Need
The entire family
Some Christmas music
How to Do
As night falls, pack everyone into the car and turn on the Christmas music. Drive to the popular spots with Christmas decorations to get into a festive mood.
12. Gift Stacking Relay Game
Team games can be fun, especially at Christmas parties, and those suitable for all ages should definitely be a part of your list of activities.
What You Will Need
3 or 4 gift-wrapped empty cardboard boxes (cereal box, shirt boxes, etc.)
2 stools or chairs
How to Do
Divide the children into two teams.
Place the stools or chairs at the two ends of the room.
The first team is divided into two with one half near each stool.
Stack the gift boxes on one stool or chair.
Each team member has to carry the boxes from one stool to the other, and then the team member on the other side has to bring it back. If any of the boxes fall down, that member has to return to the starting point and do it all over again.
13. Shovel Some Snow
It doesn't matter if you do not get to see a white Christmas where you live. That should not stop you from shovelling some snow even if it is indoors!
What You Will Need
A pack of cotton balls
A bowl
One spoon
Stopwatch
How to Do
This can be a team activity or an individual one. Keep the cotton balls (snowballs) near the bowl and use the spoon like a shovel.
The goal is to transfer as many snowballs as possible into the bowl within a minute using only the spoon to move the balls.
14. Cute Napkin Holders
Festivals are a time for family get-togethers and dinners. This holiday craft for kids will keep your kids occupied and show their artistic talent. So, let your children feel a part of the festivities by getting them to make pretty napkin holders for the Christmas dinner table.
What You Will Need
Empty toothpaste boxes or similar
Craft paper or chart paper
Glue
Glitter or sequins
Scissors
Paints in the colours of your choice
Paintbrush
How to Do
Paint the outside of the empty toothpaste box in a single colour and let it dry.
Then cut sections of the box to about one and a half inches wide.
Trace out a pattern of your choice like stars or a bow on the craft paper and cut it out in colours matching the box cutouts.
Apply glitter on the pattern as well as the box cut-outs.
Then stick the pattern on the box sections to finish off your napkin holder.
15. The Centre of Attraction
Get your child to make a centrepiece for the dining table. This will give them a sense of achievement and pride.
What You Will Need
Two pieces of green chart paper about 1.5 inches X 11 inches in size (you can also use white chart paper and then paint it a green colour)
Small pompoms or coloured cotton balls
Glue
Scissors
How to Do
Draw a tree pattern on the chart paper either freehand or with the help of a printable.
Cut it out and make slots at the top and bottom of the tree to make it easy to slide together and hold up the tree.
Stick on the coloured cotton balls or pom-poms to look like Christmas tree ornaments. You can also use foam if you need to make a more stable tree. Another option is to glue the tree to a flat base like thick cardboard.
16. Christmas Charades
Charades are never out of fashion at gatherings and Christmas is no exception. Here is how you can modify this activity for the occasion.
What You Will Need
How to Do
Use the pen to write down various Christmas-related phrases and terms such as 'Santa going down a chimney', 'baking cookies', or 'decorating a tree' on the chits. Then fold them and put them into a bowl.
Get the kids to pick the chits and act out what is written on them one by one while those in the audience guess.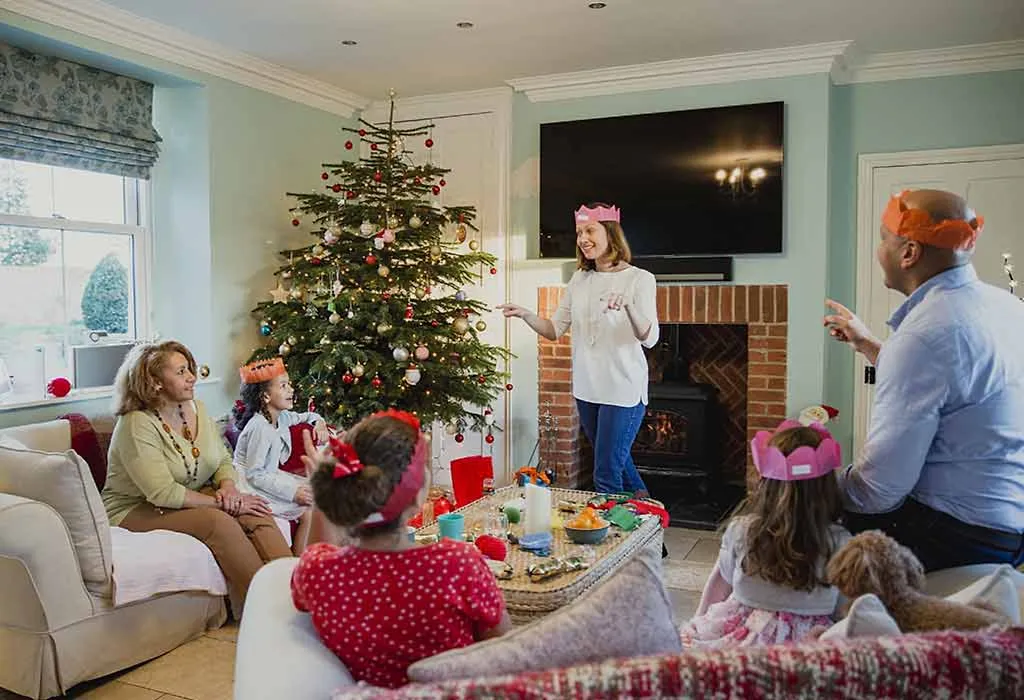 17. Recycled Holiday Crayons
If you have been wondering what to do with those bits and pieces of crayons that seem to be in every nook and cranny of the house, this idea is definitely for you.
What You Will Need
All those crayon pieces
Silicone baking moulds in Christmas shapes
A preheated oven around 350° Celsius
How to Do
Peel off any paper that is on the crayon pieces and put them into the mould till each is half full.
Then pop the moulds into the pre-heated oven and leave them there for about 6 to 8 minutes or till the crayons melt fully.
Leave them there till the moulds fully cool down, and this can take up to an hour. If you try to take out the moulds early, they might break off. These make for great gifts too.
18. The Santa Trip
This game will ensure that your little ones sit down for a while and stay occupied without making you worry that they will fall and hurt themselves.
What You Will Need
Paper sheets
Pen or pencils
How to Do
Give each child a sheet of paper and a pen or pencil.
The game begins with one child naming an object starting with 'A' that Santa is likely to take on his trip. All have to note this down on their paper.
The next child then has to name an object with the following letter, 'B' and so on until all children get a turn. If there are fewer children, there can be two or three rounds.
At the end of it, the children will have a list of objects of which some might be new words to add to their vocabulary.
19. Snowball Race
This is perfect for both small and large spaces as the race can be customised to suit your home.
What You Will Need
Small Styrofoam balls or small balls made of white yarn
Spoons
How to Do
Divide the players into two teams. A player from each team has to balance a styrofoam ball on the spoon and carry it to the finishing line. You can also make this a relay race.
20. Sorting The Balls
Ideal for younger kids but equally enjoyable for older ones too, this game also makes for interesting craft time.
What You Will Need
A big piece of cardboard
Green paper
A thin rod
Basket
Scissors
Glue
Balls in varying colours
Coloured paper to match the balls
Zip ties
How to Do
Cut out the cardboard into a large triangular shape.
Then place it on the green paper and cut out a paper triangle. Stick this green paper onto the cardboard with glue to get the Christmas tree.
Trace circles that are slightly larger than the balls on the different sheets of coloured paper.
Make circular holes in the tree and then stick the outlines from the coloured circles around this.
Add a star to the top and stick the rod to the back of the triangle for support.
Attach the rod to the tree (to the front of a wire basket) so that the balls put in through the coloured circular holes fall into the basket. Give the balls to the kids to match them with the right holes in the tree.
21. Spoon Angel Ornament
This ornament craft is one of the popular choices among kids for Christmas crafts.
What You Will Need
Wooden craft spoons
5-inch lace paper or doily
Craft foam sheet – white
Yarn – any colour
Pointed black marker
Glitter stick – gold
Scissor
Glue
Ribbon
How to Make
Cut out a gown from the white foam sheet taking an approximate length according to the wooden spoon.
Take a few strands of yarn to make angel's hair.
Fold the round lace paper or doily into half and glue it. Now cut it into two halves to make the angel's wings.
Take two gold glitter sticks and bend them around in a circular shape, so that it looks similar to angel rings.
Using a fine point black marker, draw the eyes, mouth, and nose of the angel onto the backside of a wooden spoon.
Paste the yarn on the top of the spoon to give it a look of hair. Then, paste the angel wings and the white gown onto the spoon.
Using the hot glue gun, paste the angel's halo over the top of the spoon.
Glue a short ribbon on the back of the angel ornament so hanging purposes.

22. Reindeer Antler Headband
This reindeer antler headband is a perfect craft for your kids to create and later play with. Check out how.
What You Will Need
Printable of reindeer antler template
Red glitter paint
Cardstock -brown
sticky tape
Scissor
Glue
How to Make
Cut out the shapes given in the reindeer antler template. If you do not have any template, then you can create one on the cardstock and cut the shapes out.
Now, paste the colored templates onto brown cardstock. trim out the template shapes.
Glue the antlers and ears of the reindeer onto the front side of the headband.
For the red nose of the reindeer, paint the nose with red glitter paint.
Now, staple the edges of the reindeer headband piece to give it is a wearable loop.
Voila, the headband is ready to be worn by your kid.

23. Paper Snowflakes
You've seen beautiful snowflakes and their unique patterns, right? Well. You can make some on your own at home! This may seem complex to make, but it is very simple!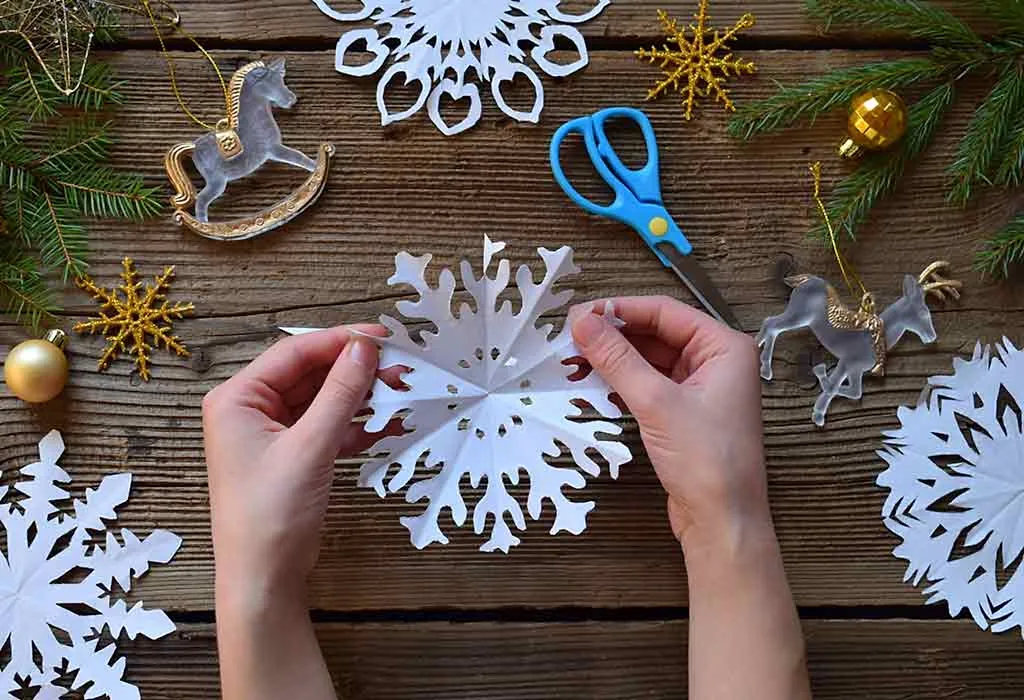 What You Will Need
Some A4 size plain sheets

Scissors
How to Make Snowflakes
Fold the paper 4 times to make a square.

Cut a quarter of a circle from the square.

Now, make random cuts into the paper. You can make squares, triangles and much more.

Open up the folds to reveal a beautiful snowflake!
24. Orbeez Decoration
Do you want to create a beautiful Orbeez centre piece which reflects the beauty of Christmas and is fun to make? This is the perfect craft to do!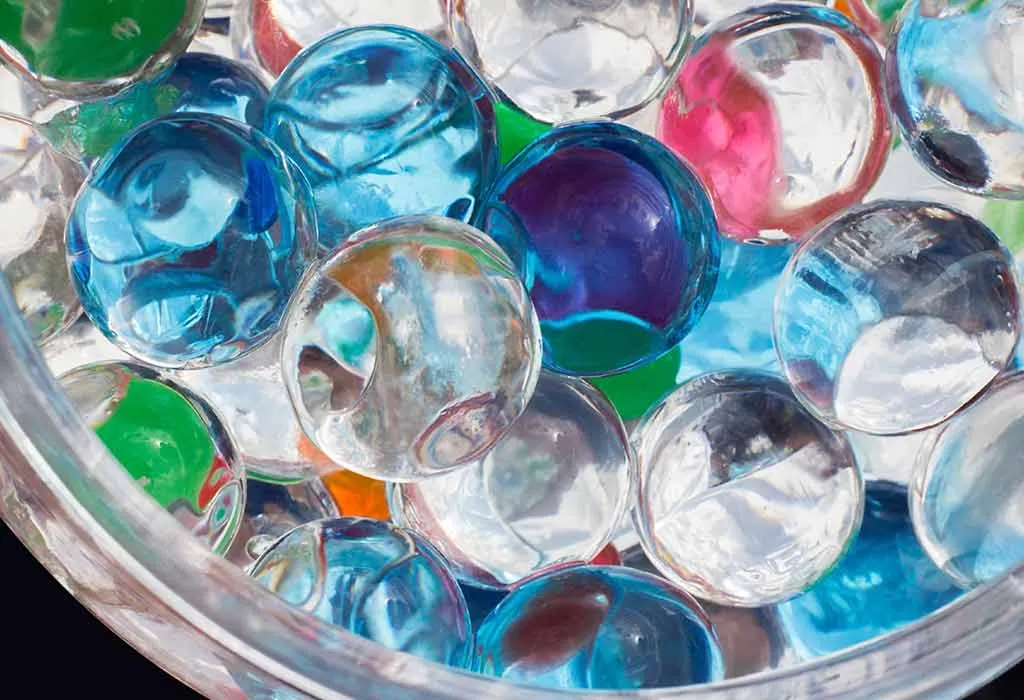 What You Will Need
Plain white orbeez

Christmas decorations (crystal balls and other tree hangings)

Water

A cylindrical glass-container
How to Make it
Soak the plain white Orbeez overnight and allow them to soak up the water.

Next day, take a glass cylindrical container and pour in some Orbeez balls; in intervals, add in some of the Christmas tree decorations.

Keep adding in Orbeez till you reach the top.

Once it is full, add in water till the top.

It will look as though the decorations are floating in the water!
25. Holiday Paper Plate Wreath
Crafting a festive wreath using paper plates is a delightful activity that allows kids to create a decorative piece for the holiday season.
What You Will Need
Paper plates (2-3)
Green paint or markers
Colored construction paper
Scissors
Glue or tape
Ribbon or string for hanging
How to Make it
Begin by painting or coloring the front of the paper plates green to resemble the base of the wreath. Let them dry completely.
Once dry, cut out the center of each paper plate to form a ring shape.
Cut out various shapes (such as holly leaves, berries, or other festive shapes) from the colored construction paper.
Arrange and glue these shapes onto the paper plate rings to decorate the wreath.
If desired, add a bow or other embellishments using extra construction paper.
Allow the wreath to dry thoroughly.
Attach a ribbon or string to the back of the wreath to hang it up for display.
Craft projects completed during the Christmas holidays can be displayed in a prominent spot inside your home. This will show your child that his efforts are appreciated and make you proud of him. Thus, you would have not only made effective use of your child's holidays but also cemented your relationship with him in a productive manner. These ideas will help you ensure that your child cherishes this festive season forever and that Christmas celebrations become more memorable.
Also Read: