Taimur Turns Two – Looking Back on Our Favourite Star Kid's Journey So Far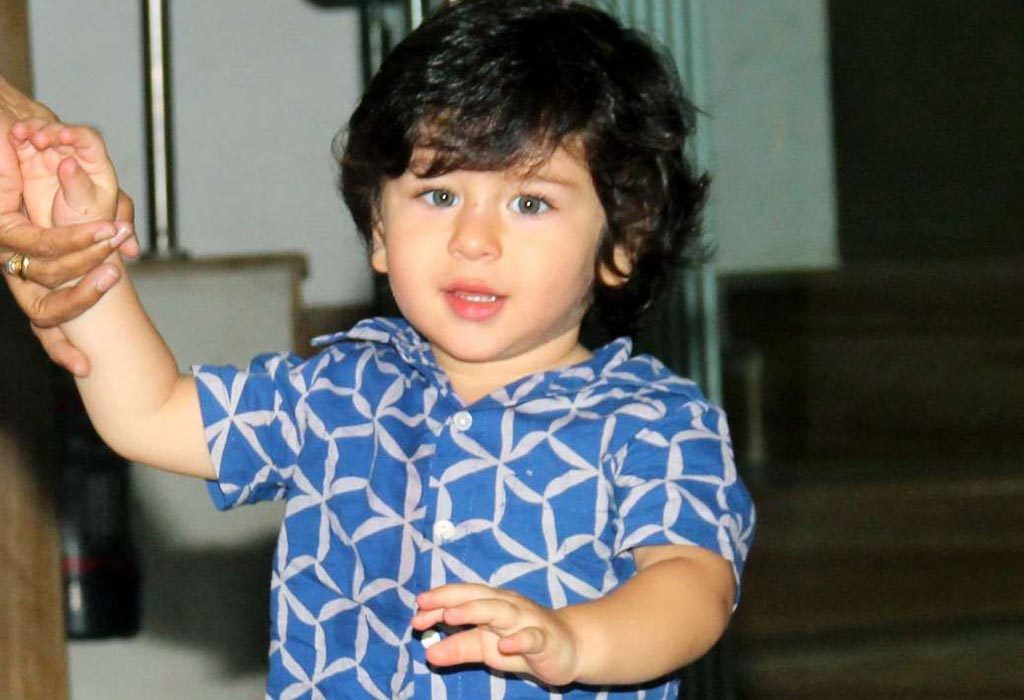 In this Article
You can't deny the fact that the Junior Nawab Taimur Ali Khan Pataudi is now even more popular than his parents 'Saifeena'. The paparazzi and the nation are "oohing" and "ahhing" over his adorable looks, and his playful and beaming smiles. Remember when he was born, how Taimur broke the Internet to become a sensation in no time?
When babies crawl or walk for the first time, it's a milestone not only for them but also for their parents (and in Taimur's case, for the entire nation, judging by his popularity!). Since it's our favourite little Khan's 2nd birthday, we've compiled most of his little (but significant!) moments, and we just can't stop gushing over them!
Moments from the Junior Nawab's Journey So Far
Here are a few special moments from Taimur's 2-year-old life!
1. The Junior Nawab is Born
The exciting news of Kareena being pregnant started doing the rounds during the shooting of Veerey Di Wedding back in 2016. Everyone eagerly awaited the birth of the baby; to everyone's delight, Taimur Ali Khan was born on 20th December 2016, healthy and happy.
Kareena and Saif, much like any other new parents, were completely overjoyed.
For all die-hard fans of the Sagittarius baby, here's something that will interest you. He came into the world at 8:49 am, with a healthy weight of 2.9 kgs.
2. Making His First Social Media Appearance
The paparazzi were expecting a real photo of Taimur but proud Daddy Saif only shared a portrait of his son on social media for the first time. So sweet and protective, don't you think?
3. Crossing the 3-Month Mark
Taimur turned 3 months old, and he's all smiling while in his Mommy's arms.
4. Making His Friend Circle
Taimur is a social baby, and he has made friends so quickly! Here, you can see him enjoying his play-date with Karan Johar's kids Roohi and Yash.
5. Attending a Birthday Function for the First Time
The star kid attended his first ever birthday function on 9th December 2017. It was Rani Mukherjee's daughter Adira's birthday.
6. Going on His First International Vacation
At seven months of age, the little munchkin went on his first ever international vacation. Parents Kareena and Saif always make time for their baby despite their work commitments. In this pic, Taimur wears a blue onesie as his Daddy plants a sweet kiss on his forehead.
7. First Time Sledging
During their stay in Gstaad, Switzerland, baby Taimur got the opportunity to experience snow for the first time, and so, he went sledging. He really is on cloud nine in this picture!
8. Taimur Turns One
First birthdays always call for a grand celebration! Taimur's first birthday cake was inspired by a 'jungle' theme and had animals like a tiger, giraffe and monkey on it. Now, that three-tier cake really looks yummalicious!
Taimur looked aww-dorable in a simple white tee and jeans as Daddy dearest lifted him in his arms. Don't miss the cake smeared on the birthday boy's face!
A cute "fam pic" from behind the scenes graced with both his grandmamas in the background!
9. Receives a Forest as a Birthday Gift
Guess what Taimur got as one of his first birthday gifts? A forest! Can't believe it, right? Kareena's nutritionist gifted him a forest with 100 trees in Sonave, a place in the outskirts of Mumbai. Because, according to her, a little boy can never have enough of birds, bees and butterflies!
10. Takes His First Steps
Taimur has always been carried around, either by his favourite nanny or his parents. Mommy and Daddy are watchful as they let Taimur take his first steps.
11. Becoming a Trendsetter
The B-town kid became a trendsetter when he sported a man bun on Father's Day. How well he's pulling that off!
12. Attending a Wedding Function for the First Time
Our young Nawab officially attended his first wedding function ever in May this year. Kareena and Saif decided to take him along for Sonam Kapoor and Anand Ahuja's wedding, and he looked every bit like a little royal guest!
13. Trying to Eat Food on His Own
The paparazzi captured the cuddly little one playing with a plastic fork and spoon. Perhaps he's doesn't want to be fed anymore and would like to try his hand at feeding himself?
14. Celebrating Festivals
Festive occasions are the perfect time for a family reunion. Keeping to his parents' tradition of celebrating every Indian festival, and in style, the toddler looked dapper in a traditional kurta and pyjamas on these occasions.
15. First Visit to an Island
In early October this year, Taimur went on a "fam vacay" to the Maldives. Here, he enjoys his perfect beach moment with Daddy.
16. Having a Doll Modelled After Him
Every kid plays with toys, but it's rare to be playing with one that is modelled after them! Adorable Taimur dolls are already flooding toy stores.
17. Engaging in Outdoor Activities
The saying goes, "All work and no play makes Jack a dull boy", and Taimur is far from dull. He's an active kid and is already learning horseriding, badminton and football. Quite the budding sportsman, don't you agree?
18. First Sports Day at Preschool
Taimur really enjoyed the Sports Day held last week at his preschool. So much so that he was in tears when the day came to an end!
19. Pre-Birthday Bash
Taimur's 2nd birthday cake has been chosen, and he's receiving so many gifts! Kareena and Saif celebrated Taimur's birthday in advance in India as a separate celebration has been planned for in South Africa, for which the family has already left. The party is expected to be quite the event and Taimur is sure to have a lot of fun!
Well, that's a lot of milestones and more on their way for the little guy. We wish the Junior Nawab a very happy birthday!
Also Read: Impressive Outfits You Can Have for Your Little Boy from the 'Junior Nawab'!