Stunning Co-Ed Baby Shower Ideas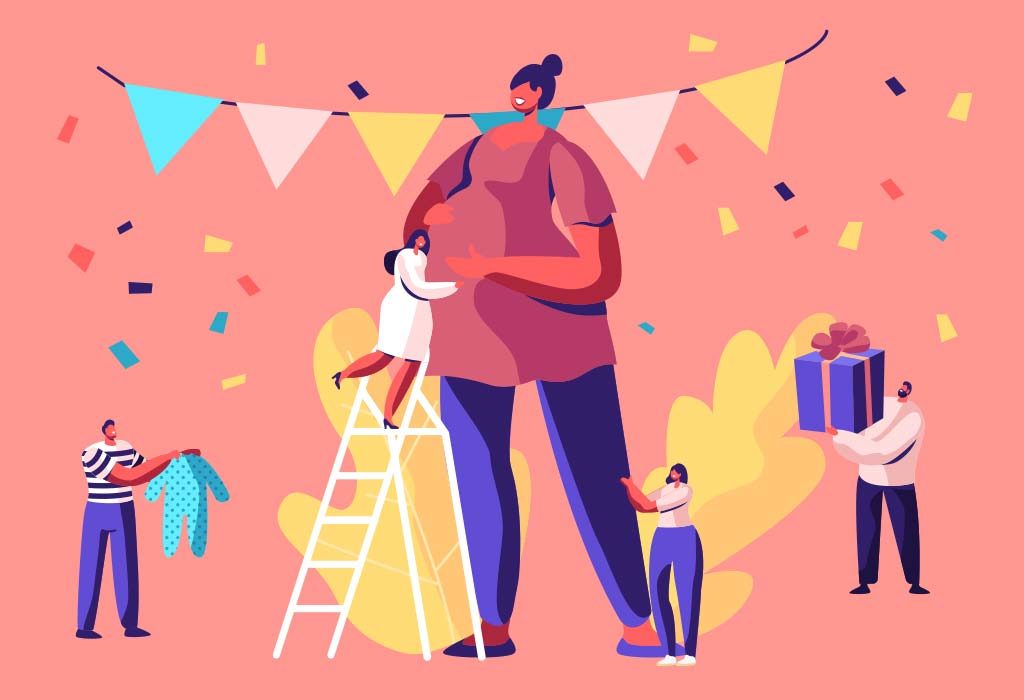 Who says baby shower is only for the mommy to be? Why can't daddy be invited as the guest of honor as well? After all, it's the equal efforts of both mommy and daddy in making a baby! Planning a couple's baby shower can be fun and interesting, it's a great way to share happiness and celebrations with family and friends. Here, we have some cool and funky ideas to plan a happening baby shower for the expectant parents!
What is a Co-Ed Baby Shower?
A co-ed baby shower means that both the mother and father are in attendance! The expectant parents enjoy the festivities and celebrations together along with other family members including other male members of the family like fathers, grandfathers, siblings, etc.
How to Plan a Perfect Co-Ed Baby Shower Party?
Throwing a co-ed baby shower party instead of the traditional all-girls party will take your celebrations to the next level. Co-Ed baby shower parties are a great way to congratulate both the parents to be and help them spend some quality time together, especially since they will be craving for some me-time once the baby pops out! Read on the following tips to plan a perfect co-ed baby shower for the happy parents to be!
Co-Ed Baby Shower Invitations
Baby shower invitations should be unique and funny, something that gives the participants a glimpse of all the fun and activities they are about to enjoy together! The co-ed baby shower wording for invitation needs to be carefully thought of! For instance, you may use the word 'celebration' or 'festivities' instead of 'shower' as a typical 'baby shower' celebration gives us an impression of an all-girls event. Here, we have some funny couples baby shower invitations:
Funky style personalized invitations
Personalized invitations with some funny lines look trendy. A BBQ theme party with a cute baby shower invitation is preferable. Something like this, 'Baby on the way! And we all are gathering on a barbeque to celebrate this glorious occasion! Bring your spouse along for a couple's baby shower!' or 'All the sweet babes and happening dudes are invited for a couple's baby shower barbeque! Don't be late!'
Go for a male host and a female host
We know that baby shower functions are generally hosted by the bestie of the mommy-to-be! But since we are planning for a co-ed baby shower getting a male host along the side of a female host will do the trick! It will help in the better involvement of men too.
Beer is an important element of any party be it for men or women! A beer-themed co-ed baby shower invitation will rarely be turned down! You can also make choose-your flavor corner in the invitations and get them back before the day, this will make the guests all the more excited to attend!
Co-Ed Baby Shower Favors
Spruce up the couple baby shower bash with some super cool baby shower favors and prizes! We have some exciting ideas which you may consider:
Vouchers coupons and small gifts will always make the day for anyone! You may consider giving away some lottery coupons, a flask, a mini tool kit for guys, a movie ticket, a box of chocolates, candles and bubble gum cigars, etc.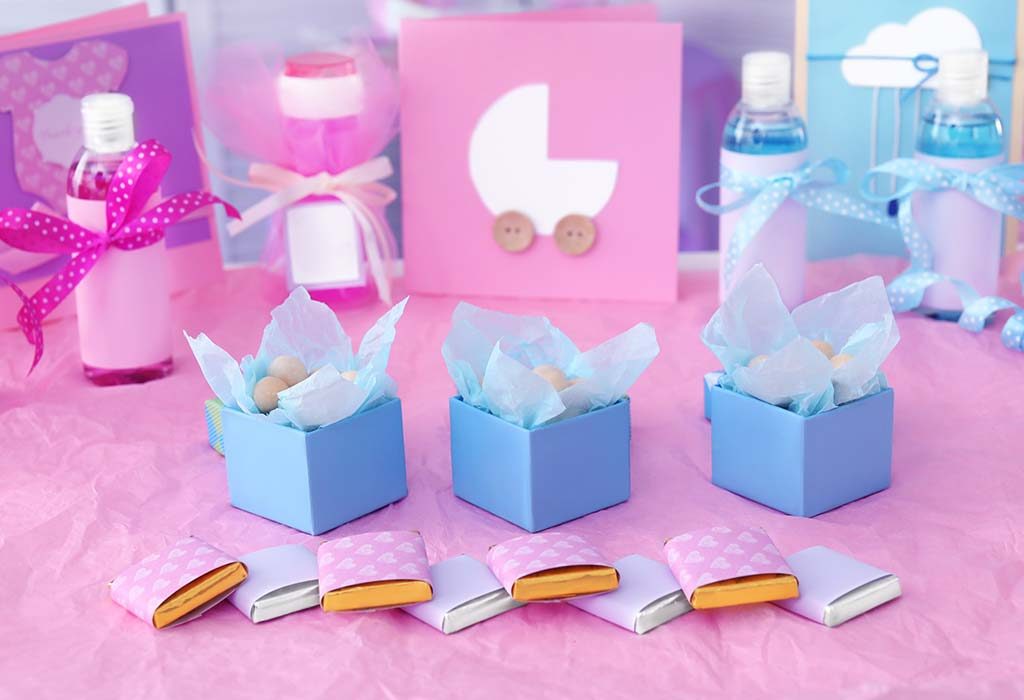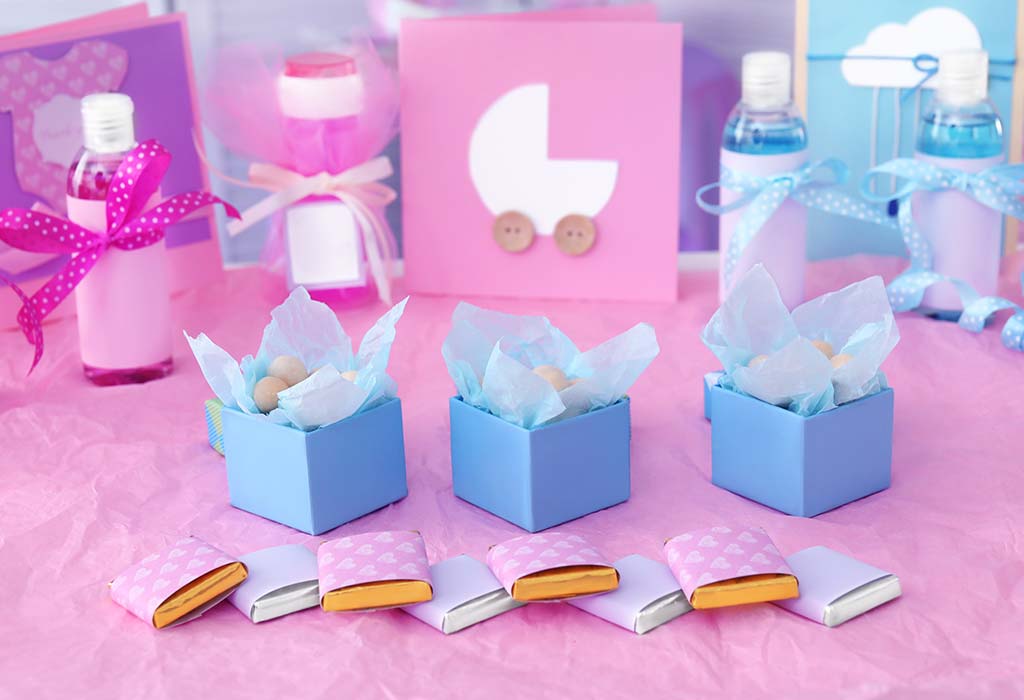 Get some personalized gifts such as personalized baby themed toys, chocolates, tools, etc in a cute personalized bag.
There's nothing more interactive than DIYs. You can buy a chocolate fountain and ask your guests to dip fruits and cakes in it! Alternatively, you may dip some pretzel rods in the chocolate, let them dry and then bundle up 3-4 with a ribbon. Or else again ask the guests to dip the Oreo cookies in white chocolate and sprinkle some colorful chocolate shavings, let them dry for a while and pack 3-5 of them in a bag tied with ribbons!
Co-Ed Baby Shower Themes
You can simply take the baby shower party to the next level by selecting a vibrant and beautiful theme! Something that will transform the venue into a dreamland!
Beach themed baby shower bash
Beach themed baby shower is best suited outdoors! Arrange for some frisbee and volleyball for outdoor guests. If planning outside you may also arrange for some gazebos or cabanas for the guests to relax. All the decorations including the balloons and drawings can be in pale blue and white. Make use of funky beach accessories like shells, starfish, jellyfish, the message in a bottle, sea pearls, etc to complement the theme. Make a beautiful arrangement of cupcakes or muffins in the shape of an anchor!
Vintage style country fair themed baby shower
Slightly unconventional theme for a baby shower but we assure you your guests would simply love this one! Vintage style country fair theme is fun to arrange and will keep you equipped for days to come! Everything in the country-style will do the trick maybe you should get some blackboards and mention some quotes or menu on it with chalk! Try getting some accessories to complement the theme!
Camping theme baby shower
Camping theme is perfect for co-ed baby showers! Camping theme requires no-frills and florals, something which all genders can enjoy equally! Camping styles are quite popular these days so you may get many accessories in the shops to plan out the decorations! A rustic appeal to the overall decorations along with thoughtful detailing like pinecone garland, camping themed sandwich picks, and fun activities would do the trick!
Co-Ed Baby Shower Games
Co-ed baby shower activities and games are easy to plan and fun to execute! It is a great ice-breaker and also removes awkwardness amongst strangers! So try organizing these games:
It takes two to make a baby
This game would be probably the most hilarious of all! For this game:
Get all the couples on the floor and ask them to stand side by side shoulder to shoulder.
Get a baby doll for each couple and an outfit to dress her.
Now the challenge is the husband can use only his right hand and the wife can use her left hand only to dress the baby doll! It's hard but will be fun!
The couple who gets the task done gets a prize!

Dirty Diaper game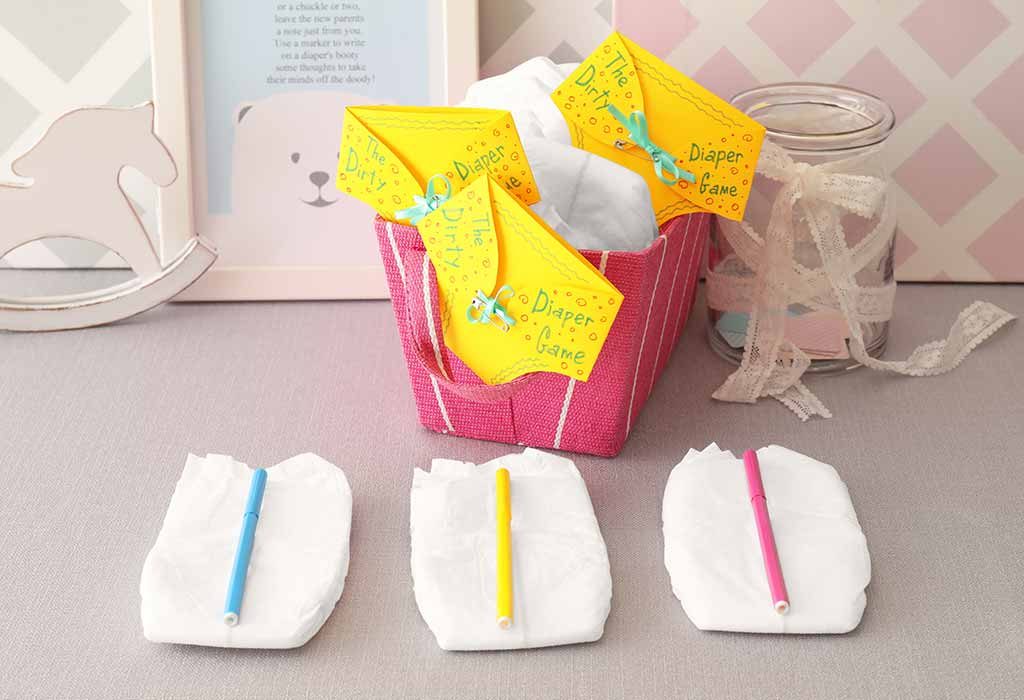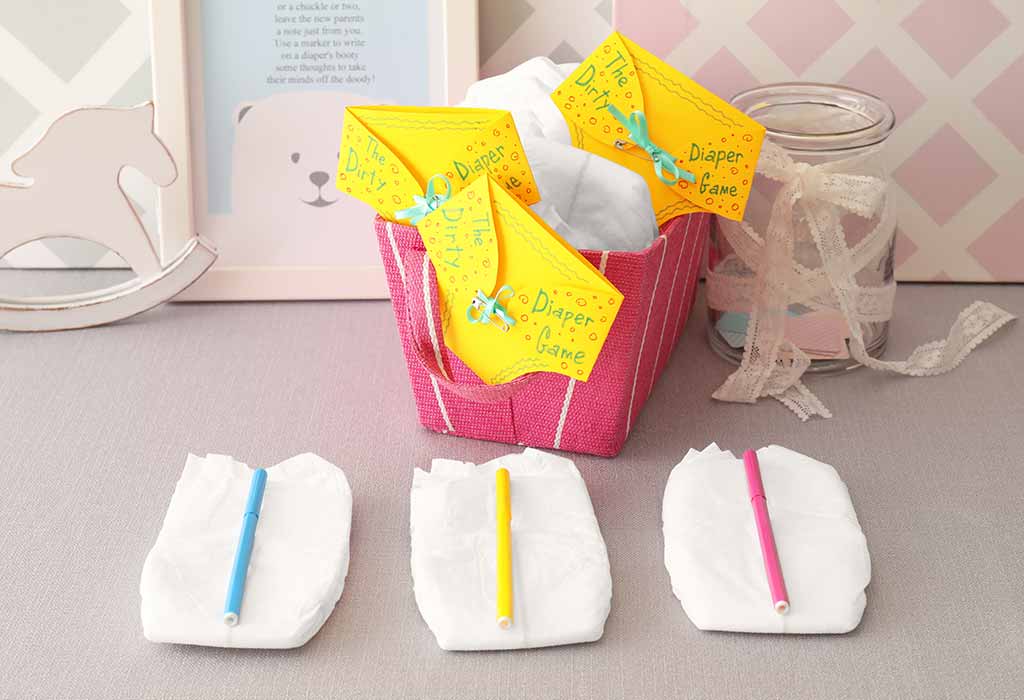 A sharp nose and a keen smelling sense will let you win this game!
Make 6-8 disposable diapers using a sharpie pen!
Now comes the interesting part, melt and smash some of the different kinds of candies into the diapers you may use gems, dairy milk, Ferrero rocher, strawberry crush, caramel crunch, etc into each diaper.
Next, give each of the couples a plain white paper numbered 1-8 or as many diapers as you have prepared.
Now, pass the diapers with the candies to each guest in the room.
Every guest must smell the diaper and guess which candies have been used.
Then each guest has to write down the names of the candies they think has been used on each diaper.
The guest with the maximum right answers wins the prize!
An insider tip: Get your cameras ready and click some spontaneous snaps, we assure you'll get some priceless memories!
A simple yet fun game, belly balloon race will end up with the spectators and participants doubling their sides with peals of laughter!
Blow up some big size balloons and hand over to each of the participants.
Now, ask the men and women to put the balloon under their shirts on the waist.
Then starts the race between the participants to see which one of them can tie their shoelace first!
The one who is first gets a prize!
Co-Ed Baby Shower Food
For a hit baby shower, you need to keep the theme, food, and drinks in sync! The food menu should be carefully arranged as it is a great way of conversation starter even for strangers! When it comes to food you can also get creative by including egg starters in the shape of a small baby in a pram! Something unique and fun!
1. Taco party
This is probably one of the easiest ways to cater to a huge crowd! You can arrange for taco bars, with all the veggie trays that include fresh veggies like onions, sweet corns, capsicum, boiled beans, lettuce, cilantro, spring onions, jalapenos, etc. Also include Mexican rice, charro beans, taco meat, tortillas, guacamole, and salsa!
2. Barbeque party
We believe that you can never go wrong with a barbeque night! Barbeque is something that everyone will love. And for this theme the food selection also becomes quite easy you can make a barbeque of chicken, fish, cottage cheese, veggies, meat, etc. It's a unique fun and interactive theme which would require everyone to participate in making your job of serving them easier!
3. Grilled summer party
A grilled summer party will call for an array of grilled dainty sandwiches, pizzas, veggie counters, cupcakes, muffins, burgers, and some chicken or veg skewers! Make sure that you serve a variety of drinks to keep the guests well hydrated!
We hope that you had a great time reading the above post! With baby shower parties getting more and more common these days people try to make the difference by setting up something unique and out of the ordinary! The above tips will help you plan out a fun and exciting baby shower party for your family and friends!
Also Read:
Your Checklist for Planning the Perfect Baby Shower
Food Menu Ideas for Baby Shower That Will Make Your Guests Go Wow
49 Unique and Cute Baby Shower Invitation Wordings
?>