Strawberry Milkshake Recipe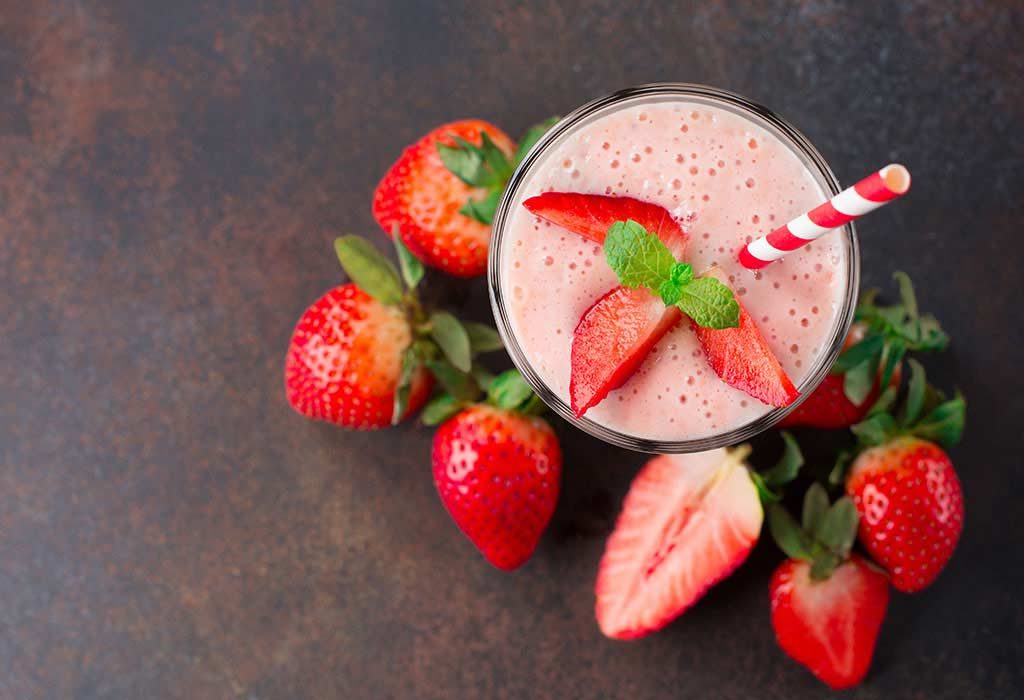 In this Article
Strawberries are loaded with health benefits for your little munchkin! Once your baby crosses the age of eighteen months, you can try this yummy milkshake recipe for your baby! The added dose of vitamin C and antioxidants are not only healthy for your growing baby, but the delectable taste of these delicious berries is something that your baby will relish completely. The texture and taste of strawberry milkshake are something that kids of all age groups love and enjoy. Try this easy strawberry milkshake recipe and get a big smile on your little one's face!
Cooking Time:
| | |
| --- | --- |
| Type | Time (hh:mm:ss) |
| Preparation Time | 00:06:00 |
| Cook Time | 00:10:00 |
| Total Time | 00:16:00 |
Cooking Method: Blender
Type of Meal: Vegetarian
Suitable For: Ideal for toddlers older than 18 months of age
Meal Schedule: Mid-morning or evening snack
Recipe Type: Beverage
Ingredients:
| | |
| --- | --- |
| Type | Quantity / volume |
| Strawberries | 1 cup |
| Dates | 3 to 4 |
| Milk | 2 to 3 cups |
| Cashew nuts (optional) | ¼ cup |
| Vanilla extract (optional) | Few drops |
Instructions:
Here's how to make strawberry milkshake for your little one in a jiffy!
Wash the strawberries under running water, discard the leafy top and leave them on a strainer for a few minutes.
Once the strawberries are dry, chop them coarsely and keep aside.
Take the dates, de-seed them and chop them finely.
Take the cashew nuts and chop them finely. Alternatively, you can soak the cashew nuts and ground them into a smooth paste using little water. This will help in adding more texture to the milkshake.
Take the blender jar, put all the ingredients in it and churn for a few seconds or until all the ingredients blend well.
Pour the contents in a tall glass or sipper cup and let your munchkin relish this yummy delight!
Recipe Tips:
Here are some tips that may come handy in whipping up a perfect strawberry milkshake for toddlers!
Use banana, custard apple, mango or other such sweet fruits to increase the sweetness of the shake. Refrain from adding sugar to make the shake sweeter. If you wish, you can add a teaspoon of honey, date syrup, brown sugar or jaggery for babies older than one year.
Keep the strawberries in the freezer to whip out colder milkshakes.
You can also add almond powder to make homemade strawberry milkshake baby food recipe smoother and creamier.
You do not need to discard the seeds of the strawberries as they are edible, and babies can consume them, too.
If you wish, you can use fresh strawberry puree too for making the milkshake.
Strawberries may cause an allergic reaction in some babies; therefore, we suggest that you consult your doctor before feeding strawberries to your baby.
Nutrition Information (Serving Per 100 Grams):
| | |
| --- | --- |
| Type | Value |
| Calories | 90 |
| Total carbohydrates | 9 g |
| Sugar | 7 g |
| Protein | 3 g |
| Sodium | 25 mg |
| Protein | 3 mg |
| Saturated fats | 0.5 g |
| Cholesterol | 1 mg |
Health Benefits:
The following are some amazing health benefits of including strawberries in your munchkin's diet!
Strawberries are loaded with vitamin C, which not only helps in keeping good eye health, but they also help in maintaining dental hygiene by keeping ailments such as scurvy at bay.
Regular intake of strawberries helps in developing better immunity in kids.
Loaded with fibre; strawberries are good for maintaining good digestion in kids.
A good source of calcium and phosphorus, strawberries are helpful in the development of bones and teeth in babies.
Rich in antioxidants, strawberries can prevent damage to the liver by lowering oxidative stress.
Buying Guide:
Here are some things that you should keep in mind while buying ingredients for a strawberry milkshake for your toddler:
Always purchase fresh strawberries rather than buying frozen or canned ones because fresh strawberries are loaded with nutrition and umpteen health benefits for your baby.
As much as possible, buy organic strawberries for your baby.
Buy strawberries that are firmer to touch; the softer ones usually go bad very soon. Also, check there are no marks or bruises and the leaves are greener in appearance too.
Follow these step by step directions to make a delicious and healthy strawberry milkshake for your baby!