Apple Milkshake Recipe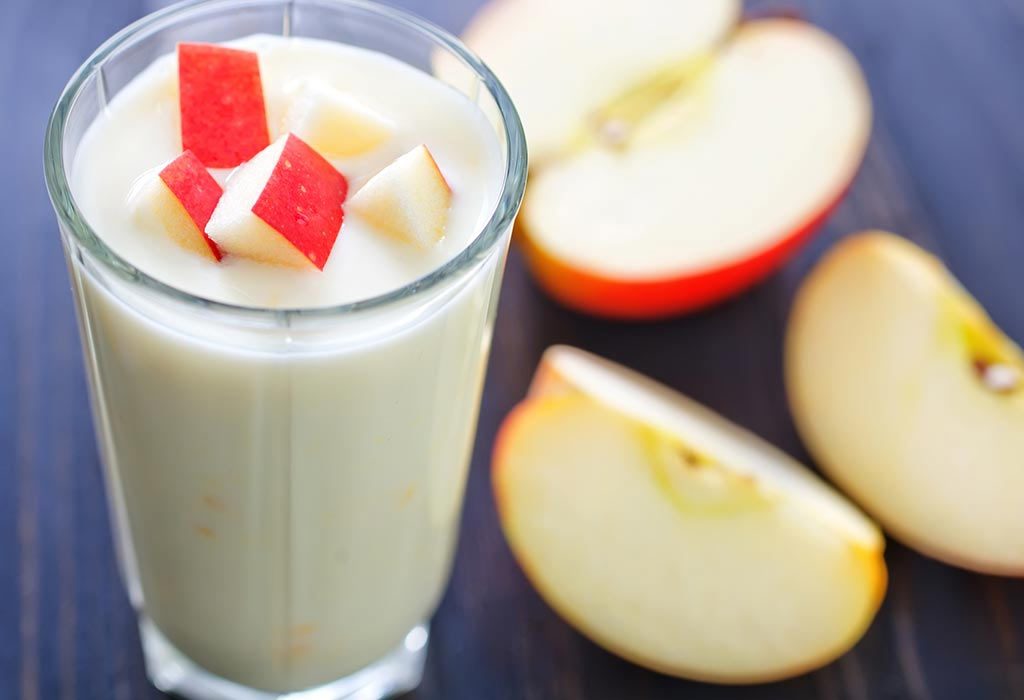 In this Article
Apples are one of the most popular fruits around the world. Several kinds of research back the health benefits of the fruit. The fruit is loaded with antioxidants, vitamins and a variety of other nutrients, and therefore, is an ideal fruit for babies after a certain age. You can also prepare apple milkshake to add the goodness of milk to your baby's diet. The recipe is easy to make and so delicious that your little one is sure to enjoy it every single time you make it. Here's how you can make apple milkshake for your munchkin.
Cooking Time:
| | |
| --- | --- |
| Type | Time (hh:mm:ss) |
| Preparation Time | 00:05:00 |
| Cook Time | 00:01:00 |
| Total Time | 00:06:00 |
Cooking Method: Blender
Type of Meal: Vegetarian
Suitable For: Any toddler above 15 months of age
Meal Schedule: Breakfast, mid-morning snack or Lunch
Recipe Type: Beverage
Ingredients
| | |
| --- | --- |
| Ingredients | Quantity and Volume |
| Apple | 1 large or 2 medium apples |
| Milk | 2 cups, cold |
| Cinnamon Powder (optional) | 2 pinches |
| Sugar | 2 tsp |
| Almonds | 20, soaked overnight in water |
Instructions
By now, you must already have a vague idea about how the recipe is to be made. Follow this step-by-step process to make this quick and easy apple milkshake recipe:
Wash the apples thoroughly.
Peel the fruits, core and chop them in small pieces.
Put the fruit pieces into a blender jar.
Add the soaked almonds and blend the ingredients. You may skip the almonds if your baby has allergic to nuts.
Add sugar depending on the sweetness of the apples.
Pour milk into the jar and blend again.
Check the consistency of the milkshake and ensure all ingredients are perfectly blended.
If the milkshake is too thick, add a little more milk.
Pour the apple milkshake in a glass and sprinkle some cinnamon powder.
You can also add finely chopped apples to the milkshake.
Recipe Tips
The recipe is extremely simple and effortless to prepare; however, do not miss the following points before or during the preparation.
Do not forget to remove the seeds from the apple.
Chop the apples into small pieces that can blend easily.
Soak the almonds overnight in cold water, or 2 to 3 hours in warm water before blending them with the apples.
Remove the skin of the almonds before putting them in the blender.
This milkshake is for babies and toddlers. Therefore, ensure that the milk is not very cold or chilled.
Wash the blender jar thoroughly to ensure there is no smell or particles left of any previous preparation.
Nutrition Information (Per 100 Grams)
| | |
| --- | --- |
| Nutrient | Value |
| Energy | 248 kcal |
| Protein | 8 g |
| Carbohydrates | 37 g |
| Fibre | 3 g |
| Fat | 7 g |
| Sugar | 30 g |
| Vitamin A | 1005 mg |
| Vitamin B1 (Thiamine) | 0 mg |
| Vitamin B2 (Riboflavin) | 0 mg |
| Vitamin B3 (Niacin) | 0 mg |
| Vitamin C | 21.7 mg |
| Vitamin E | 0 mg |
| Folic Acid (Vitamin B9) | 0 mg |
| Calcium | 362 mg |
| Iron | 1.5 mg |
| Magnesium | 22.1 mg |
| Phosphorus | 38.4 mg |
| Sodium | 122 mg |
| Potassium | 482 mg |
| Zinc | 0 mg |
Health Benefits
Home-made apple milkshake baby food recipe has numerous health benefits for your child. The prominent ones are:
The vitamin C and the fibre in apple milkshake are essential for your baby's overall health.
The calcium in the milk is great for your baby's bones and teeth.
Minerals and vitamins in the milkshake are a must for the development of muscle tissue, skin, organs, blood and bones in babies.
Apples are known to prevent diarrhoea in babies.
Offer apple milkshake regularly, and you need not worry about kids not getting proper nutrition.
During the summer months, it can be a refreshing beverage for your little one.
Buying Guide
Buy organic and fresh food items if possible.
Prefer cow's milk for your baby as it is easy to digest.
Make sure the apples are fresh.
Although the skin of the apple is full of nutrients, ensure it doesn't have a layer of wax on it. The wax layer makes apples look shiny, but isn't good for your baby's health. Peeling the apples can help take care of this issue.
Always peel the soaked almonds as the peel has tannin, which is a nutrient inhibitor.
The health of your baby should always be a top priority. Therefore, you should always provide nutrition along with taste. Apple milkshake is yet another delicious and nutritious recipe to add to your baby's diet. Give your baby a glassful of nutrients several times a week to provide all the nutrients he/she need during the growth years. Furthermore, as they grow up, they will also develop healthy eating habits that will reap benefits in the long run.