Spaghetti with Veggie Balls in Red Pasta Sauce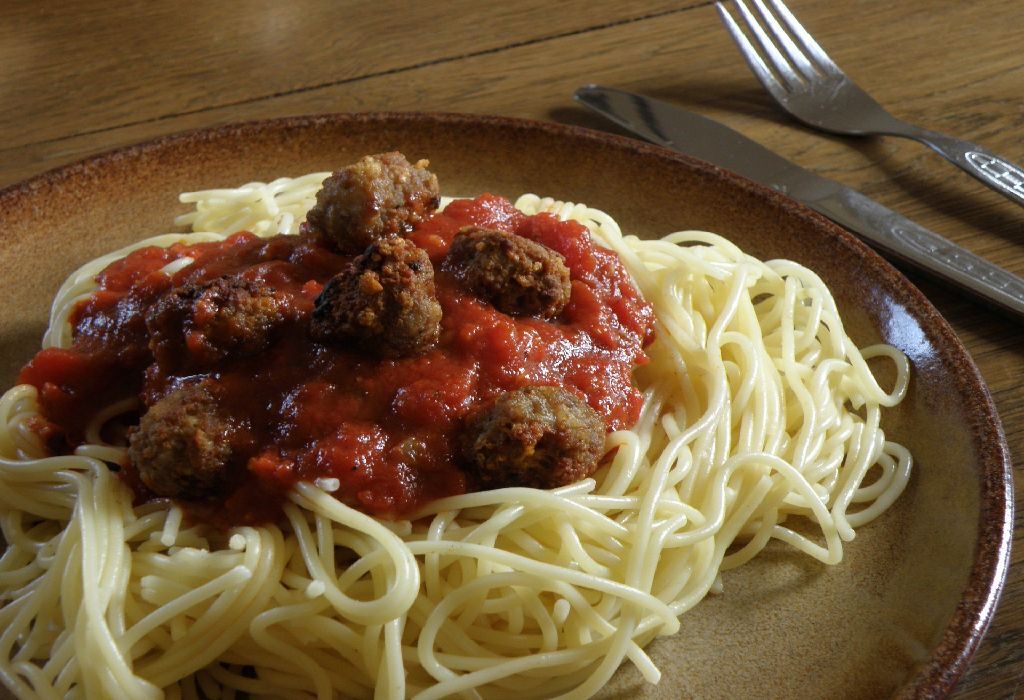 In this Article
Boiled spaghetti tossed in mild cream sauce, served with red pasta sauce and our vegetarian take on the popular meatballs, makes for a complete meal for your kid on any day. A special word for the veggie balls – they are soft and succulent and we assure you that you will not really miss meat in this dish. Try it for a weekend dinner and watch your kids enjoy it!
| | | |
| --- | --- | --- |
| Serves | Preparation Time | Cooking Time |
| 4 People | 15-20 Minutes | 20-25 Minutes |
Ingredients
2 cups boiled spaghetti
3-4 tbsp fresh cream
1 tsp oregano
Salt and pepper to taste
For the Red Pasta Sauce
1/2 cup thick tomato purée
3 tbsp onion, minced
3 tbsp green capsicum, minced
1 tbsp garlic paste
1 tbsp oregano
2 tbsp butter
2 tbsp tomato sauce
2-3 tbsp fresh cream
1 tbsp sugar
Salt to taste
For the Veggie Balls
1/2 cup chickpeas, boiled and mashed
1/2 cup grated mixed vegetables (beans, cabbage, corn, baby corn, capsicum)
2 tsp ginger-chili paste
Salt and pepper to taste
3-4 tbsp grated cheese
1 tbsp oil
Method
Step 1
In a large bowl, add all the ingredients for veggie balls and mix well with your hands. Now heat a pan and add oil. Add the prepared mixture into it and cook for 7-10 minutes, till all the extra water evaporates and the dough is good enough to form balls.
Step 2
Let it cool down a bit after which you can make 8 small balls of the dough. Bake the balls at 200 degree Celsius for 10 mins, till they turn light golden. Alternatively, you can deep fry them till light golden.
Step 3
Heat a pan and add butter. When the butter melts, add the garlic paste, minced onion and capsicum. Cook for a few minutes.
Step 4
Add the tomato purée, followed by salt, sugar, oregano, and tomato sauce. Stir well and cook it for 5 to 7 minutes. Add cream and stir. Take it off the heat and let it cool.
Step 5
Heat a pan and add cream, salt, pepper and oregano. Stir and add the boiled spaghetti. Give it a good stir and cook till the spaghetti is heated through.
Step 6
To serve, place the warm prepared spaghetti on a serving plate. Top it up with red sauce and the veggie balls. Serve warm. Enjoy!
Nutritional Information
| | |
| --- | --- |
| Calories | 299 Kcal |
| Proteins | 9.8 g |
| Total Fat | 14.8 g |
| Total Carbohydrates | 34.4 g |
| Cholesterol | 36 mg |
| Sodium | 220 mg |
| Potassium | 529 mg |
Tip -You can also add bread crumbs and veggies like mushroom, zucchini, etc., in the veggie balls.