Soft Suji Upma with Strained Tadka Recipe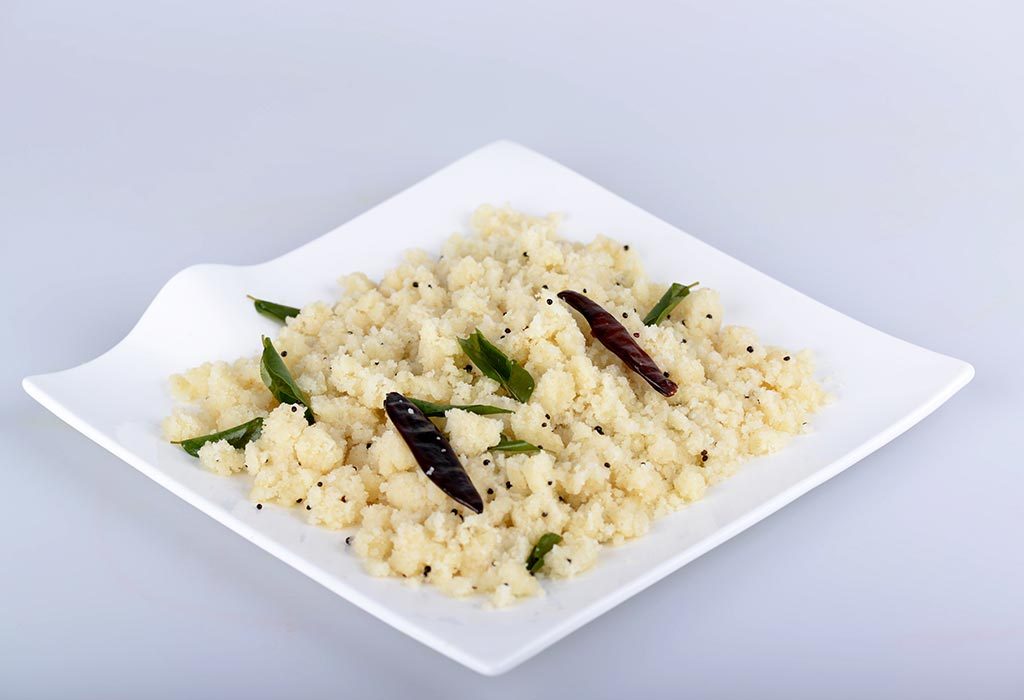 In this Article
If you're looking for a quick breakfast recipe for your child suji upma can be the answer. This comfort food is soft, tasty and versatile with the use of choicest vegetables. Following a basic south Indian recipe, this dish is made with the most humble grains of semolina, spices, herbs, and veggies. Packed with high nutrition value, this tiffin idea makes a wholesome meal for your baby. This delectable savory porridge is ideally served with coconut chutney, pickle or a cup of filter coffee. If you want to know how to make suji upma most easily, the recipe given below will perfectly guide you.
Cooking Time
| | |
| --- | --- |
| Type | Time (hh:mm:ss) |
| Preparation Time | 00:10:00 |
| Cook Time | 00:25:00 |
| Total Time | 00:35:00 |
Cooking Method:
Gas
Type of Meal:
Vegetarian
Suitable For:
Weaning babies older than 7 months of age
Meal Schedule:
Breakfast, evening playtime or dinner
Recipe Type:
Snack Dish
Ingredients
| | |
| --- | --- |
| Type | Quantity |
| Rava | 1 Cup |
| Onion | 1 Medium Sized |
| Ginger | ½ Inch |
| Water | 2.5 Cup |
| Salt | As Per Taste |
| Ghee | 2 Spoon |
| Cumin seeds | ½ tsp |
| Mustard Seeds | 1 Tsp |
| Curry Leaves | 10 Leaves |
| Sugar | 1 Tsp |
| Coriander Leaves | 2 Tbsp |
| Cashews | 10 |
| Chana Dal | 1 Teaspoon |
| Urad Dal | 1 Teaspoon |
Instructions
The step by step directions given here provides the essential information for preparing simple soft suji upma most concisely.
Heat the pan and roast 1 cup rava. Stir till it becomes fragrant and crisp.
Turn off the flame and keep it aside.
Heat 2 tbsp of ghee in a pan. Add 1 tsp of mustard seeds and wait till it crackles.
Add cumin seeds, chana dal, and urad dal to the ghee and fry them till they all turn a little brown.
Add a pinch of asafoetida, finely chopped onion and sauté till they become translucent. Also add curry leaves, grated ginger, chopped tomatoes and stir till it turns mushy.
Strain out the tadka so that it doesn't cause choking hazards for any child.
Throw in boiled green peas to the flavored ghee and add 2.5 cups of water along with salt to this mixture.
Bring it to boil and add the rava in small batches and stir immediately.
As the rava grains absorb the water, it swells up and gets cooked.
Boil for 2-3 minutes and stir continuously to avoid lumps.
Cover the pan and allow the rava to steam for 3-4 minutes on low flame.
Sprinkle 2 tbsp of chopped coriander leaves on top and stir well.
Serve hot.
Recipe Tips
Roast rava over a low flame or it will turn sticky after cooking. Don't brown the rava.
Add up to 4 tbsp of ghee or oil with 4 cups of water with every one cup of rava to make it smooth.
This homemade soft suji upma baby food recipe can be made healthier by adding carrots, capsicum or any other vegetables.
A few drops of lemon gives a tangy twist to the upma at the end.
Instead of onions, ginger or tomatoes, use pureed vegetables to make your recipe more baby-friendly.
Don't add whole nuts for babies who are unable to chew them well.
Nutrition Information (Per 1 Serving)
| | |
| --- | --- |
| Type | Value |
| Carbohydrates | 73 gm |
| Calories | 560 Kcal |
| Protein | 16 gm |
| Sodium | 186 gm |
| Fibre | 7 gm |
| Fat | 22 gm |
| Potassium | 343 gm |
| Calcium | 42 mg |
| Vitamin C | 28 mg |
| Calcium | 42 mg |
| Iron | 5.1 mg |
| Vitamin A | 40 IU |
| Sugar | 3 gm |
| Magnesium | 50 mg |
| Zinc | 1 mg |
| Vitamin B1 | 1 mg |
| Vitamin B2 | 1 mg |
| VitaminB3 | 16 mg |
| Vitamin B6 | 1 mg |
| Vitamin E | 4 mg |
Health Benefits
Suji Upma can be quite filling between meals and has exceptional health benefits for your little one:
Processed from coarsely ground whole wheat, suji is easily digestible and considered a healthy grain in the Indian kitchen. High in protein and fibre, it eases bowel movements for children and also supports growth.
Being a good source of magnesium and iron, it helps in red blood cell production, maintaining heart health and blood sugar levels.
The high carbohydrate content of suji fuel the tissues and gives energy for staying active all day.
Ghee is a natural ingredient that warms the body, moisturizes the skin, hair and contains anti-inflammatory properties to fight against cold.
Vegetables used in this recipe are an important source of essential nutrients like potassium, dietary fibre, and folate that prevents children from falling ill.
Curry leaves have antioxidants that eliminate bacteria, heals skin eruptions and builds the immune system in babies.
Buying Guide
This shopping guide is very useful for mothers to make the right choice while buying the premium quality products needed for making this recipe.
You can choose roasted rava or organic rava that contains more calcium and magnesium content.
Whole spices stay fresher longer. You can choose between local spice merchant, ethnic markets or branded spices sold in packets. Avoid gourmet shops that sell spices at an inflated rate.
It is always better to choose organically grown vegetables that are free from pesticides.
As food plays an important role in the formative years of children, homemade soft suji upma for babies is a good choice that saves them from illnesses and cultivates good eating habits in them.
?>