Social Distancing Baby Shower Ideas & Tips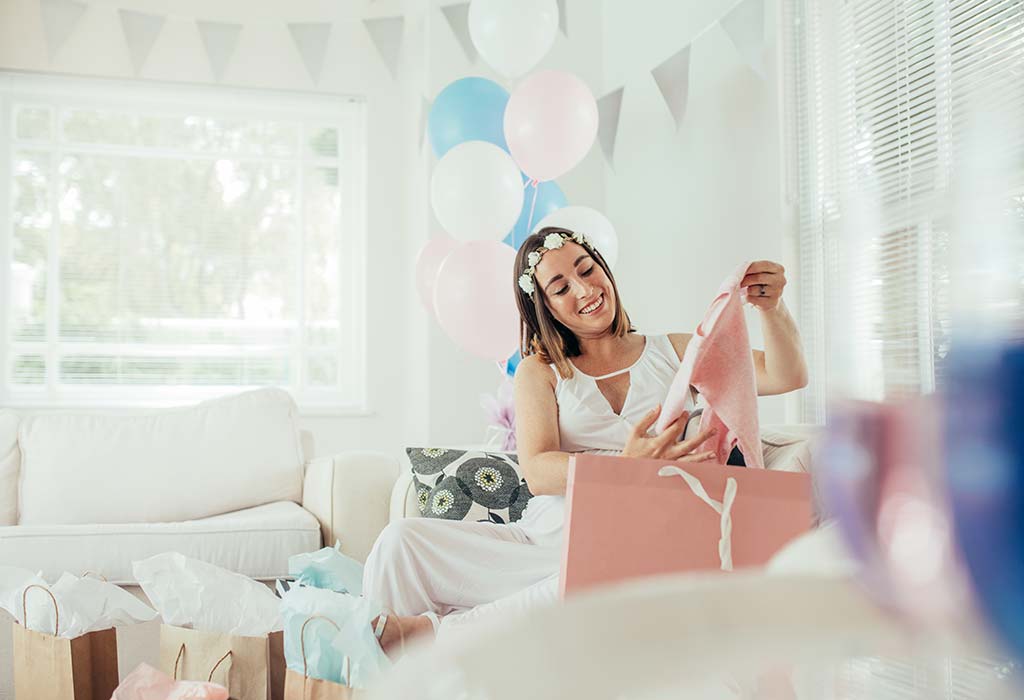 A baby shower is a traditional custom in which friends and family come together to express their joy of pregnancy for a mom-to-be. However, in the current age with the pandemic, this joyous occasion has to be celebrated in unique ways keeping social distancing in mind to give all moms-to-be the love, care, and attention they deserve.
What Are The Risks Of Keeping Baby Shower Amidst Covid-19?
A baby shower is a customary ritual that helps the mother-to-be feel completely relaxed as she prepares for motherhood. This party affords an avenue to reconnect and rejoice in this important milestone of a parent's life. Nevertheless, given the current state of the global crisis created by Covid 19, it's important to understand the actual risks of hosting a baby shower during the pandemic. Certain types of social gatherings may be determined by the amount of current community transmission in that area, as rules and regulations can vary from one region to another. As per the CDC, there are serious risks involved in large gatherings involving people from different family units, especially when wearing masks as a safety measure and social distancing aren't maintained. Hence, adaption is the key as curtailing the guest list, altering the way food is served, choosing an outdoor venue or indoors with adequate ventilation is the safest option for the sustenance of good health. Non-adherence to safety protocols could potentially put both the mother and her guests at risk of contracting covid 19 followed by community transmission that could be fatal. Socially distanced baby shower may apparently look a little different, unusual, or even non-engaging, but including innovative games, unique decorations, and fun entertainment ideas can make it an unforgettable experience for everyone. It is also imperative to check Covid-19 regulations prevalent in the city or state that you reside, as those rules are specific to your local area's health and safety needs and will be strictly enforced. Keeping the advice of experts and the comfort level of the mother-to-be in mind, you can still host a social distance baby shower party with as much fanfare and excitement as they are meant to be.
Best Alternative Baby Shower Ideas amidst Covid-19
Instead of the boring age-old baby shower traditions, creative baby shower ideas can lend this event a novel color and set an example for others to follow. Here are some of the best baby shower ideas that will get you started on planning, given the current situation.
1. Drive-By Baby Shower
Driving past the house of soon-to-be parents at a designated time in a parade is known as a drive-by baby shower. Guests can queue up in their cars decorated with balloons and streamers waiting to honk horns, wave, blow kisses, and wish them well with a loud cheer from a distance. They can even drop off their gift and play loud music for the mom-to-be while the party host can set up a grab-and-go snacks counter, organize party favors and decorate the front yard with any baby shower theme of their choice. After the event, a gift-opening Zoom party offers an opportunity to catch up with guests and personally thank everyone for their enthusiastic participation and their thoughtful baby shower gifts.
2. An Outside-Sprinkle Shower
A sprinkle baby shower is typically organized on the occasion of a family's second (or more) child. This small and intimate affair involves fewer guests, presents and is observed for a shorter duration than a traditional baby shower. There's no need to plan games or organize for tons of food laid out. Some expecting parents even take the opportunity to tie the whole party together with a fun theme and decoration that celebrates their newest addition to the family. A sparkly drink, few light snacks, or small homemade desserts are perfect for a sprinkle-sized party. A personalized or monogrammed gift is ideal for this kind of occasion to enjoy with your closest friends and swap parenting stories and advice.
3. An Outdoor Baby Shower
Stepping outside for a baby shower is definitely a better option when social distancing has to be maintained. Ideal in the spring or summertime, one can host this party in a lush garden of your own or a rented yard. Make it an open house, so not everyone has to be present at the same time. Staggering guests will limit crowding. Text Flyer invites with instant RSVP tracking can confirm the number of guests attending your party. Hugs are not advised. Guests can place their gifts on a table to limit contact. Ensure that mask and distancing rules are followed and guests have no symptoms of Covid before arrival. Use traffic cones to delineate distance while placing chairs for people while maintaining distance. Use disposable plates and cutleries to serve guests.
4. "Meet The Baby' Party
If you want to introduce your newborn to all close friends, family members, and neighbors in one go, you may want to skip another baby shower altogether. Parents and families can throw a party when the baby is two or three months old as guests get a chance to meet the new baby and congratulate the parents. This is good for anxious or new moms who want to wait until better COVID-19 treatments are out for minimizing the risk of contracting the virus. Of course, you'll want to make sure all safety guidelines are followed strictly whenever you do a "meet the baby" type gathering, and consider virtual options if you have any doubts.
5. Virtual Baby Shower
A virtual baby shower is the safest way to have a baby shower during quarantine. Just send a paperless social distancing baby shower invitation with a party day & time and a link to the video chat meeting. The link can be informed in advance, depending upon the service you're using. Pick baby shower games that can easily be adapted for your streaming set-up to make this virtual party more silly and fun. You may encourage attendees to send essentials like meal delivery kits, gift cards, or extra cleaning supplies as guests or any other surprise gifts to the mom-to-be in advance so that she can unwrap them during the party. If you're hosting a baby shower for someone, send them decorations, or going over to their home to decorate for them can be an option considering covid safety norms are observed.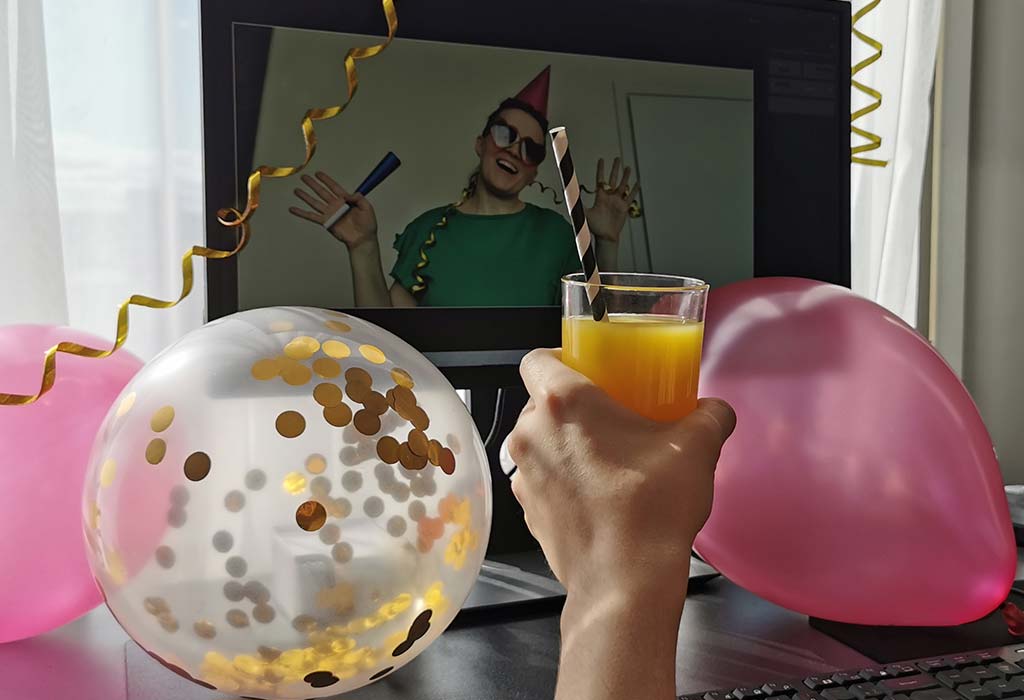 Tips for Throwing Social Distancing Baby Shower
A baby shower party needs to prioritize the health of the mom-to-be, her family, and guests. Hence here are some tips that need to be considered for throwing a socially distant-friendly baby shower party for your near and dear ones:
1. Cut Down The Guest List
As per the CDC recommendations, it is important to limit your guests to any baby shower party to reduce the risk of community transmission of covid 19. Stick to close friends and relatives who are mostly from the same community. Have a box of extra masks available when guests arrive just in case someone forgot theirs to come wearing one. A portion of the event can be set aside to be done virtually for guests who're far or unable to attend in person.
2. Use Sanitation And Protective Gear
Ensure that guests wash their hands and sanitize their hands well before entering the event to eliminate any unwanted pathogens. Set up a hand sanitizing or handwashing station at the entrance of your home. You might want to include a dress code making face masks mandatory for the event. Ideally, they should wash their hands at every turn, while entering the house, after contact with objects, and while leaving for home.
3. Choose a Proper Venue
Choose an appropriate venue that would do justice to social distancing norms. Trim your guest list depending upon the size of the venue. An outdoor event, a backyard, an open-air restaurant, or even an event centre that follows hygiene protocols well should be considered.
4. Set The Table For Food And Drinks
Ideally, individually packed, pre-plated, or pre-packaged food can be served to guests with disposable spoons or set up on-the-go food counters or food trucks to not constantly touch each other or come in contact with cutlery or plates they won't be using. Employing food and drink vendors with masks and gloves to serve per table can be an option to avoid potential transmission of the virus. Social distancing baby shower food ideas can include tacos, sliders, and other comfort foods that easily work as single-serve snacks. Each brunch box can include homemade chicken salad, fresh fruits, cupcakes, croissants, paper napkins, and bottled water.
5. Send Informative Invitations
Set the tone for the social distancing baby shower with a cute and casual e-invitation to update guests on the venue, date, and covid safety measures to be followed at the baby shower. This will assure guests as well as the host before they RSVP, and they would be clear on the expectations and guidelines for the event.
6. Baby Shower Games
Games are an integral part of the baby shower experience. Guests can participate in games from afar by either bringing them with their gifts or playing them virtually. Baby Trivia, Tour The crib, Place Your Bet are some social distancing baby shower games that everyone can play online to keep the guests engaged. Choose a host to conduct the game, keep track of points, and declare a winner for each round.
7. Request Unwrapped Gifts
Presents can be laid out for display to save time unwrapping while maintaining safe social distancing. Request guests to join virtually and send their gifts ahead of time so that the mom-to-be can do a quick walk-through of the goodies she's received on a post-party zoom session.
Safety Precautions
Opt for phone messaging or sending online baby shower invitations instead of printed ones as they're more economical and are easier to inform guests in case of any change of plans. Virtual baby showers are thus a great alternative to an in-person event, as it upholds CDC's social distancing guidelines keeping the safety and health of guests and hosts in mind.
Apart from the big losses that Covid 19 has caused to us, there are also those missed vacations, canceled birthday parties, and lost hopes of a gala baby shower for expectant moms. A pregnant woman may have to deal with all the regular stresses as the others, along with the aches and pains of her current state. So, instead of complaining, we can introduce a twist in the tale with a social distance baby shower party, allowing all moms-to-be to sport a basketball belly in the cutest maternity fashion.
Also Read:
Awesome Co-Ed Baby Shower Ideas
Rainbow Themed Baby Shower Ideas
Creative Fall Themed Baby Shower Ideas