What to Wear to Your Baby Shower: Mom-to-be Outfit Ideas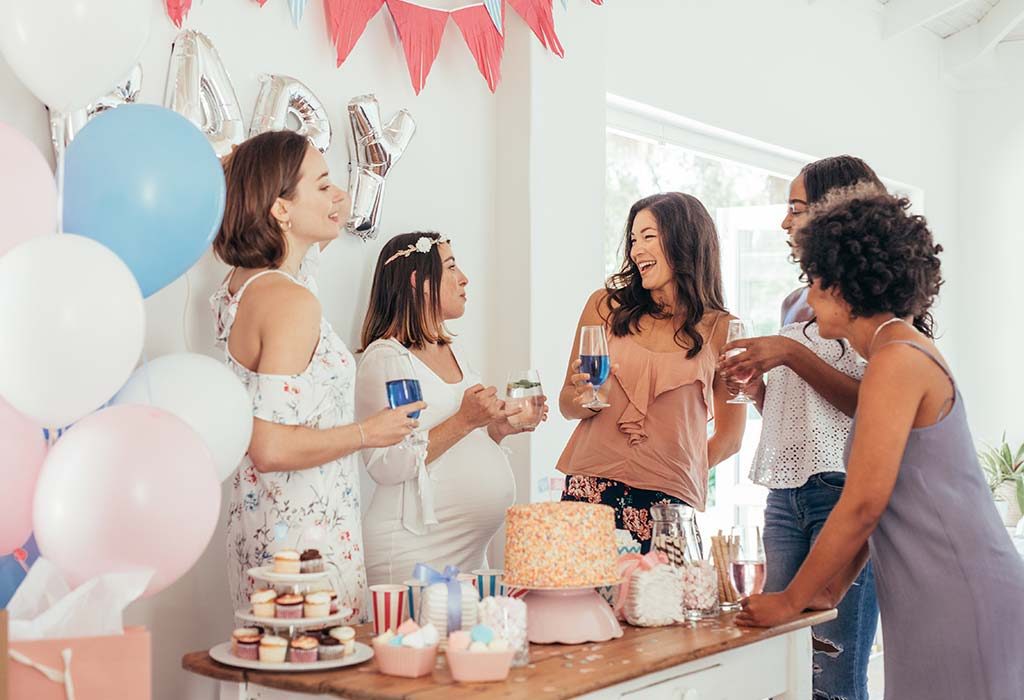 All moms-to-be want to look special at their baby shower. It's somewhat up to you whether or not to dress up. While feeling uncomfortable in your clothing will prevent you from having fun, dressing extremely differently from the rest of the group may make you feel awkward. Choosing delicate, gentle textiles that feel like a newborn, light and airy. Avoid highly fashionable selections for the dress shape in favour of classic silhouettes with contemporary accents. These are better suitable for vacation or date-night settings.
Here are some maternity outfit ideas that'll help you out. Don't worry, there's something for every woman and style below.
Cute and Adorable Baby Shower Dress Ideas for Mothers-to-Be
Looking for cute and adorable variants? Try these below.
1. Lace Knee-Length Dress
A lace knee-length maternity outfit is simple, goes well with the contours of your body, and is elegant and comfortable. Go for a plus-size dress with pastel colours to look cute and something that's made from a blend of nylon, spandex, and polyester for premium comfort.
Source: Pinterest
2. V-Neck Maternity Gowns
If you're looking for something classic, airy, and elegant – go for an off-shoulder V-neck maternity gown. It contours well with baby bumps and looks gorgeous for photoshoots. Short sleeves are the best and if you can get a mermaid silhouette, then that'll wow your guests.
Source: Pinterest
3. 3D Printed Maternity Dress
3D Printed Maternity dresses are trending these days due to their eye-catching designs and comfortable fit. Ones with floral appliqués on them will look cute and will leave your guests mesmerized.
Source: Pinterest
4. Off-Shoulder Floral Ruffle Dress
If you can get your hands on a floral ruffle dress that features an off-shoulder design, take our word – your guests will feast their eyes on it. It's cute and can be worn after the baby shower too.
Source: Pinterest
5. Fitted Dress and Floral Skirt
Floral prints look cute and if you want to add style to cuteness, combine a fitted dress with a floral-printed skirt. The tight-fitting waist and the flowing A-line skirt that flares out makes for a chic look. Go for a blend of rayon and spandex for timeless comfort. Loose, flowy maternity skirts would be a wise choice and look really beautiful with a printed top.
Source: Pinterest
6. Maternity Bardot Dress
A maternity Bardot dress with a scoop neck and short sleeves will make you look chic and simply elegant. Try to get one that's made from a blend of spandex for a comfortable fit.
Source: Pinterest
7. Maternity Chiffon Dress
Handmade chiffon dresses with an open or closed front are an option if you're looking for something comfortable but not too formal. Bella Mama has lovely designs and patterns of maternity dresses to choose from which are not only pleasing to the eye but are immensely comfortable too! Go for pastel colours and if you want to, pick one without any lining. The fabric is usually breathable, making them ideal for the hotter months and photo shoots.
Source: Pinterest
8. Maxi Dress
Maxi maternity dresses feature breathable fabrics and are comfortable for the cooler seasons. Pick a design that bundles an off-shoulder neckline and a pleated skirt. If you go strapless or off-shoulder, it'll let you move freely plus the flowing design will lend an elegant yet comfortable touch. There's no dearth of prints and colours to choose from!
Source: Pinterest
Baby Shower Dress Ideas for Moms-to-be for Different Seasons
If you're dressing up according to the season, then here are some ideas on what to wear.
In Winter
Here are some fantastic baby shower dress options for the winter season.
1. Leopard Print Dress
Leopard print dresses are charming and alluring, perfect for being the centre of attention. Go for one which features elasticated cuffs, long sleeves, deep V-neck and slit on the front on the hems for picture-perfect flair.
Source: Pinterest
2. Checked Maxi Dress
Checked maxi dresses are perfect for every occasion and not just the winters. Go for a round-neck with wool fabrication for a comfortable but chic look.
Source: Pinterest
3. Turtleneck Sweater Dress
Baby shower dresses with a turtleneck make you look cute and huggable during the winters. Go for one that features dropped long sleeves, banded cuffs, and a rounded hemline.
Source: Pinterest
In Summer
Summertime involves getting the baby shower dresses that are comfortable, loose, and classy or trendy. Try these out.
1. Polka-dot Dress
Feeling cute and flamboyant during the summers? Try going for a polka-dot dress with ruffled straps. It works like a charm every single time.
Source: Pinterest
2. Striped T-Shirt Dress
Striped T-shirt dresses are the summertime rage when it comes to baby shower dresses. Go for red and white stripes or navy blue and white and accentuate with a chic belt for the finish.
Source: Pinterest
3. Tie and Dye Maxi Dress
Tie and dye maxi dresses keep you cool and chic during the summer season. These patterns also look uber cool in maternity kurtis and are sure to make heads turn as you walk by!
Source: Pinterest
In Monsoon
Rainy days call for you to get a little more creative. Here are some gems worth trying out.
1. Cowl Neck Party Dress
How about putting on a smile this monsoon by donning a cowl neck party dress that charms your peers? It's perfect for every season and sure to match the colour with the theme of the baby shower.
Source: Pinterest
2. Bridesmaid Wedding Dress
Yes, monsoon and bridesmaid wedding dresses do work, when planned well. Go for a transparent one with three-quarter sleeves with lining included and you'll be set.
Source: Pinterest
3. Maternity Jumpsuit
If you're attending a baby shower party after office hours during the monsoon, go for a maternity jumpsuit outfit. Cropped-length trousers, checkered strapless top, and a classic belt make for the perfect monsoon wardrobe for guests who want to make an impression.
Source: Pinterest
In Fall
It can often be challenging to dress for the seasons that are more in transition. Plan a look that will look fantastic without a blazer, cardigan, or light jacket but will go nicely with one of those items.
Blazer and Blouse
While wearing a blazer and blouse is always a good idea, you may avoid having the outfit come off as business casual by opting for a softer, sweater-knit jacket with oversized patch pockets. Just the appropriate amount of femininity is added by a tie-neck top.
2. Sweater Dress
Choose a sweater dress if the chilly weather has you wishing you could simply wrap up in your favourite sweater. This alternative has a more polished appearance because of the cable-knit stitch and the subtle shoulder gathering. Suede boots that are knee-high could elevate the appearance.
3. Casual Jumpsuit
Everyone at the event will know precisely where you stand with the baby since this outfit screams, "I'm the fun aunt!" This is a stylish choice thanks to trendy elements like an X-front wrap, wide legs, and blouson sleeves. Plus, the polka dot pattern is perfect for such a happy occasion.
In Spring
The simplest time of year to choose what to wear to a baby shower as a guest is probably spring (floral dresses and upbeat colours are a given), but that doesn't mean you can't benefit from a few unconventional suggestions.
Ankle Pants
If dresses aren't your thing, don't worry—a chic pair of white ankle pants will still look chic. No skirt is necessary; simply wear them with a shirt with lace sleeves for a feminine touch.
2. Shirt in a casual way
A baby shower is a fantastic example of a smart-casual event that benefits from pairing a more formal fabric with a super-casual essential. We adore the concept of wearing a traditional chambray shirt with a chic, swishy skirt for a stylish and casual style. Make the shirt trendier by tying it in the front.
3. High collar
This embroidered dress is ideal for the event if the baby shower location appears a little more formal. The long sleeves and high collar will keep you from freezing if the weather is still chilly, and the floral design and ruffled cuffs add just the appropriate bit of elegance without feeling fussy.
Quick Tips For Deciding What To Wear To A Baby Shower
While all of those people are showering you with presents and affection, you don't want to be in any physical discomfort.
There are different colours and patterns of this knee-length wrap maternity dress, so you may select one that suits your style.
A strappy dress is stylish and cosy.
You might want to embrace your inner diva with a long off-the-shoulder dress.
FAQs
1. Can I Wear Black to a Baby Shower?
Now, culture couldhave some influence on this choice. Black may cause a stir at a baby shower because it is frequently associated with mourning in many Western cultures. White, meanwhile, is connected to death, mourning, and bad luck in many Asian cultures. It is purple in Thailand and Brazil. Additionally, in several African nations, it is crimson. So stay away from any typically offensive colours if you are familiar with the host and mom's culture.
2. What Not to Wear to a Baby Shower?
First, avoid uncomfortable and tight clothing. Avoid using heavy textiles. Instead, always wear a cardigan or jacket that you can remove if you grow warm. Since everyone is aware, being pregnant can make you feel the heat!
3. What Do You Wear to a Baby Shower As a Guest?
Absolutely. Jeans are no longer associated with picking your nose, as they once were. There should be no issue if you wear spotless jeans that fit you properly. If a specific dress code or theme was mandated, it would be the lone exemption. Anything that didn't fit in that situation might be considered inappropriate.
The perfect baby shower outfit is one that works for you. Get something you like and make sure it's comfortable to wear. And before you know it, you'll become the centre of attention in the crowd.
Also Read:
Best Baby Shower Theme Ideas
Stylish With Trendy Outfits During Pregnancy
Unique Baby Shower Gifts Ideas