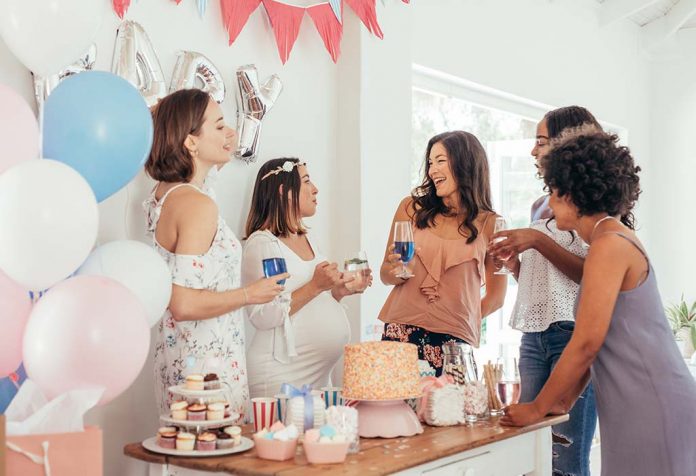 Last Updated on
All moms-to-be want to look special at their baby shower. Here are some maternity outfit ideas that'll help you out. Don't worry, there's something for every woman and style out there below.
Cute and Adorable Baby Shower Dress Ideas for Mothers-to-Be
Looking for cute and adorable variants? Try these below.
1. Lace Knee-Length Dress
A lace knee-length maternity outfit is simple, goes well with the contours of your body, and is elegant and comfortable. Go for a plus-size dress with pastel colours to look cute and something that's made from a blend of nylon, spandex, and polyester for premium comfort.
Source: Pinterest
2. V-Neck Maternity Gowns
If you're looking for something classic, airy, and elegant – go for an off-shoulder V-neck maternity gown. It contours well with baby bumps and looks gorgeous for photoshoots. Short sleeves are the best and if you can get a mermaid silhouette, then that'll wow your guests.
Source: Pinterest
3. 3D Printed Maternity Dress
3D Printed Maternity dresses are trending these days due to their eye-catching designs and comfortable fit. Ones with floral appliqués on them will look cute and will leave your guests mesmerized.
Source: Pinterest
4. Off-Shoulder Floral Ruffle Dress
If you can get your hands on a floral ruffle dress that features an off-shoulder design, take our word – your guests will feast their eyes on it. It's cute and can be worn after the baby shower too.
Source: Pinterest
5. Fitted Dress and Floral Skirt
Floral prints look cute and if you want to add style to cuteness, combine a fitted dress with a floral-printed skirt. The tight-fitting waist and the flowing A-line skirt that flares out makes for a chic look. Go for a blend of rayon and spandex for timeless comfort. Loose, flowy maternity skirts would be a wise choice and look really beautiful with a printed top.
Source: Pinterest
6. Maternity Bardot Dress
A maternity Bardot dress with a scoop neck and short sleeves will make you look chic and simply elegant. Try to get one that's made from a blend of spandex for a comfortable fit.
Source: Pinterest
7. Maternity Chiffon Dress
Handmade chiffon dresses with an open or closed front are an option if you're looking for something comfortable but not too formal. Bella Mama has lovely designs and patterns of maternity dresses to choose from which are not only pleasing to the eye but are immensely comfortable too! Go for pastel colours and if you want to, pick one without any lining. The fabric is usually breathable, making them ideal for the hotter months and photo shoots.
Source: Pinterest
8. Maxi Dress
Maxi maternity dresses feature breathable fabrics and are comfortable for the cooler seasons. Pick a design that bundles an off-shoulder neckline and a pleated skirt. If you go strapless or off-shoulder, it'll let you move freely plus the flowing design will lend an elegant yet comfortable touch. There's no dearth of prints and colours to choose from!
Source: Pinterest
Baby Shower Dress Ideas for Moms-to-be for Different Seasons
If you're dressing up according to the season, then here are some ideas on what to wear.
In Winter
Here are some fantastic baby shower dress options for the winter season.
1. Leopard Print Dress
Leopard print dresses are charming and alluring, perfect for being the centre of attention. Go for one which features elasticated cuffs, long sleeves, deep V-neck and slit on the front on the hems for picture-perfect flair.
Source: Pinterest
2. Checked Maxi Dress
Checked maxi dresses are perfect for every occasion and not just the winters. Go for a round-neck with wool fabrication for a comfortable but chic look.
Source: Pinterest
3. Turtleneck Sweater Dress
Baby shower dresses with a turtleneck make you look cute and huggable during the winters. Go for one that features dropped long sleeves, banded cuffs, and a rounded hemline.
Source: Pinterest
In Summer
Summertime involves getting the baby shower dresses that are comfortable, loose, and classy or trendy. Try these out.
1. Polka-dot Dress
Feeling cute and flamboyant during the summers? Try going for a polka-dot dress with ruffled straps. It works like a charm every single time.
Source: Pinterest
2. Striped T-Shirt Dress
Striped T-shirt dresses are the summertime rage when it comes to baby shower dresses. Go for red and white stripes or navy blue and white and accentuate with a chic belt for the finish.
Source: Pinterest
3. Tie and Dye Maxi Dress
Tie and dye maxi dresses keep you cool and chic during the summer season. These patterns also look uber cool in maternity kurtis and are sure to make heads turn as you walk by!
Source: Pinterest
In Monsoon
Rainy days call for you to get a little more creative. Here are some gems worth trying out.
1. Cowl Neck Party Dress
How about putting on a smile this monsoon by donning a cowl neck party dress that charms your peers? It's perfect for every season and sure to match the colour with the theme of the baby shower.
Source: Pinterest
2. Bridesmaid Wedding Dress
Yes, monsoon and bridesmaid wedding dresses do work, when planned well. Go for a transparent one with three-quarter sleeves with lining included and you'll be set.
Source: Pinterest
3. Maternity Jumpsuit
If you're attending a baby shower party after office hours during the monsoon, go for a maternity jumpsuit outfit. Cropped-length trousers, checkered strapless top, and a classic belt make for the perfect monsoon wardrobe for guests who want to make an impression.
Source: Pinterest
The perfect baby shower outfit is one that works for you. Get something you like and make sure it's comfortable to wear. And before you know it, you'll become the centre of attention in the crowd.
Also Read:
Best Baby Shower Theme Ideas
Stylish With Trendy Outfits During Pregnancy
Unique Baby Shower Gifts Ideas